This corn and tomato salad makes use of summer's bounty of sweet corn, juicy tomatoes, fresh basil, and pairs with tangy feta cheese for a delightful side dish! I love using the Instant Pot to cook the corn, because it turns out perfectly every time.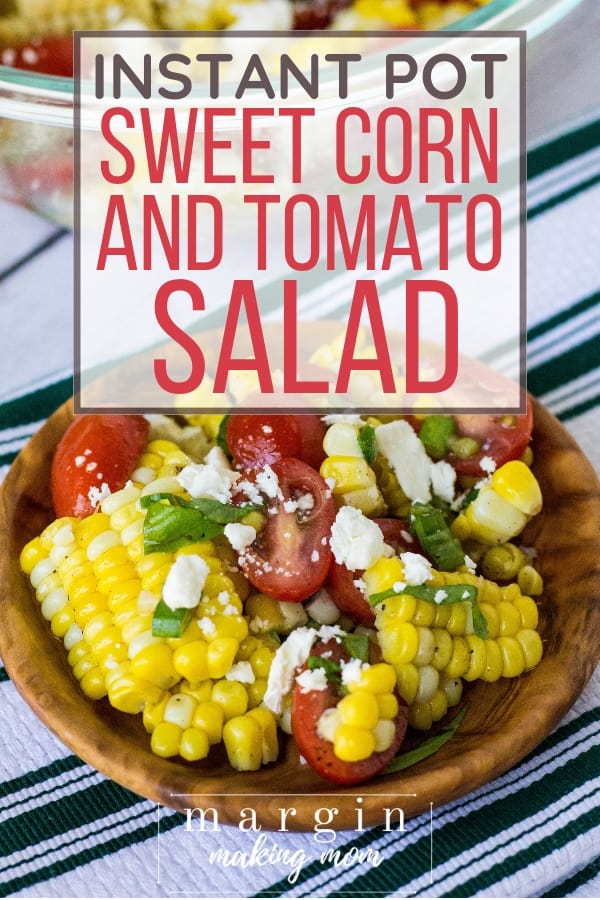 Beat the heat by bringing this refreshing corn and tomato salad to summer get-togethers or serving it alongside your grilled fare!
Note: This post may contain affiliate links for your convenience. If you make a purchase, this site may receive a small commission at no additional cost to you. You can read my full disclosure policy here.
Summer time just beckons us to eat fresh produce, doesn't it? With gardens bursting with plenty of vegetables and fruits, and with sweltering heat that begs us to leave our ovens off, it's like our bodies crave cool and refreshing dishes.
I love cold side dishes in the summer! In fact, I often enjoy making a crisp cucumber salad, Italian pasta salad, Instant Pot potato salad, lemon basil pasta salad, honey lime fruit salad, or easy macaroni salad on days like these, but perhaps my most favorite is the salad I'm sharing with you today.
This sweet corn and tomato salad is one that Mother Nature would be proud of!
Tender, sweet corn and ripe, juicy tomatoes were made to be enjoyed together. Add some fresh basil, green onions, feta cheese, and a simple vinaigrette to the mix, and it's a match made in heaven.
It uses the delightful flavor pairing of my fresh corn and basil muffins, but in a refreshing salad!
It's the perfect Instant Pot side dish to bring to a BBQ, potluck, or family gathering!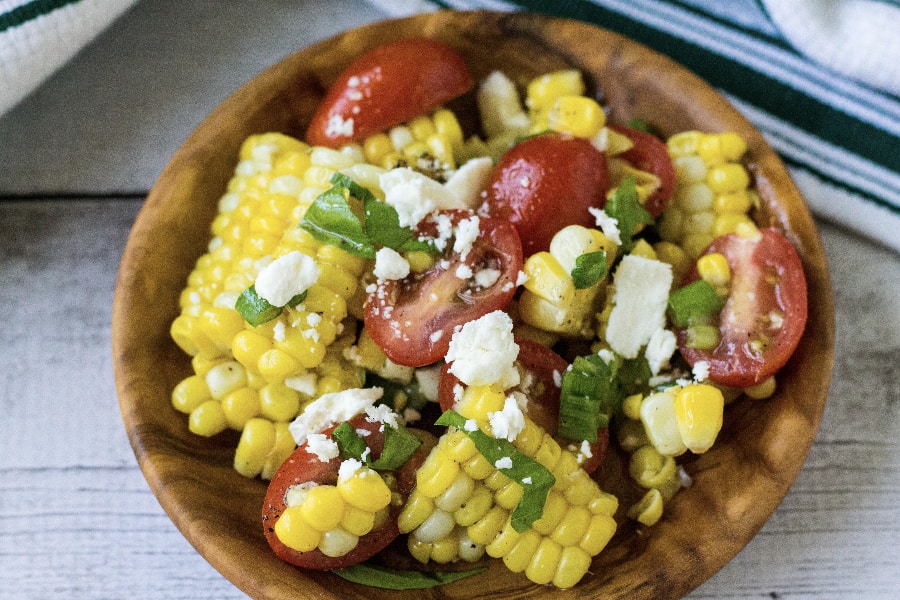 How to Make Sweet Corn and Tomato Salad using the Instant Pot
Ever since I learned how to make Instant Pot corn on the cob, I've never cooked it on the stove top again.
Not only does the corn turn out perfectly every time, but it's so much easier. No waiting for a pot of water to boil, no heating up the kitchen by turning on the stove, etc.
New to the Instant Pot? Check Out These Helpful Resources:
So for this recipe, I'm showing you how to make the salad with corn cooked in the pressure cooker, but if you don't have one, just boil the corn on the stove top (or grill it, or whatever method you prefer)!
First, you'll add some water to the insert pot of an Instant Pot. Place the trivet into the insert pot and set some corn on the cob on the trivet.
Close the lid and set the vent to the sealed position. Select a 3 minute cook time at high pressure.
Once the cook time is complete, perform a quick release of pressure. After the pressure has released and the valve has dropped, carefully open the lid.
Use tongs or other utensil to remove the corn to a cutting board.
While the corn cools a bit, assemble the vinaigrette.
In a mixing bowl, combine the red wine vinegar, olive oil, salt, pepper, green onions, and fresh basil. Stir gently.
Next, carefully cut the kernels off of the cob and add to the mixing bowl, along with the halved tomatoes. Stir gently to combine.
I wait to add the feta cheese until I'm ready to serve. You can definitely serve it right away if you want (I've done this when I'm short on time), but I prefer to let it chill in the refrigerator for a couple of hours prior to serving.
Right before serving, add the feta and stir gently to combine.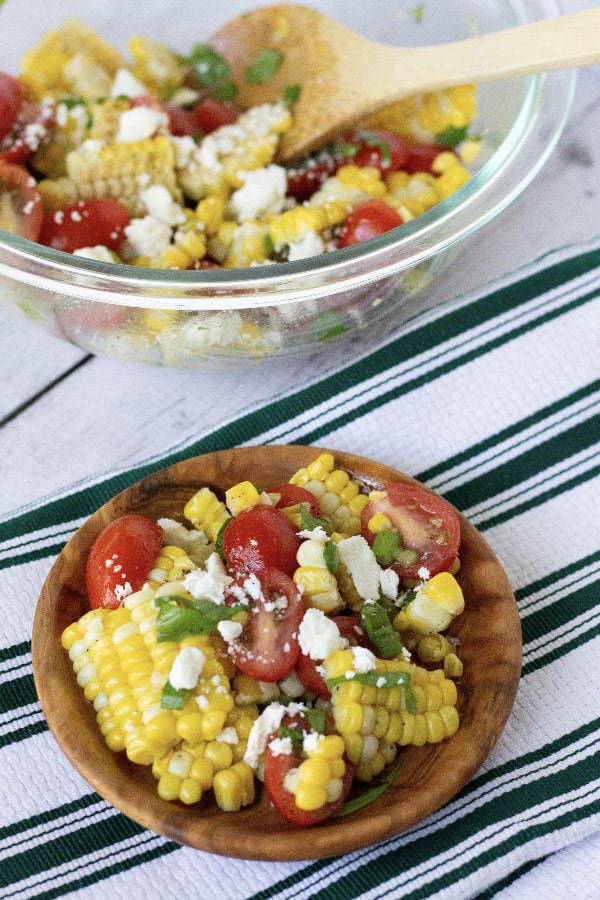 Notes and Adaptations:
The vinaigrette can be customized according to your tastes–add more or less oil or vinegar, add in more green onions, etc.
You can substitute goat cheese for the feta cheese if preferred.
If you don't have an Instant Pot, you can boil the corn on the stove top.
I have only ever made this with fresh corn, and I highly recommend that's what you use. However, if you don't have access to fresh corn, I would recommend frozen corn before canned corn.
Recommended Equipment: