It's easy to make Knorr Rice Sides in the Instant Pot–it cooks perfectly!
Instant Pot Knorr rice sides cook up fluffy and flavorful in under 20 minutes–great for an easy side dish or to bulk up into a meal.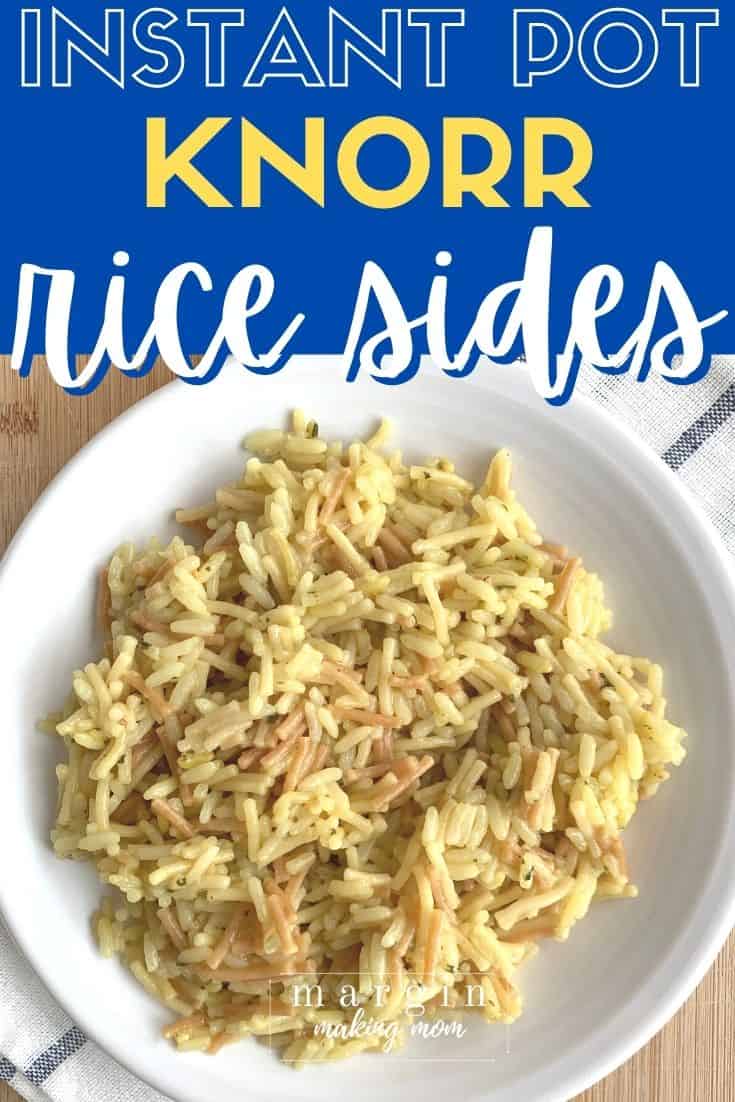 Note: This post may contain affiliate links for your convenience. If you make a purchase, this site may receive a small commission at no additional cost to you. You can read my full disclosure policy here.
Rice is one of the most popular side dishes in the world. It's incredibly versatile, flavorful and filling.
But if you're like me, it's time to clear out old appliances like the rice cooker to make way for newer appliances like the Instant Pot and the air fryer.
I use my pressure cooker to make Instant Pot brown rice, Instant Pot basmati rice, Instant Pot jasmine rice, Instant Pot yellow rice, and more!
The good news is that the Instant Pot not only cooks plain rice really well, but it also cooks packaged rice mixes with seasonings.
Yes, that's right, you can make Knorr rice sides in the Instant Pot!
I also love that Knorr rice sides are available in a variety of flavors. I can keep them in my pantry and select the one that pairs best with whatever main dish I happen to be serving.
With about 5 minutes of prep and only 20 minutes of hand-off time, Instant Pot Knorr rice sides cook up fluffy every time you make them. There's no guesswork, just flavorful rice that your whole family will love.
More Instant Pot Convenience Meals and Sides:
Instant Pot Rice Is So Easy
If you haven't made rice in your Instant Pot just yet, these Knorr rice sides are the perfect place to start. Using my Instant Pot to make rice means:
No need to wait for water to boil.
No need to stir the rice, it cooks perfectly every time!
No pot of starchy liquid boiling over onto my stove!
Only a few minutes of prep time.
Knorr rice sides in the Instant Pot can be served with just about anything!
How to Cook Knorr Rice Sides in A Pressure Cooker
It's really easy to get perfect rice every time.
Ingredients You'll Need:
Knorr Rice Sides (I used the chicken variety)
Water
Butter or oil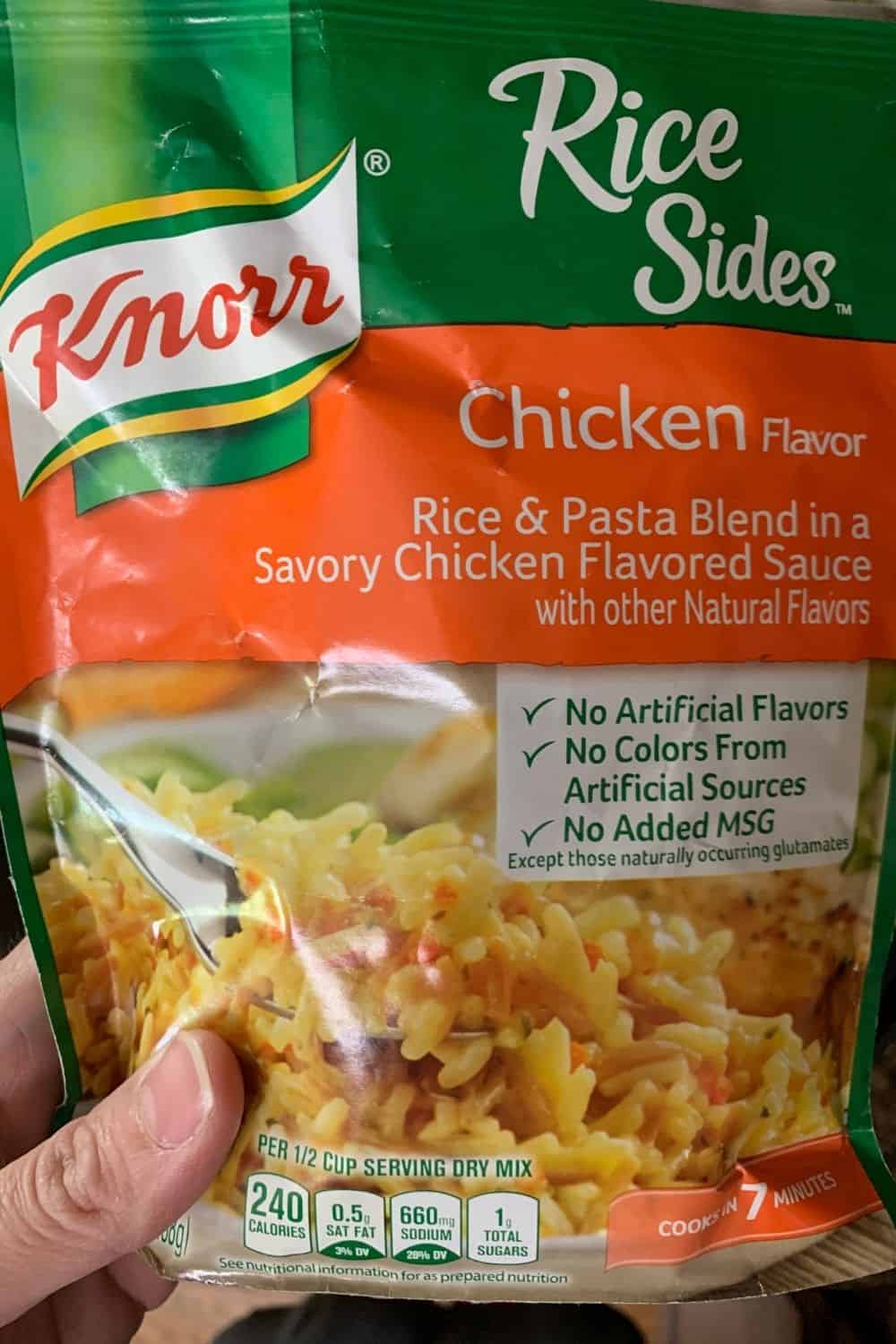 How to Make It:
(Full printable recipe is available below)
Pour. First, you'll pour the Knorr rice packet with seasonings into the instant pot.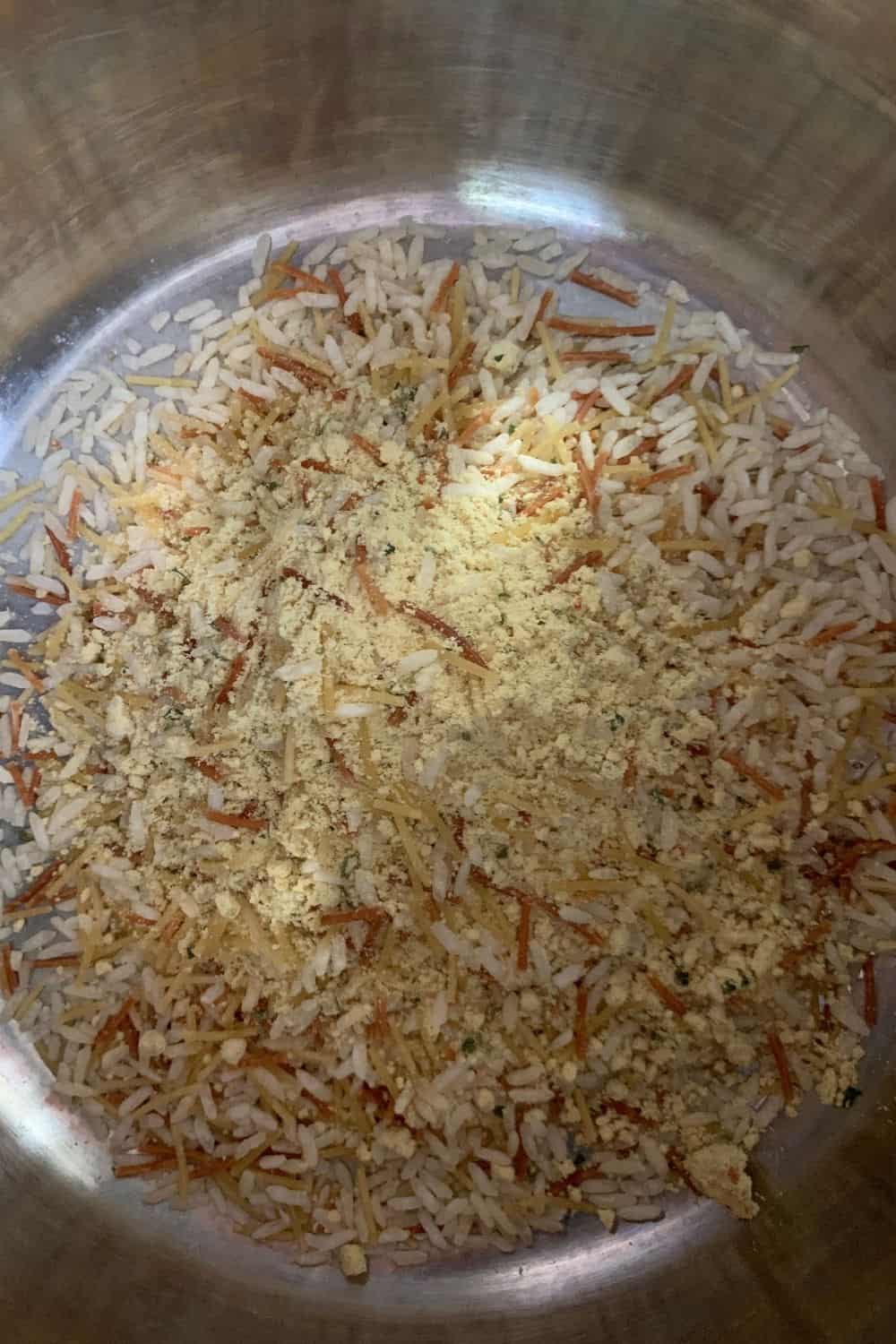 Add liquid and cook. Next, you'll add the water and the butter or oil. Seal the Instant Pot and cook for 5 minutes at high pressure.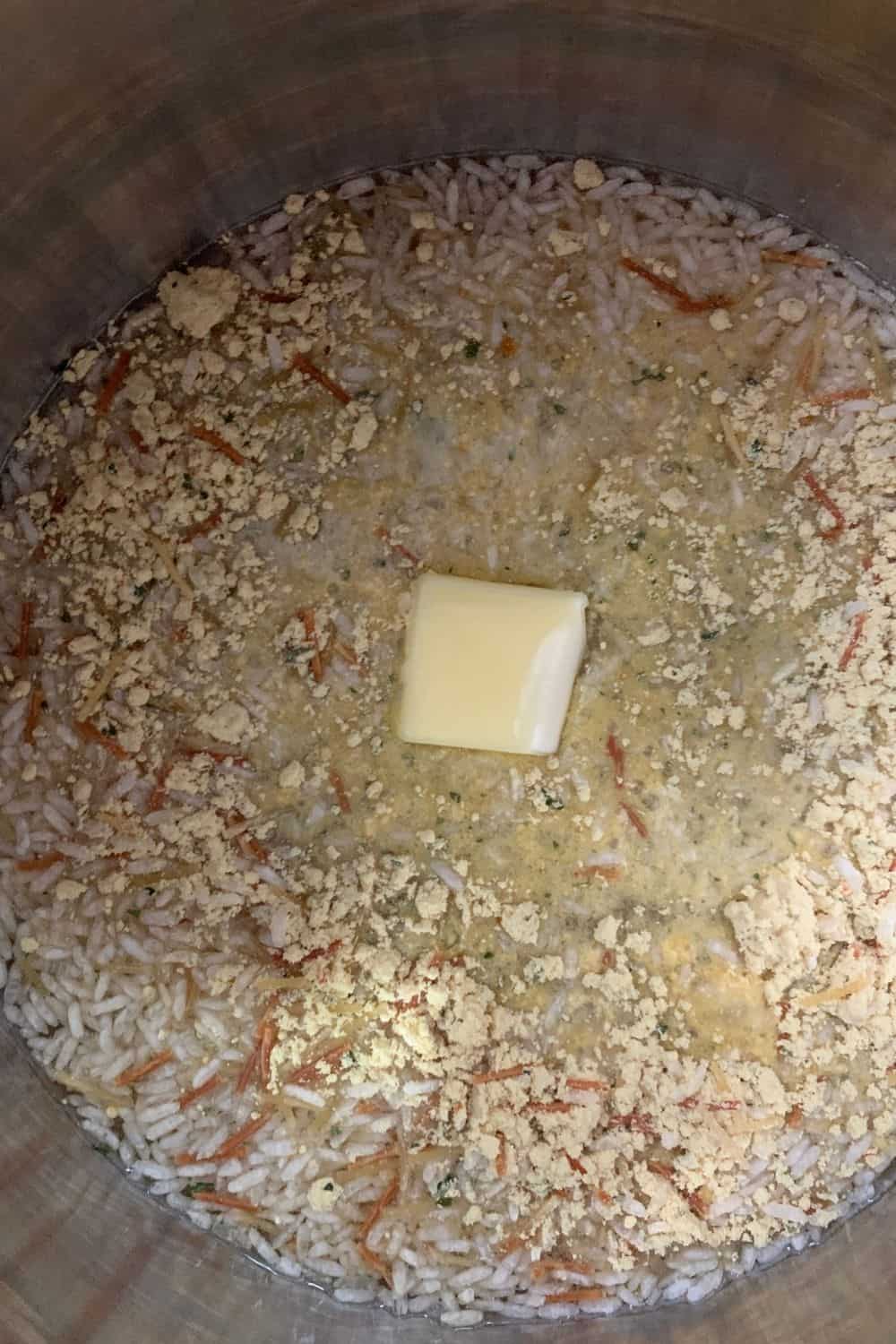 Serve. Last, you'll perform a quick release of the pressure and fluff the rice with a fork before serving.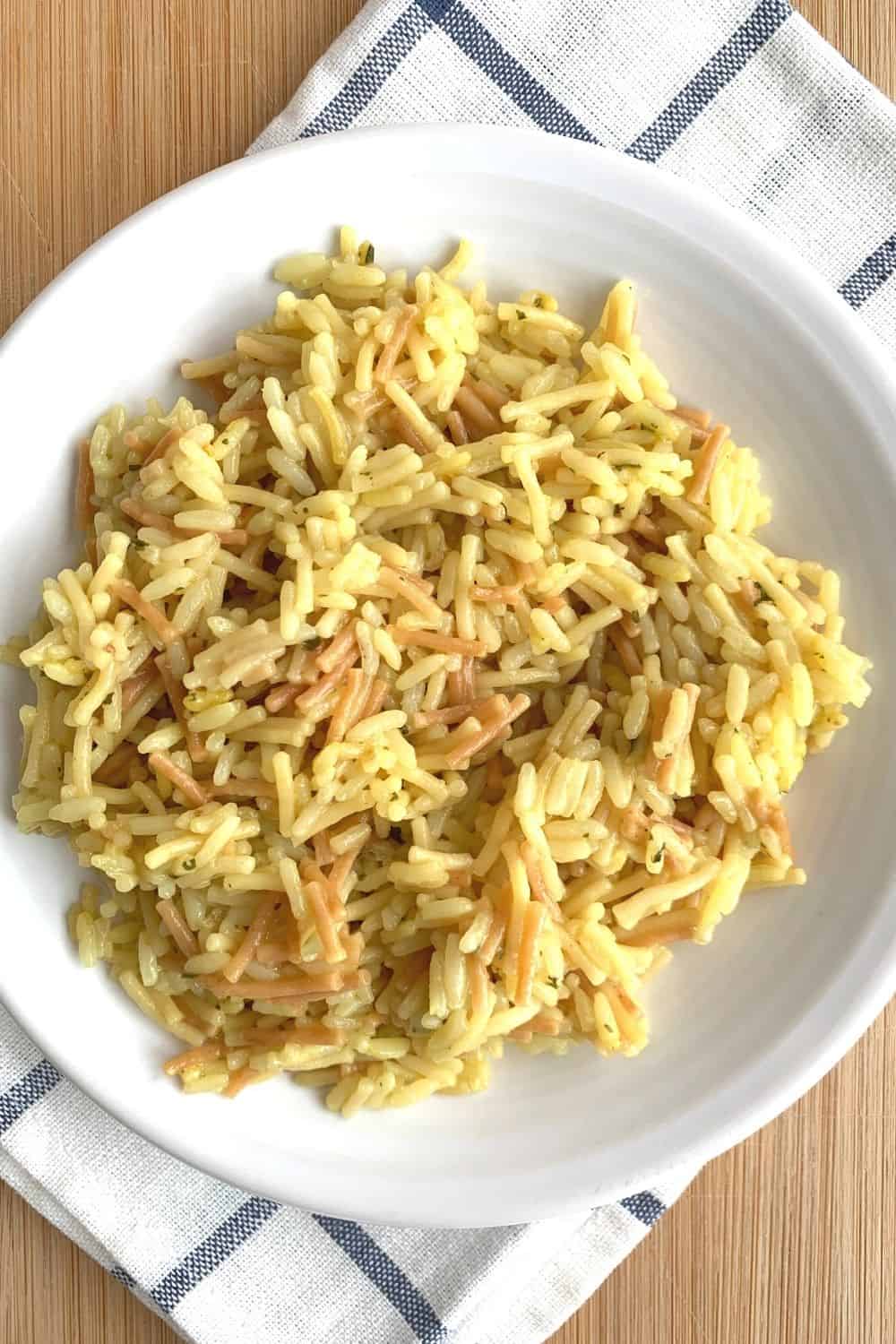 Notes and Adaptations:
You'll notice the amount of liquid called for in this recipe is less than what is listed on the package. That's because there's much less evaporation in pressure cooking, so you can get away with using less water!
Feel free to double the recipe and cook two packages–the cook time will remain the same.
Recommended Equipment: