These Instant Pot Chicken Dinner Ideas taste great and will make your family happy!
Cooking dinner is a breeze with this list of Instant Pot chicken dinner recipes!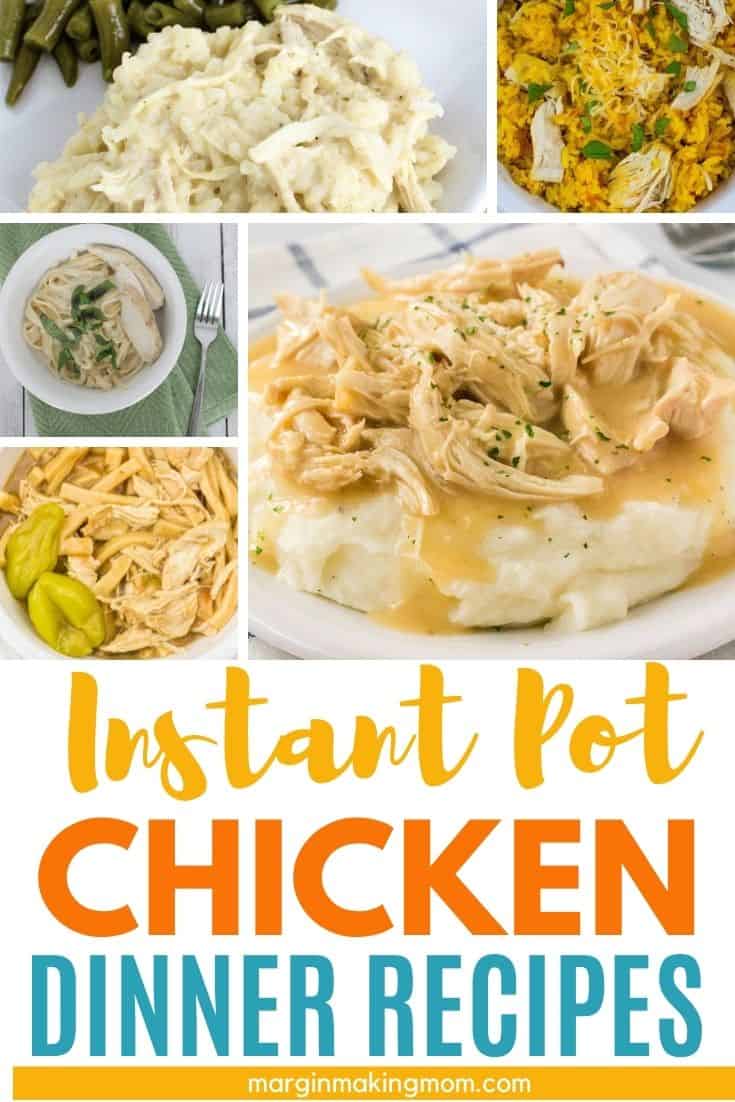 Note: This post may contain affiliate links for your convenience. If you make a purchase, this site may receive a small commission at no additional cost to you. You can read my full disclosure policy here.
Whether you are looking for an easy dinner for your family or something to serve guests, chicken is flavorful, well-loved, and affordable. But you probably don't want to spend all day in the kitchen!
That's part of the reason I love my Instant Pot!
With most recipes, I can just toss in the ingredients and let the pressure cooker do all the work while I set the table, freshen up or visit with friends and family.
I sure don't want to spend all night in the kitchen, and because everything cooks in one pot, cleanup is usually a breeze too.
Chicken is my go-to protein because it's inexpensive, almost everyone likes chicken, and I usually have a healthy supply in my freezer.
Pair that with ingredients I already have in my pantry and these Instant Pot chicken dinner ideas may just be the best thing since sliced bread.
I'm sharing some of my favorite pressure cooker chicken recipes, so you'll always have an easy recipe for a complete meal up your sleeve on busy weeknights.
Delicious Pressure Cooker Chicken Dinner Recipes
I'm not about guesswork when it comes to getting dinner on the table, so I keep a pretty extensive list of Instant Pot chicken dinner recipes handy.
I like flavorful chicken recipes that come together quickly, and there's no shortage of options!
Whether you want comfort food (hello, Instant Pot chicken and dumplings!), Mexican food (one such popular recipe is my favorite Instant Pot arroz con pollo), something spicy (Instant Pot Jerk chicken, anyone?), an easy sandwich idea (one great recipe is this Instant Pot BBQ chicken) or an Asian-style dish (like Instant Pot teriyaki chicken over brown rice), these easy Instant Pot chicken recipes for dinner will please your whole family.
So go ahead, put that electric pressure cooker to work with these easy Instant Pot recipes.
Instant Pot Chicken Dinner Recipes
You'll want to try all of these quick and delicious Instant Pot chicken dinner ideas.
Cooking Tips for Instant Pot Chicken Dinner Ideas
Chicken is such a time saver in the kitchen, but the last thing you want is undercooked or overcooked chicken.
Here are some cooking tips to help you make sure your chicken dinner recipes for the Instant Pot turn out perfect every time!
Saute the Chicken if Needed – The Instant Pot saute function lets you brown meat and veggies and can enhance flavor in a recipe. If a recipe calls for doing this, don't skip that step! But many Instant Pot recipes don't require it, which can save some time.
Scrape the Bottom of the Pot — If you're using the Instant Pot's Saute button, be sure to add some chicken broth or water and scrape any browned bits from the bottom of the pot before pressure cooking.
Cooking Time Depends On Size of Chicken – Cooking times are designed to make sure the chicken fully cooks. These times are based on the size of the chicken pieces. You'll use high pressure for cooking these Instant Pot meals. Many recipes specify cutting chicken a certain way, so be sure to follow those instructions.
Check for Doneness – Always check for doneness with a meat thermometer. Chicken should be cooked to an internal temperature of 165F. If the chicken is not done, you can reseal the pot and do a 0 or 1-minute pressure cook and check again.
Pressure Release — Each recipe will specify whether to use a quick release or natural release. I generally prefer using a natural pressure release for chicken, as it results in juicy chicken breasts that are nice and tender. But in some cases, a quick release may be preferred, depending on other ingredients used.
Cuts of Chicken — If you're following an Instant Pot chicken breast recipe but want to use chicken thighs instead, you'll likely either need to increase the cook time or cut the pieces smaller, since Instant Pot chicken thighs take longer to cook through.
Store Leftovers — You can store leftover chicken in an airtight container in your refrigerator. Did you know you can reheat leftovers in the Instant Pot?
Make Your Own — Some of these easy chicken recipes call for cream of chicken soup. I like to skip the canned stuff and make homemade cream of chicken soup as a simple yet flavorful substitute.
Can I Use Frozen Chicken for these Easy Instant Pot Dinner Ideas?
Yes, you can cook frozen chicken in your Instant Pot, and many chicken dinner recipes provide instructions for cooking using frozen chicken.
Using frozen chicken will increase your cook time, which is important to note.
If the recipe doesn't give you alternative instructions for using frozen chicken, it's probably safest to stick with thawed or fresh chicken breasts, especially if the recipe includes veggies, pasta, or other ingredients that would be overcooked if you were to increase the cook time.
I hope you enjoy these popular Instant Pot chicken recipes as much as we do!
More Easy Dinner Ideas
Here are a few more of our favorite Instant Pot recipes that you'll want to keep on hand:
You can also see all of my pressure cooker recipes for more ideas!
One of the best things about the Instant Pot pressure cooker is that it's faster than a slow cooker, too, so I don't have to remember to start preparing the meal early in the day.
Find out how to convert your favorite slow cooker recipes into pressure cooker recipes!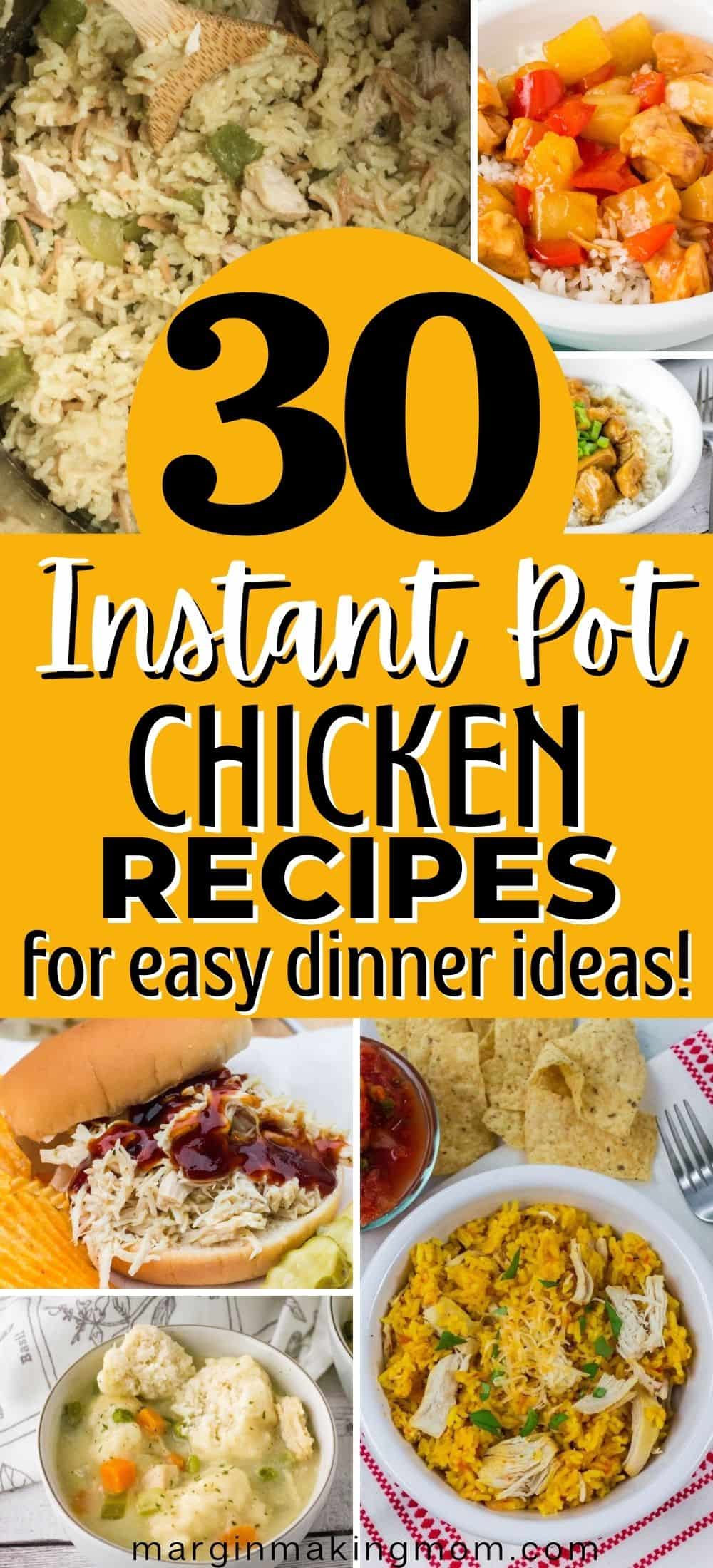 Get the Instant Pot Meal Plan Jumpstart
Join the free community and you'll learn simple ways to easily create tasty food for your family, as well as immediate access to the FREE Instant Pot Meal Plan Jumpstart to help you get a tasty dinner on the table in a flash!
"Thanks for sharing your knowledge and experience in such a friendly and delightful way!!! So far, I'm very impressed with the results...thanks again for your guidance into this new realm of cooking!" -Margaret
Free Resource Library
Enter my
free resource library
for my latest printables and resources! Password is 'IHEARTMARGIN' -- please copy and paste that in at the link above. Thanks for being a subscriber!!