These Instant Pot Ground Beef Recipes are quick and easy to make and taste great.
Bookmark this list of ground beef Instant Pot recipes so you can reference them when you need a flavorful recipe on a busy day.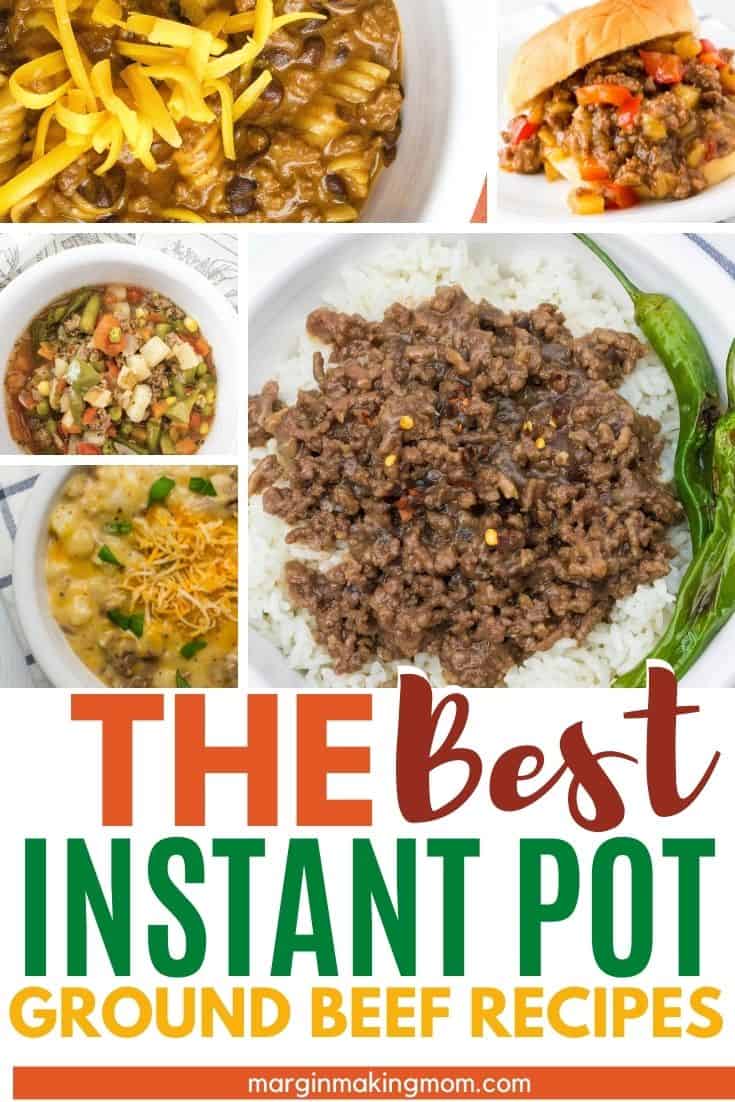 Note: This post may contain affiliate links for your convenience. If you make a purchase, this site may receive a small commission at no additional cost to you. You can read my full disclosure policy here.
We all have days when time seems to get away from us. The whole family is getting hangry and you should have had dinner on the table ten minutes ago.
Well, thanks to my Instant Pot, I can't rewind time, but I can get a great meal on the table in a hurry.
In fact, I can often finish the entire meal in almost the same amount of time it would take to preheat the oven or boil a pot of water.
The Instant Pot is one of my favorite kitchen tools but have you ever wondered what recipes you could make in your Instant Pot with a package of ground hamburger?
That's why I assembled this list of incredible Instant Pot ground beef recipes!
I don't want to spend all evening in the kitchen, and we almost always have ground beef on hand.
Pull a few ingredients from the pantry and dinner is done in no time!
Delicious Ground Beef Instant Pot Recipes
Nobody wants to spend precious time searching all over the internet for a ground beef Instant Pot recipe.
So I compiled everything together so you'll know right where to look when you need a little inspiration.
These Instant Pot ground beef recipes are well-loved by my family and I am certain your family will love them too. There's everything from soup to casseroles to sandwiches–plenty of options to choose from!
Instant Pot Ground Beef Recipes
These easy Instant Pot ground beef recipes are family-friendly and simple to make--perfect for a busy weeknight when you need to get dinner on the table fast.
Tips For Making Instant Pot Ground Beef Recipes
Ground beef is fairly inexpensive and can stretch a long way. Hamburger meat also freezes well so I always keep a ready supply on hand.
Here are some tips to ensure your recipes turn out perfect every time.
Brown The Meat
Most recipes call on you to begin by browning the meat, and sometimes the veggies.
I love that I can do this right in my Instant Pot using the sauté function. There is no need to dirty another pan.
Quick-Cook Ground Beef
You can quickly cook 1-2 pounds of beef without sauteing.
Place the meat on a trivet and add 1 cup of water to the insert. Seal and cook at high pressure for 6 minutes followed by a 5-minute natural release, then quick release of pressure.
Open the lid and your meat will be tender and cooked through. Just break it apart into small pieces with a potato masher.
Cook Frozen Ground Beef
No need to panic if your ground beef is still frozen–you can cook frozen ground beef in the Instant Pot!
Follow the same steps as above and place the frozen meat onto the trivet in your Instant Pot. Seal and cook for 20 minutes.
Do a 5-minute natural release followed by a quick release of pressure, and the continue with your favorite recipe.
Drain The Fat
If your ground beef produces a lot of extra grease, you will want to drain it before continuing with the recipe.
Can I Use Other Ground Meats in These Instant Pot Hamburger Recipes?
Yes! You can substitute ground pork, ground turkey, ground chicken, or even ground venison!
For some of the Italian-style dishes, ground Italian sausage would work well, too.
More Easy Instant Pot Recipes and Resources: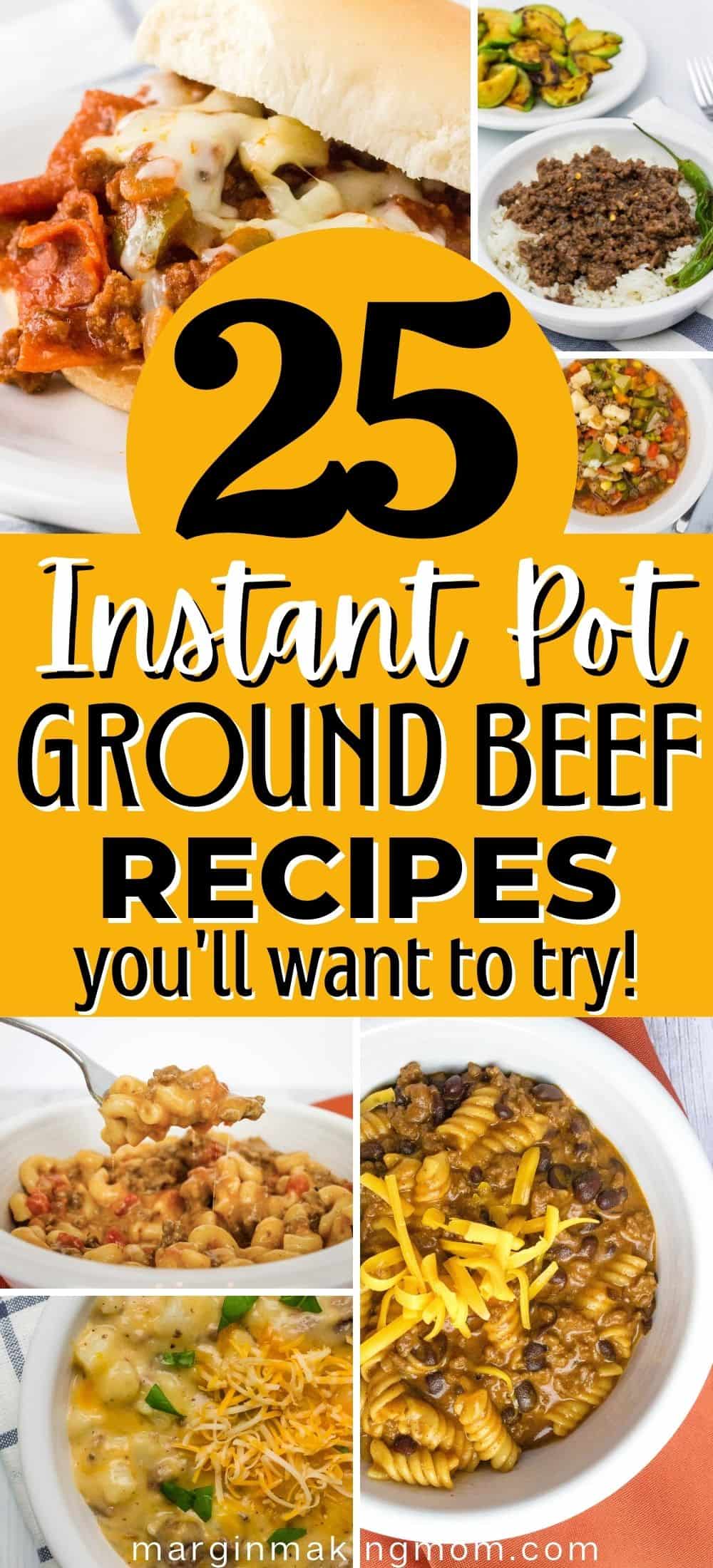 Get the Instant Pot Meal Plan Jumpstart
Join the free community and you'll learn simple ways to easily create tasty food for your family, as well as immediate access to the FREE Instant Pot Meal Plan Jumpstart to help you get a tasty dinner on the table in a flash!
"Thanks for sharing your knowledge and experience in such a friendly and delightful way!!! So far, I'm very impressed with the results...thanks again for your guidance into this new realm of cooking!" -Margaret
Free Resource Library
Enter my
free resource library
for my latest printables and resources! Password is 'IHEARTMARGIN' -- please copy and paste that in at the link above. Thanks for being a subscriber!!