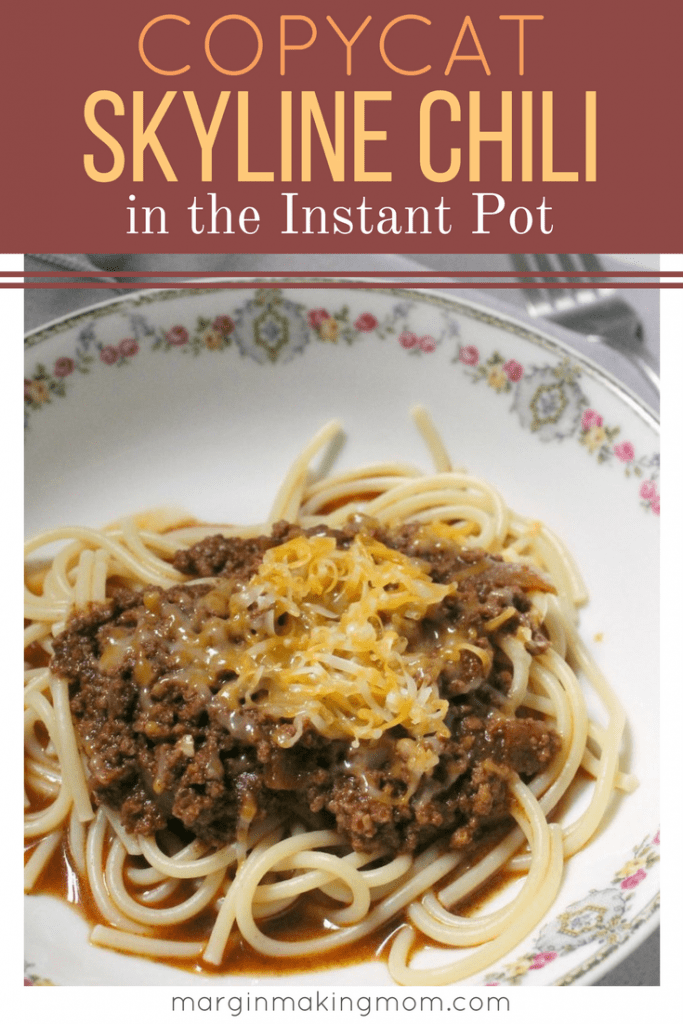 Skyline Chili in the pressure cooker is an easy way to enjoy the Cincinnati classic from anywhere! It's a simple and quick meal, perfect for a weeknight!
Note: This post may contain affiliate links for your convenience.  You can read my full disclosure policy here.

"It's not the type of chili you're probably used to.  Most people either love it or hate it."
My then-boyfriend was describing the chili he grew up eating regularly.  We had been dating for a couple of months and were planning a trip to his hometown of Cincinnati.
I had already met his immediate family, but this trip would allow me to meet his sweet grandparents, visit some of his childhood friends, and get a little tour of his old stomping grounds.  It was endearing that he wanted me to experience the people and places that were important to him–longtime family friends, his high school, places he used to work, his former church, and so on.
That's when he mentioned that we would be making a stop at Skyline Chili while we were there, followed by his disclaimer of sorts.
Love it or hate it?  What is this guy talking about?
It's no secret that I have a thing for chili.  Honestly, I can't imagine anyone hating chili.  Barbecue chicken chili, white chicken chili, and of course the classic chili I grew up on…they're all so delicious in their own way.
So I wasn't really sure what to expect on that first visit.  But he was right, the Cincinnati staple is unlike any other chili I'd had before.
For starters, the chili is served over a bed of spaghetti and topped with finely shredded cheese.  Many people also add beans or onions on top.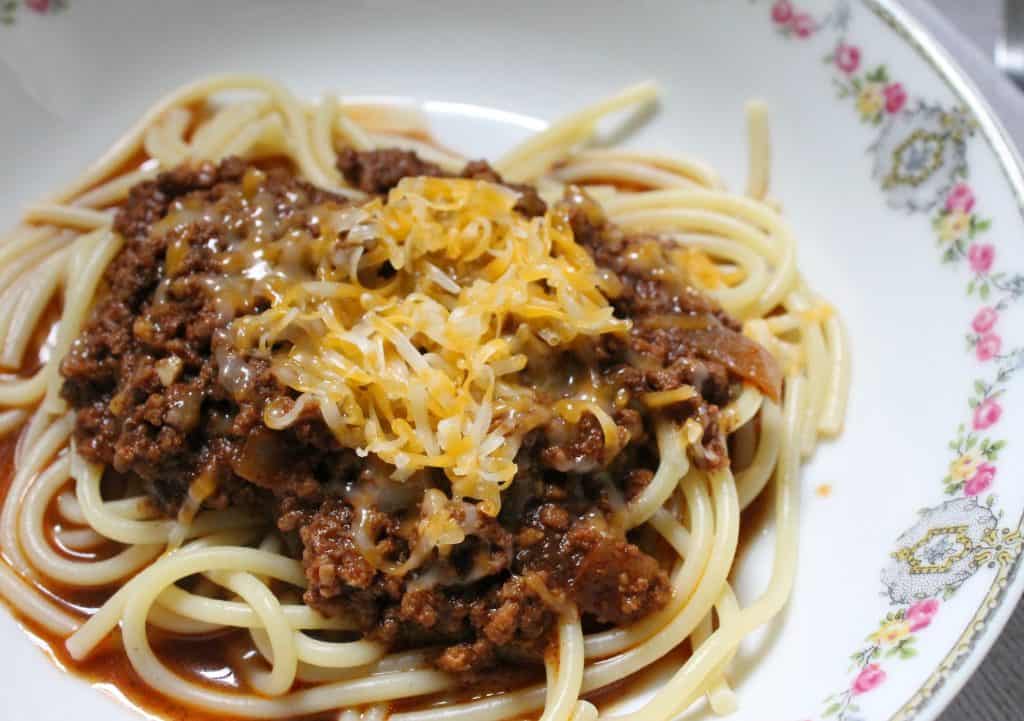 The flavor medley includes traditional chili powder and also cinnamon and allspice, plus the unsuspecting addition of chocolate.  It bears some similarities to Greek spaghetti.
The verdict for me?  I liked it and that sealed the deal that he could marry me.  Just kidding…maybe. 🙂
Either way, he did marry me, and we now make our home in the fine state of Tennessee.
Only trouble is, Skyline Chili restaurants don't exist here.
No big deal, though, because we can buy cans of Skyline Chili at our local grocery store.  This was our go-to way to get a Skyline fix for years.
But after a gross encounter with the contents of a can one evening (I'll spare you the details), I set off to make it from scratch.  While looking for a homemade copycat version to try, I stumbled across this recipe and decided to use it as a starting point.  The first time I made it, I adapted the process a good bit to streamline things (mama needs quick and simple, folks).
Then it hit me–I can make this even easier by cooking it in my Instant Pot!  Copycat Skyline chili in the pressure cooker?  Yes, please!
And just like that, this recipe was born.  It has replaced the Skyline cans in our home, and it got two thumbs up from my Cincinnati native hubby.
If you don't have a pressure cooker, you can also make this on your stovetop.  You'll just cook your beef and onions in a pot on the stove, then add the remaining ingredients and let it simmer for a good little while (I'd say maybe around 30 minutes or so to let the flavors meld) on the stove before blending as desired.
Serve it over some spaghetti, topped with freshly shredded cheese (shred your own cheese for the best melting!) and onions or beans if you wish.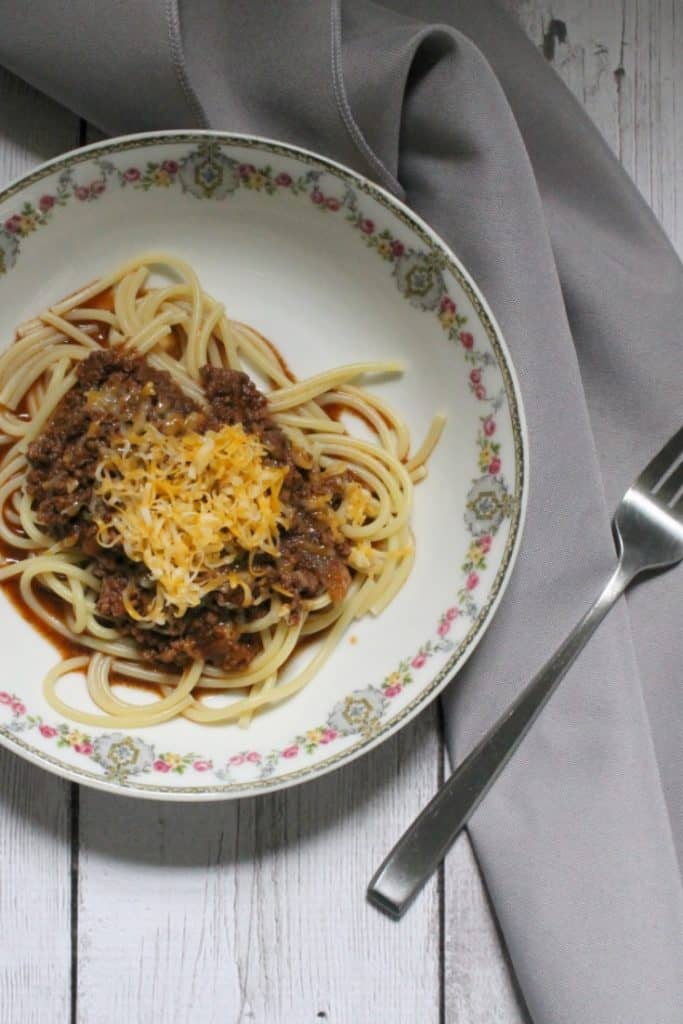 If you love Cincinnati chili, you should definitely give this one a try.  If Cincinnati chili is new to you, I think you'll be pleasantly surprised by its uniqueness.  I'm sure you'll be in the "love it" camp, too!
Recommended Equipment:
Copycat Skyline Chili in the Pressure Cooker
Ingredients
1 Tbs olive oil
1 lb ground beef
1/2 medium onion, diced
2 tsp garlic
2 cups beef broth
2 Tbs chili powder
1/2 tsp cumin
1/2 tsp cinnamon
1/8 tsp allspice
1/8 tsp ground cloves
1 bay leaf
1 cup tomato sauce
1 Tbs apple cider vinegar
1 oz (1 square) of unsweetened chocolate OR 1 Tbs cocoa powder
salt and pepper to taste
To Serve:

Serve over cooked spaghetti. Top with shredded cheese, onions, and beans as desired.
Instructions
Add olive oil to the insert pot of the Instant Pot. Press the Saute button.
Add beef and onions, breaking apart the beef as it cooks.
Once beef is brown and onions are becoming translucent, add garlic and stir to combine, cooking for one more minute.
Drain excess grease if necessary and return mixture to insert pot.
Add broth, stirring to combine.
Add remaining ingredients, except for salt and pepper, stirring to combine well.
Press the Cancel button to stop the Saute function. Place the lid on the Instant Pot.
Set the vent to the sealed position. Using the Manual setting, select a 5 minute cook time.
Once the cook time is complete, you can perform a quick release or natural release.
After pressure has released, carefully remove lid and then remove the bay leaf.
If desired, use an immersion blender to achieve consistency similar to Skyline Chili.
Add salt and pepper to taste, if needed.
Serve over cooked spaghetti and top as desired.
https://marginmakingmom.com/skyline-chili-pressure-cooker/
Copyright MarginMakingMom.com
*Note: I am not affiliated with Skyline Chili.

Save
Save
Save
Save
New to Pressure Cooking?
Subscribe to the Margin Making Mom newsletter and get instant access to a FREE printable Beginner's Guide to Getting Started with Your Pressure Cooker, which includes a printable Conversion Cheat Sheet to help you convert your favorite slow cooker meals to pressure cooker meals!
We take your privacy seriously and won't send you spam. See our privacy policy here.

Free Resource Library
Enter my
free resource library
for my latest printables and resources! Password is 'IHEARTMARGIN' -- please copy and paste that in at the link above. Thanks for being a subscriber!!