Having a pressure cooker can simplify your meal prep significantly! Having a few useful pressure cooker accessories can make it even easier!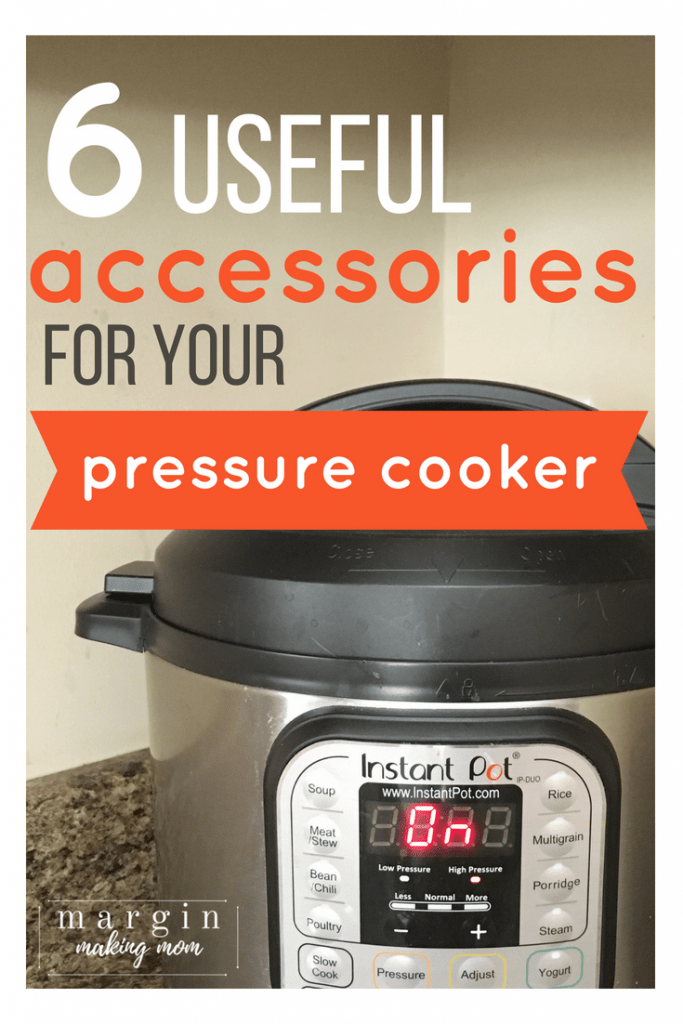 Disclaimer: This post may contain affiliate links for your convenience. You can read my full disclosure policy here.
It's no secret that I love my Instant Pot DUO60. I've had it for a couple of years now, and in that time, I've learned so much about pressure cooking.
I'm still learning and finding new ways to use my pressure cooker to simplify my life. As a busy mom, I can use all the help I can get to decrease time spent in the kitchen!
The Instant Pot is an extremely versatile pressure cooker that can do a lot of things, straight out of the box.
Mine came with a trivet and a plastic ladle and spatula. Honestly, those are all you need to make a lot of things. But, if you want to expand upon your pressure cooker's capabilities, there are some additional useful pressure cooker accessories you might like to have.
1. Cheesecake Pan
I have this Fat Daddio 7×3″ pan with a removable bottom, and it works beautifully! It fits well into my Instant Pot and has never leaked for me.
I was so excited to make cheesecake in the pressure cooker that this was one of the first accessories I purchased after buying my Instant Pot. Making cheesecake in the pressure cooker is so much easier than baking it in the oven. Pressure Cooking Today has a lot of helpful information and delicious cheesecake recipes to try!
If you prefer a traditional Springform pan, this one has good reviews.
You can make all sorts of foods using the Pot-in-Pot method (where you cook food in a separate dish in the Instant Pot, rather than directly in the insert pot). Check Out My List of Favorite Pot-in-Pot Cooking Accessories for the Instant Pot!
2. Extra Sealing Ring
The silicone sealing ring for the Instant Pot can absorb odors from whatever you cook in the pot.
For example, if you make white chicken chili in the Instant Pot, you'll notice the ring smells like chili afterwards, even after routine washing.
This only becomes problematic if you are also going to use your Instant Pot to make something that you don't want to taste like chili, such as the above-mentioned cheesecake. The ring can sort of impart the taste from one food to another, particularly if one has a strong, spicy flavor and the other has a mild flavor.
In this case, it's a good idea to have an extra sealing ring that you use for the milder foods. I use one sealing ring for my savory foods and another for my sweet foods.
3. Steamer Basket
You can use the trivet that is included with the Instant Pot for a lot of things, such as eggs, larger vegetables or potatoes, etc.
If you want to cook smaller vegetables or chopped food items that would fall through the standard trivet, or if you find a trivet full of eggs difficult to maneuver, a steamer basket is really useful.
It used to be a little tricky to find one that will fit into the Instant Pot, but as pressure cookers have gained popularity, many companies now make baskets specifically to fit in the Instant Pot. There are several to choose from, and it can be a little overwhelming, so I made a guide to the best Instant Pot steamer baskets to help.
Some companies make multiple sizes, so there are options for the 3-quart, 6-quart, and 8-quart models. I have and like this mesh basket.
4. Silicone Lid Cover
If you don't like using Saran Wrap or Press 'n Seal Wrap on your insert pot, a reusable silicone lid cover is one solution for storing leftovers and preventing spills. Do note that this is for storage of food, not for use during cooking.
5. Tempered Glass Lid
While not a necessity for the slow cooker function of the insert pot (you can use the standard Instant Pot lid), some people prefer a tempered glass lid that allows you to see the contents easily.
If you use your Instant Pot for a lot of sauteing or slow cooking, a tempered glass lid could be useful because it's also easier to quickly take it off and put it back on if you need to stir the contents.
You could also use this glass lid for storing leftovers instead of using a silicone lid cover, though the glass one doesn't create a spill-proof seal.
6. Extra Insert Pot
Having a second insert pot really is most useful if you plan on storing leftovers in your insert pot AND using your Instant Pot pretty frequently.
The benefit to having an extra pot would be that you could keep leftovers stored in one insert pot in the refrigerator while you use your other insert pot for cooking.
Or, if you want to prepare multiple food items for the same meal and want to leave each item in the insert pot that it was cooked in, it would be helpful to have two pots.
For example, if you wanted to cook a whole chicken in one pot and cook rice in another pot, having two insert pots would be useful.
What are your favorite useful pressure cooker accessories? I'd love to hear what you use and love! Let me know in the comments below.
New to Pressure Cooking? Check Out These Helpful Resources!
Get the Instant Pot Meal Plan Jumpstart
Join the free community and you'll learn simple ways to easily create tasty food for your family, as well as immediate access to the FREE Instant Pot Meal Plan Jumpstart to help you get a tasty dinner on the table in a flash!
"Thanks for sharing your knowledge and experience in such a friendly and delightful way!!! So far, I'm very impressed with the results...thanks again for your guidance into this new realm of cooking!" -Margaret
Free Resource Library
Enter my
free resource library
for my latest printables and resources! Password is 'IHEARTMARGIN' -- please copy and paste that in at the link above. Thanks for being a subscriber!!