Instant Pot hamburgers are an easy meal when you don't want to heat up the stove or grill!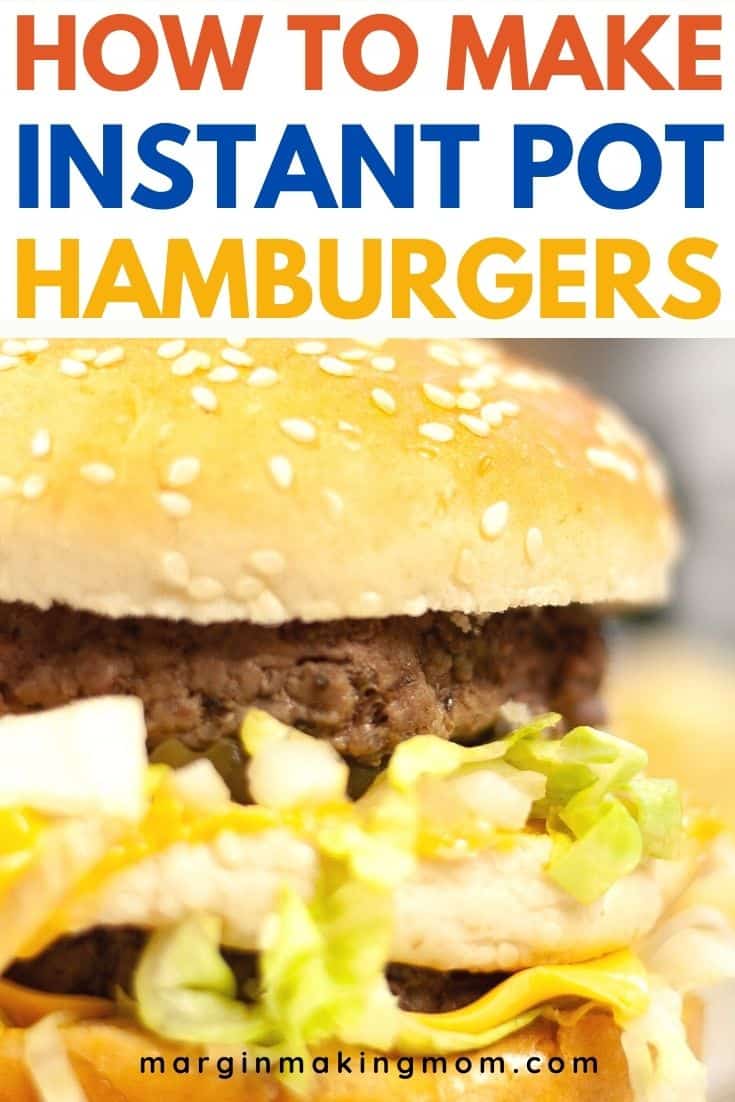 Learn the tips and tricks to make delicious Instant Pot hamburgers–including how to make them "Big Mac Style!"
Note: This post may contain affiliate links for your convenience. If you make a purchase, this site may receive a small commission at no additional cost to you. You can read my full disclosure policy here.
There are so many things you can do with your Instant Pot that you probably don't even realize yet.
Beyond the Instant Pot soups and chilis that beg to be made in your pressure cooker, you can make Instant Pot cakes and other desserts, yogurt, reheat food in your Instant Pot, proof bread dough, and make plenty of delicious Instant Pot weeknight dinners.
But did you know you can make hamburgers in the Instant Pot?
Yes! You can make juicy burgers and get an easy dinner on the table at the same time.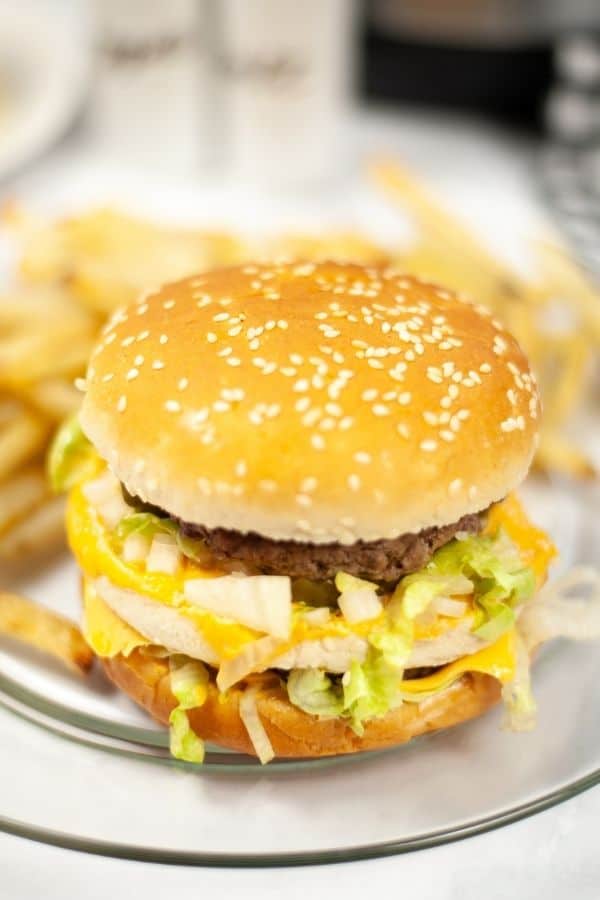 Making Hamburgers in the Pressure Cooker
If you've been using your Instant Pot for very long, you probably know it requires water in order to create the steam that builds the pressure.
So you may be wondering how you're going to cook hamburgers this way?
It's actually pretty easy and just requires one simple step–wrapping your burgers in aluminum foil before cooking.
This helps to protect the burgers from all the steam and condensation in the pot, and also keeps them from sticking together to form one big conglomerate of beef.
How to Make Instant Pot Hamburgers
It's really easy to make these burgers! Here's how to get started.
Ingredients You'll Need:
Quarter pound beef patties, seasoned to your liking
Water for the Instant Pot
Buns
Toppings as desired: Cheese, lettuce, onions, tomatoes, mustard, ketchup, thousand island dressing, bacon, dill pickles, etc.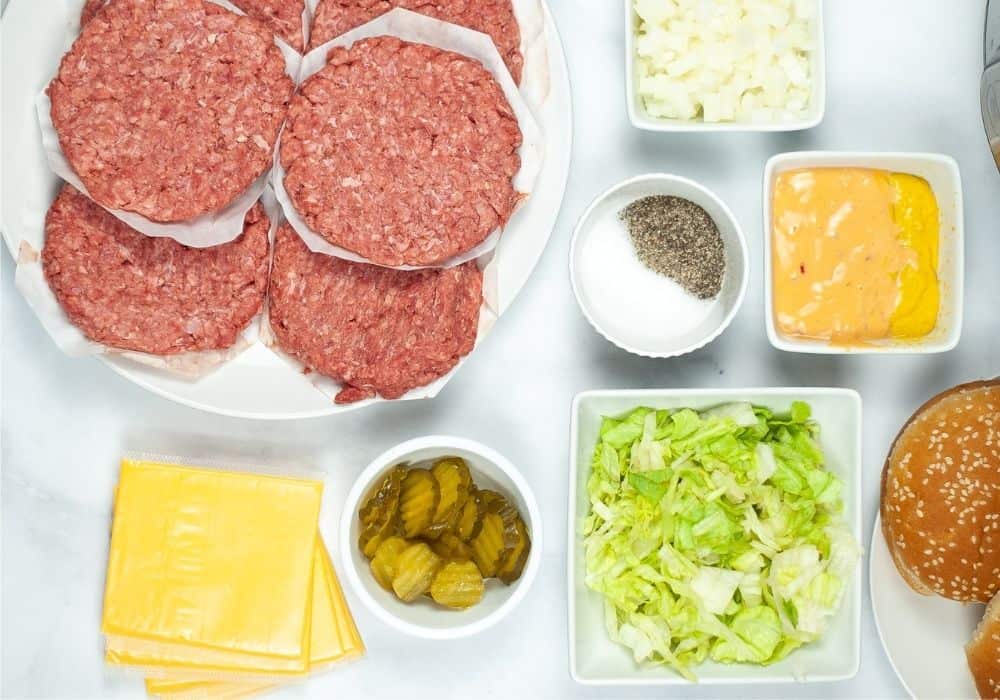 How to Make It:
(Full printable recipe is available below)
Season and wrap. First, you'll season the beef patties using salt, pepper, or your favorite burger seasoning mix. I like McCormick Montreal Steak seasoning, but use whatever you prefer. Then, wrap each burger well in foil.
Pour 1 cup of water into the insert pot of the Instant Pot and set the trivet in place. Stack the foil-wrapped burgers on the trivet.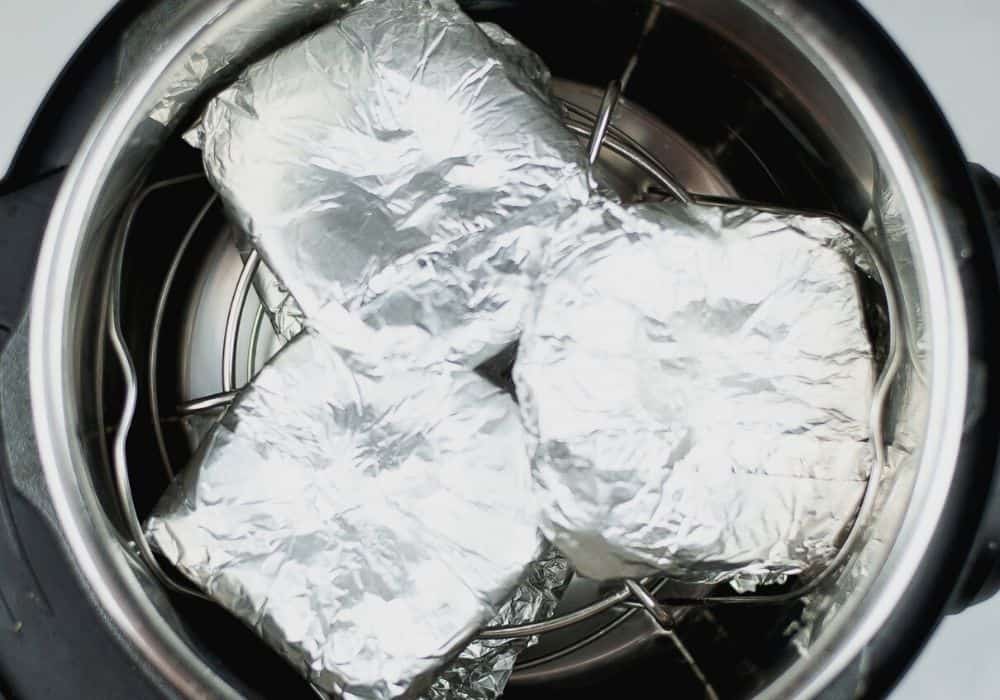 Pressure cook. Next, you'll cook the burgers at high pressure for 10 minutes, followed by a quick release of pressure (you can also allow a natural release if you aren't in a hurry).
Assemble. Last, you'll carefully remove the burgers from the foil (watch out for hot juices!) and assemble your burgers, adding toppings as desired.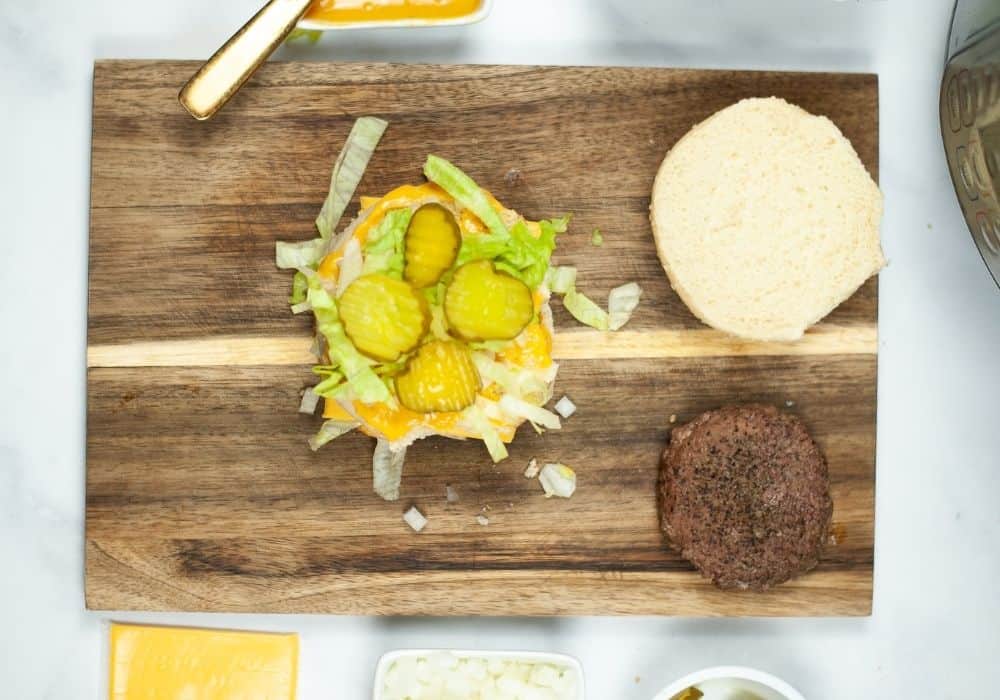 You can add a slice of cheese to the warm burger and allow it to melt, or pop it under the broiler in your oven.
Then serve and enjoy your juicy burger with a side of french fries or my easy Instant Pot macaroni salad or homestyle potato salad.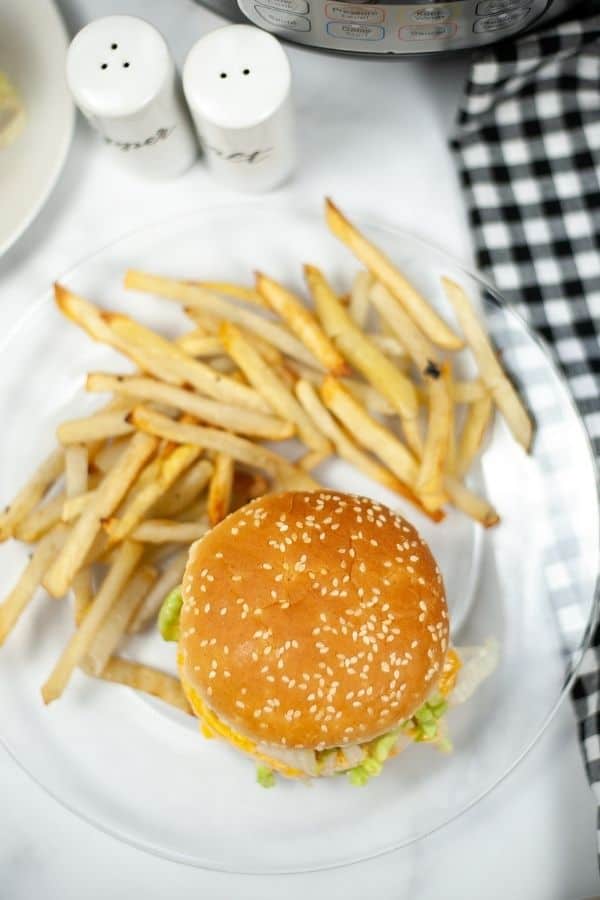 How to Make Big Mac Style Burgers
If you love a good Big Mac, try making your own at home!
To do this, you'll need two quarter-pound patties per burger, as well as 1 sesame seed bun and an extra bottom bun (three bun pieces total).
For each burger, mix a tablespoon of Thousand Island dressing with 1 1/2 tsp mustard to make the "special sauce." Spread some of this on the bottom bun.
Add some diced onions and shredded lettuce on top of the sauce, then place a slice of American cheese over it.
Put a warm patty over the cheese, then top with the second bottom bun. Spread that bun with sauce, sprinkle with onions and lettuce, plus a few dill pickle chips, then the second burger patty.
Top with the sesame seed bun and serve!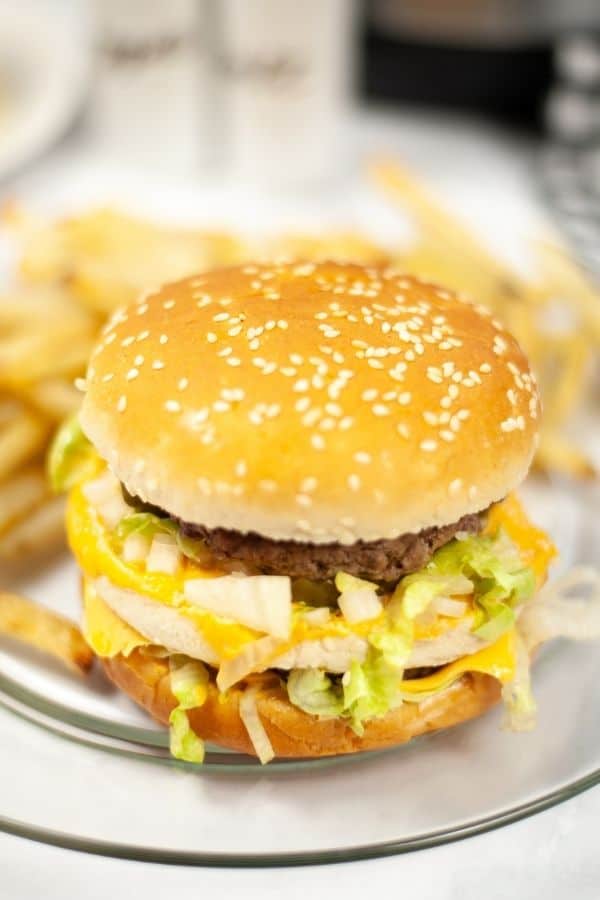 Notes and Adaptations:
If you want your burgers a little pink in the center, you can use less cook time. I prefer my burgers well-done.
If you are using larger beef patties, such as 1/3-lb or 1/2-lb, you'll likely need to increase the cook time by a couple of minutes.
You can add sliced onions on top of the burger in the foil packet if you want to add more flavor during the cooking process.
Recommended Equipment:
Instant Pot or other electric pressure cooker
Aluminum foil