Chicken and Jiffy Baking Mix Dumplings are made by cooking tender chicken, veggies and broth–topping everything off with easy jiffy mix dumplings.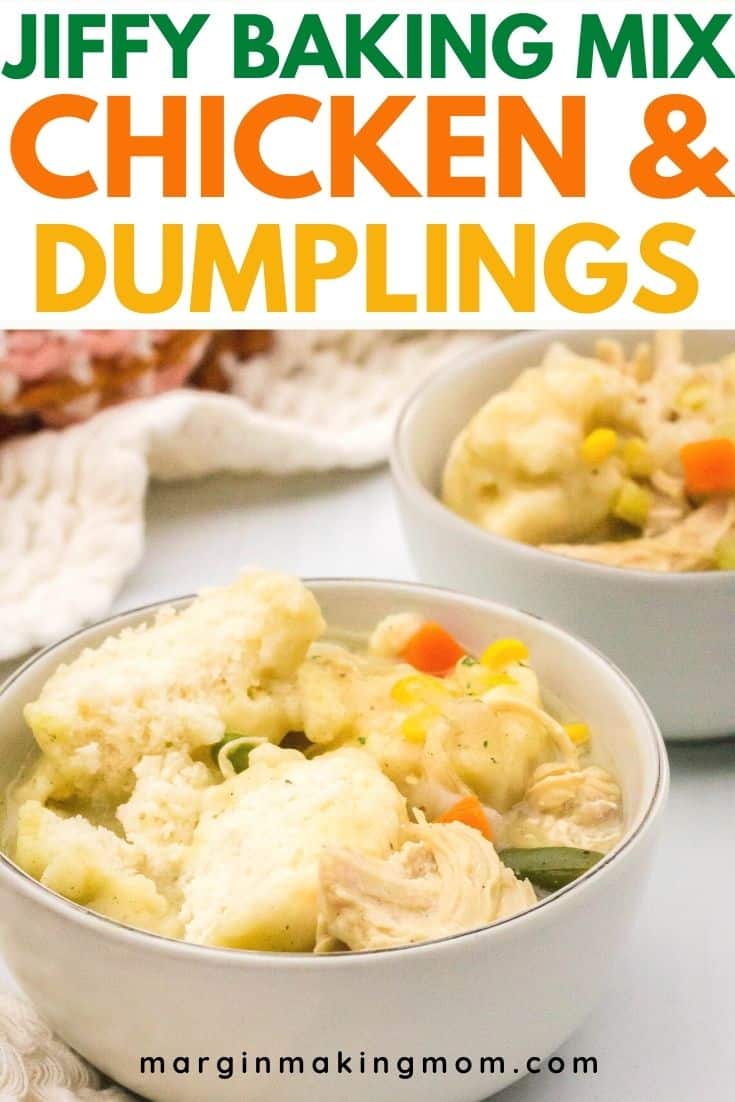 Enjoy a delicious comfort food dinner with this classic chicken and jiffy dumplings recipe that comes together in a jiffy!
Note: This post may contain affiliate links for your convenience. If you make a purchase, this site may receive a small commission at no additional cost to you. You can read my full disclosure policy here.
We love chicken and dumplings so much. I've made dumplings from scratch, dumplings with Bisquick, and I've even used canned biscuits–and all are so good!
But now I'm sharing these easy Jiffy mix dumplings, which are oh-so-fluffy and delicious.
Tender Jiffy baking mix biscuits are a nostalgic food that reminds me of my childhood. The buttery, tender biscuits go with almost any recipe and it's a food I turn to when I want a hearty, comforting meal.
Jiffy mix is also inexpensive, so this is an affordable meal to make when you are trying to stick to a budget.
I love finding easy ways to make delicious homestyle food, but with some simple shortcuts (just like how I make Jiffy cornbread taste better)–and that's what happens with this recipe.
The best recipes for chicken and dumplings are easy to make, yet evoke a sense of warmth and comfort, which is why I know you'll love this recipe for chicken and Jiffy mix dumplings!
More Tasty Chicken and Dumpling Recipes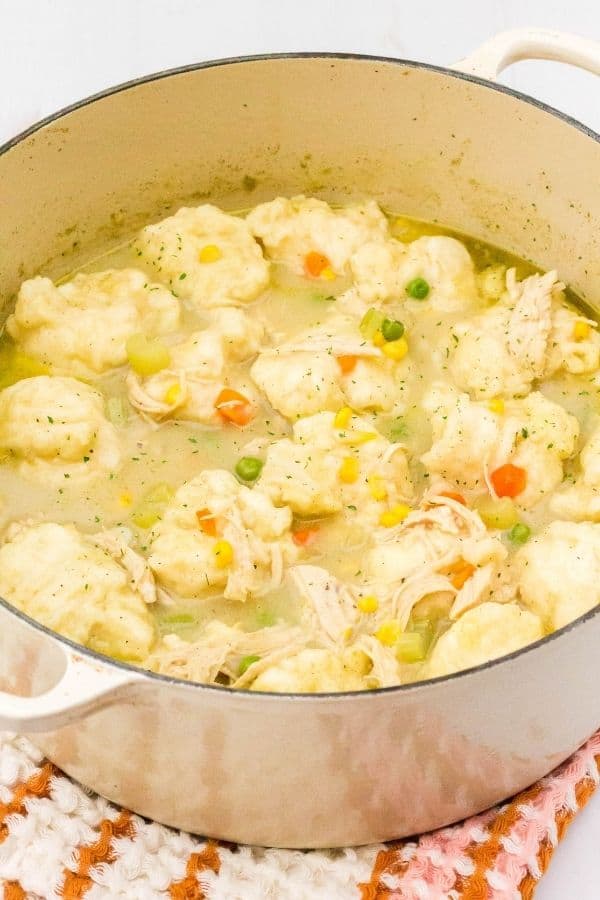 Jiffy Mix Chicken and Dumplings is Easy to Make
This chicken and fluffy drop dumplings recipe is made in one pot. Not only is it comforting, but it's also incredibly easy to make.
That means you'll have more time to snuggle up on the couch with a bowl of chicken and dumplings while you watch the snow fall and enjoy a cozy, comforting meal.
This recipe is perfect for using leftover chicken or pre-cooked chicken.
If you don't have precooked chicken on hand, you can add a couple of boneless skinless chicken breasts and let them simmer in the broth until cooked through, then add frozen vegetables and cream of chicken soup and proceed with instructions as written.
Similar to the original Bisquick dumplings recipe, the Jiffy mix dumpling recipe is easy, too…no sifting of ingredients, no rolling out dough.
You just combine Jiffy baking mix and milk and drop tablespoons of batter onto the simmering soup.
You'll be enjoying chicken and dumplings in no time!
How to Make Jiffy Mix Chicken and Dumplings
It's really simple to make this one pot comfort food meal.
Ingredients You'll Need:
Olive oil
Onion
Celery
Chicken broth
Water
Better than Bouillon chicken base (optional)
Salt
Black pepper
Ground thyme
Frozen Veggies
Chopped or shredded cooked chicken
Homemade cream of chicken soup (or you can use a can of condensed cream of chicken soup mixed with some water)
Jiffy baking mix
Milk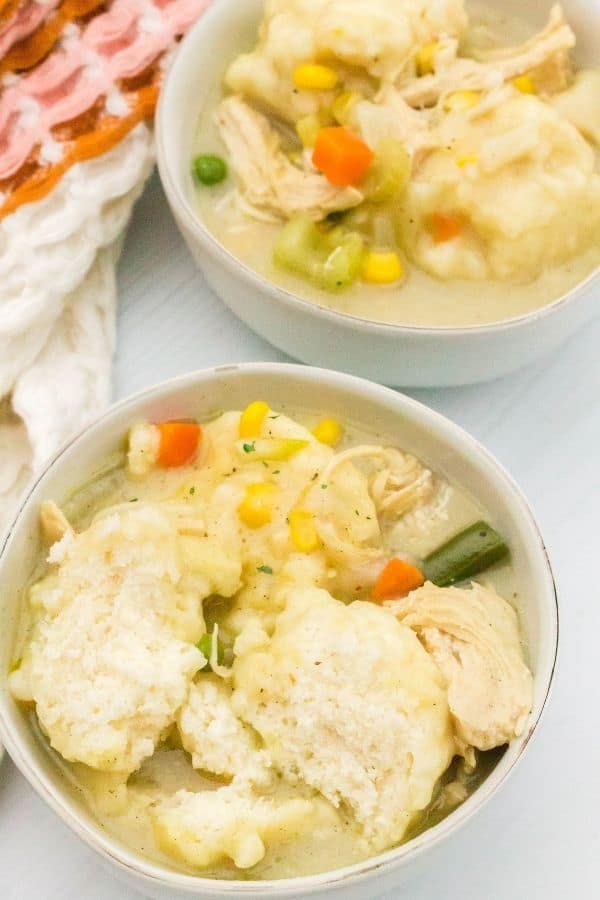 How to Make It:
(Full printable recipe is available below)
Make the soup base. First, you'll heat olive oil over medium heat and saute the onions and celery until translucent.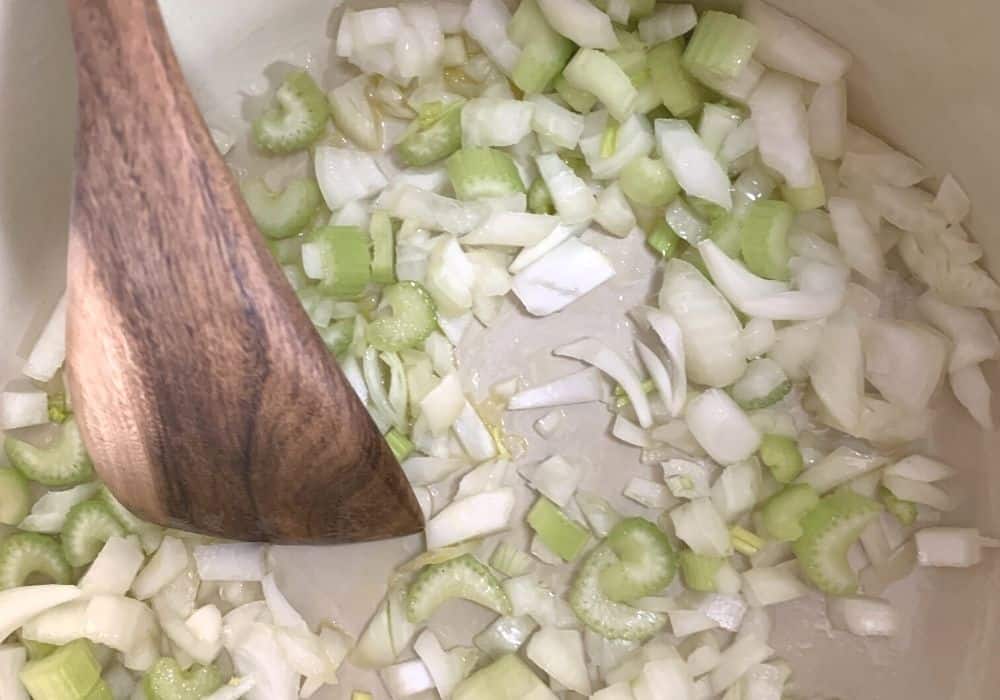 Add the remaining ingredients (except for the jiffy mix and milk) and bring everything to a boil.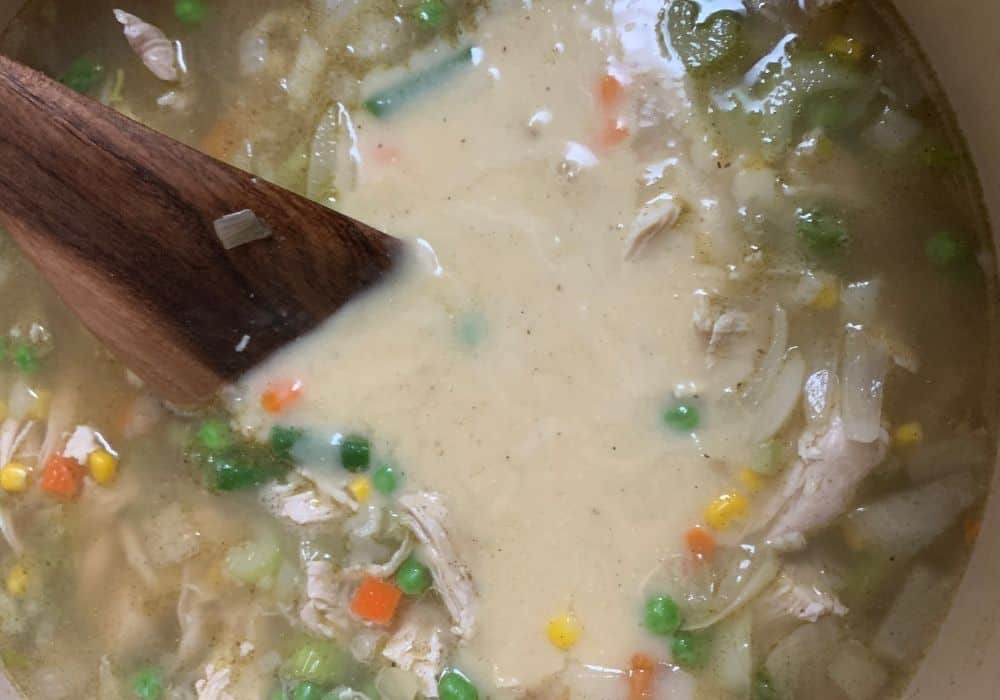 Make the dumplings. Next, you'll combine the Jiffy mix and the milk in a small bowl. The dough will be somewhat wet and sticky.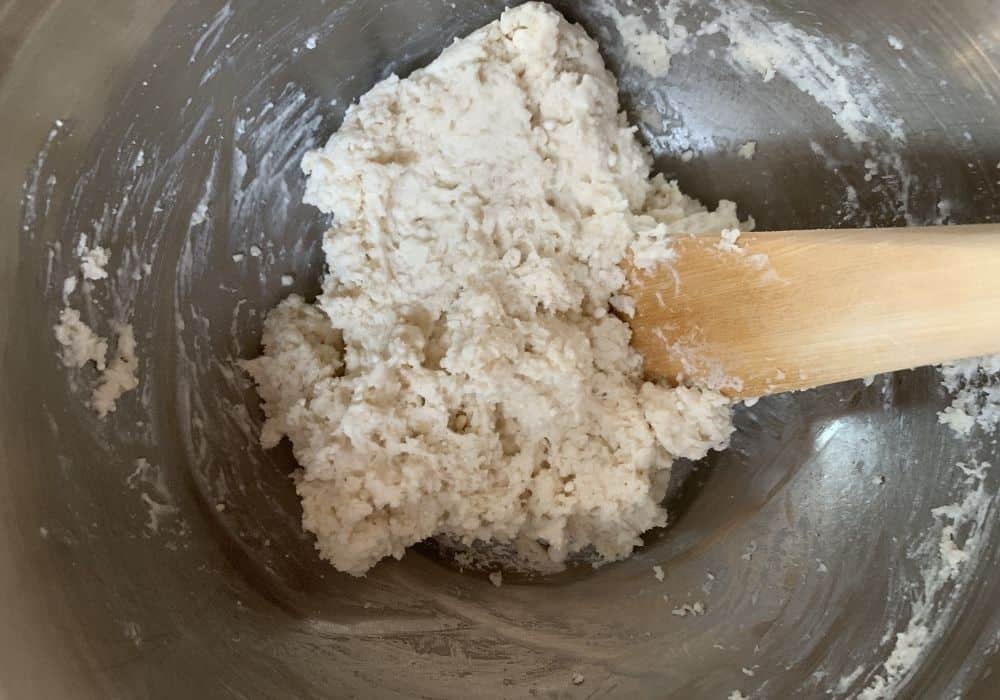 Drop rounded tablespoons of the dough into the boiling soup mixture and decrease the heat to a simmer.
Cook and serve. Last, you'll cook uncovered for about 8 minutes, then partially cover and cook for 8 more minutes or until the dumplings are fluffy on the inside. Serve.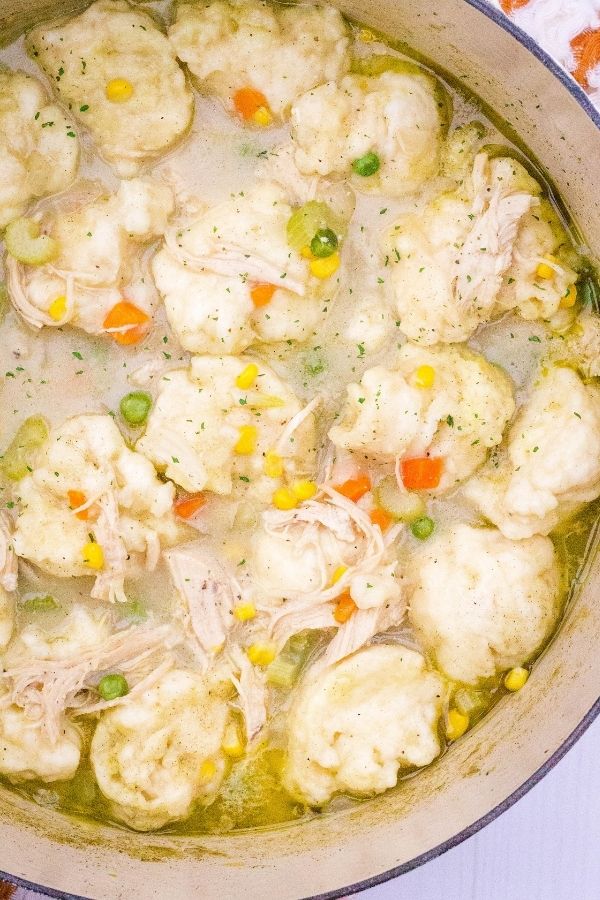 Notes and Adaptations:
You can use chopped or shredded chicken in this recipe. This is a great way to use up leftovers!
Add some fresh chopped herbs or cheese to the Jiffy mix before adding the dumplings to the soup for a burst of flavor.
Try these dumplings over a pot of beef stew!
Recommended Equipment: