Knowing how to make dumplings with Bisquick is a simple kitchen shortcut that can save you time and effort!
The original Bisquick dumplings recipe has been a beloved part of kitchens across the country–learn how to make these simple dumplings!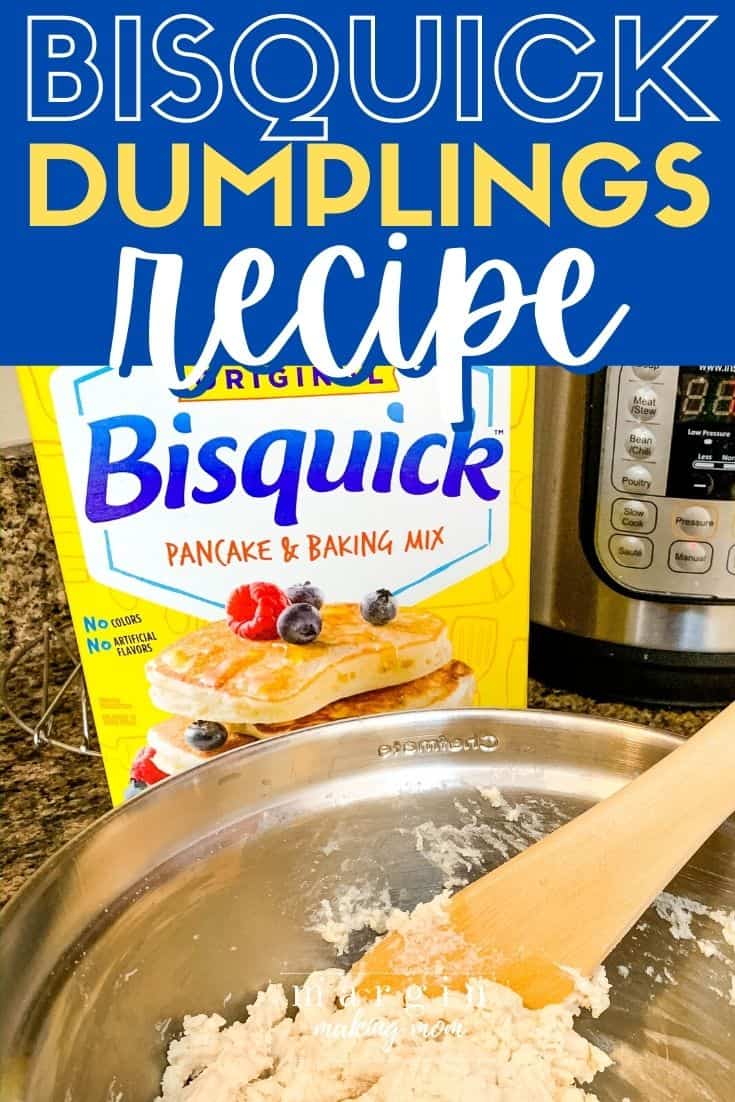 Note: This post may contain affiliate links for your convenience. If you make a purchase, this site may receive a small commission at no additional cost to you. You can read my full disclosure policy here.
There's something about chicken and dumplings that makes it the ultimate comfort food, in my opinion.
But there's also something about the food that makes it seem daunting to many home cooks, so they just settle for memories of their mother or grandmother making the food during their childhood.
The truth is, making dumplings from scratch can seem a little overwhelming if you aren't used to it. It's not that it's difficult, but it does take a few extra minutes of prep time.
I'm all about saving time when it comes to feeding my family, which is why I love making Bisquick dumplings for various soups and stews–it's just so easy to do!
Whether you're making chicken and Bisquick dumplings on the stove top, in your Crock Pot, or making Bisquick dumplings in the Instant Pot, or even making beef stew with Bisquick dumplings, you're in for a treat with this simple recipe.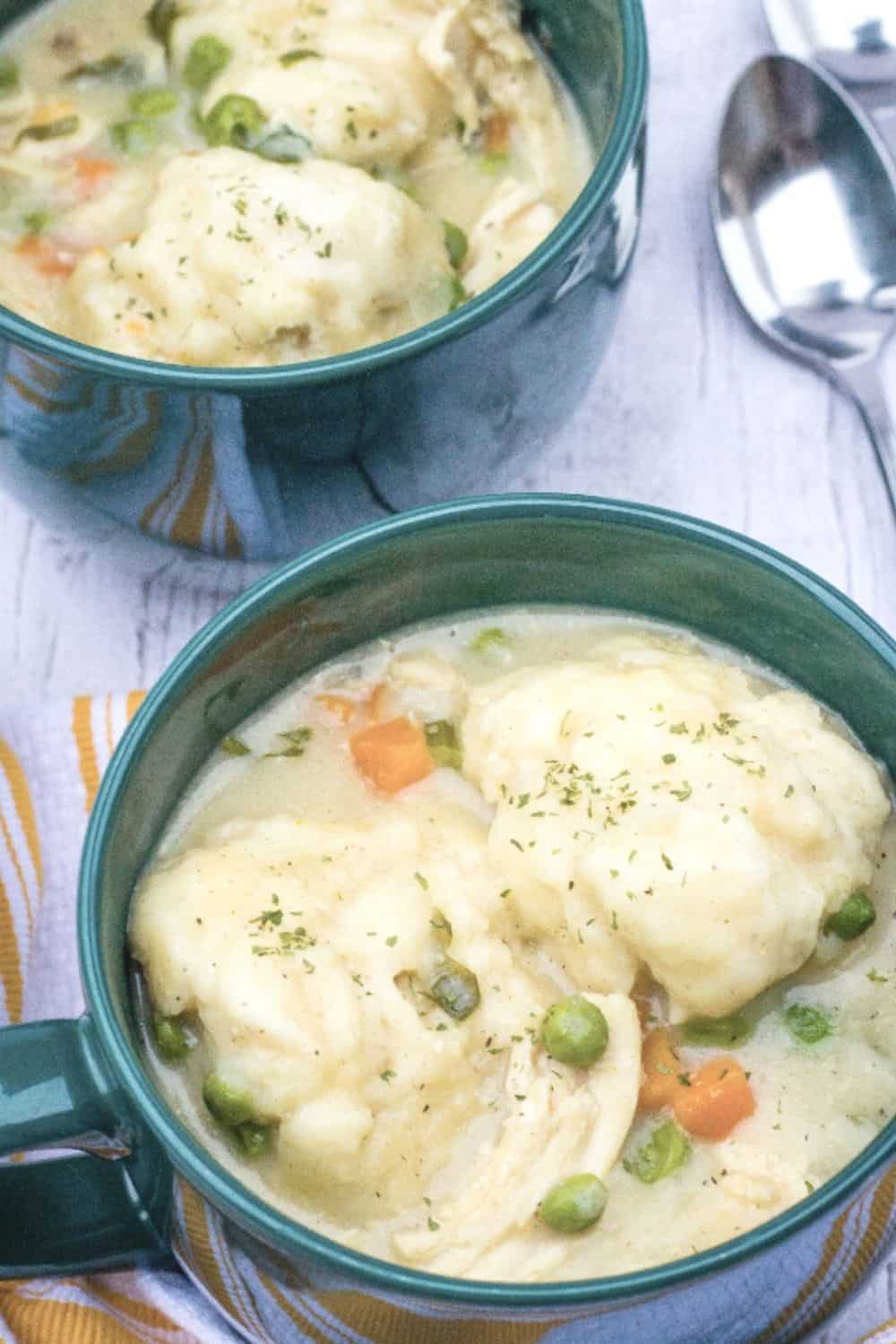 Original Bisquick Dumplings Recipe
Bisquick is a baking mix that dates back to the 1930s. According to General Mills, one of their salesmen encountered a chef who kept a batch of premixed biscuit ingredients at the ready for last-minute requests.
This led the salesman to consider how pre-made mixes could be a great commercial product for the company.
Sure enough, Bisquick was developed and marketed as a way for any home cook to be an excellent biscuit maker by simply adding water or milk.
Over the years, their product line has expanded, but the premise is still the same–homemade food made easy.
The Bisquick box has several recipes for using the mix, including pancakes, waffles, and biscuits. It's a versatile kitchen helper, for sure.
That's why you're going to love making original Bisquick drop dumplings–you only need 2 ingredients for the dumplings!
How to Make Bisquick Dumplings
It's really easy to make dumplings with Bisquick–all you need is a simple ratio of mix to milk.
In fact, I use the same ratio of Bisquick baking mix to milk every time I make Bisquick dumplings, regardless of whether I'm using the stove top, Instant Pot, or slow cooker. It's such an easy recipe.
Once you mix the baking mix with the water, you'll have a soft dough. It can be a little sticky, but that's okay, because you won't really need to use your hands much.
You'll just scoop the dough out into the hot liquid that you're simmering–whether that's a pot of beef stew, chicken and dumplings, or chicken pot pie.

Ingredients You'll Need:
2 1/4 cups Bisquick baking mix (original version–other variations discussed below)
2/3 cup Milk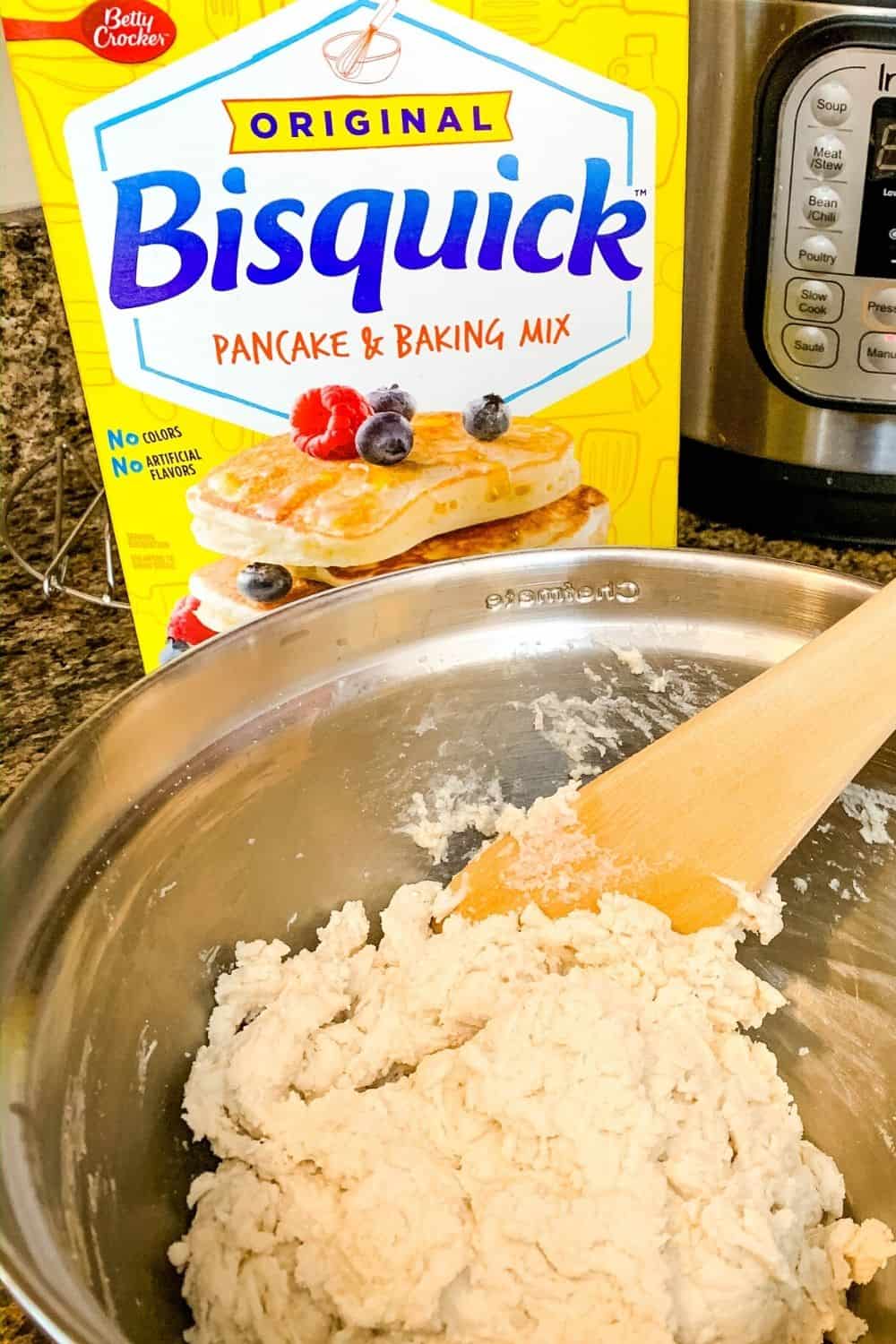 How to Make It:
(Full printable recipe is available below)
Measure ingredients. First, you'll mix together the Bisquick baking mix and milk in a medium bowl, stirring until a soft dough forms and no dry spots remain. Be careful not to over mix! Let the dough sit for just a few minutes to allow the leavener to react.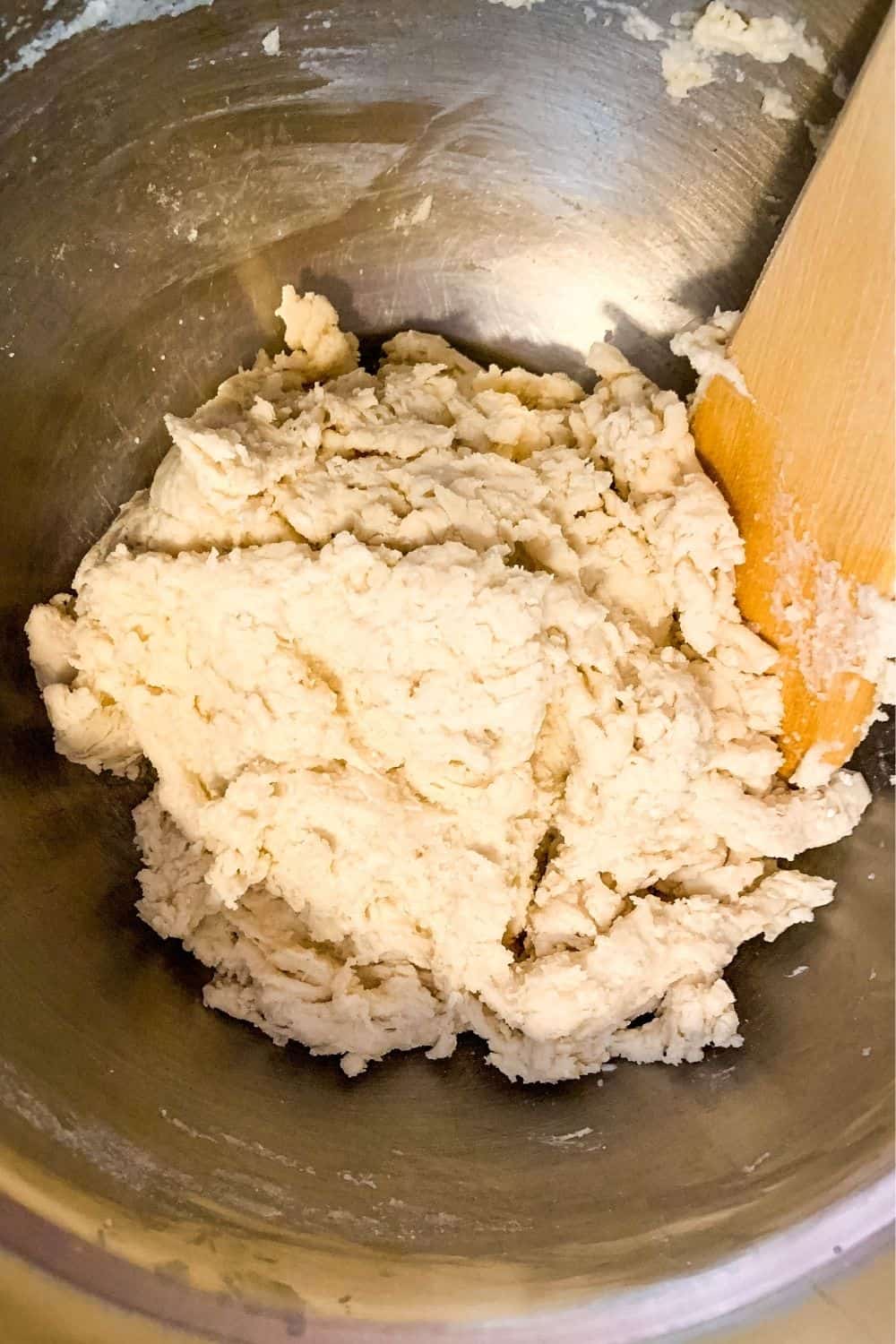 Scoop. Next, you'll scoop the dough out by rounded tablespoon and drop the dough into the hot liquid that you're simmering, such as chicken broth.
Cook. Last, you'll let the dumplings simmer for about 10 minutes uncovered, then pop the lid onto the pot and let it simmer for another 10 minutes.
And voila! You've got an easy chicken and fluffy dumplings dinner!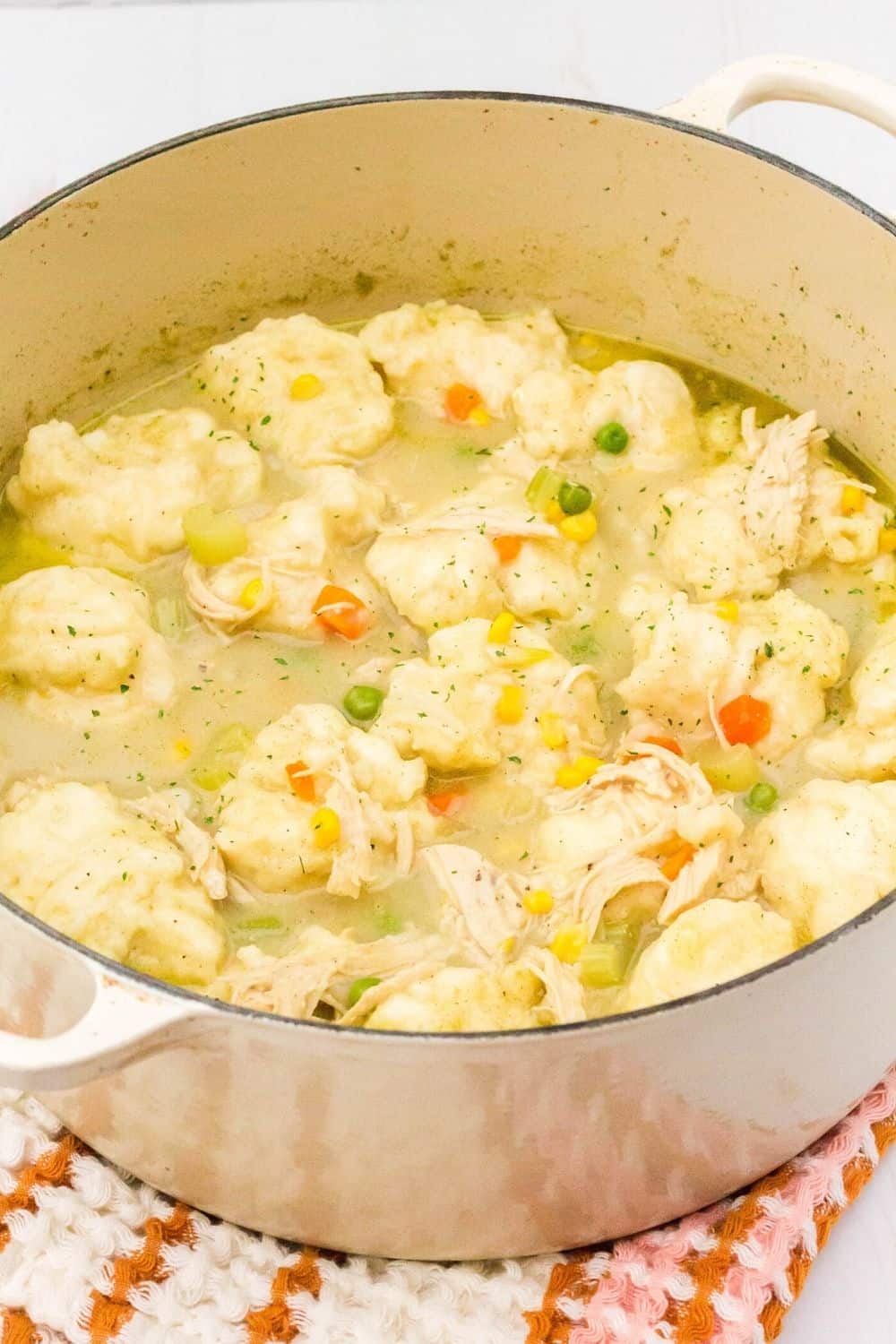 How to Make Gluten Free Bisquick Dumplings
Bisquick now has a gluten-free version of their baking mix, which can be used to make gluten-free chicken and dumplings.
However, you do need a few more ingredients to make dumplings that will hold together during cooking.
In this case, you'll need 2 1/4 cup gluten-free Bisquick baking mix, 1/3 cup vegetable shortening, 2/3 cup of milk, and 3 eggs. This is the only variation of Bisquick dumplings with eggs–the other mixes don't require it.
First, you'll cut the shortening into the baking mix, using a pastry blender or two forks.
Then you'll whisk together the milk and eggs in a separate bowl, then add that to the gluten-free Bisquick mix, stirring well to combine into a dough.
Proceed with cooking in the same way you would cook regular Bisquick dumplings.
How to Make Heart Smart Bisquick Dumplings
Bisquick now has a heart-healthy version of their baking mix, known as Heart Smart Bisquick (formerly Bisquick Light).
The ratio is a little different for making dumplings with this mix–you'll need 1 cup of baking mix and 1/3 cup milk.
Mix the dough as normal and drop rounds of dough into the simmering liquid as with Original Bisquick dumplings.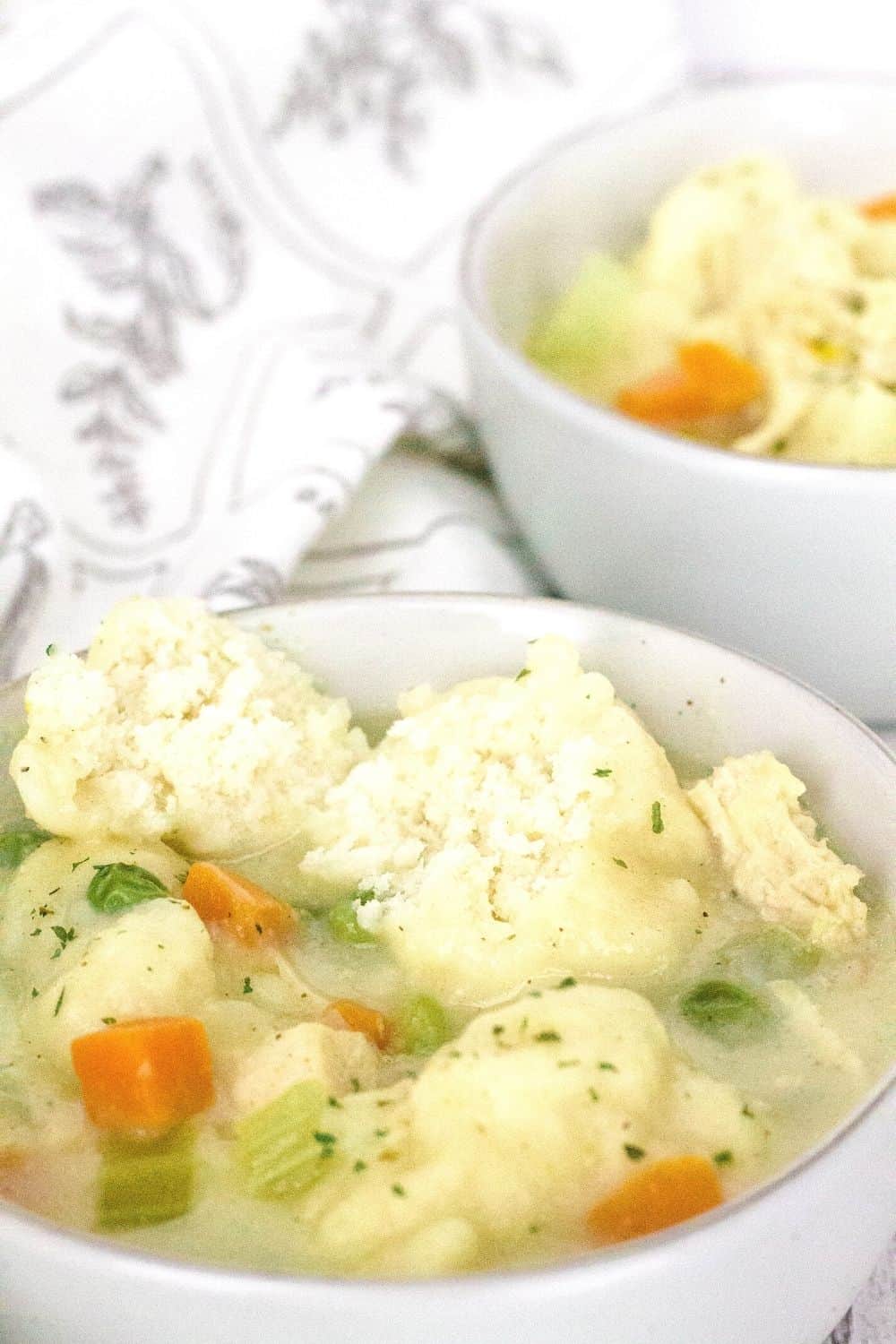 How Do I Know if My Bisquick Dumplings are Done?
You should be able to use a fork to cut a dumpling in half. If the center is fluffy and cooked through, much like the center of a biscuit, the dumplings are done.
If you split open a dumpling and the inside is doughy and dense, the dumplings aren't finished yet.
Why are My Bisquick Dumplings Hard?
Over-mixing is the biggest culprit for hard dumplings that are dense and chewy. You want to simply mix the dough to the point that the ingredients are combined, in as few strokes as possible.
There should be no dry spots of baking mix remaining–it should be fully moistened.
Letting the dough rest for a few minutes after mixing is helpful, too, as that allows the leavener (the substances that help the dough to rise) to activate.
Yield: 6 Servings
Easy Bisquick Dumplings Recipe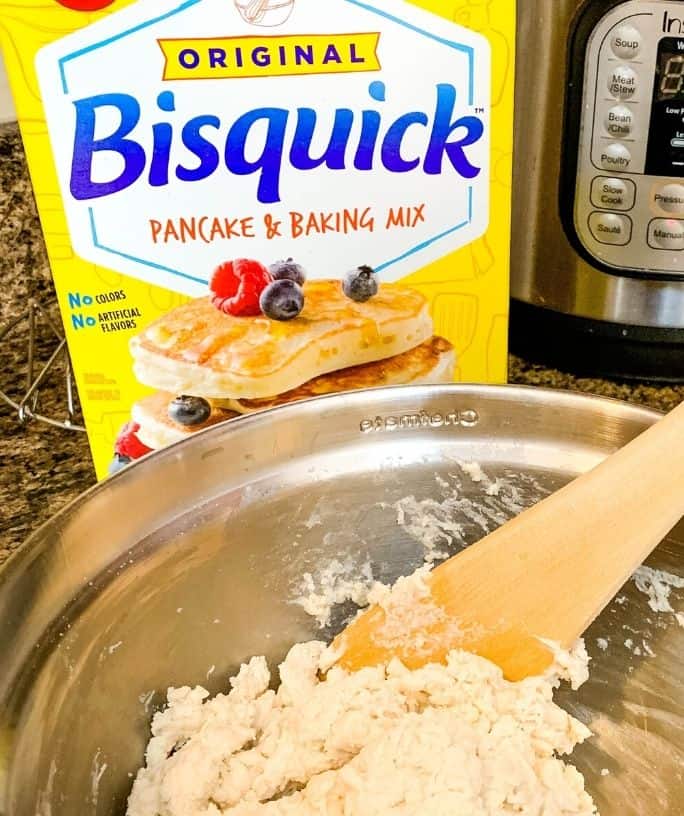 Knowing how to make versatile Bisquick dumplings can transform your chicken and dumplings, beef stew and dumplings, and more!
Ingredients
2 1/4 cup Original Bisquick baking mix
2/3 cup milk
Instructions
To prepare the dumplings, combine baking mix and milk in a mixing bowl.
Stir just until baking mix is fully moistened and no dry spots remain. Do not over-mix!
Allow dough to sit for a few minutes.
Scoop dough out by rounded tablespoon into the simmering liquid of your soup or stew. Simmer uncovered for 10 minutes, then simmer covered for 10 minutes more.
Dumplings are done when the insides are fluffy, much like the center of a biscuit.
Notes
For Full Recipes that Use Bisquick Dumplings:
Nutrition Information:
Yield:
6
Serving Size:
1
Amount Per Serving:
Calories:

299
Total Fat:

11g
Saturated Fat:

3g
Trans Fat:

0g
Unsaturated Fat:

7g
Cholesterol:

4mg
Sodium:

862mg
Carbohydrates:

44g
Fiber:

1g
Sugar:

9g
Protein:

6g
Nutrition information is automatically calculated and is not guaranteed for accuracy.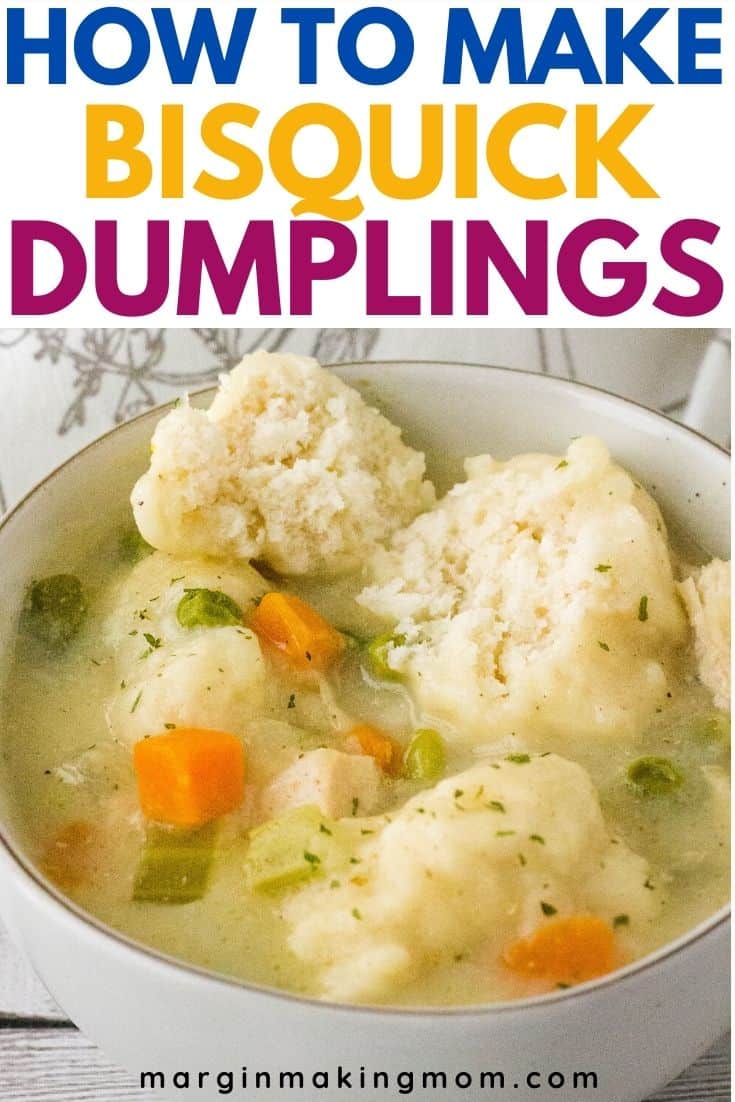 Get the Instant Pot Meal Plan Jumpstart
Join the free community and you'll learn simple ways to easily create tasty food for your family, as well as immediate access to the FREE Instant Pot Meal Plan Jumpstart to help you get a tasty dinner on the table in a flash!
"Thanks for sharing your knowledge and experience in such a friendly and delightful way!!! So far, I'm very impressed with the results...thanks again for your guidance into this new realm of cooking!" -Margaret
Free Resource Library
Enter my
free resource library
for my latest printables and resources! Password is 'IHEARTMARGIN' -- please copy and paste that in at the link above. Thanks for being a subscriber!!