Warmly spiced and lightly sweet, this easy pear butter is perfect on biscuits, dinner rolls, or pancakes!
You're going to love this delicious pear butter, whether you make it in your Instant Pot, slow cooker, or on the stove top!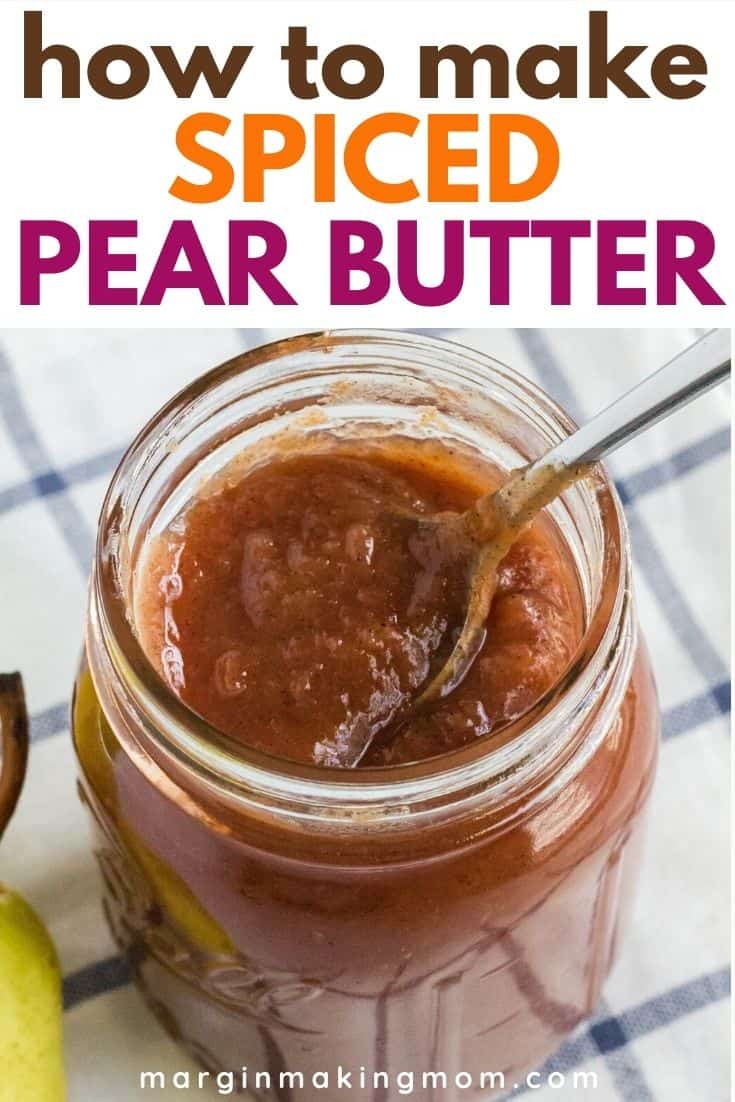 Note: This post may contain affiliate links for your convenience. If you make a purchase, this site may receive a small commission at no additional cost to you. You can read my full disclosure policy here.
I have long considered myself a keeper of the seasons. That's why every fall, I launch into full apple mode and pear mode, then eventually drift into pumpkin mode.
Fruit butters are something I've been making for several years now as a way to use up the season's bounty.
I initially started with slow cooker apple butter, then moved on to Instant Pot apple butter. I've also made pumpkin butter in the Instant Pot!
So this year, as I've been working my way through about 12 pounds of fresh pears, I decided to try something other than my favorite pear bread, pear cobbler, or old-fashioned pear cake.
I decided to make fruit butter with some of the pears!
That's why I'm sharing my easy and delicious pear butter recipe with you–it's positively wonderful.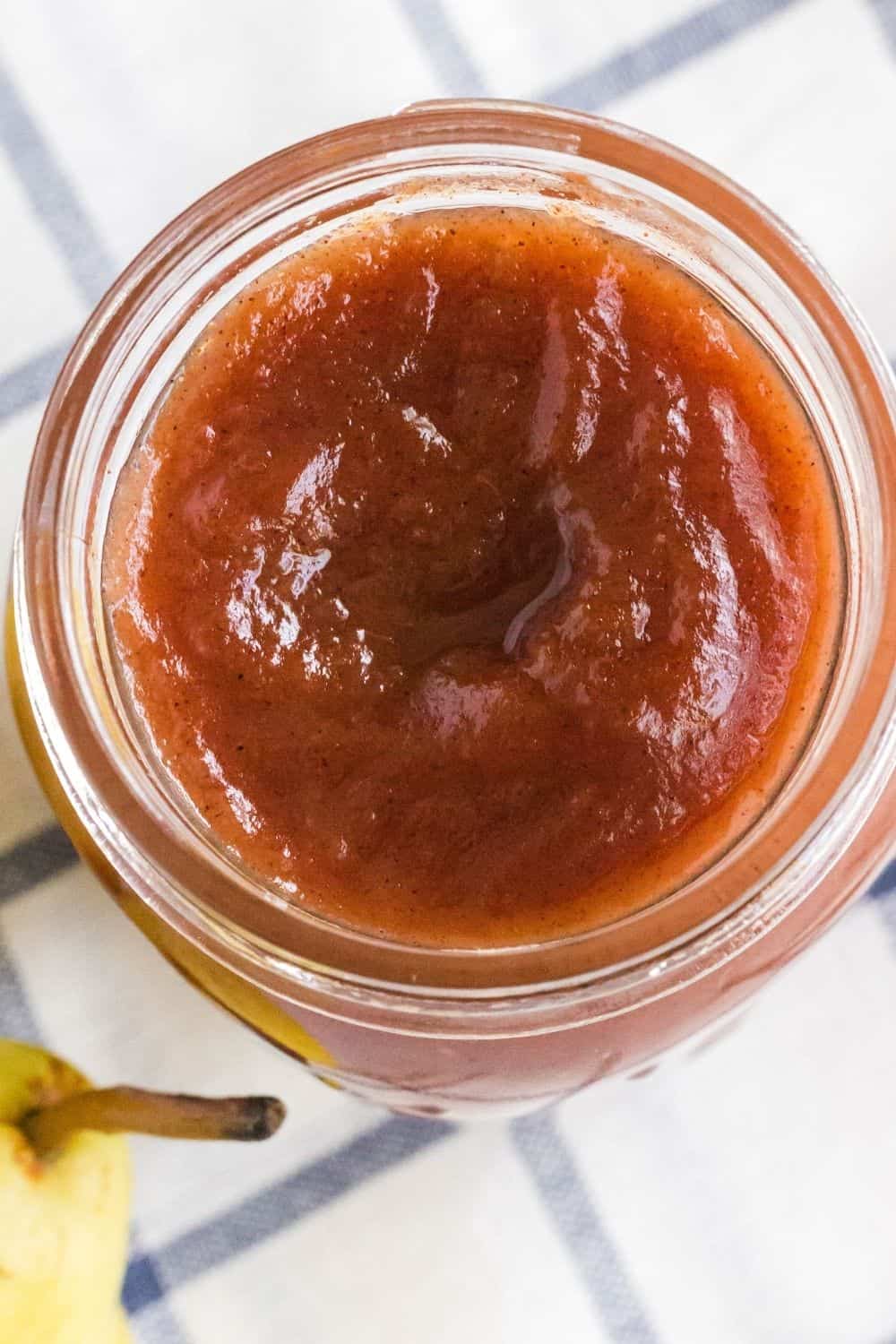 Easy Homemade Pear Butter
You're going to love this homemade pear butter! It's one of those versatile spreads that can be used for so many things.
Spread it on your freshly baked biscuits or dinner rolls. Add a dollop to pancakes and waffles. I also like to stir it into a warm bowl of oatmeal or a cold cup of yogurt.
It can be a simple substitute for apple butter in baked goods, such as in apple butter bread, apple butter snickerdoodles, or apple butter cake.
No matter how you choose to enjoy it, I feel confident that you will indeed enjoy it! Sweet ripe pears cook with brown sugar and warm spices, plus a little bit of lemon juice, which really brightens the flavors (so don't skip it!).
How to Make Pear Butter
It's really easy to make this delicious spread. I'm including instructions for various cooking methods, too–so whether you make it in your Instant Pot, slow cooker, or on the stove top, you're good to go!
Ingredients You'll Need:
Fresh pears
Brown sugar
Water
Lemon juice
Cinnamon
Nutmeg
Allspice
Ginger
Cloves
Cardamom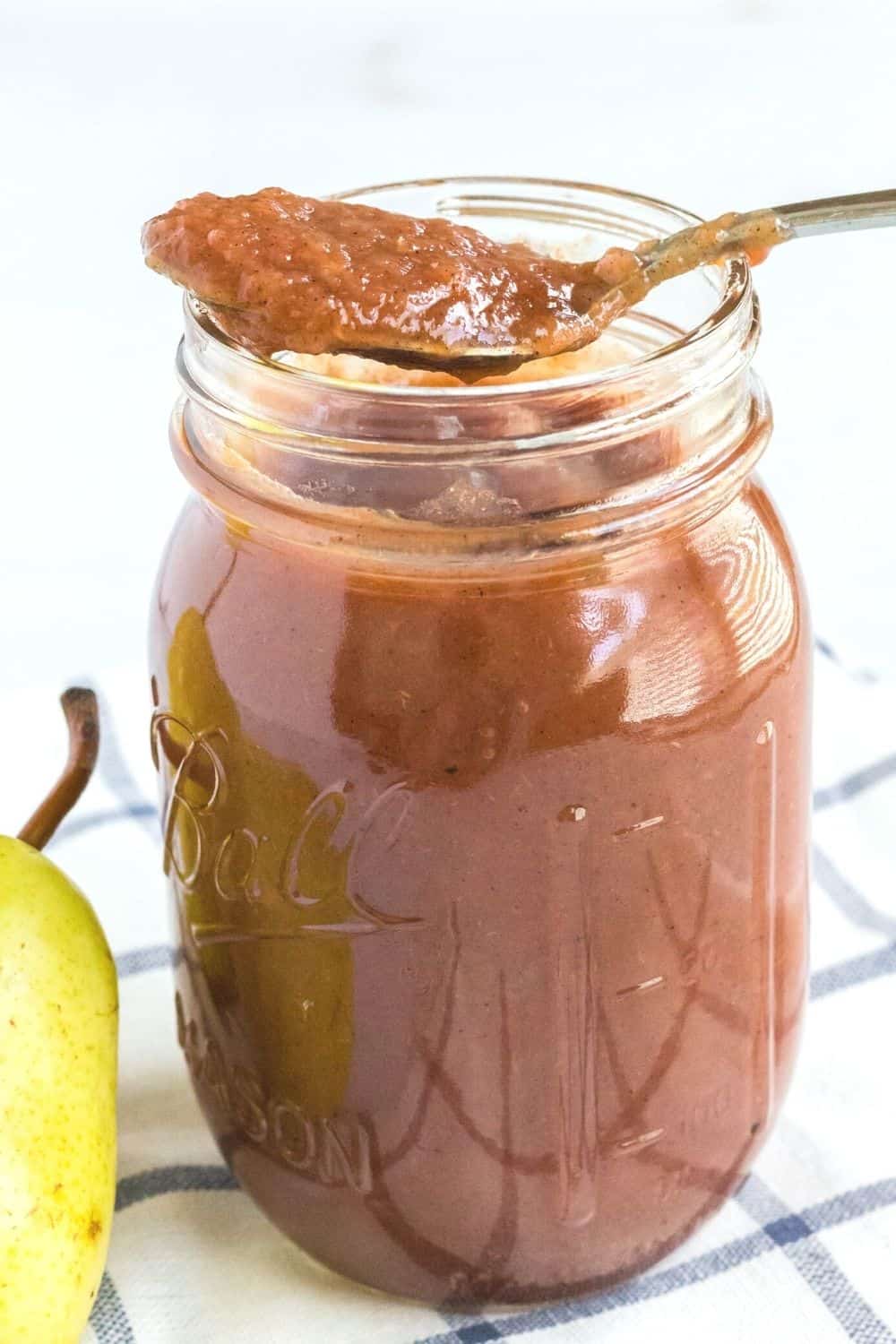 How to Make It:
(Full printable recipe is available below)
Peel, core, and dice the pears. First, you'll peel, core, and chop up the pears. If your pears are nice and ripe, this should be a breeze to do.
You'll want to be sure your pears are ripe. I used Bartlett pears, which you can see are different colors depending on their ripeness.
The golden-yellow pears are perfect–soft enough that they have a little give to them when pressed. The brighter green pears are still somewhat hard and not yet as sweet. Go for the yellow ones!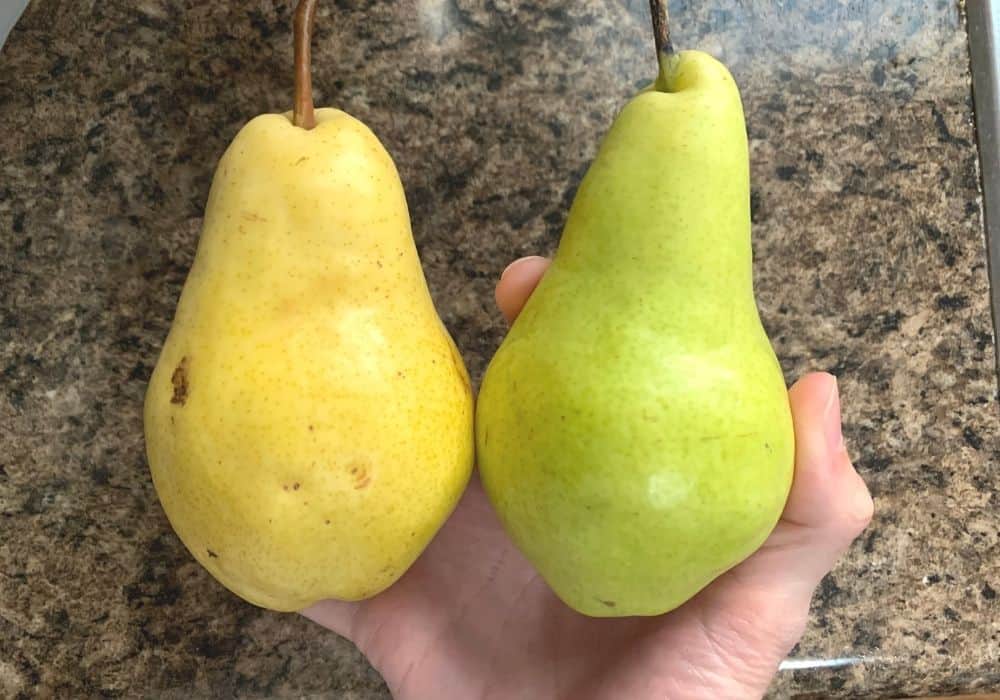 Combine all ingredients. Next, you'll combine all of the ingredients together in your cooking pot–whether that's the insert pot of your Instant Pot, your slow cooker, or in a medium saucepan on the stove.
Give everything a good stir to coat.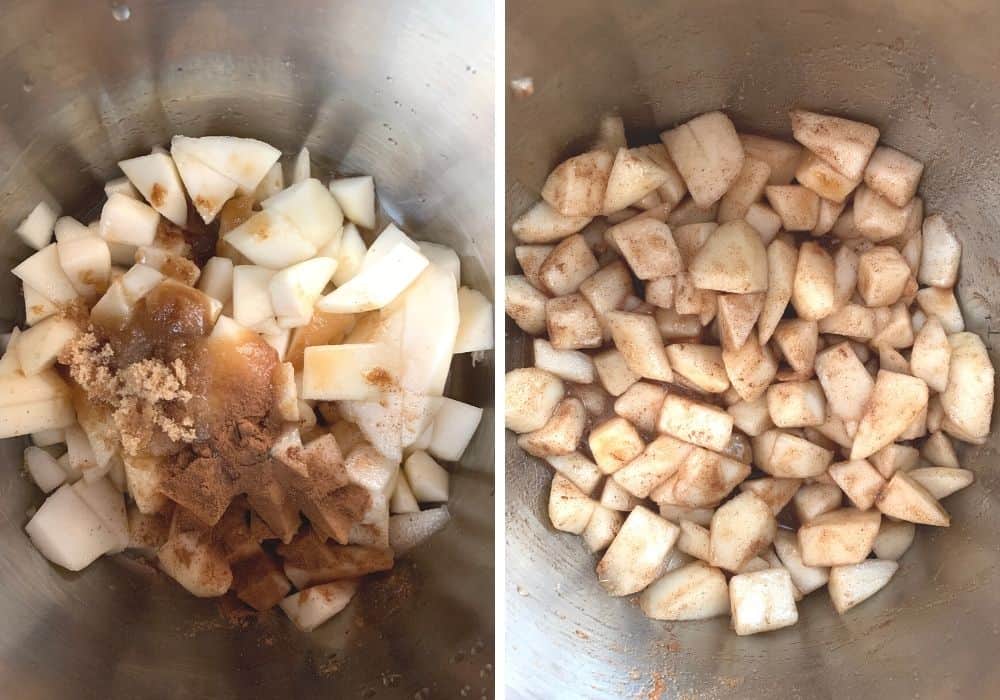 Cook. Last, you'll cook the mixture until the liquid starts to reduce and the mixture begins to thicken (specific instructions for each cooking method are given below). You can see what the pears look like after cooking in the Instant Pot below.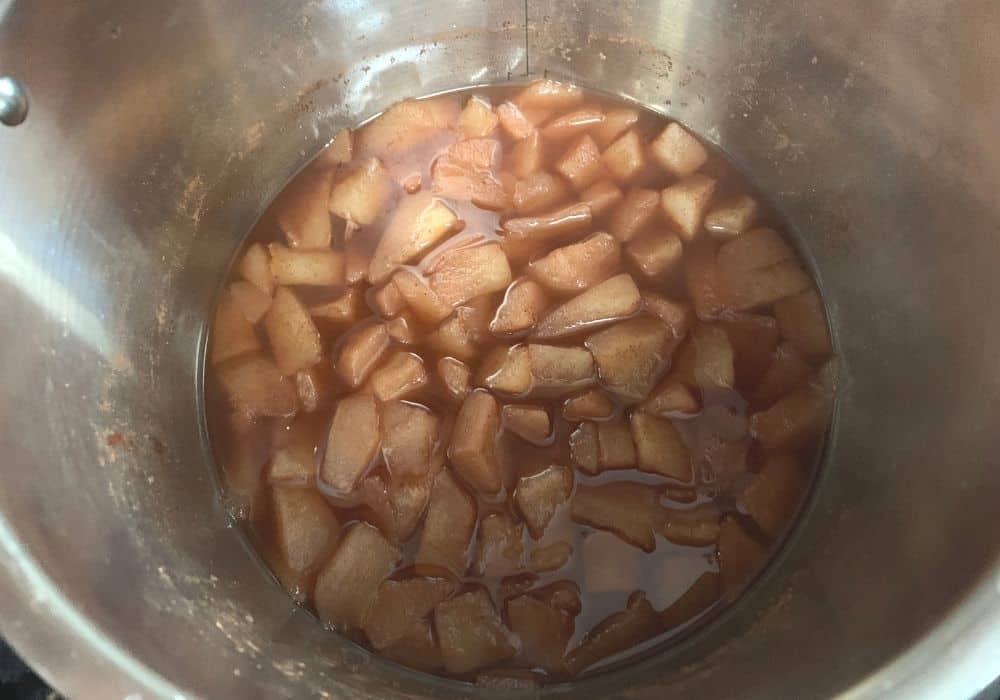 Puree. Use an immersion blender to puree the mixture if desired. You can also use a potato masher if you prefer it to be a little chunky.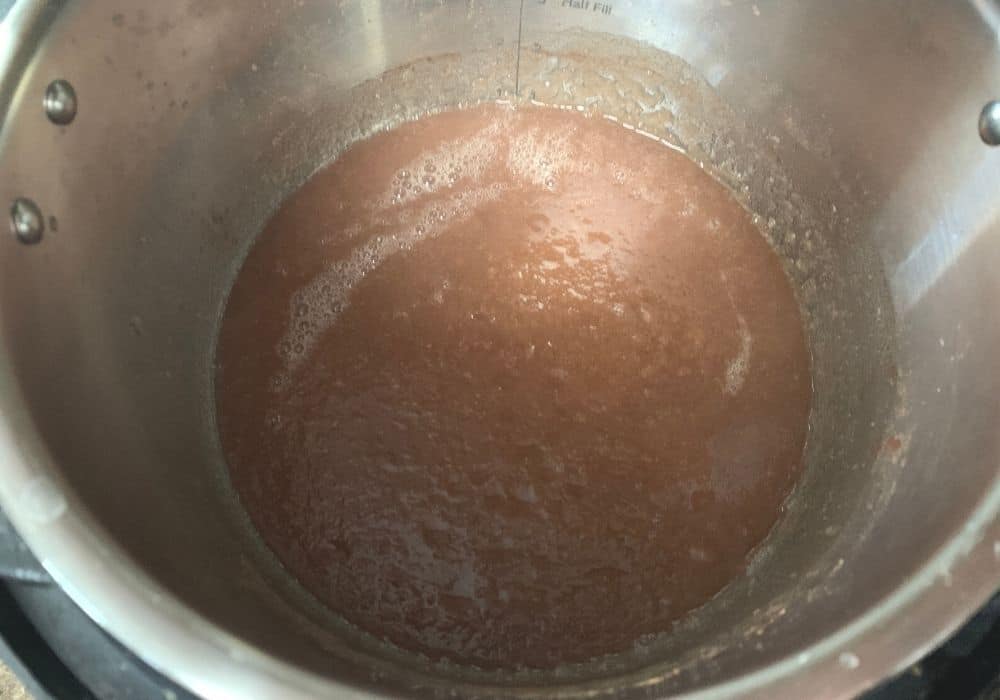 Transfer to jars and let cool. I typically keep jars of pear butter in my refrigerator or freezer (make sure you have freezer-safe jars if you go that route), but you can also follow instructions for water bath canning if you'd like!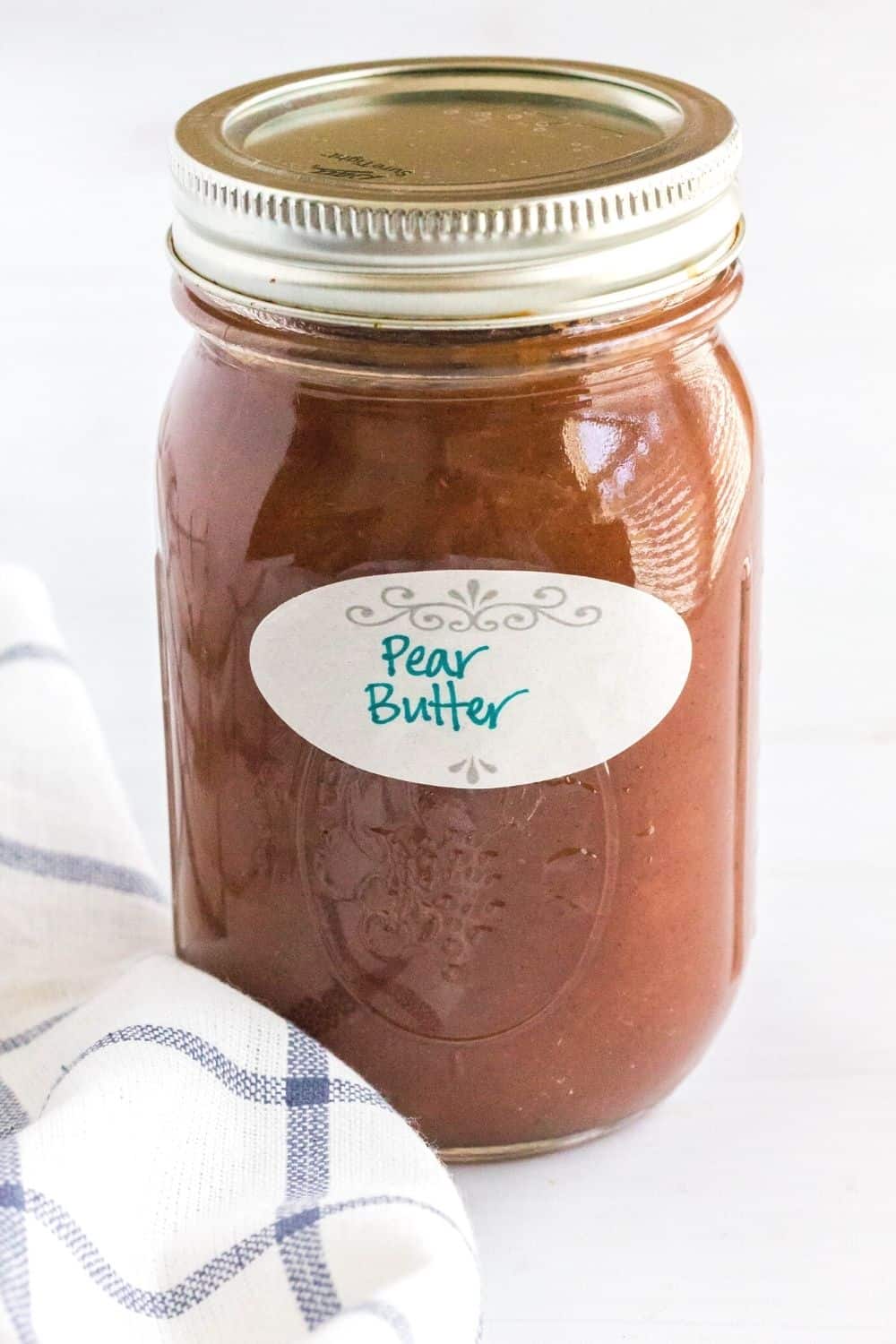 Notes and Adaptations:
If you have ground cardamom on hand, it makes a really nice addition. However, I know it's a less-common spice, so feel free to omit it if you don't have it (it won't make or break your pear butter!).
You can also play around with the amount of sugar, depending on how ripe your pears are. If you have overripe pears, you could probably cut back a tad on the brown sugar.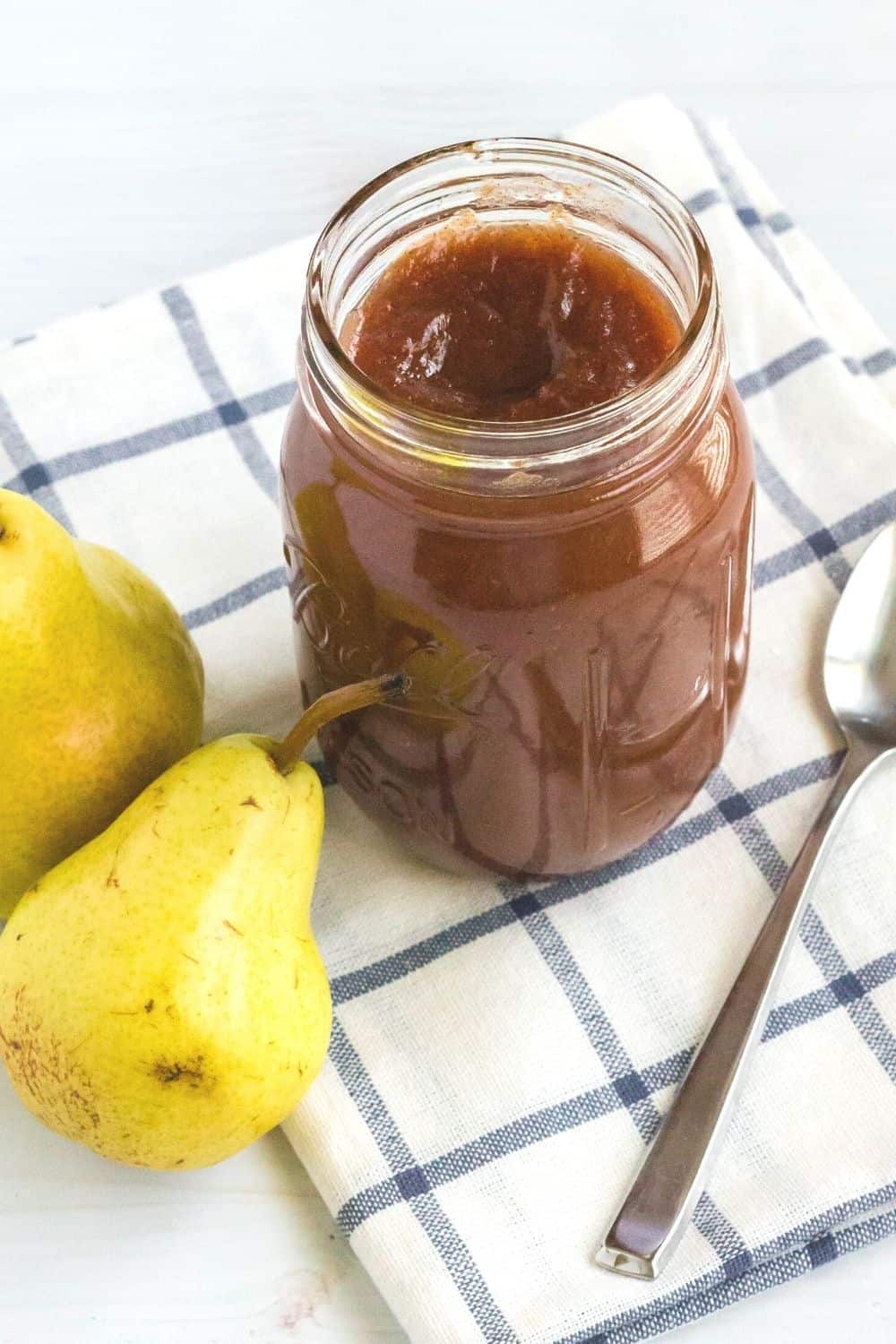 Yield: Approx. 2-2.5 cups
Easy Pear Butter Recipe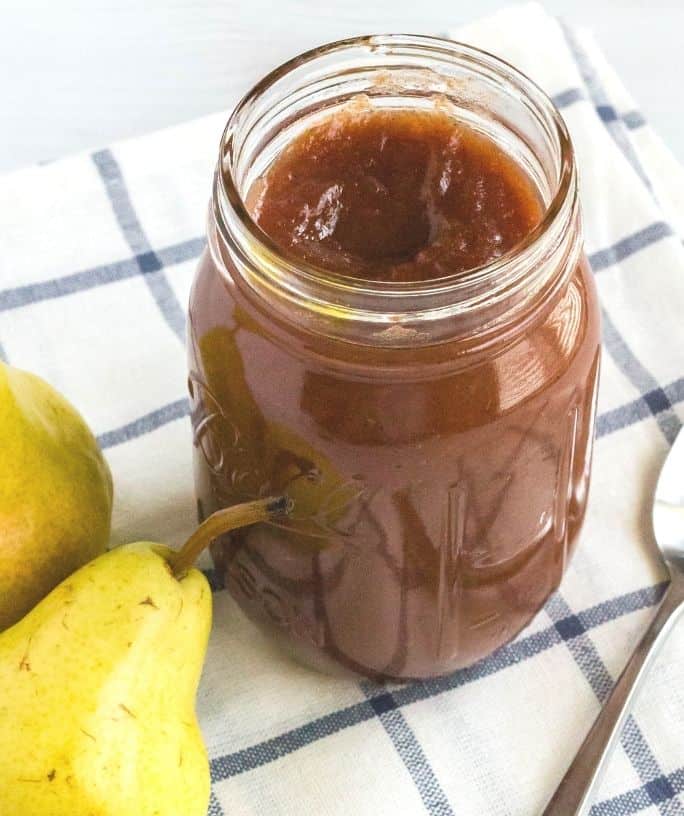 Spiced pear butter is the perfect spread for your pancakes, dinner rolls, or biscuits! Whether you cook it on the stove top, in your slow cooker, or in your Instant Pot pressure cooker, we've got you covered!
Additional Time
30 minutes
Ingredients
3 lbs pears, peeled, cored, and chopped
1/3 cup brown sugar
1/4 cup water
2 TBSP lemon juice
1 1/2 tsp ground cinnamon
1/4 tsp ground nutmeg
1/4 tsp allspice
1/4 tsp ground ginger
pinch of ground cloves
1/4 tsp ground cardamom
Instructions
Instant Pot Instructions:
Add all ingredients to the insert pot of the Instant Pot. Stir together so the pears are coated with sugar and spice.
Close lid and set vent to the sealed position. Select a cook time of 20 minutes at high pressure. Once the cook time is complete, perform a quick release of pressure.
Carefully open lid and use an immersion blender to puree the pear mixture. Use the Saute button to simmer the pear butter for about 20 minutes, allowing some of the excess liquid to evaporate.
Transfer to jars and allow to cool.
Slow Cooker Instructions:
Place all ingredients in a slow cooker and close the lid.
Cook on high for 4 hours or low for 6-8 hours.
Use an immersion blender to puree the pear mixture.
Transfer to jars and allow to cool.
Stove Top Instructions:
Combine all ingredients in a medium saucepan. Bring to a boil over medium-high heat, then decrease heat to medium low.
Cover partially with a liad and simmer for about 50-60 minutes, stirring occasionally so the bottom doesn't scorch.
Use an immersion blender to puree the pear mixture.
Transfer to jars and allow to cool.
Nutrition Information:
Yield:
20
Serving Size:
2 TBSP
Amount Per Serving:
Calories:

51
Total Fat:

0g
Saturated Fat:

0g
Trans Fat:

0g
Unsaturated Fat:

0g
Cholesterol:

0mg
Sodium:

2mg
Carbohydrates:

14g
Fiber:

2g
Sugar:

10g
Protein:

0g
Nutrition information is automatically calculated and is not guaranteed for accuracy.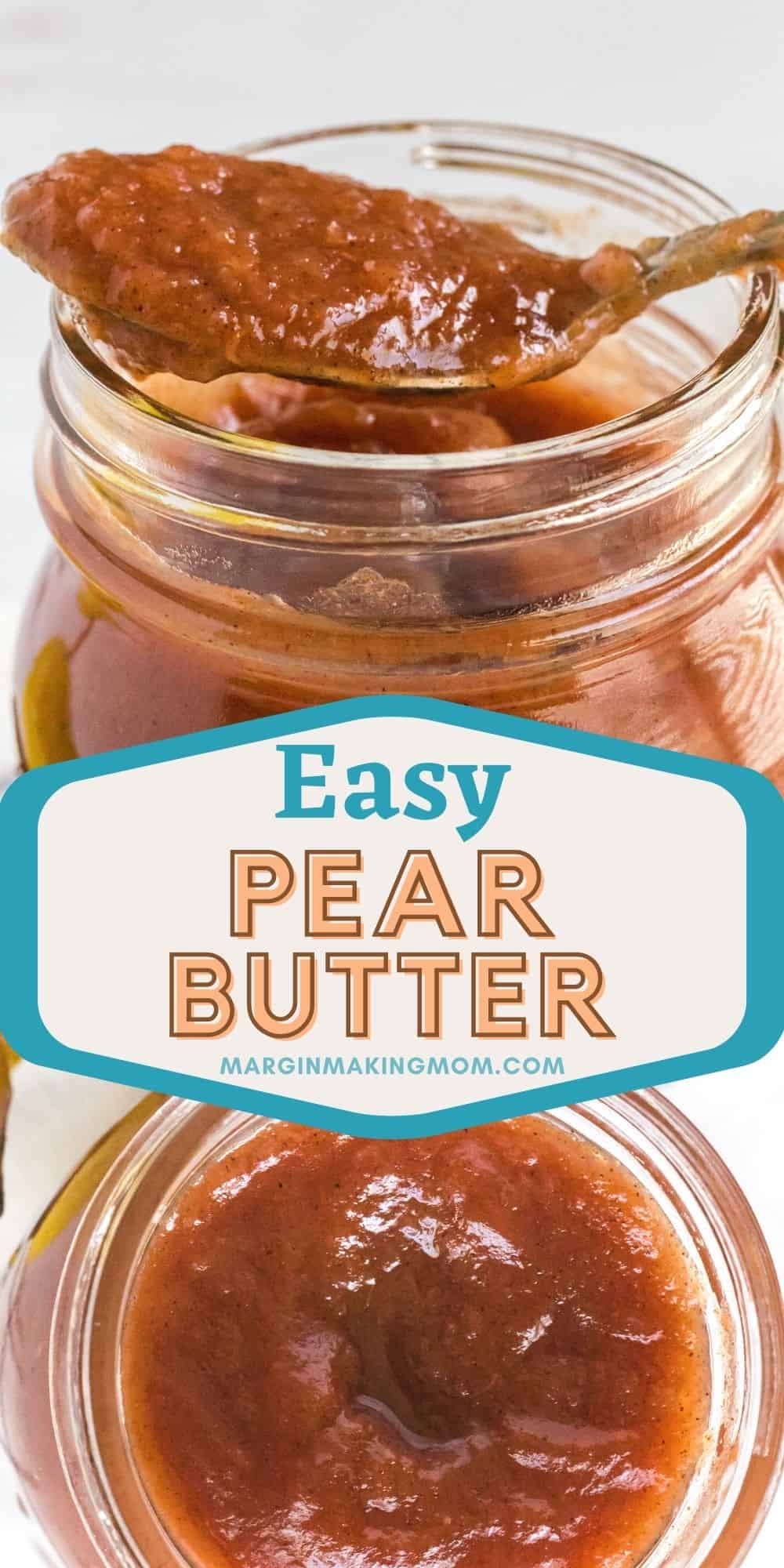 Get the Instant Pot Meal Plan Jumpstart
Join the free community and you'll learn simple ways to easily create tasty food for your family, as well as immediate access to the FREE Instant Pot Meal Plan Jumpstart to help you get a tasty dinner on the table in a flash!
"Thanks for sharing your knowledge and experience in such a friendly and delightful way!!! So far, I'm very impressed with the results...thanks again for your guidance into this new realm of cooking!" -Margaret
Free Resource Library
Enter my
free resource library
for my latest printables and resources! Password is 'IHEARTMARGIN' -- please copy and paste that in at the link above. Thanks for being a subscriber!!