It's so easy to make homemade apple butter in the Instant Pot, and the flavor is absolutely out of this world!
You'll love how quickly you can make Instant Pot apple butter, creating a deliciously spiced spread that tastes like it's simmered for hours!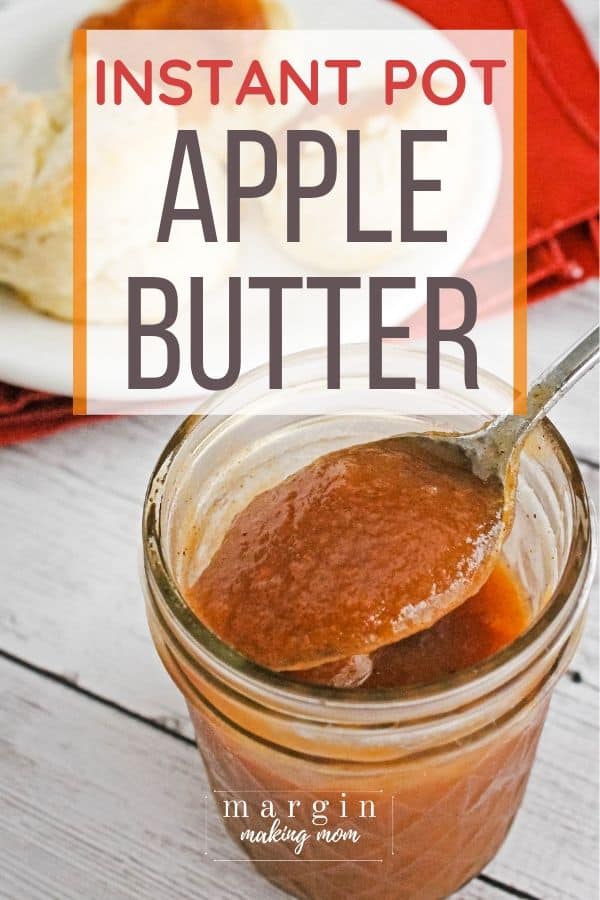 Note: This post may contain affiliate links for your convenience. If you make a purchase, this site may receive a small commission at no additional cost to you. You can read my full disclosure policy here.
You may feel like making your own apple butter is one of those things only farmers do.
Or maybe you've considered making it yourself, but the thought of peeling pounds and pounds of apples by hand makes your eyes want to glaze over (and maybe reach for a bottle of ibuprofen, too 😉).
Either way, I've got you covered!
Homemade apple butter is simply divine—it's perfect spread on warm biscuits or dinner rolls, fluffy pancakes, pumpkin scones, or toast.
You can swirl it into a bowl of oatmeal or homemade yogurt, or if you're like my kids—eat it straight out of the jar with a spoon!
You can also use this apple butter to make apple butter snickerdoodles, an easy apple butter bundt cake, or spiced apple butter bread!
Related Recipes:
Apple Butter in an Instant Pot vs. a Slow Cooker
For years, I always made slow cooker apple butter. This method works beautifully and the apples cook low and slow, creating a deep flavor.
The last couple of years, I've switched to making apple butter in the Instant Pot, where the apples and spices cook under pressure, allowing the flavors to meld together so much faster!
Both versions taste delicious, one just takes less time.
If you don't have an Instant Pot yet, you can definitely make the slow cooker version. But if you have an Instant Pot, you can have apple butter in a fraction of the time!
I use the same Instant Pot and Slow Cooker methods when making my easy pear butter recipe, too!
How to Make Instant Pot Apple Butter
The process is incredibly simple! First, you'll start by peeling and slicing some apples.
The absolute best way to do this is to use one of these handy devices, which peels, cores, and slices your apples at the same time, with minimal effort on your part. (I use this gadget when I make apple butter, applesauce for my applesauce bundt cake, apple pies, even when I make mashed potatoes!).
Put all of the sliced apples into the insert pot of the Instant Pot, followed by some brown sugar, water, cinnamon, cloves, nutmeg, and allspice.
Close the lid and set the vent to the sealed position, then cook at high pressure for 20 minutes.
Allow a natural pressure release, then use an immersion blender to puree everything to your desired consistency.
If the apple butter is slightly runny after cooking, simply use the Saute function to simmer it for a bit longer, allowing some of the liquid to evaporate.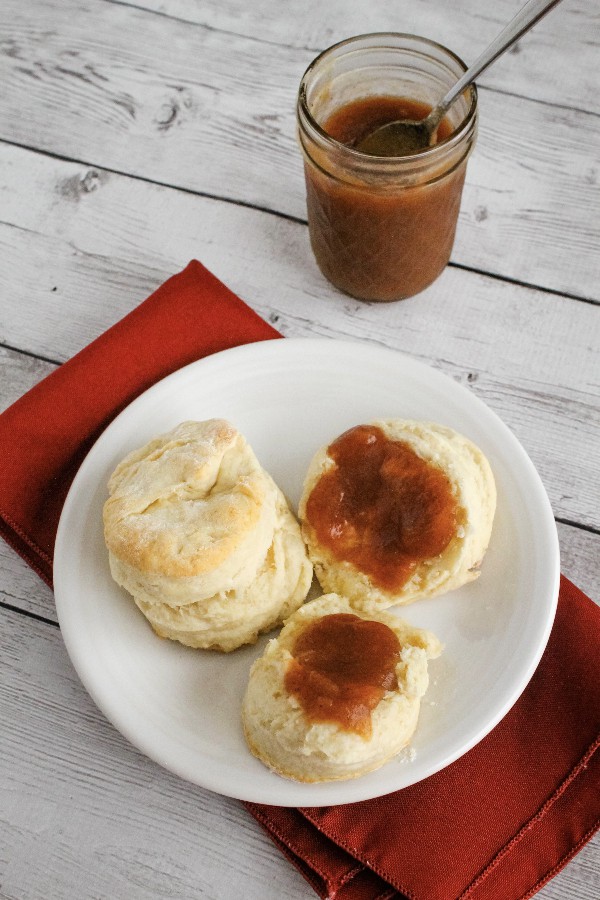 How to Store Homemade Apple Butter Cooked in the Instant Pot
I don't usually can my apple butter, but you certainly could if you want it to be shelf stable, following proper canning instructions for apple butter.
I generally ladle it into wide-mouth freezer-safe jars, then keep some in the refrigerator and some in the freezer.
In the freezer, it keeps well for at least 6 months (I've never kept it longer to test if it can last even longer, but I'd imagine it could).
In the fridge, mine has kept well even after a month, but it normally is long gone before that. 🙂
Recommended Equipment: