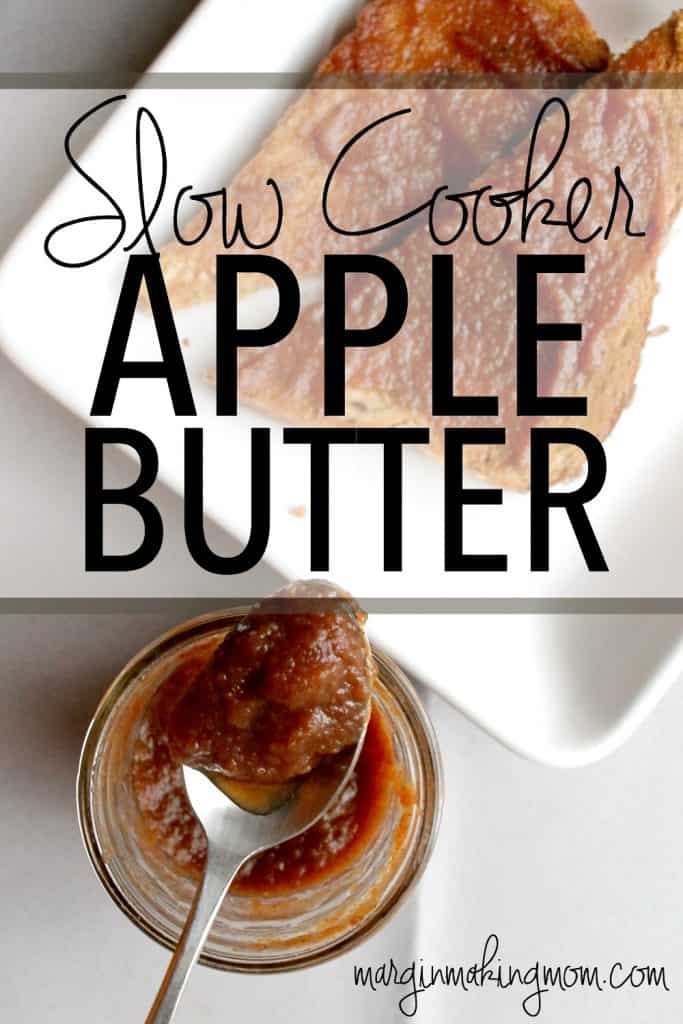 This easy slow cooker apple butter is full of flavorful fall spaces and sweet apples. It is the perfect topping to toast, biscuits, rolls, or scones!
Disclaimer: This post may contain affiliate links for your convenience.  You can read my full disclosure policy here.
A few weeks ago, my family and I visited an apple orchard about an hour away from our home.  This was our first time visiting an orchard to pick apples, and we really enjoyed it.  The orchard had several fall-themed activities for the kids, and they had a blast picking apples.  We brought home two and a half pecks of apples, which is equal to about 25-30 pounds.  I was eager to put the apples to good use, and decided use some of them to make some applesauce, apple pie, apple crisp, and this delicious slow cooker apple butter.
Obviously, peeling and slicing that many apples would take FOREVER by hand.  However, I discovered this amazing and affordable gadget that makes this process so much faster and easier.  Honestly, I was blown away by how well it worked and how quickly I could peel, core, and slice an apple.  Where has this thing been all my life??  I also use it to peel potatoes when making mashed potatoes!
I've made applesauce in my slow cooker many, many times, but I had never made apple butter this way.  I have to admit, this slow cooker apple butter from That Susan Williams far exceeded my expectations.  It has just the right blend of spices, the perfect consistency, and the addition of the lemon zest really helps to brighten and enhance the flavor profile.  Making it in the slow cooker means it is so very easy and mostly hands-off!  If you have an Instant Pot DUO60 or LUX60 (ya'll know by now how much I love my Instant Pot), you can use the slow cooker function for this recipe!
You can use a variety of types of apples to make this slow cooker apple butter.  I used a combination of Golden Delicious, Rome, and Fuji apples, since that is what I had from the orchard.  I think adding Granny Smith or Honeycrisp would be delicious.  Using more than one type of apples usually results in better flavor, in my opinion.  It does take quite a few apples (about 6 pounds), but know that it cooks down a lot and I was left with about 4 cups of apple butter when all was said and done.
I did not go through the proper canning process with my apple butter, so I put the extra jars in the freezer, which works wonderfully (just be sure to use a jar that can go in the freezer).  It is just as good after thawing.
This is delicious spread on buttered toast, warm English muffin bread (one of my favorites!), a hot biscuit, or a warm pumpkin scone.  It would be a great addition to your Thanksgiving table as a topping for hot yeast rolls.  *Swoon* The fall flavors are to die for!
Recommended equipment: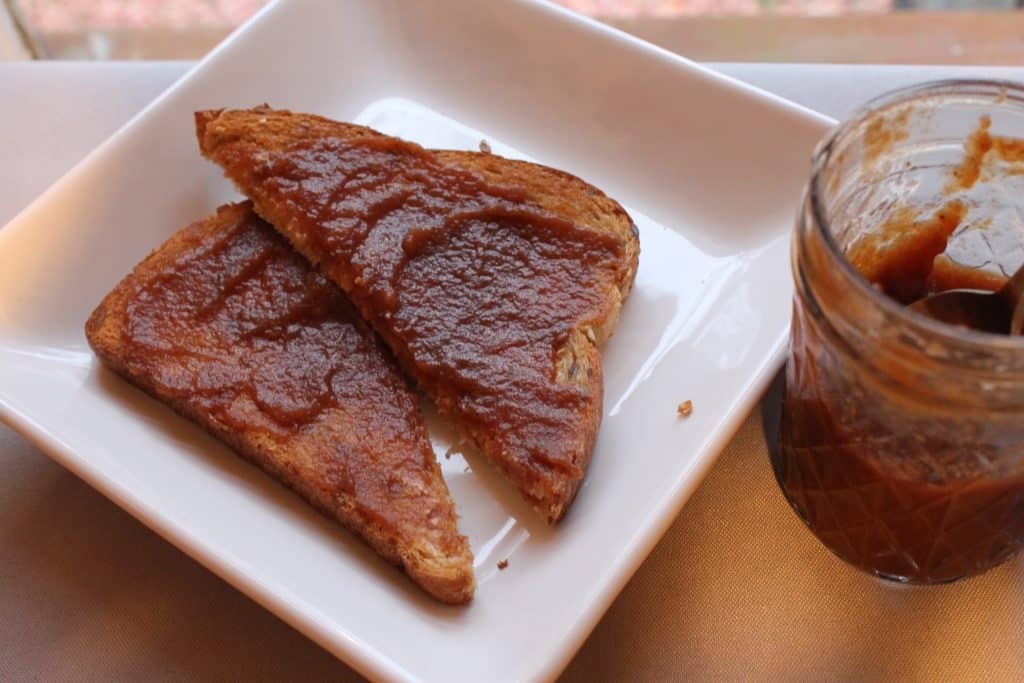 Ingredients
6 lbs apples
1 cup brown sugar
2 cups quality apple cider
2 tsp ground cinnamon
1/4 tsp ground cloves
1/2 tsp ground nutmeg
1/2 tsp pumpkin pie spice or allspice
2 2-inch strips of lemon zest
Instructions
Peel, core, and slice apples. Place in slow cooker.
Add apple cider and brown sugar. Stir to combine and cover with lid.
Cook on high for 7 hours.
Add spices and lemon zest and cook for 3 more hours on high.
Apples should be very dark and reduced down. If they aren't dark yet, cook for a couple more hours.
Remove lemon zest from slow cooker and use an immersion blender to blend apple butter to desired consistency.
Ladle into jars, leaving 1/2 inch head space if you plan to freeze jars.
Cool and keep refrigerated (or frozen) when not in use.
https://marginmakingmom.com/slow-cooker-apple-butter/
Copyright MarginMakingMom.com
Save
Save
Save
Save