Making cheesecake in your Instant Pot is so simple, and this creamy, tart lemon cheesecake comes out perfect every time.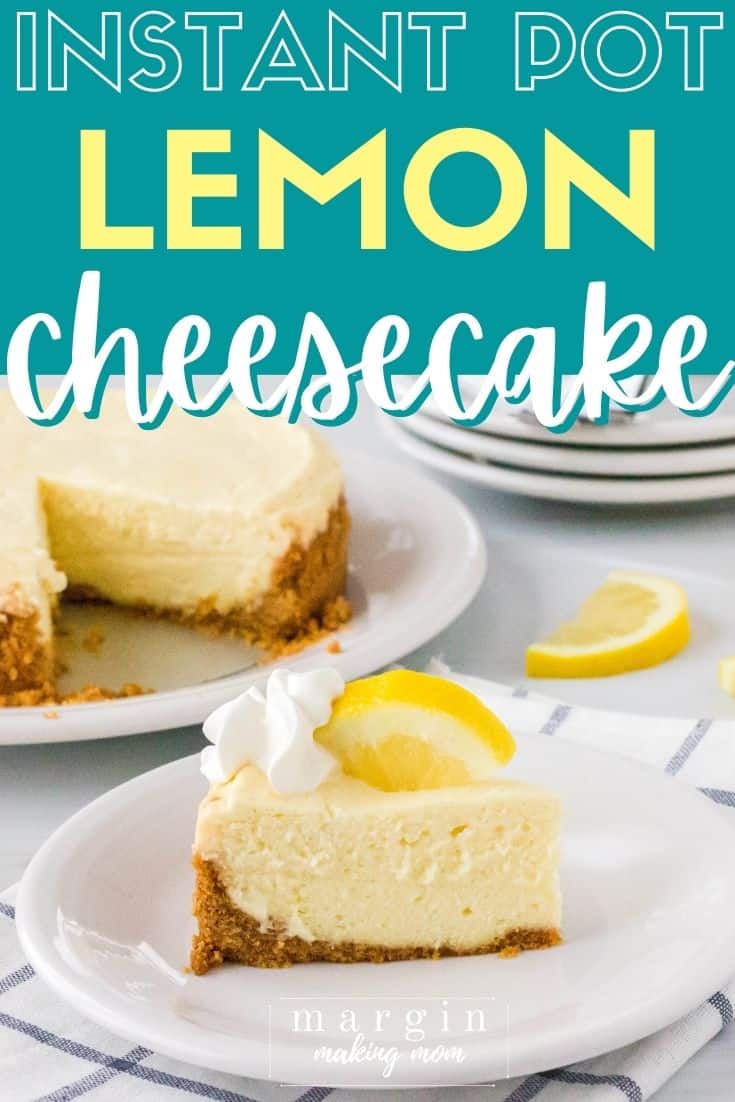 Instant Pot Lemon Cheesecake is a silky smooth explosion of flavor.
Note: This post may contain affiliate links for your convenience. If you make a purchase, this site may receive a small commission at no additional cost to you. You can read my full disclosure policy here.
If you've shied away from making cheesecake because you thought it was too difficult, think again!
I'll admit, I was a bit skeptical when I first discovered that people were making cheesecake in their Instant Pot. But it turns out that the warm, moist, high-pressure environment is just right for making a luscious cheesecake that comes out perfect every time.
Springtime desserts should be bright, cool and creamy. I knew it was time to come up with a lemon cheesecake recipe that could be made in my Instant Pot. It would be just the thing to serve all spring and maybe into the summer.
I'm a sucker for lemon desserts, and that leaves me wondering how many times I can make this lemon cheesecake before my family gets tired of it.
More Lemon Dessert Recipes: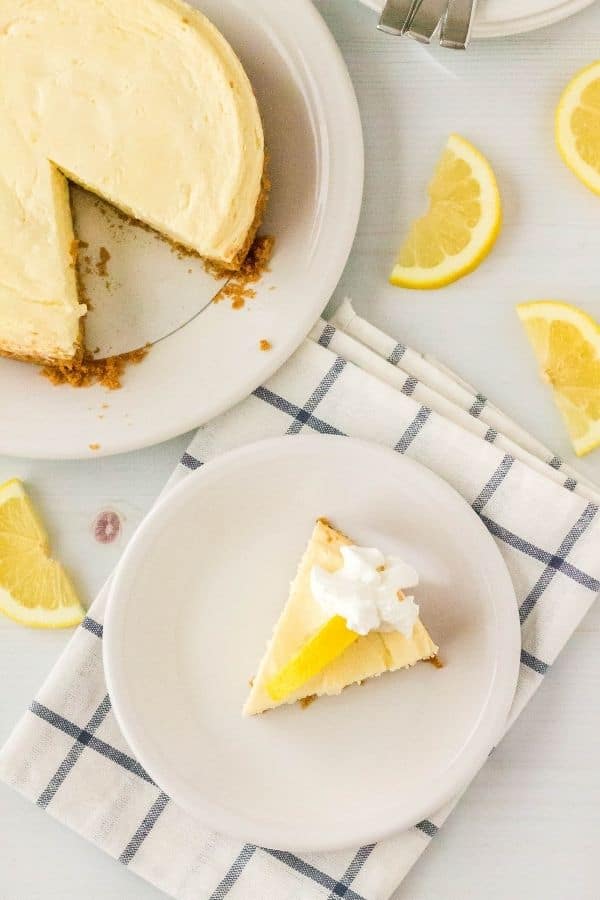 Making Desserts in Your Instant Pot
I'm no stranger to making desserts in my Instant Pot, so it's not too farfetched that I began dreaming about an Instant Pot recipe for lemon cheesecake.
My Instant Pot Pecan Pie and Instant Pot Pecan Pie Cheesecake Bites are always a big hit in the fall, but as I watch the flowers start to bloom, I'm moving onto brighter flavors – with lemon being a favorite!
I decided to look back on one of my favorite fall desserts. I swapped out ginger snaps for graham crackers and pumpkin and warm spices for lemon juice and sour cream.
This is a springtime version of a favorite fall dessert, Instant Pot pumpkin cheesecake and the result is absolutely decadent.
The lemon flavor is not too overpowering–it's just the right hint of citrus in a cool and creamy cheesecake.
A little bit of lemon trivia for you–do you know if a lemon is considered a fruit or a vegetable? <–Read to find out!
How to Make Pressure Cooker Lemon Cheesecake
It's really easy to make Instant Pot Lemon Cheesecake.
Ingredients You'll Need:
Graham cracker crumbs
Brown sugar
Butter, melted
Cream cheese
Granulated sugar
Sour cream
Vanilla extract
Lemon juice
Lemon zest
Eggs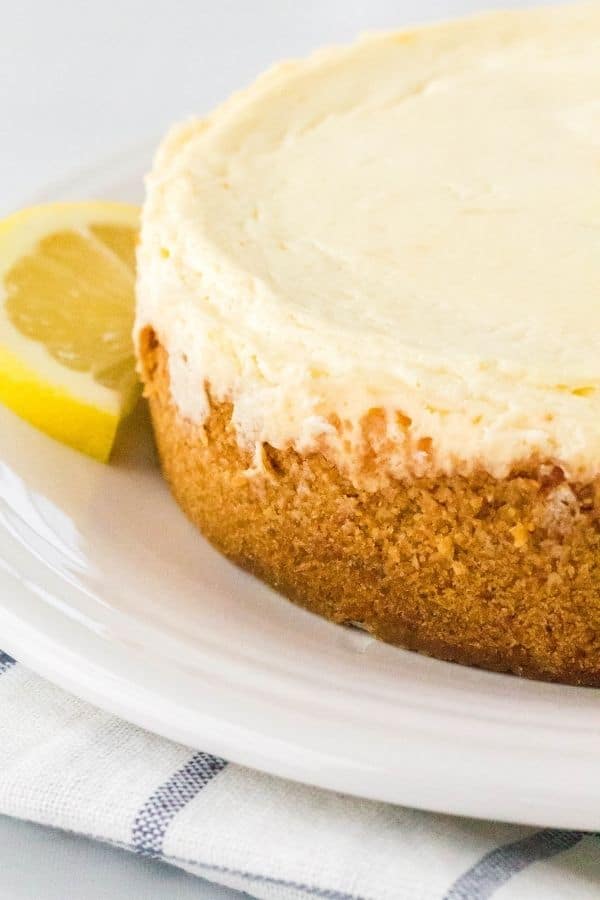 How to Make It:
(Full printable recipe is available below)
Perpare the Crust. First you'll mix the crust ingredients and press them into a 7-inch springform cheesecake pan. You can opt to pre-bake the crust for 12-15 minutes but it's not neccessary.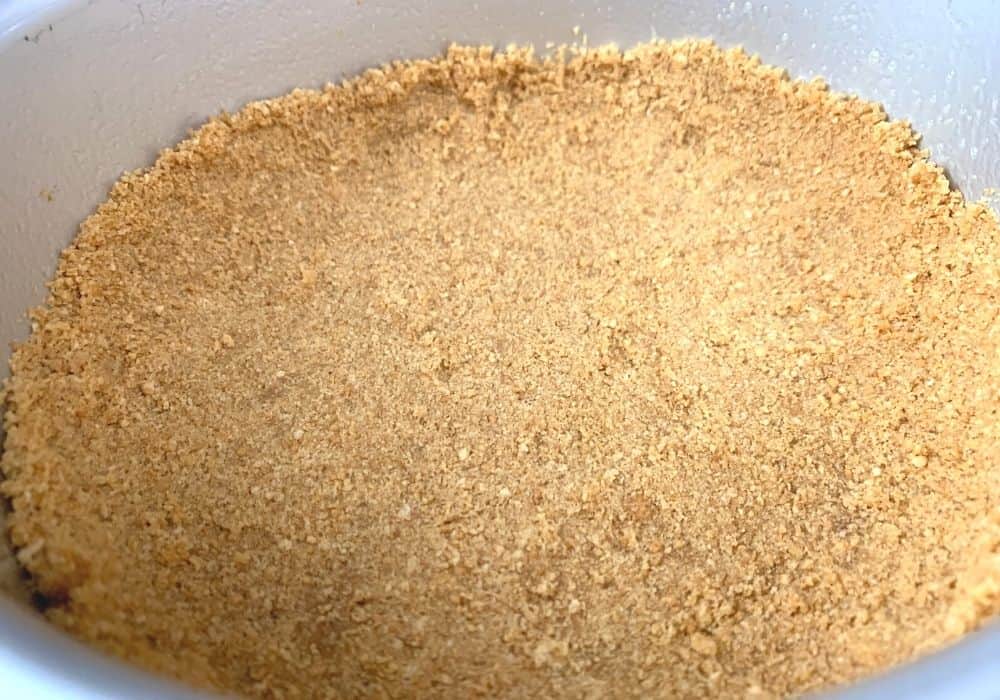 Make the Filling. Next you'll use an electric mixer to blend the cream cheese until smooth. Gradually add in the remaining ingredients one at a time, being careful not to overmix once you add the eggs.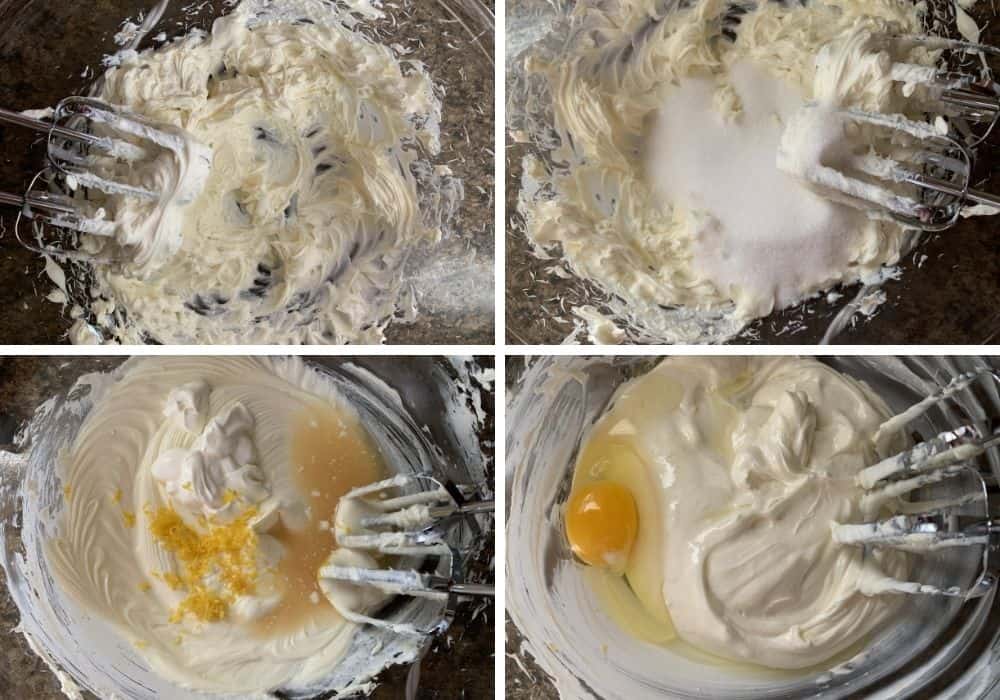 Cook the Cheesecake. Then, you'll pour water into the Instant Pot and set the trivet in place. Add the batter into the prepared crust.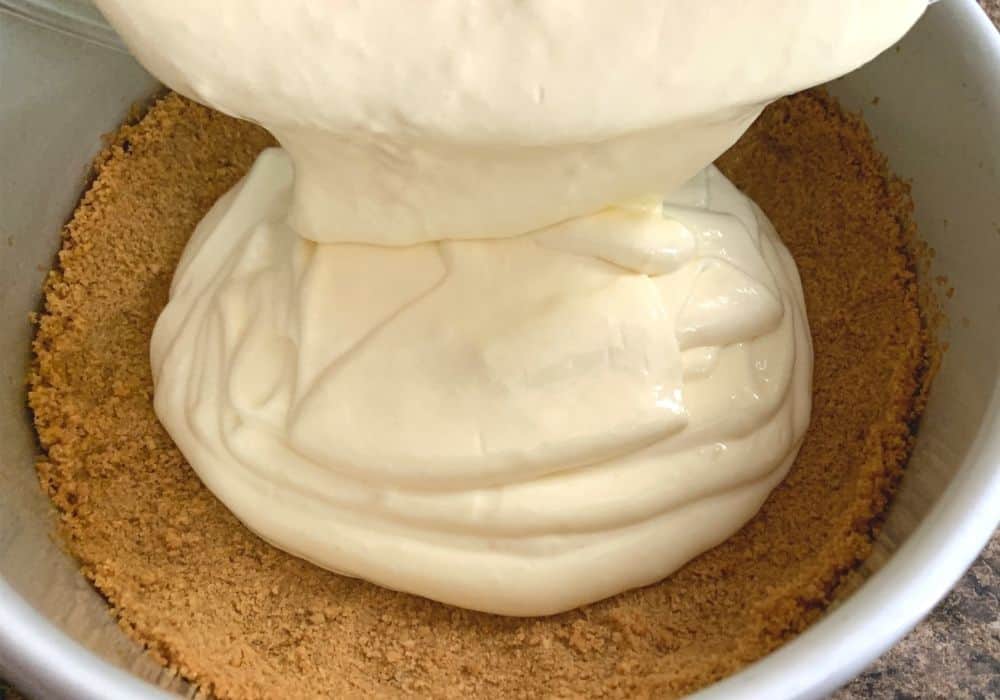 Lower the cheesecake pan onto a trivet in the Instant Pot. Cook at high pressure for 22 minutes followed by a natural pressure release.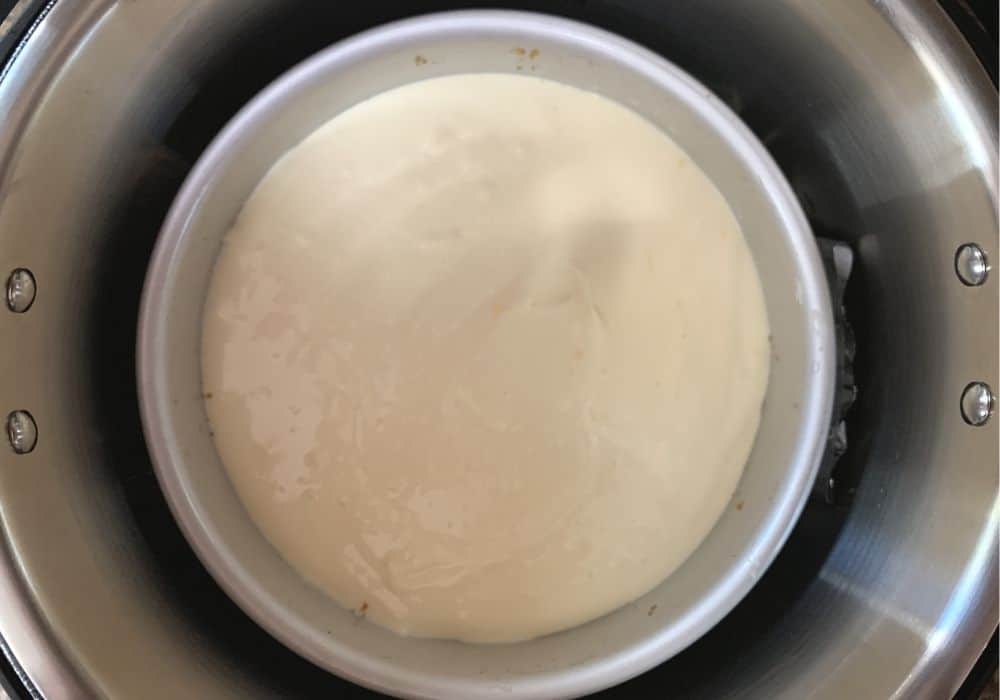 Cool and Serve. Last, cool the cheesecake on the counter for about an hour before transferring to the fridge for at least 4-6 hours. Serve with whipped cream and a lemon garnish, if desired.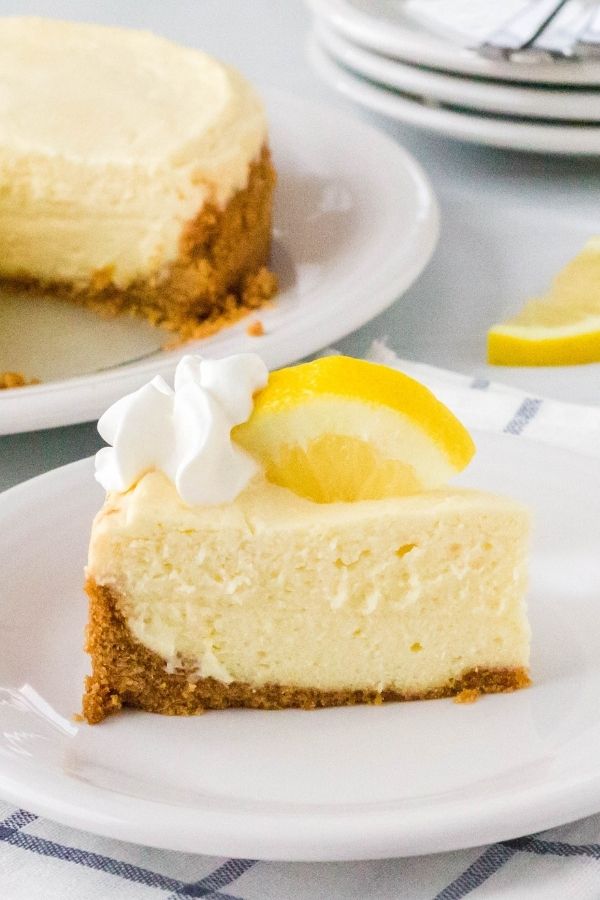 Notes and Adaptations:
Allow your cream cheese, sour cream and eggs to come to room temperature. This will help everything to blend well so you have a silky smooth cheesecake.
Baking the crust is an optional step. I do think the crust tends to hold together a little bit better when baked, but if you don't have time or access to an oven, it will still turn out completely fine without being baked.
In the past, I have covered my cheesecake pans with foil when pressure cooking, but after further testing I've found that it isn't really necessary, so I don't do that anymore. I just dab extra moisture off the top with a paper towel. But you can cover it if desired–I'd recommend adding 2 minutes to the cook time in that case.
If you have separate sealing rings for sweet and savory dishes in your Instant Pot, don't forget to swap in the silicone ring for sweets–especially if you aren't covering your pan with foil (nobody wants a cheesecake that tastes like last night's chili!).
There are plenty of garnish ideas for this cheesecake–in addition to the simplicity of whipped cream, you could add a blueberry compote, some raspberry or strawberry sauce, or even some lemon curd. Yum!
Recommended Equipment: