Lunch Lady Pizza is loaded with sauce, cheese and your favorite toppings then sliced into the large rectangle slices you remember as a kid.
Relive some of your favorite childhood memories when you make tasty school cafeteria pizza at home.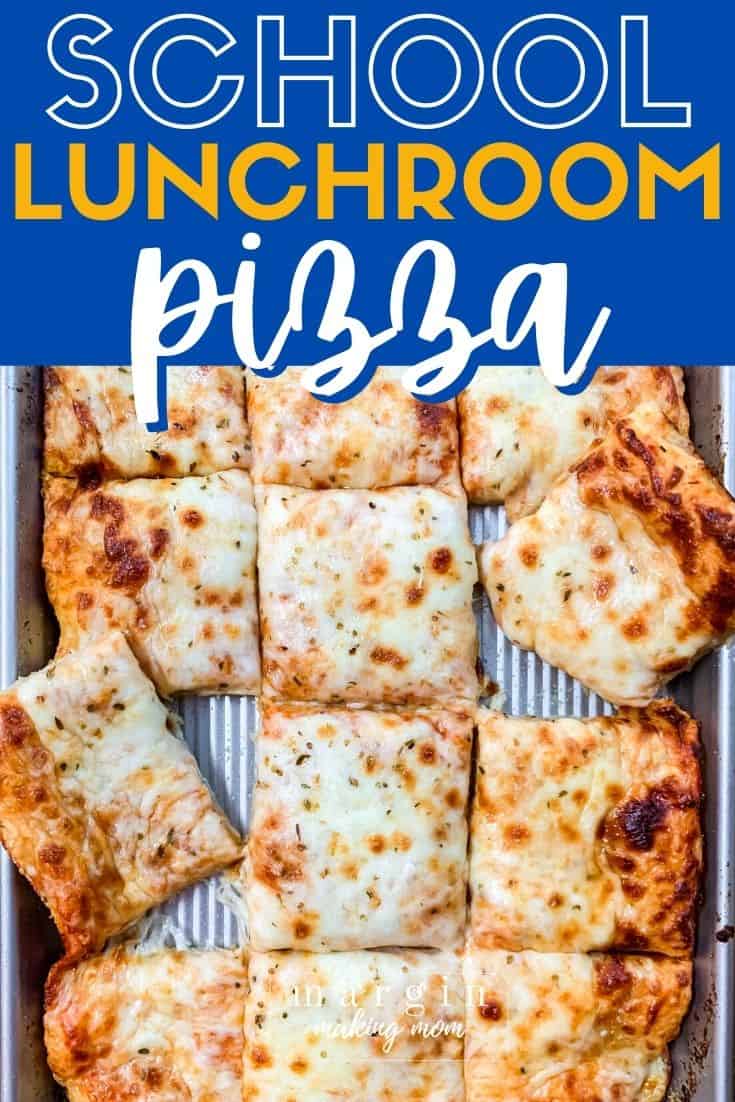 Note: This post may contain affiliate links for your convenience. If you make a purchase, this site may receive a small commission at no additional cost to you. You can read my full disclosure policy here.
When I was in elementary school, my mom never packed me a lunch–I just always at a hot lunch from the cafeteria. Friday was our School Cafeteria Pizza Day, and it was our favorite day each week!
Time has changed things, so I can't speak much about the quality of school lunches today, but in the 80s and 90s, when I was in school, everyone loved school cafeteria pizza.
The rectangle pizza slices were delicious and filling but, most importantly, served as a reminder that the school week was finally over!
Whenever I mention lunch lady pizza to friends similar in age, we take a trip down memory lane and wax poetic about those ooey-gooey slices of thick crust topped with melty cheese and diced pepperoni.
If you are of a certain age, you are probably picturing a melamine lunch tray piled up with a large slice of school pizza, fruit salad and a carton of milk.
I remember these slices often had tiny bits of diced pepperoni on them, or sometimes we had Italian sausage pizzas or plain cheese pizzas.
This homemade school lunch pizza is so easy and fun to make with homemade pizza dough. Serve these rectangular pizza slices to your kids for a nostalgic dinner you'll all love.
Bonus points if you can score a pint of chocolate milk and some vintage trays for serving–or get these new-edition trays from Amazon to pretend it's grade school lunch day again!
More Pizza Themed Recipes To Try: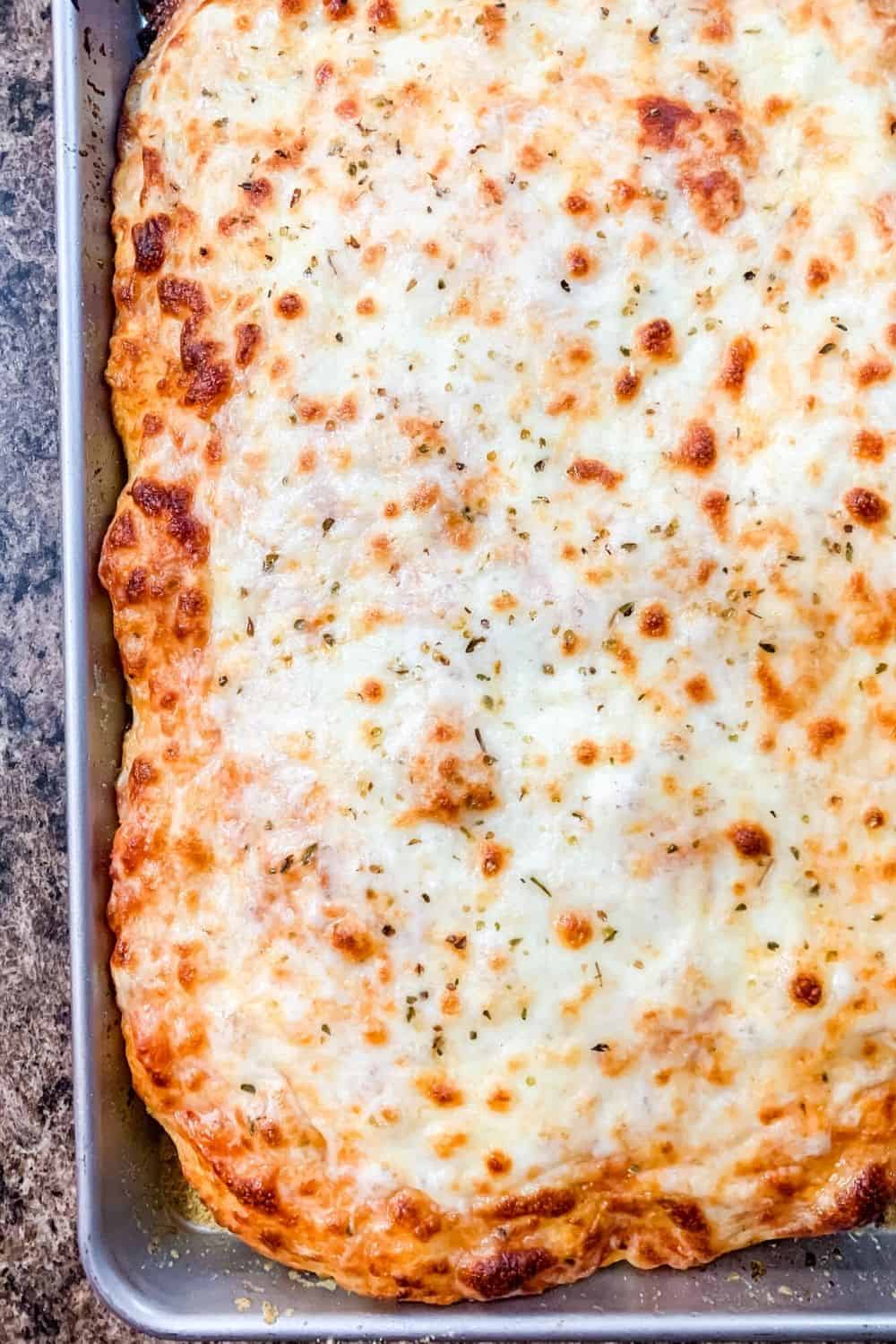 Rectangle Pizza Made Easy
My great-grandma was a school cafeteria cook long before I was born, back when the lunch ladies actually made everything from scratch.
I'm pretty sure by the time I was in elementary school, and definitely by the time I was in middle school and high school, scratch-made foods were a thing of cafeterias past, as efficiency took top priority.
Public school rectangle pizza was served by cafeteria ladies everywhere, bringing happy smiles to the faces of school kids.
The beauty of this lunch lady pizza is that school cafeterias across practically every school district in the country can crank out sheet pan after sheet pan of this tasty treat to hungry kids at 10:30 in the morning every Friday.
And kids are running down the halls to be first in line to get a slice of square pizza.
That means old-school pizza is not only easy to make but tasty too. Your kids will love this homemade pizza, and it's also perfect for birthday parties, holiday gatherings and potluck suppers.
Grab your jelly roll pan and get started!
How to Make Lunch Lady Pizza
It's really easy to make school pizza at home.
Ingredients You'll Need:
Olive oil
Cornmeal
Homemade pizza dough or store-bought refrigerated pizza dough
Pizza sauce
Mozzarella cheese
Additional toppings of choice, if desired: pepperoni, cooked sausage or ground beef, diced peppers, tomatoes, mushrooms, olives, ham, pineapple, fresh basil, etc.
Optional: Garlic powder, dried oregano
How to Make this Easy School Pizza Recipe:
(Full printable recipe is available below)
Prep the pan and dough. First, you'll preheat the oven to 475F. Spread olive oil into your jelly roll pan (this is a little smaller than a half-sheet pan) and sprinkle lightly with cornmeal. This will give some great texture and flavor to the bottom of the crust.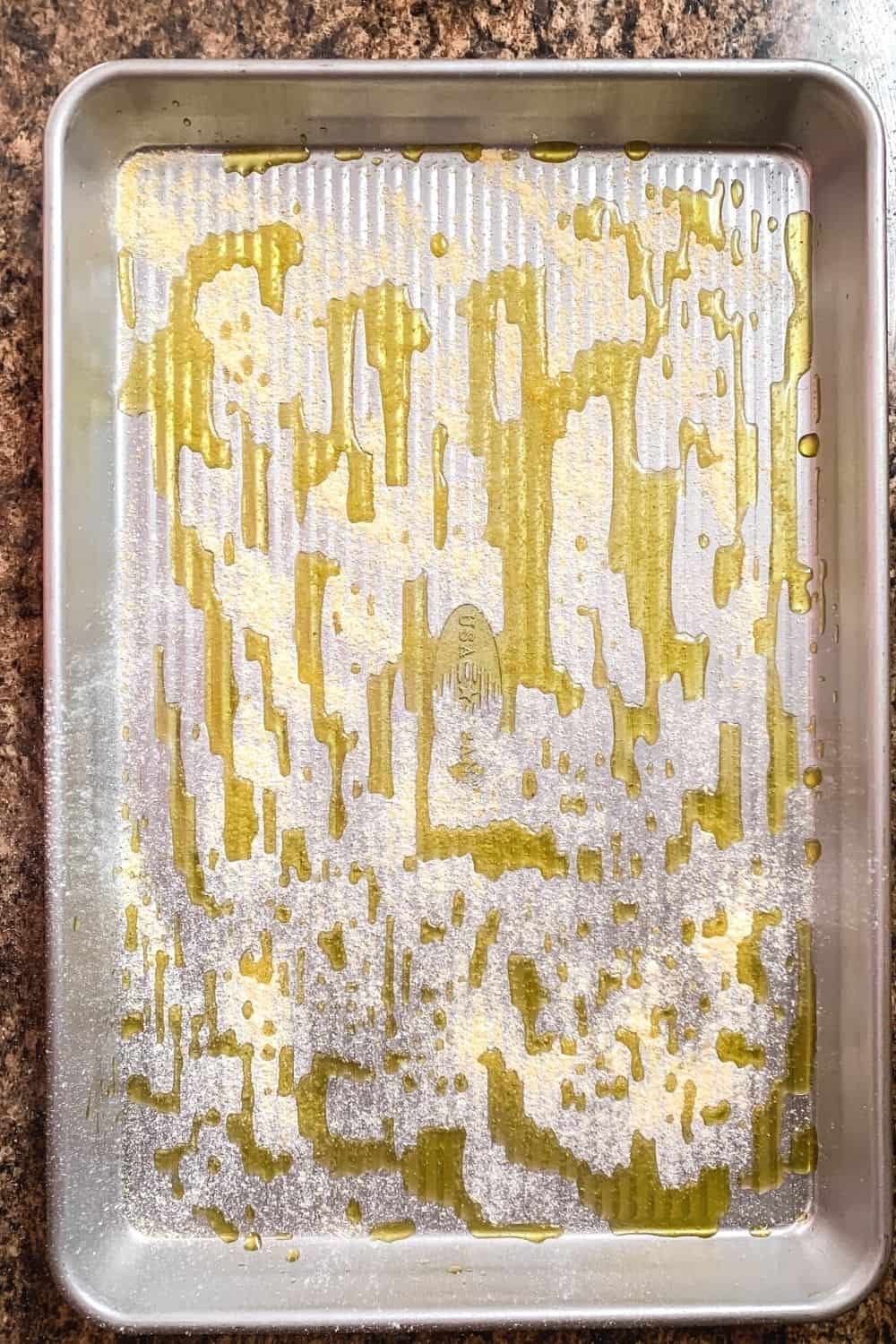 Press the dough into the pan, stretching to fit.
Add Sauce and Cheese. Next, you'll add the sauce spreading it all the way to the edges. Top with lots of cheese, again spreading to the edges.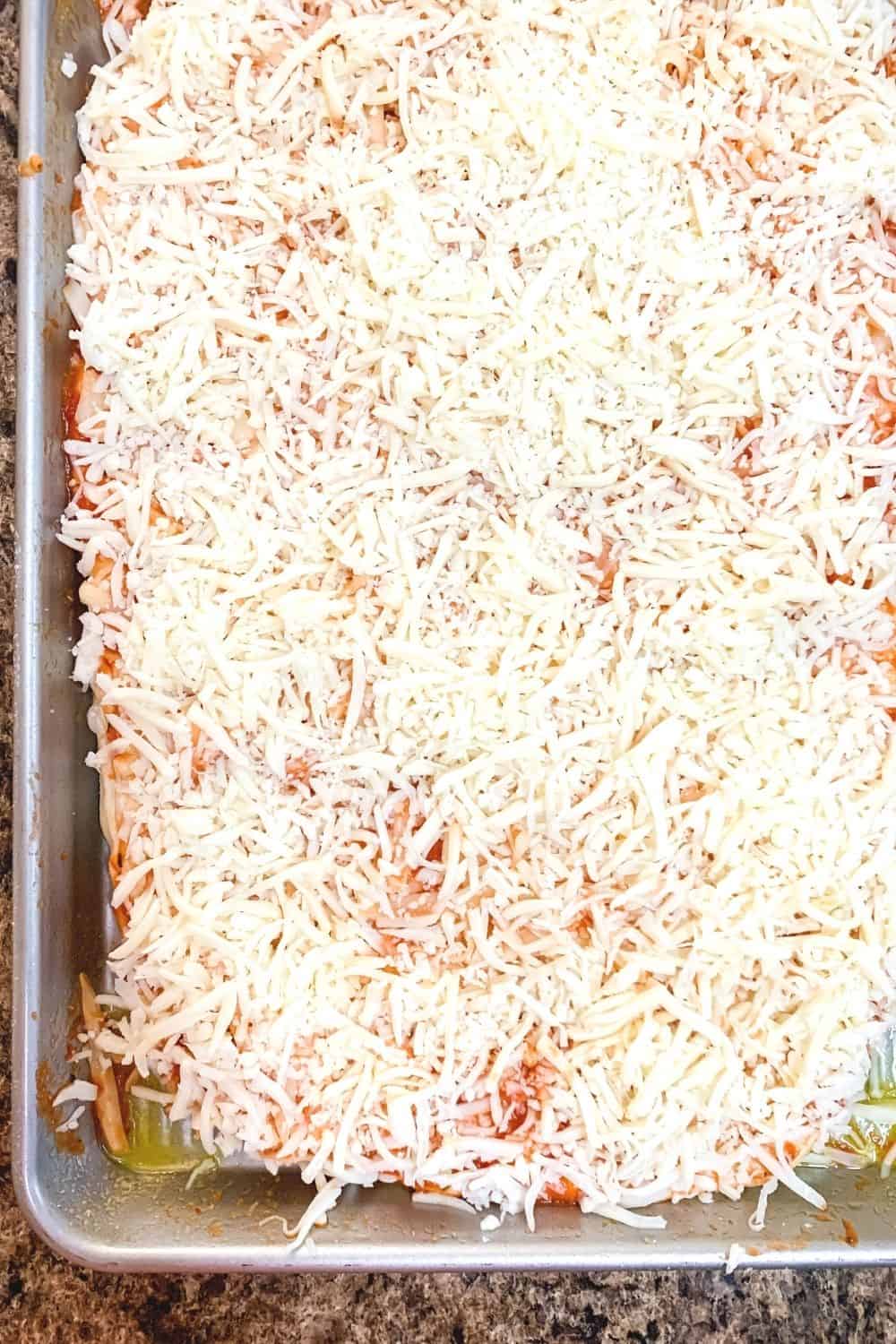 Add toppings and bake. Last, you'll add your favorite pizza toppings, sprinkle with garlic powder and oregano or Italian seasoning and bake for 10-12 minutes. Slice into rectangles and serve.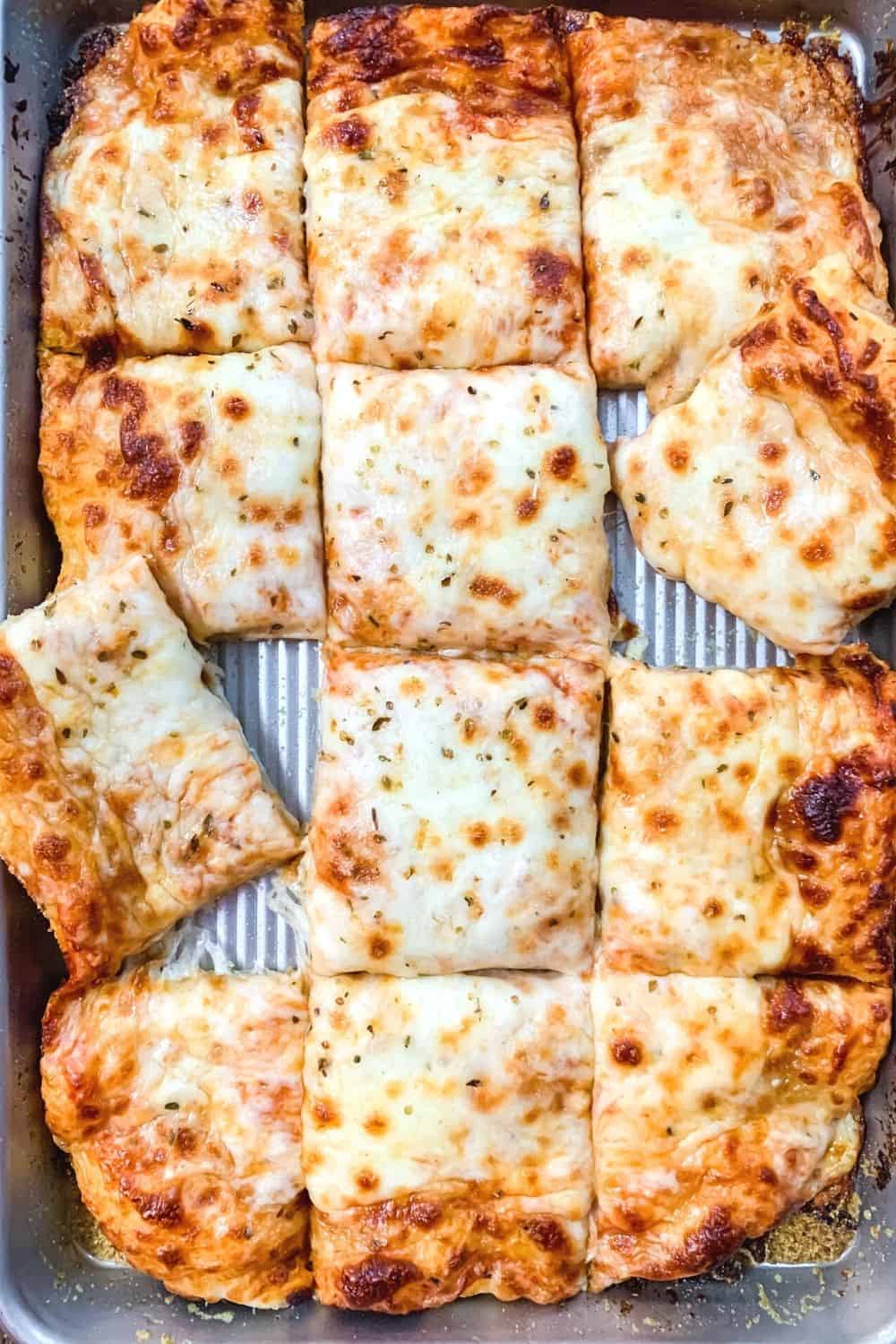 Notes and Adaptations:
Store-bought refrigerated pizza dough can be a great shortcut! It only costs a couple of bucks and can be found in your grocery's deli section. However, be sure to let the dough come to room temperature first so it's easier to stretch and work with.
Feel free to adjust the amounts and types of toppings to your liking–customize away!
I often make homemade pizza sauce with some tomato paste and seasonings (you can also doctor up a can of tomato sauce), but a jar of pizza sauce from the store works just as well.
Recommended Equipment:
Yield: 12-16 Slices
Homemade School Cafeteria Pizza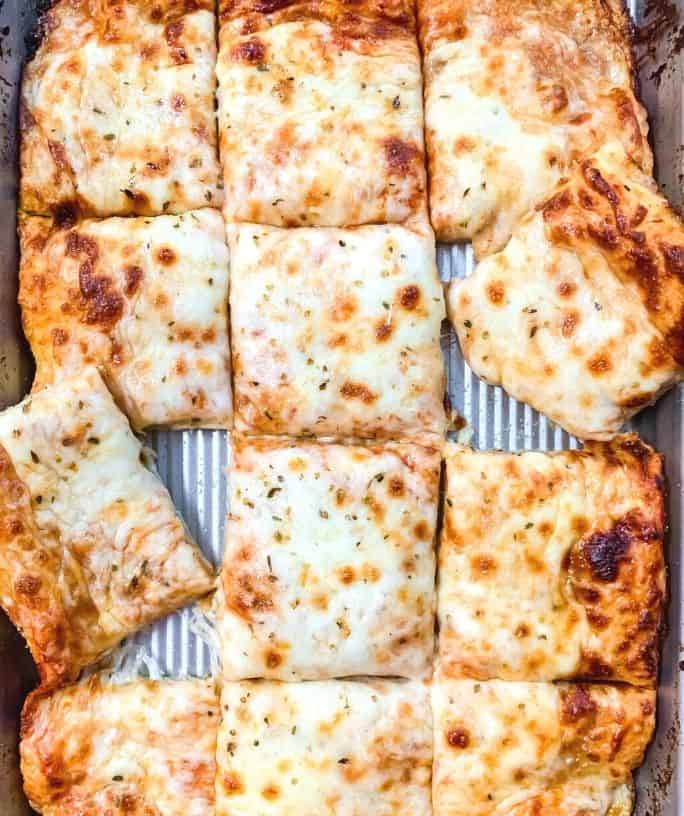 Throwback to your childhood cafeteria pizza with rectangle slices of this easy pizza!
Ingredients
2 TBSP olive oil
2 TBSP cornmeal
1 recipe of homemade pizza dough or 1 lb of refrigerated pizza dough from your local grocery's deli department
1/2-1 cup pizza sauce, to taste
2-3 cups of shredded mozzarella cheese
Additional toppings of choice, if desired: pepperoni, cooked sausage or ground beef, diced peppers, tomatoes, mushrooms, olives, ham, pineapple, fresh basil, etc.
Optional: Garlic powder, dried oregano
Instructions
Preheat oven to 475F. Add olive oil to a 10x15" jellyroll pan and usea brush to spread it over the bottom of the pan. Sprinkle with cornmeal.
Press dough into the pan, stretching it to fit the entire pan as much as possible.
Spread sauce over the entire surface of the pizza dough, all the way to the edges. Use more or less sauce depending on your preference.
Sprinkle cheese over the sauce, extending to the edges. Use more or less, depending on your preferences. For a pizza this size, I usually use 3 cups of cheese, but you can use 2 cups if you're planning to add more toppings or don't like a lot of cheese.
Add any other toppings you'd like. If desired, sprinkle with garlic powder and dried oregano.
Bake for 10-12 minutes. Remove from oven and let cool slightly before cutting into rectangles. You can use a standard pizza cutter, or I like to use a bench scraper for straighter cuts.
Notes
You can find refrigerated pizza dough at your local grocery store's deli counter, typically in 1-lb bags. It's usually very inexpensive, and can be a great shortcut. Keep in mind if you are using refrigerated pizza dough, be sure to let your dough come to room temperature before working with it. This will make it much more manageable and easier to stretch.
Feel free to adjust quantities of sauce, cheese, and toppings based on your family's preferences--the sky's the limit!
Nutrition Information:
Yield:
12
Serving Size:
1
Amount Per Serving:
Calories:

263
Total Fat:

13g
Saturated Fat:

5g
Trans Fat:

0g
Unsaturated Fat:

6g
Cholesterol:

28mg
Sodium:

474mg
Carbohydrates:

24g
Fiber:

1g
Sugar:

2g
Protein:

13g
Nutrition information is automatically calculated and is not guaranteed for accuracy.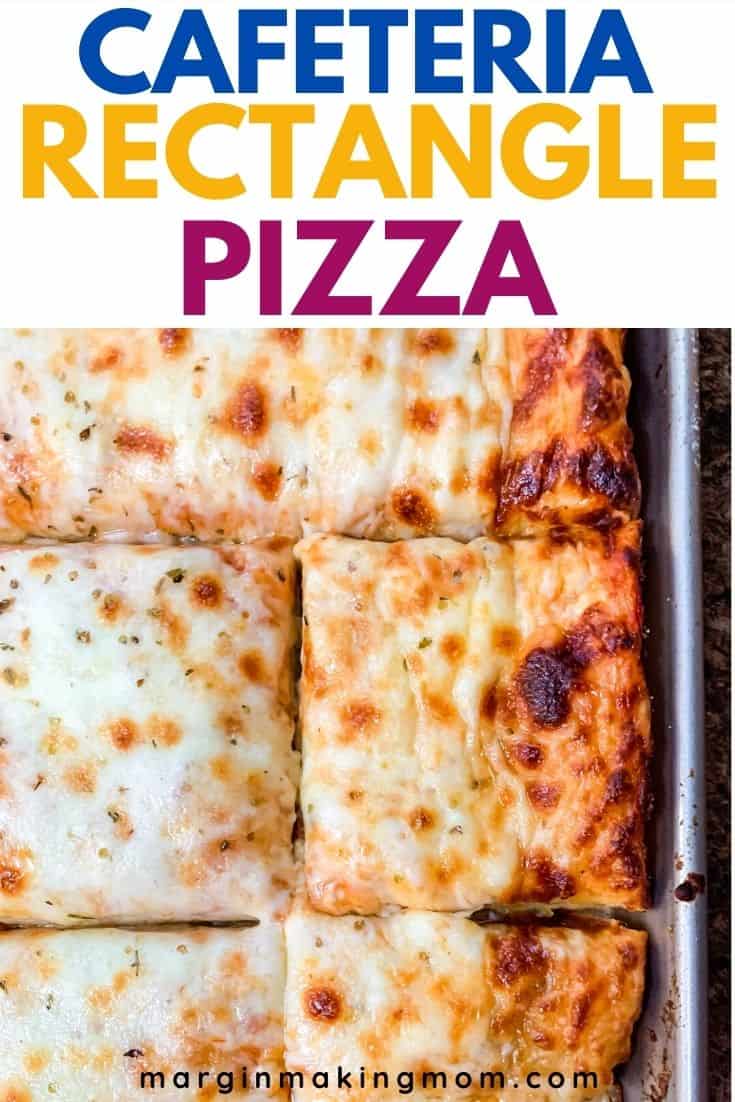 Get the Instant Pot Meal Plan Jumpstart
Join the free community and you'll learn simple ways to easily create tasty food for your family, as well as immediate access to the FREE Instant Pot Meal Plan Jumpstart to help you get a tasty dinner on the table in a flash!
"Thanks for sharing your knowledge and experience in such a friendly and delightful way!!! So far, I'm very impressed with the results...thanks again for your guidance into this new realm of cooking!" -Margaret
Free Resource Library
Enter my
free resource library
for my latest printables and resources! Password is 'IHEARTMARGIN' -- please copy and paste that in at the link above. Thanks for being a subscriber!!