Discover the best side dishes to go with chicken and dumplings. Make veggies, salads, breads and more to complement the flavors and textures of chicken and dumplings.
It's a meal in itself so these southern chicken and dumplings sides will perfectly complement your favorite chicken and dumplings recipe without feeling heavy.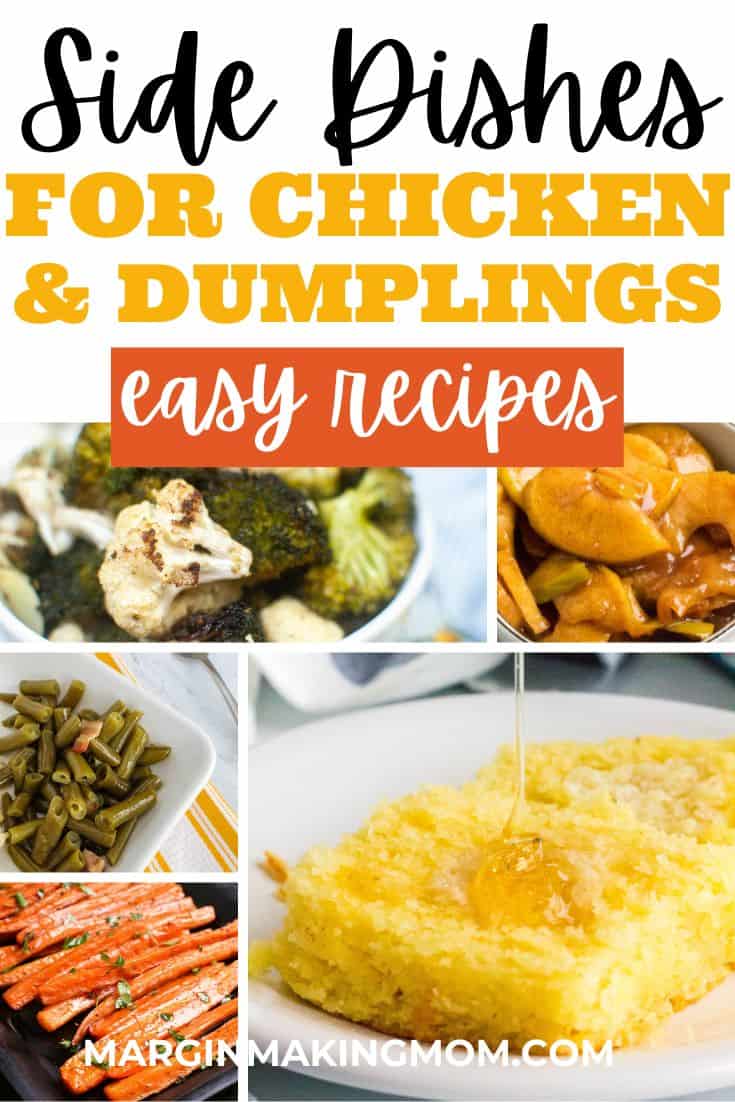 Note: This post may contain affiliate links for your convenience. If you make a purchase, this site may receive a small commission at no additional cost to you. You can read my full disclosure policy here.
Chicken and dumplings are perfect for rainy days, cold winter nights and anytime you need a comforting meal.
They've been a regular staple meal in heavy rotation in my house for as long as I can remember.
My Crockpot Chicken and Dumplings with Grands Biscuits cook low and slow all day while my Cracker Barrel Copycat Instant Pot Dumplings are ready in a flash.
Old-Fashioned Southern Chicken and Dumplings just like Grandma would make are the perfect nod to the past, while Easy Chicken and Dumplings with Tortillas are a simple shortcut twist on a classic dish.
No matter how you make them, the best chicken and dumplings recipes have a flavorful broth that's rich, creamy and packed with goodness.
Loaded with chicken, vegetables and some variety of dumplings, chicken and dumplings is practically a meal in itself.
But I'm often asked about what types of side dishes to serve with chicken and dumplings, particularly if you're hosting company or want to have some options available for guests.
While you want to avoid sides that overwhelm the star of the meal, adding a few of your favorite side dishes can transform a basic comfort food into a full meal that's filling, nourishing and satisfying.
Side Dishes to Go with Chicken and Dumplings
Make your meal something healthy, delicious and satisfying with these flavorful side dishes.
Salads, colorful vegetables, fruit, and even homemade breads can be perfect additions to your table.
Here are a few great choices to consider serving alongside the main attraction.
Side Dishes to Serve with Chicken and Dumplings
Wondering what to serve with chicken and dumplings? We're sharing some of the best side dishes to pair with this classic comfort food!
What To Avoid When Choosing Side Dishes for Chicken and Dumplings
Chicken and dumplings are rich and, depending on your recipe, can sometimes feel heavy.
You want to avoid sides that clash with the flavors and you certainly don't want to serve anything that adds to that heavy feeling.
In general, I steer away from:
Meat/Seafood – Chicken and dumplings is loaded with chicken so there is no need to serve it with additional meat.
Pasta – Depending on your recipe, the dumplings are sometimes similar to pasta. For this reason, I typically avoid pasta or mac and cheese, as it's just too heavy.
Bold Flavors – The flavor of chicken and dumplings is homey and herbaceous. While a little contrast in flavor can brighten the overall feel of the meal, avoid overly bold flavors like ginger, curry or other commonly strong flavors.
More Delicious Side Dish Ideas:
Be sure to save this list for later by adding it to your favorite board on Pinterest!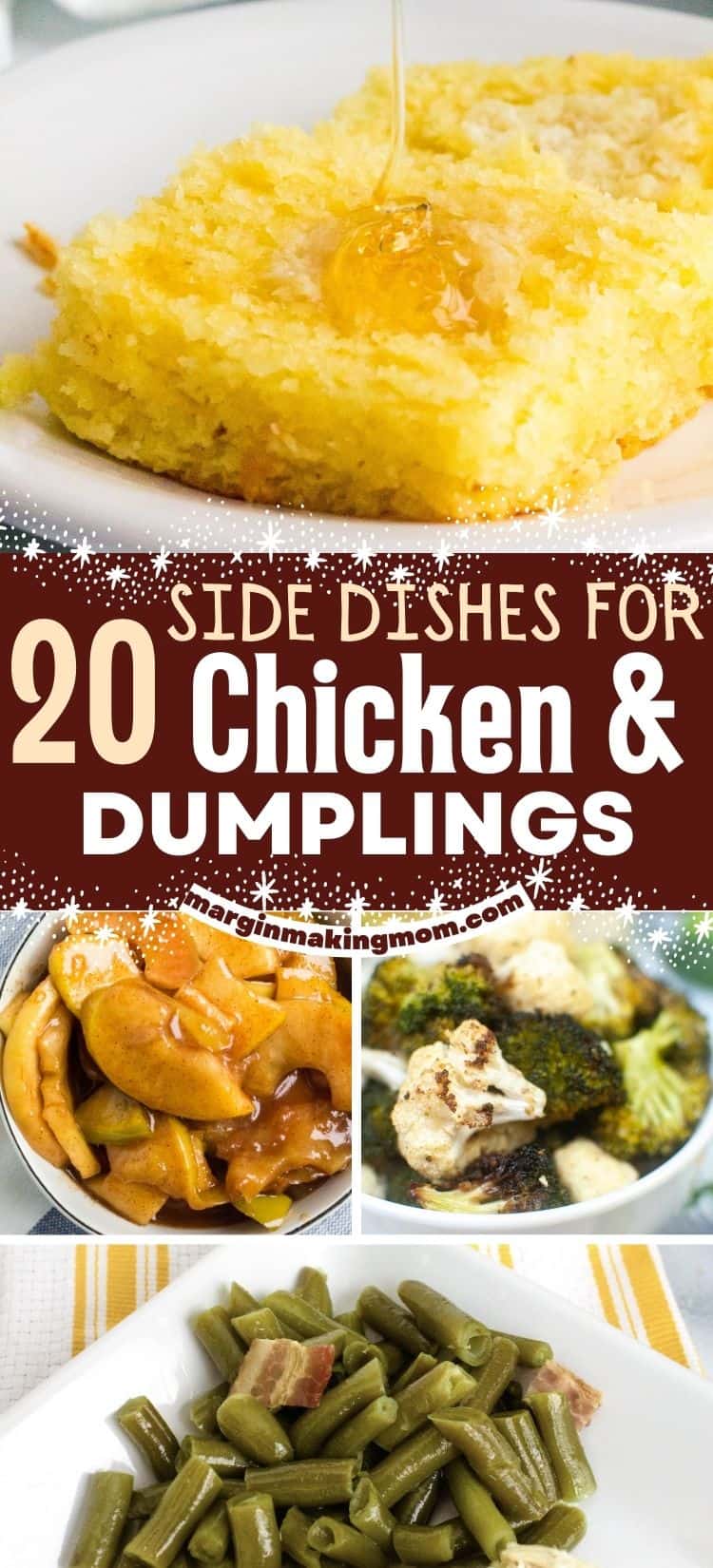 Get the Instant Pot Meal Plan Jumpstart
Join the free community and you'll learn simple ways to easily create tasty food for your family, as well as immediate access to the FREE Instant Pot Meal Plan Jumpstart to help you get a tasty dinner on the table in a flash!
"Thanks for sharing your knowledge and experience in such a friendly and delightful way!!! So far, I'm very impressed with the results...thanks again for your guidance into this new realm of cooking!" -Margaret
Free Resource Library
Enter my
free resource library
for my latest printables and resources! Password is 'IHEARTMARGIN' -- please copy and paste that in at the link above. Thanks for being a subscriber!!