This easy homemade naan bread recipe is fluffy and tasty and can be quickly proofed in your Instant Pot.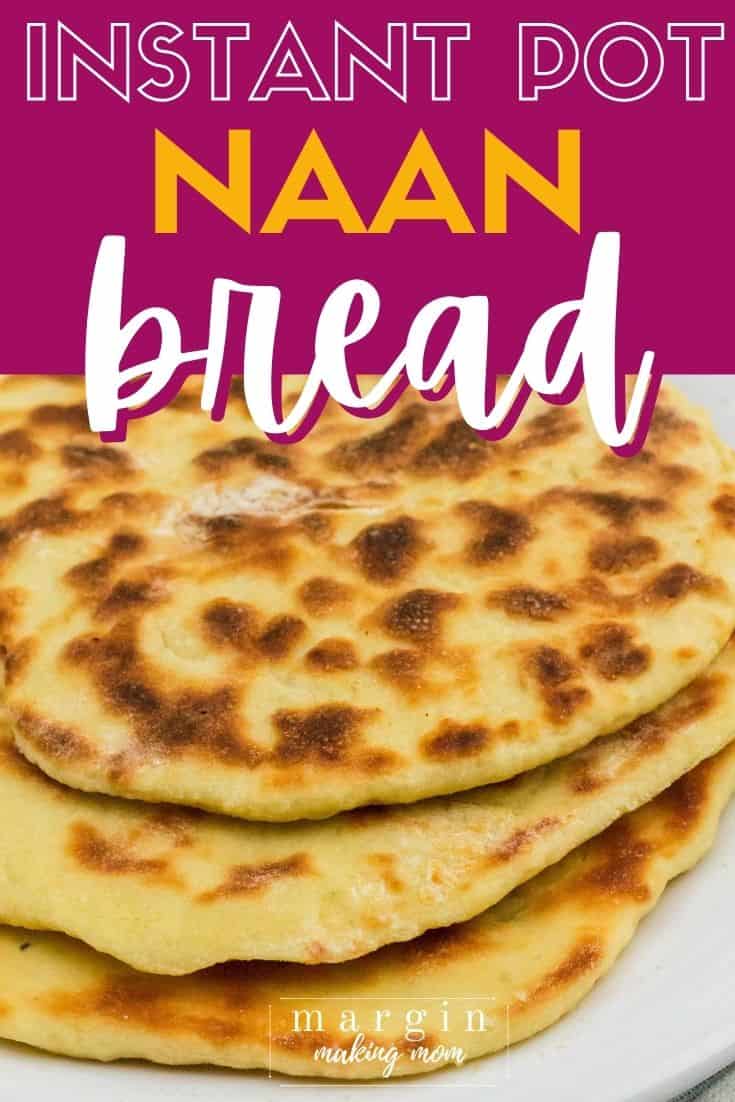 Instant Pot naan is so much better than store bought naan and pairs well with stew, curry or any saucy dish.
Note: This post may contain affiliate links for your convenience. If you make a purchase, this site may receive a small commission at no additional cost to you. You can read my full disclosure policy here.
Are you constantly amazed about all the things you can do with your Instant Pot?
When I learned how to proof dough in the Instant Pot, I was so excited. I love homemade bread and the speed and ease of proofing dough in the Instant Pot makes it sooo easy to make bread more often.
Homemade bread is fresh and flavorful, and making homemade bread isn't difficult. It's also incredibly frugal. You can usually make your own bread at a fraction of the cost of purchasing it at the store.
And this homemade naan bread? It's so good! And it proofs quickly so you can have quick restaurant-style homemade naan to serve with dinner in under an hour.
We also love to use the leftovers for air fryer naan pizzas for a quick and easy meal!
Other Instant Pot Dough Recipes to Try: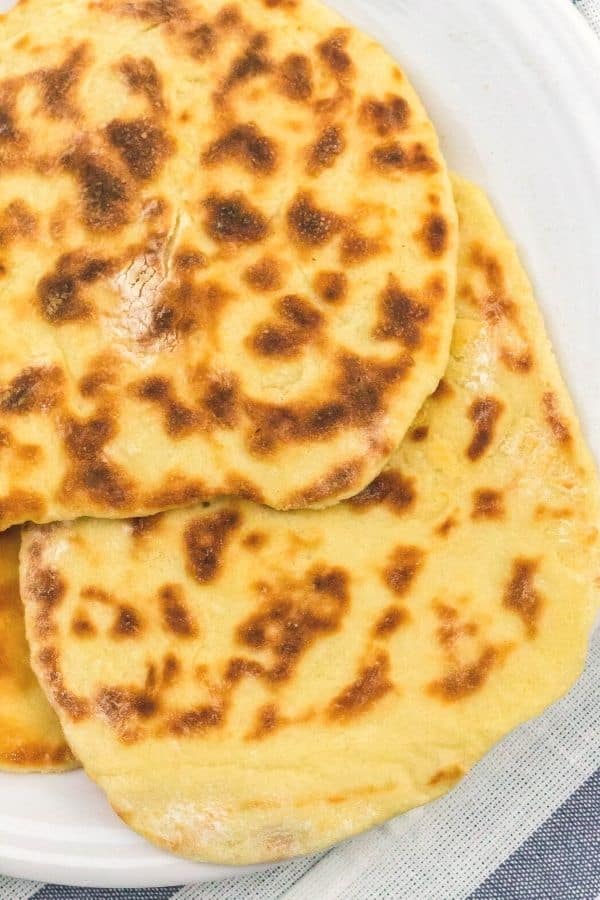 You Need Instant Pot Naan In Your Life
Naan is a leavened flatbread that is often served with Indian, Caribbean and some Asian dishes.
It's light, pillowy and buttery and tears apart easily, so it's perfect for sopping up sauce, so it goes well with any saucy dish. It's like licking the plate, but in a more civilized manner! 🙂
We like to also use it to scoop up hummus, and it could also be served with my hearty pressure cooker beef stew.
If you enjoy stews, curries, and recipes with thick, flavorful sauces, you will want to try making this quick restaurant-style naan to go with them.
This homemade naan recipe is also perfect for making pizza! Top it with sauce and your favorite ingredients or try my Spicy Beef Flatbread Pizzas.
How to Proof Naan Dough in the Instant Pot
It's really easy to make this simple bread at home!
Ingredients You'll Need:
Warm water
Dry active yeast
Sugar
Salt
Olive oil
Plain yogurt (or sour cream, in a pinch)
Egg
All-purpose four
Melted butter (optional)
How to Make Naan Bread without a Tandoor Oven:
Naan is traditionally baked in a tandoor oven, but you can still enjoy homemade naan without one!
Here's how to do it:
(Full printable recipe is available below)
Make the dough. First, you'll combine water, yeast, sugar and salt in a medium bowl.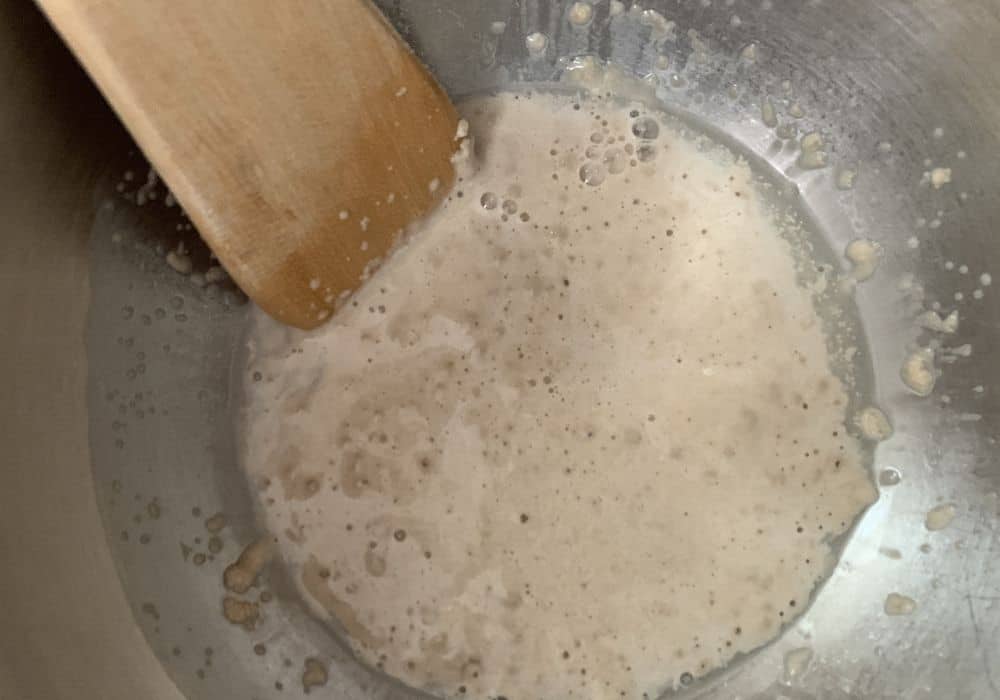 In a small bowl, whisk together oil, yogurt, and egg until smooth and then add to the yeast mixture.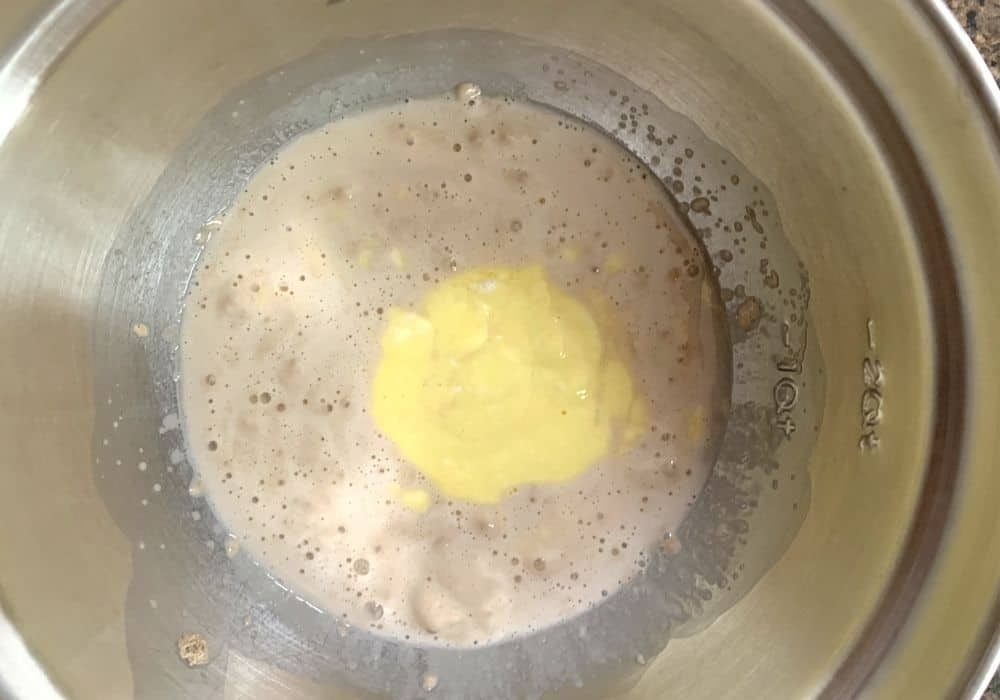 Stir in half of the flour, adding 1/2 cup more at a time until the dough is soft but not too sticky to handle. Knead the dough on a floured surface for 2 minutes.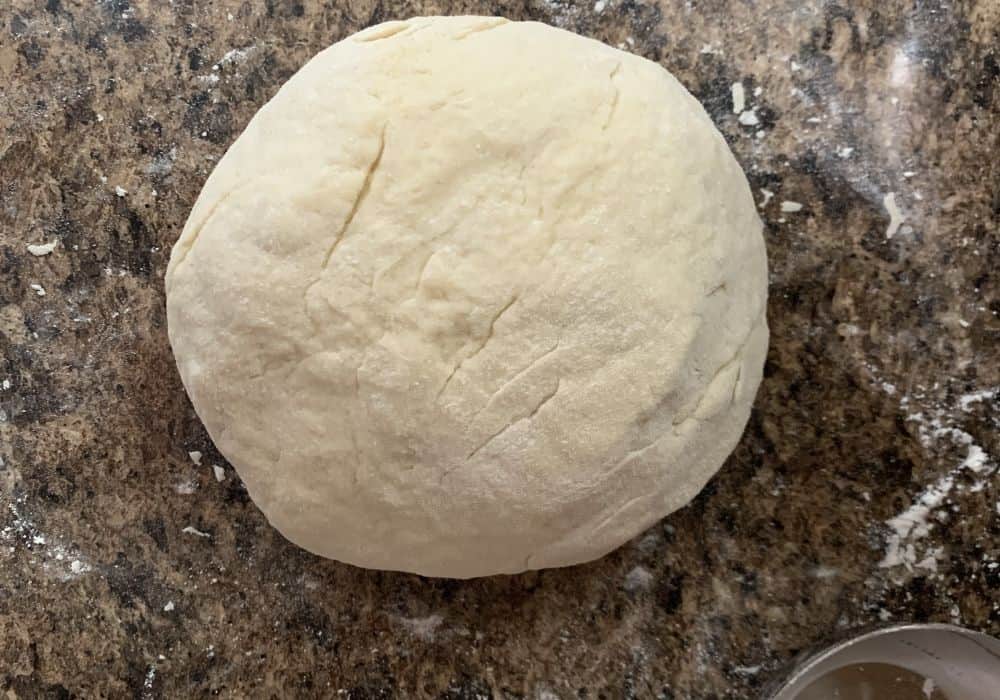 Proof the dough. Next, you'll spray the insert of your instant pot with cooking spray and transfer the dough to the pot. Spray the top of the dough and then close the lid. Select the yogurt setting and let the dough rise for 20-25 minutes.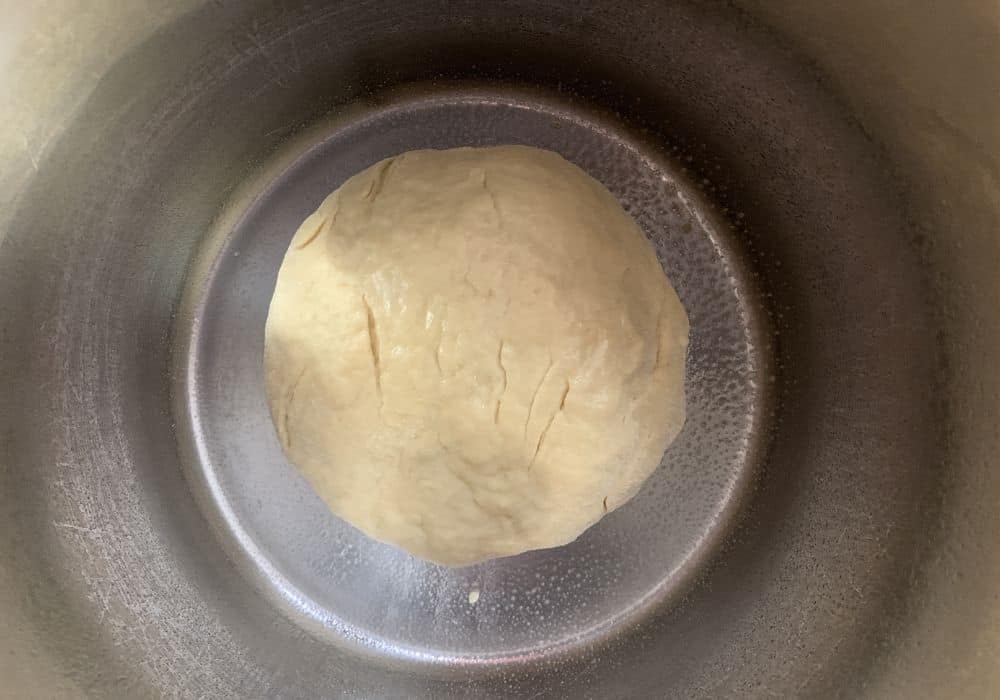 Make the naan. Once the dough has doubled in size, remove it to a floured surface and flatten it with your hand.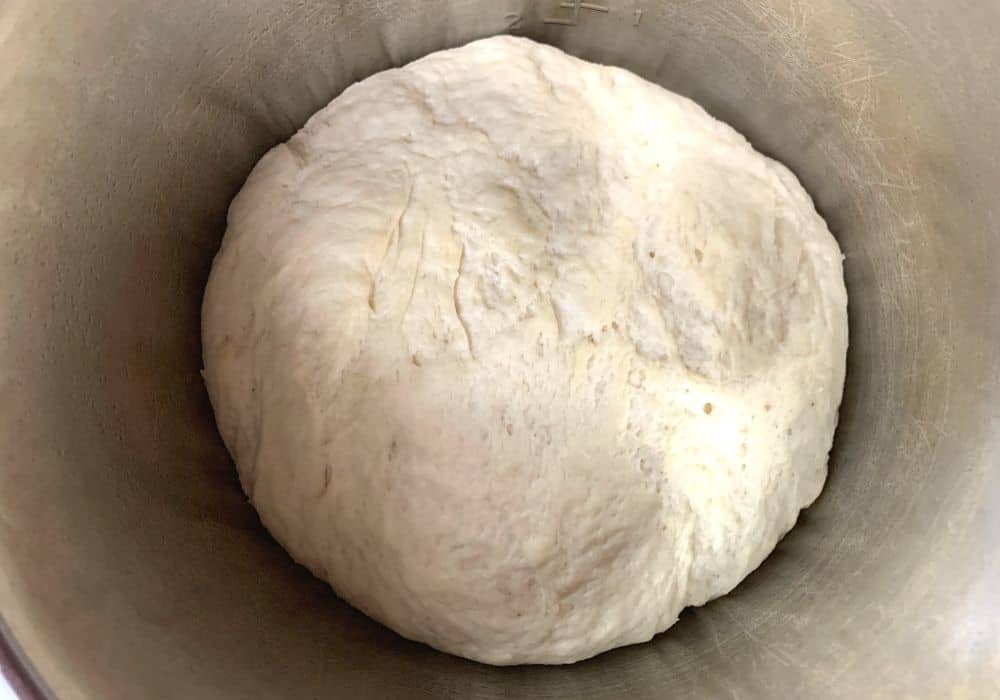 Cut into 8 pieces and roll each piece into a ball. Use a rolling pin to roll each piece of dough to 1/4 inch thickness. It will be roughly the size of your hand.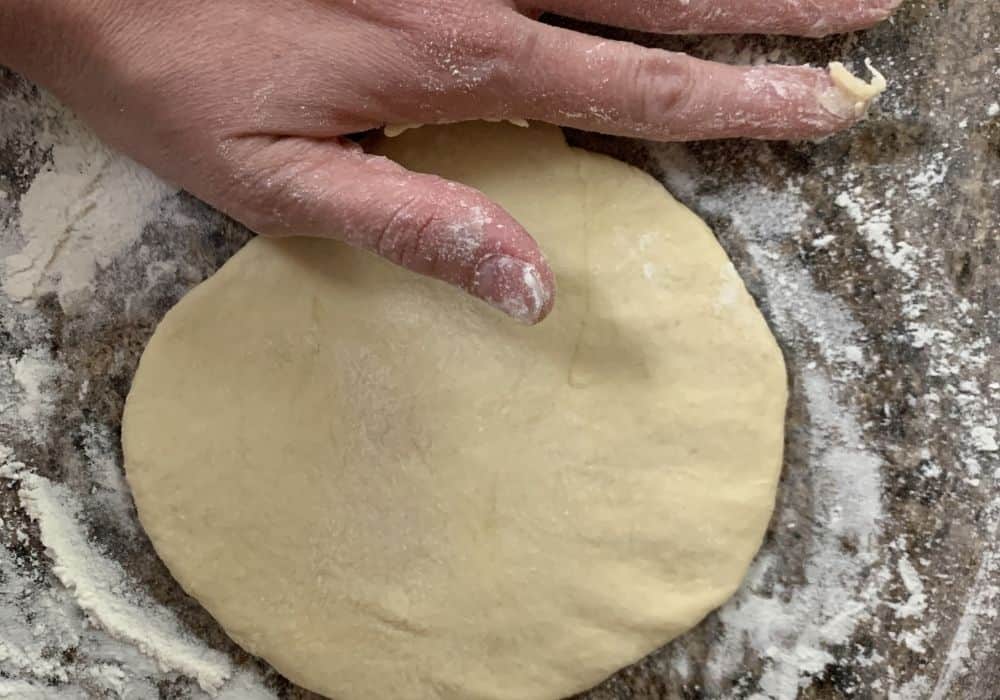 Transfer to a heated skillet or griddle. Cook 3-4 minutes until bubbles start to form and the underside is golden brown, then flip and cook 2-3 minutes on the other side. Repeat with the remaining dough.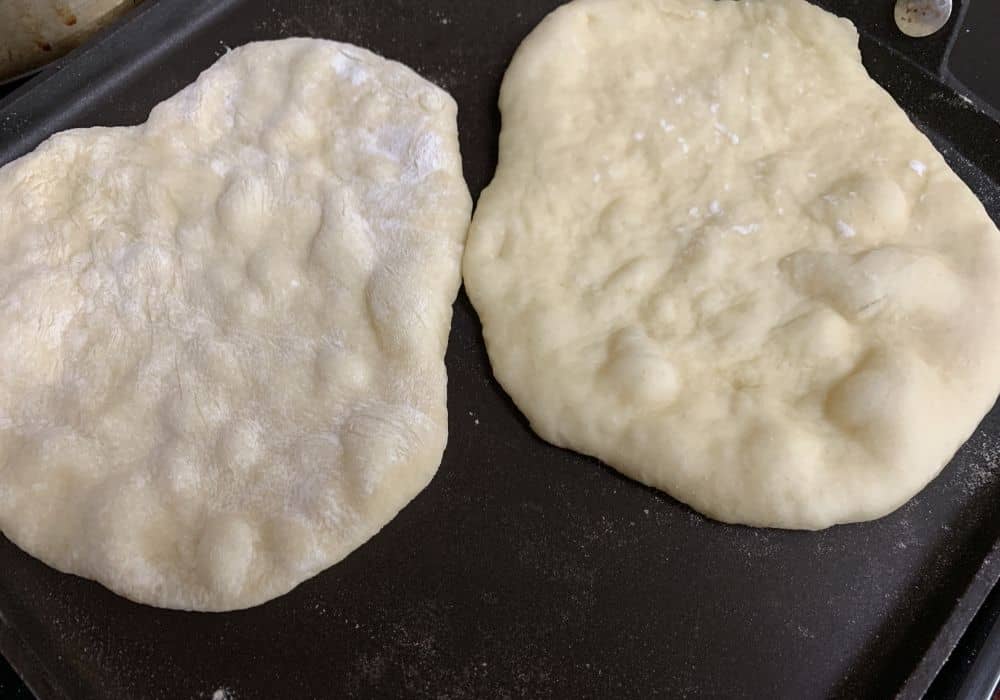 Brush each one with melted butter as it comes off the griddle. You'll be glad you did!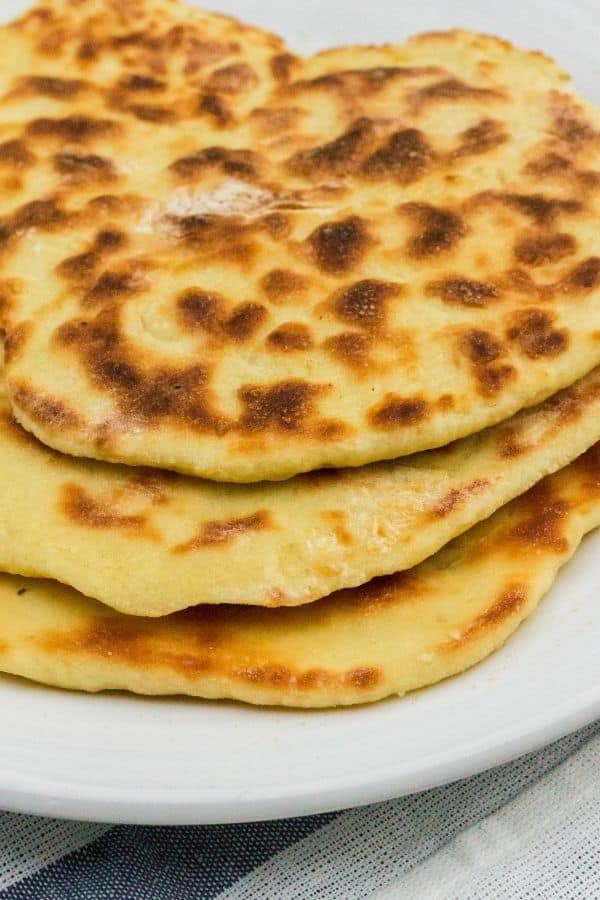 If you don't have access to a stove, it is possible to cook the naan in your Instant Pot using the Saute function set to "normal."
In my testing, it's not quite as easy to adjust the temperature this way, so I do prefer the stovetop method. But this totally works in a pinch, as you can see in the piece below. You may just have to watch it a bit more closely.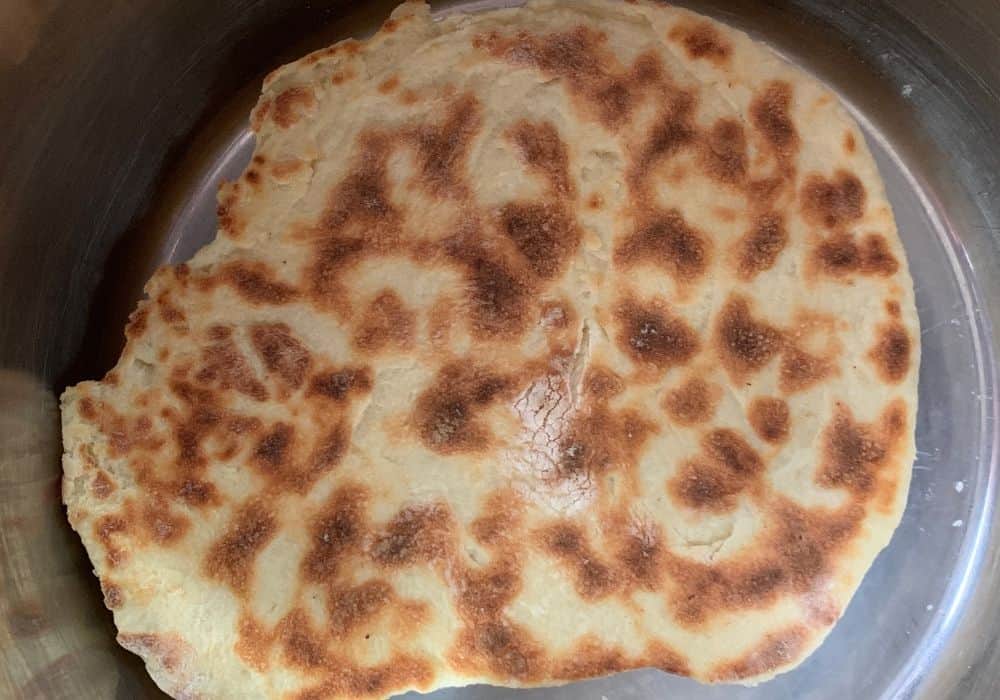 Notes and Adaptations:
Make Garlic Naan by combining fresh garlic or garlic powder with butter and brushing it over the cooked naan.
Sprinkle the naan with Nigella seeds or black sesame seeds for an authentic flavor.
Garnish with chopped cilantro, especially when serving with curries.
Feel free to add a bit more salt to the dough if you prefer. You can also add fresh or dried herbs to the dough if you'd like!
What's the Difference Between Pita Bread and Naan?
Pita bread typically does not use dairy, whereas naan bread uses yogurt (and sometimes milk, depending on the recipe).
Pita breads typically have an air pocket in the middle, which is why they are often stuffed with meat or veggies to make a pocket-style sandwich.
Recommended Equipment:
Yield: 8 Servings
Instant Pot Naan Bread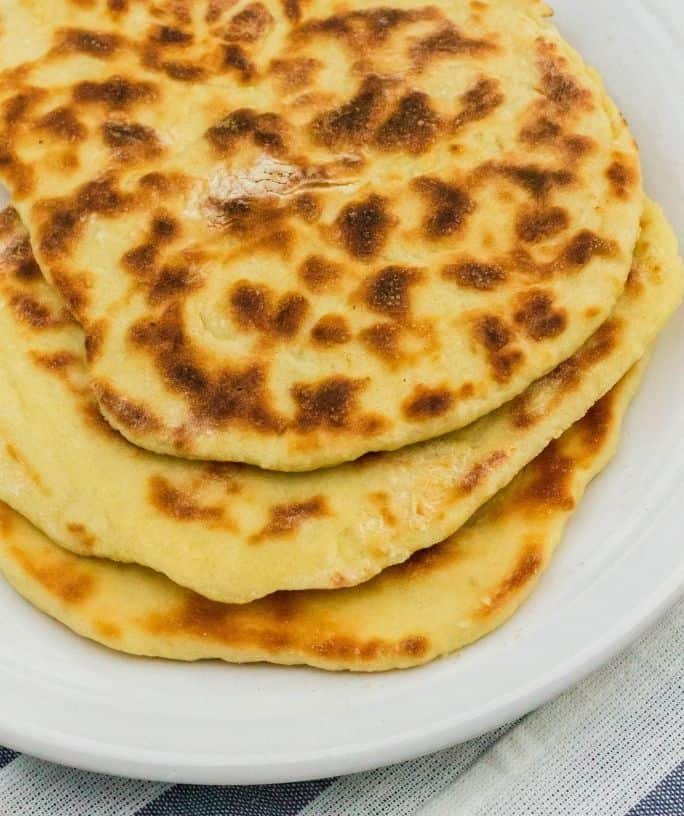 Use your Instant Pot to help this homemade Naan bread rise more quickly!
Additional Time
10 minutes
Ingredients
1/2 cup warm water
1 TBSP active dry yeast
1 tsp sugar
1/2 tsp salt
1/4 cup olive oil
1/3 cup plain yogurt or sour cream
1 egg
2-2 1/2 cups all-purpose flour, divided
Optional: Melted butter, for brushing over naan
Instructions
In a medium mixing bowl, combine water, yeast, sugar, and salt.
In a separate smaller bowl, whisk together oil, yogurt, and egg until smooth. Add this mixture to the yeast mixture and stir to combine.
Add 1 1/2 cups of flour to the mixture, stirring. Add more flour, 1/2 cup at a time, until dough is soft but not too sticky to handle.
Turn dough out onto a floured surface and knead for 2 minutes, adding a bit more flour as needed if it is too sticky.
Spray the insert pot of the Instant Pot with cooking spray. Add the ball of dough to the insert pot and spray to coat the top and sides of the dough with cooking spray. Close the lid.
Select the yogurt setting and let the dough rise for 20-25 minutes, until it has doubled in size.
Once doubled, remove the dough and flatten it onto a lightly floured surface. Cut the dough into eight pieces, then roll each into a ball.
Heat a skillet or griddle over medium heat on the stove. Roll one piece of dough to 1/4" thickness. It will be about 6" in diameter. Transfer it to preheated skillet.
Cook until the bottom is golden brown and bubbles form on top, about 3-4 minutes. Flip and cook 2-3 minutes on the other side. Remove from heat and brush with melted butter, if desired. Repeat with remaining pieces of dough.
Notes
I have tested cooking the naan in the insert pot of the Instant Pot using the Saute setting (instead of on a skillet). It can be done, but I find it easier to use the stove because I can adjust the temperature with more precision. If you don't have a stove handy and need to use the Instant Pot, I'd recommend starting with the "normal" Saute mode, as the "high" Saute mode seemed to be a bit too hot when I tested it, but you may need to play around a bit with the settings and adjust as needed.
Nutrition Information:
Yield:
8
Serving Size:
1
Amount Per Serving:
Calories:

414
Total Fat:

11g
Saturated Fat:

3g
Trans Fat:

0g
Unsaturated Fat:

7g
Cholesterol:

29mg
Sodium:

228mg
Carbohydrates:

67g
Fiber:

3g
Sugar:

2g
Protein:

11g
Nutrition information is automatically calculated and is not guaranteed for accuracy.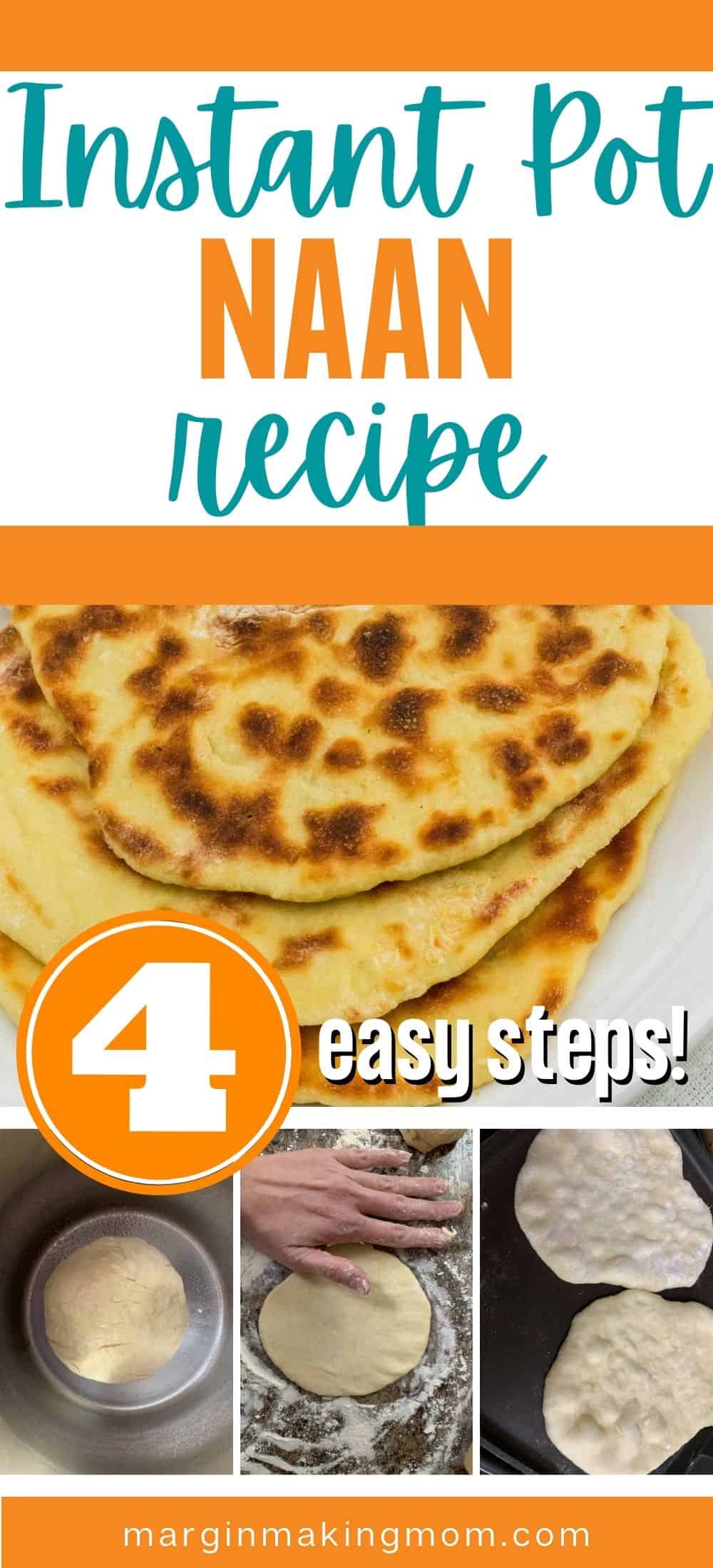 Get the Instant Pot Meal Plan Jumpstart
Join the free community and you'll learn simple ways to easily create tasty food for your family, as well as immediate access to the FREE Instant Pot Meal Plan Jumpstart to help you get a tasty dinner on the table in a flash!
"Thanks for sharing your knowledge and experience in such a friendly and delightful way!!! So far, I'm very impressed with the results...thanks again for your guidance into this new realm of cooking!" -Margaret
Free Resource Library
Enter my
free resource library
for my latest printables and resources! Password is 'IHEARTMARGIN' -- please copy and paste that in at the link above. Thanks for being a subscriber!!