Yes, you can use your Instant Pot to do a quick rise of frozen dinner rolls!
If you want to proof frozen rolls in the Instant Pot, we've got you covered with our helpful tutorial to save you time in the kitchen.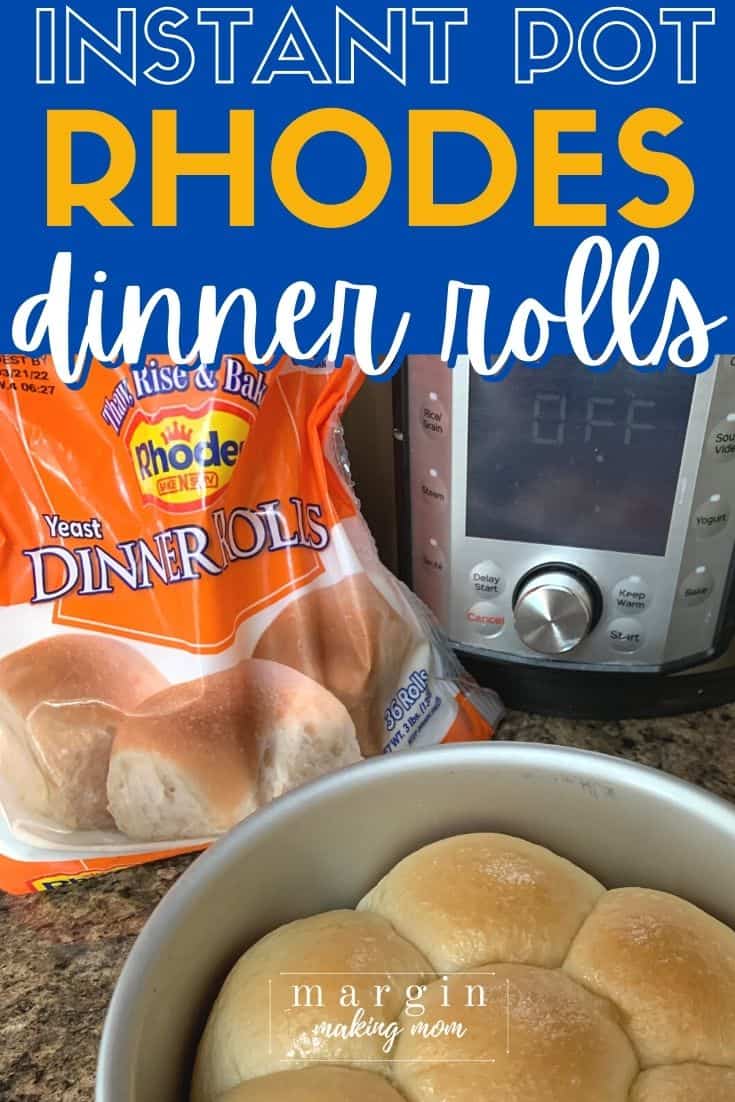 Note: This post may contain affiliate links for your convenience. If you make a purchase, this site may receive a small commission at no additional cost to you. You can read my full disclosure policy here.
Growing up, dinner rolls were always a part of our family's holiday meals.
If we were having an extended family gathering, my great grandma would make homemade dinner rolls. If it was a dinner with just our immediate family, my mom always made frozen Rhodes rolls.
These days, I make dinner rolls fairly regularly–I don't think they should be limited to just holidays, though that's a fabulous time to make them.
I want you to be able to make soft and tender dinner rolls easily, too, whether it's for a holiday dinner or a regular weeknight!
That's why I've written tutorials on how to make homemade dinner rolls using the Instant Pot as a way to save time when allowing the dough to rise (you can use the same method with these Instant Pot crescent rolls, too!).
I've also written a full resource guide on how to proof dough in the Instant Pot.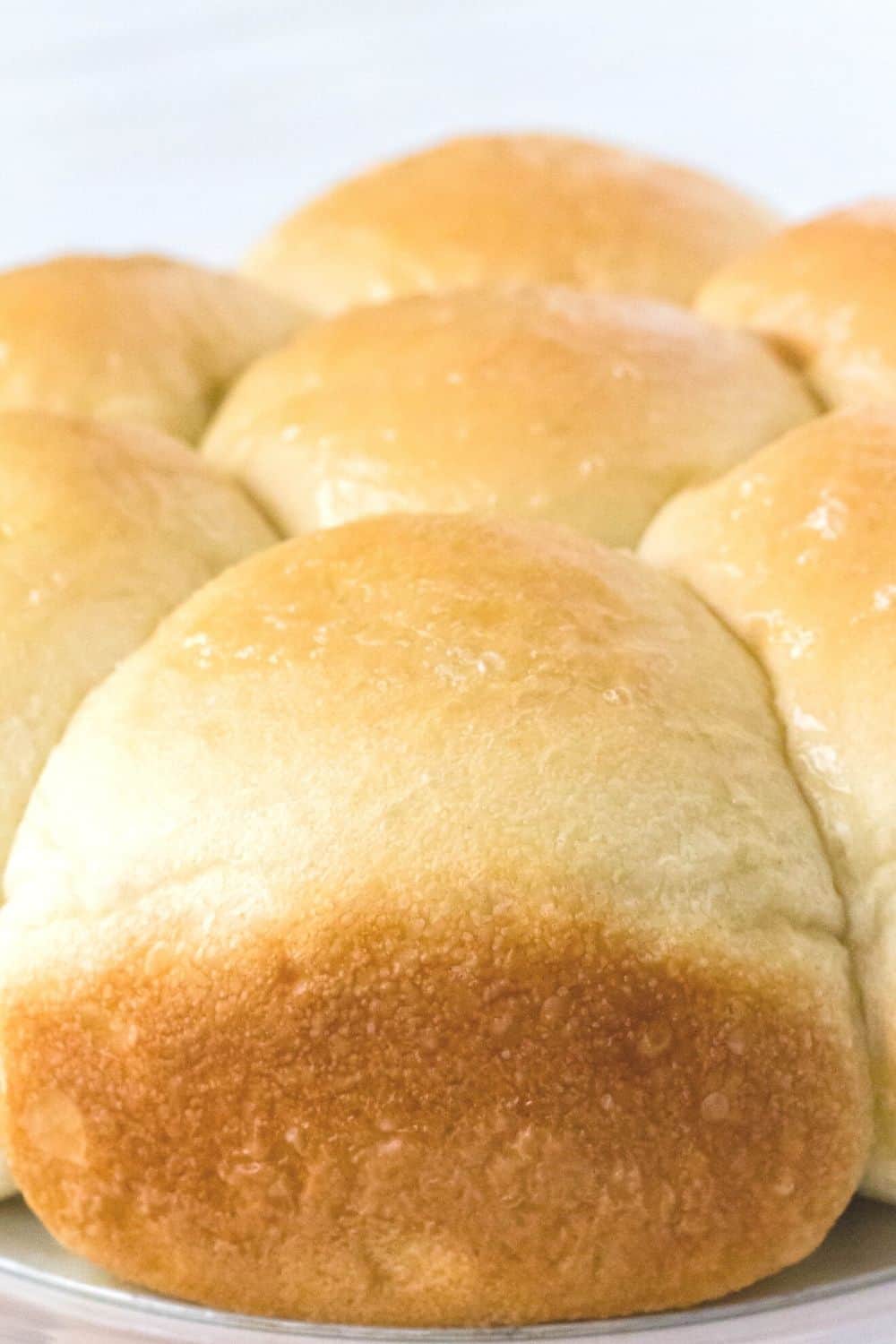 But the reality is, I know we don't always have the time or desire to make homemade dinner rolls…but you still want to enjoy the taste of homemade dinner rolls.
Rhodes frozen dinner rolls are a wonderful way to enjoy soft and fluffy dinner rolls…but in the past, it took hours for the dough to rise before you could bake them.
Today I'm sharing how to use your Instant Pot to proof frozen rolls faster, so you can enjoy these fluffy morsels of goodness in a fraction of the time!
More Instant Pot Bread Recipes: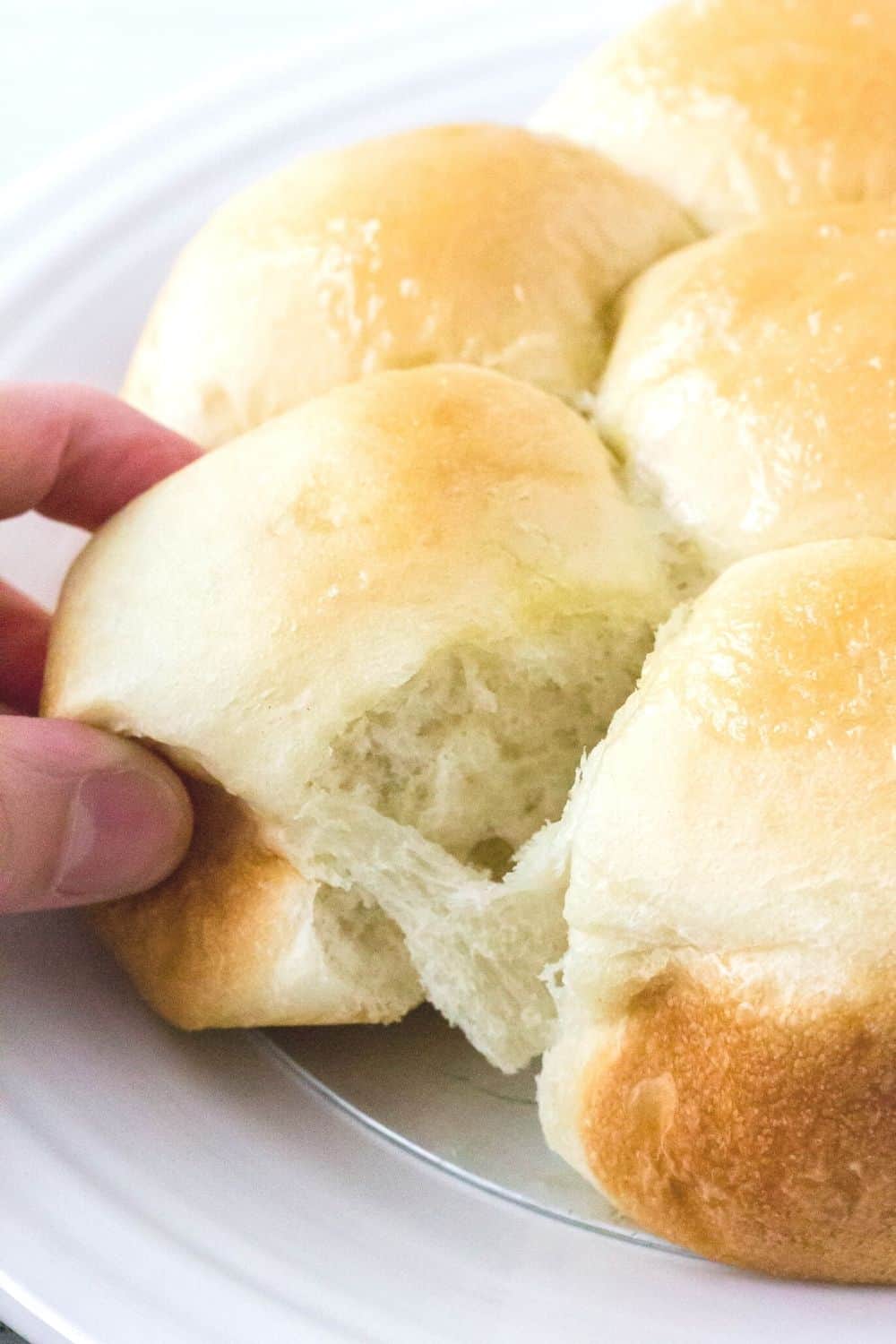 Fastest Way to Quick Rise Frozen Rhodes Rolls
Before you can bake frozen dinner rolls, you have to let them rise until they're doubled in size. On the Rhodes rolls package, they give two options for thawing and rising the dough.
One method utilizes the refrigerator for a slow rise, which can take 8-16 hours. I don't know about you, but leading up to a holiday dinner, my fridge is packed to the gills. There's no way I could fit pans of rolls in there to rise.
The other method involves rising the rolls at room temperature, which can take about 3-5 hours. The trouble with this method is you have to actually remember to pull out the rolls and let them rise.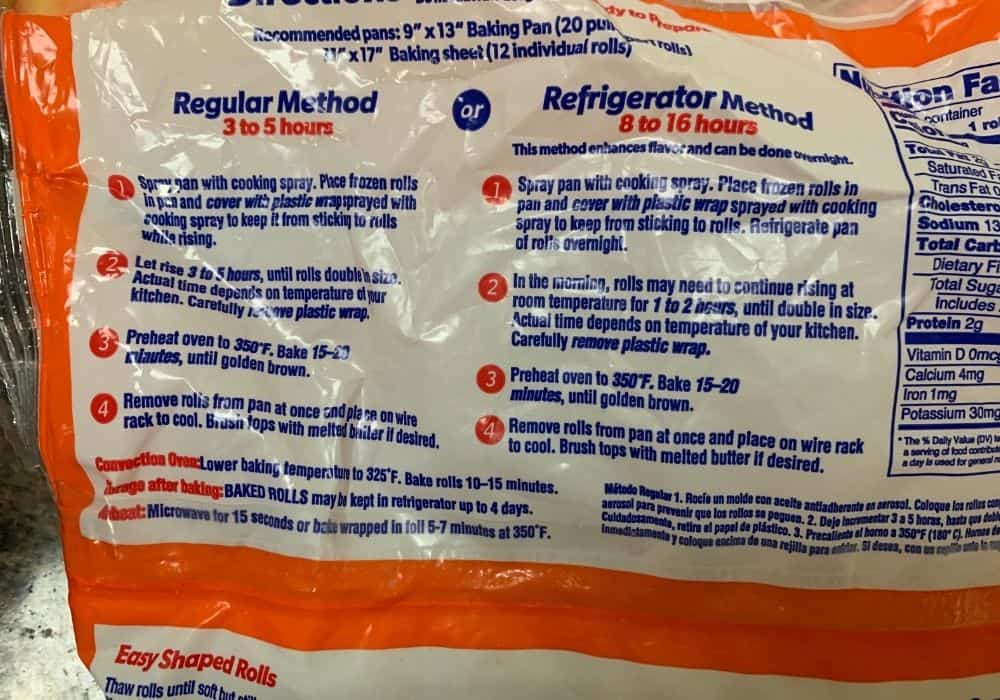 On the Rhodes website, they list a "speed thaw" method, which involves warming the oven to 200F, inserting a pan of boiling water into the oven, and allowing the rolls to rise in that steamy environment.
That "speed thaw" method is quicker, but it is also the least reliable and is more likely to cause your rolls to fall.
The fastest and most reliable way to quick rise frozen Rhodes rolls is to use your Instant Pot!
To do so, you'll use the Yogurt setting (I use the "normal" level on my DUO 60 model, or the ferment "high" level on my DUO EVO Plus) to help the frozen dinner rolls rise quickly.
This method only takes about an hour and twenty minutes or so. Plus, it's much more reliable and foolproof than the speed thaw method.
The Yogurt setting, which is designed to help bacteria thrive as they metabolize the sugars in milk while culturing yogurt, also provides the perfect environment for yeast to metabolize sugar and create carbon dioxide bubbles, which causes the dough to rise.
I've used this method multiple times and have tested it a few different ways, and I've never had the rolls to fall! I'll show you exactly how to do it.
How to Proof Frozen Dinner Rolls Faster
It's really easy to proof your frozen dinner rolls in the Instant Pot!
Ingredients You'll Need: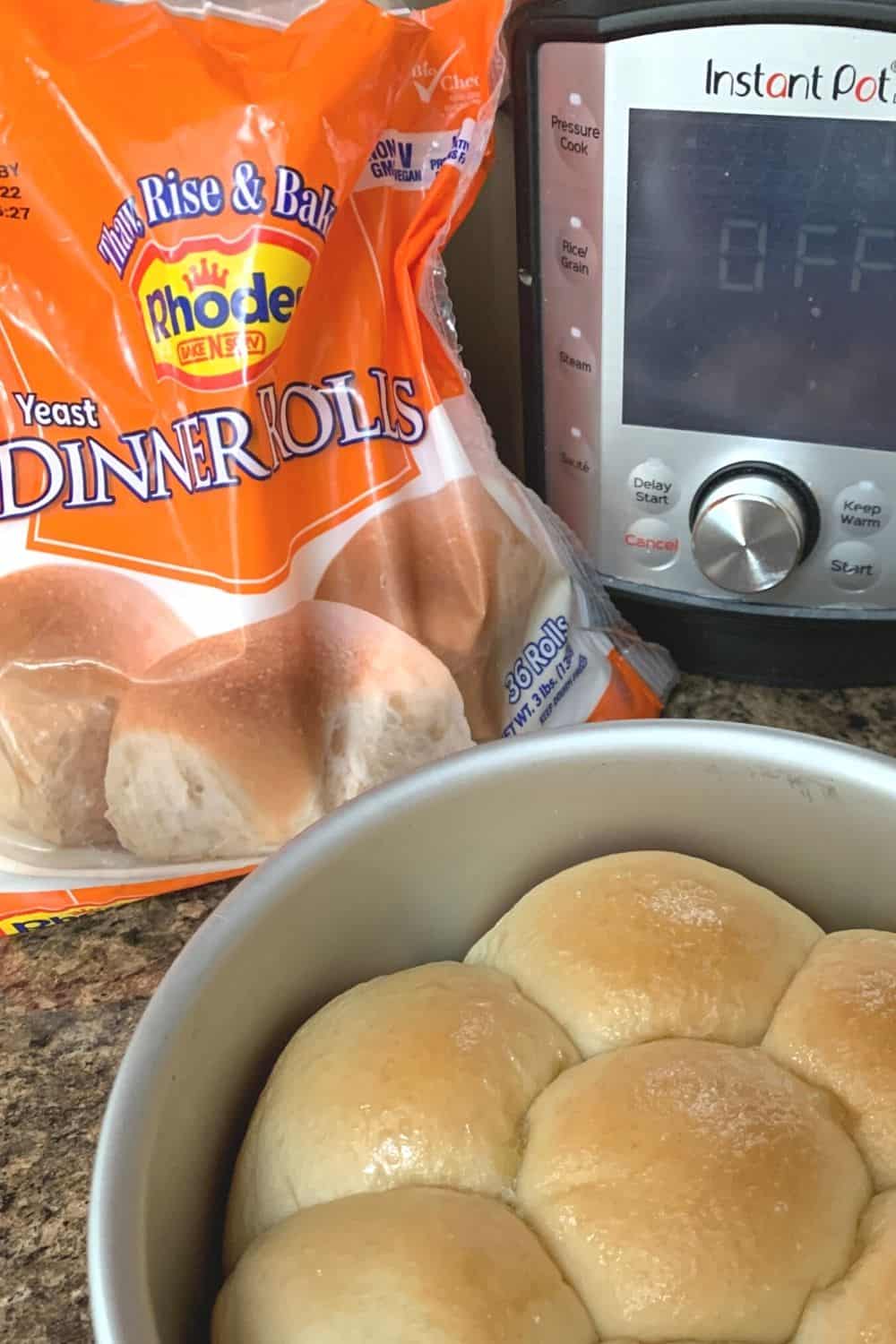 How to Make It:
(Full printable recipe is available below)
Place rolls in the pan. First, you'll grease your pan and place the frozen dough balls into the pan. I used 7 rolls in my 7-inch pan. For most pans, you'll probably be able to easily fit 6-8 rolls in there.
Next, you'll lower the pan directly into the insert pot. There's no need to use the trivet–we want the bottom of the pan close to the source of the heat. Close the lid and seal the vent.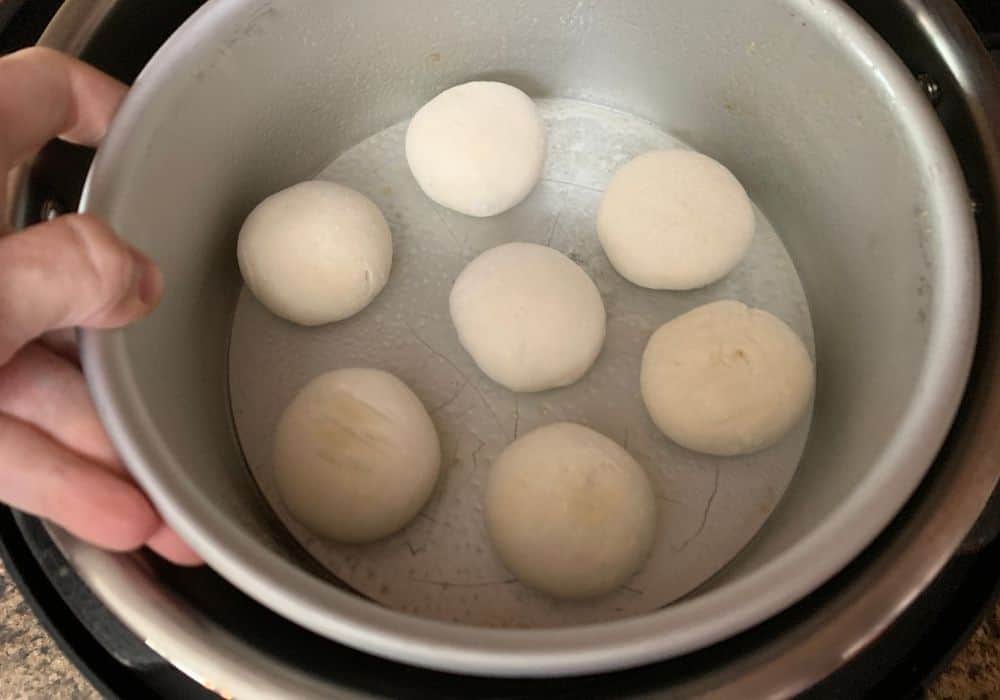 Let rise in the Instant Pot. Press the Yogurt setting (I use the "Noomal" level on my DUO 60 model or the ferment "high" level on my DUO EVO Plus model). After about 50-60 minutes, check the rolls. If they haven't doubled in size yet, close the lid and let them continue to rise. My rolls took about 75-80 minutes.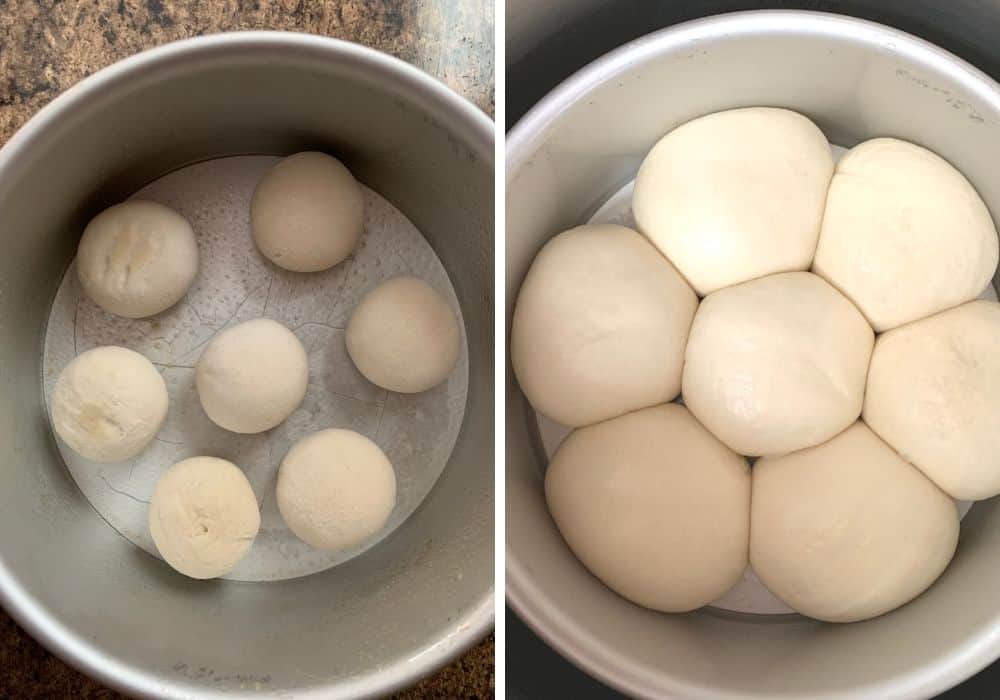 Bake. Last, you'll transfer the pan to a preheated oven and bake at 350F for about 15-20 minutes, until golden brown on top. If desired, rub a stick of butter on the warm tops or brush with melted butter.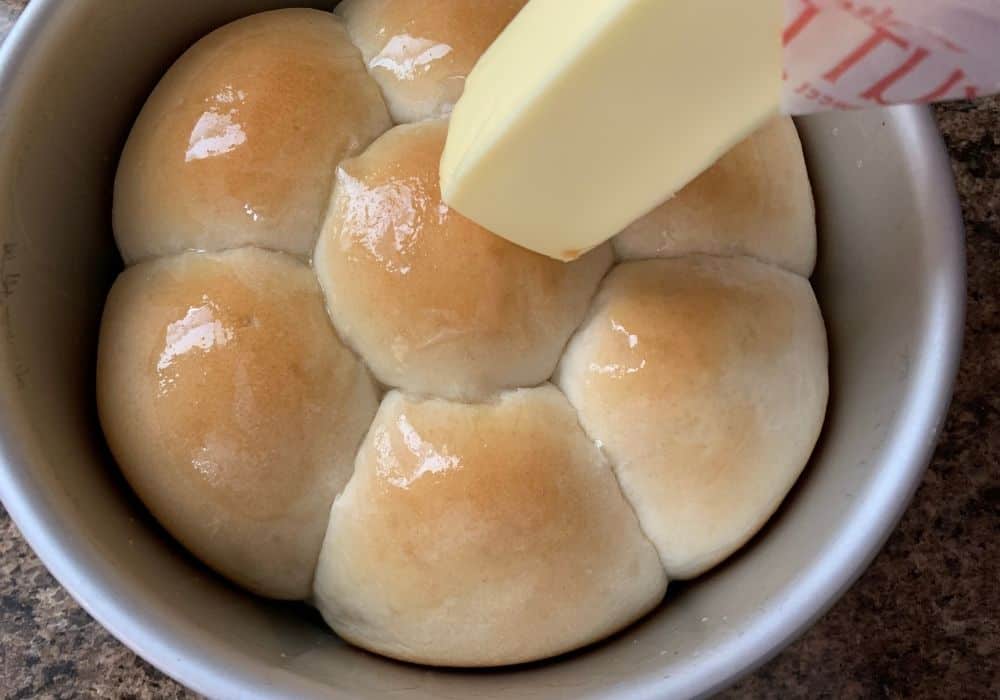 Serve. These rolls are perfectly delicious on their own with a slathering of butter.
Or, consider splitting one open and spreading some Instant Pot apple butter or Instant Pot pumpkin butter on it!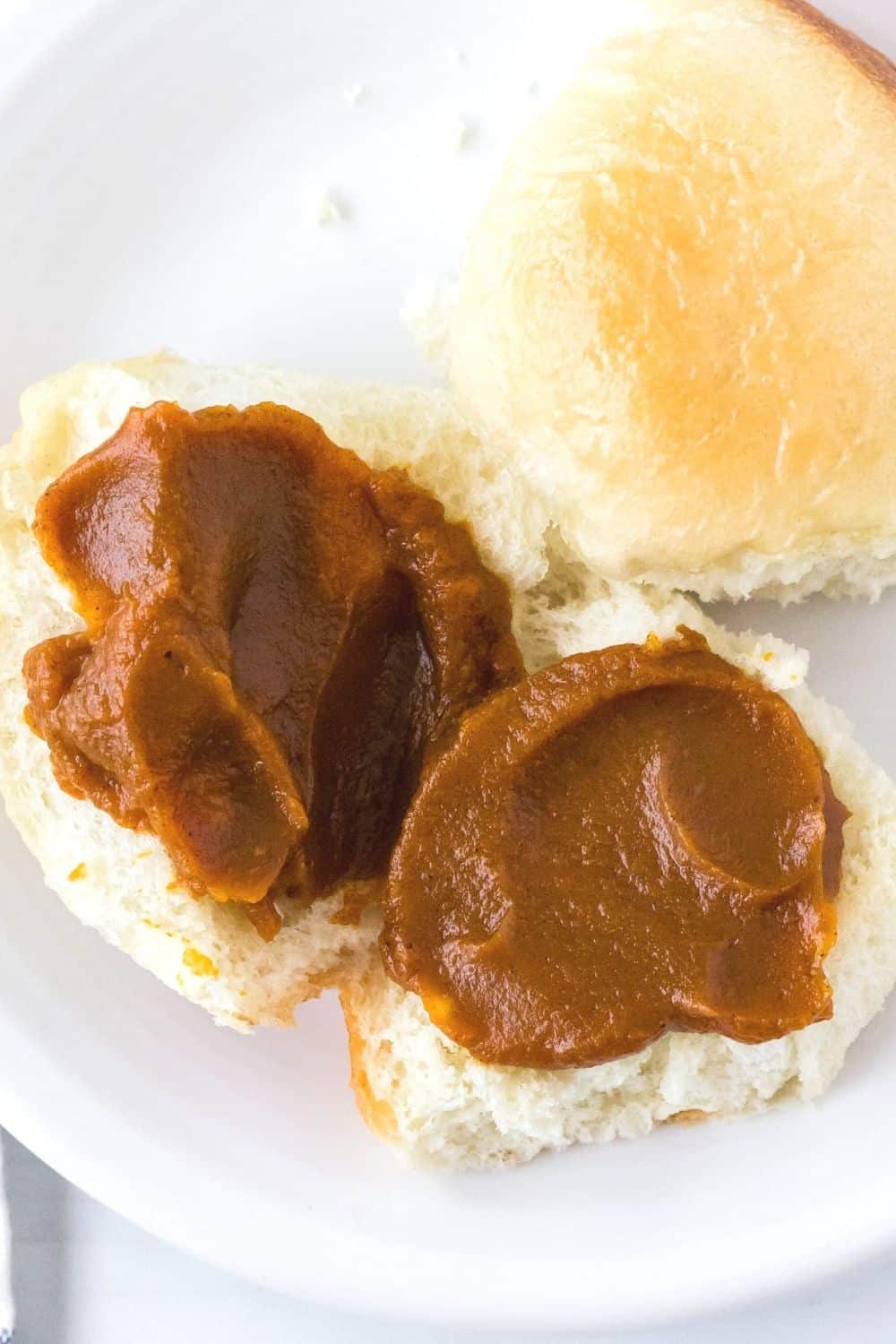 Do You Need to Add Water to the Instant Pot when Proofing Rolls?
Since Rhodes' "speed thaw" method involves adding some boiling water to the oven along with the rolls (to keep them from drying out), I tested two methods for rising the rolls in the Instant Pot: One using water in the insert pot, and one without water.
In one instance, I added a cup of water to the bottom of the insert pot and put the trivet in so my pan of rolls would be sitting up out of the water.
In the other instance, I didn't add any water, and just let the pan rest on the bottom of the pot.
I used the Yogurt setting for both tests, and the rolls rose the same in both instances, in about the same amount of time. I didn't see any adverse effects to the dough when I skipped the water–the dough didn't dry out or anything.
So since there was no appreciable difference in texture or time to rise in my tests, I no longer add water to the pot. But if you want to, you certainly can if you want.
More Instant Pot Holiday Favorites: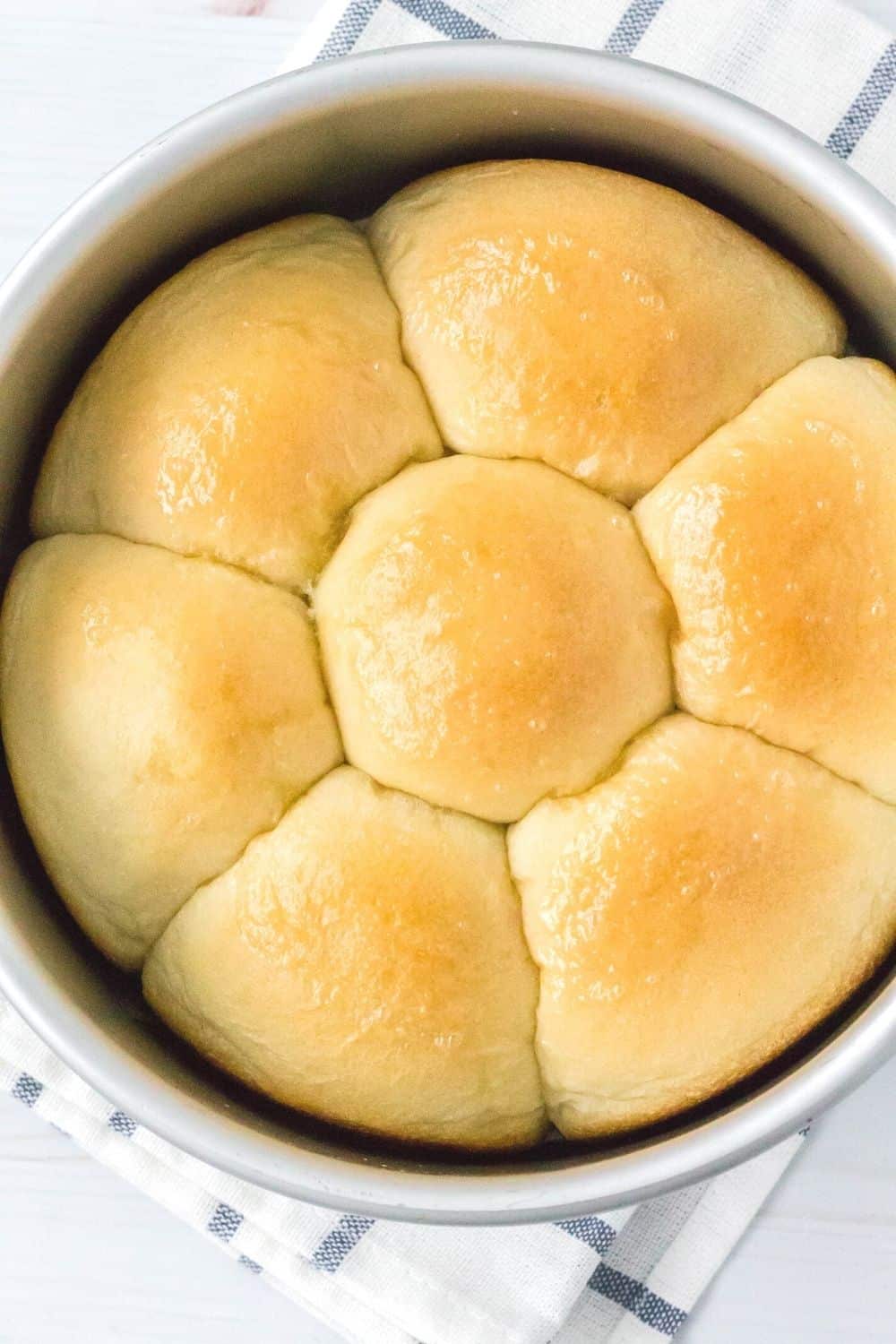 Can You Proof Frozen Rolls in the Instant Pot with No Yogurt Button?
There are some Instant Pot models that do not have a Yogurt button. In that case, it's a little bit trickier to safely get your rolls to rise in the Instant Pot.
The trouble is that the other buttons create an environment that is too hot for the yeast in the rolls to thrive.
Even the Keep Warm button is too hot, which causes the yeast to die. Dead yeast equals dough that doesn't rise, so this is a problem.
If you don't have a Yogurt setting, my best recommendation is to turn on the Keep Warm setting for a few minutes, to allow it to warm up just a bit inside the pot, then turn off the Keep Warm setting by pressing Cancel so it doesn't get too hot.
Add your pan of rolls and put the lid into place, allowing the residual heat to warm the dough.
That method is not as reliable as using the Yogurt setting, and it might take longer for the rolls to rise since the warm temperature isn't being maintained.
Notes and Adaptations:
Recommended Equipment: