You'll love these Instant Pot cake recipes! From bundt cakes to lava cakes, there are so many tasty options!
Get the best Instant Pot cake recipes to make in your pressure cooker!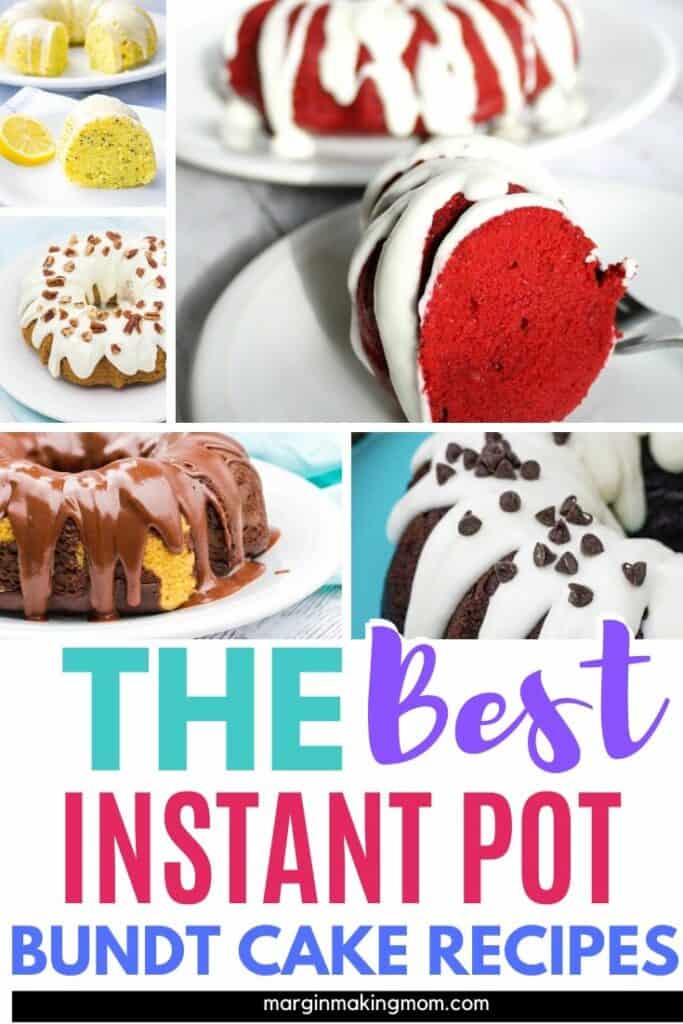 When people ask me what sort of recipes you can make in the Instant Pot, the majority of them are super surprised when I mention that you can "bake" a cake in the Instant Pot!
I've made many Instant Pot cake recipes over the years, and I'm happy to be sharing some of the best ones here.
Instant Pot Bundt Cakes
Instant Pot bundt cakes are one of the most popular kinds of cakes that are made in the Instant Pot!
This is because it's easy to find a bundt pan that fits in the Instant Pot, and having the hollow in the center allows for more even baking.
These are slightly smaller than what you would typically bake in an oven, but you can still typically get at least 8-10 servings from one of these cakes!
Which Instant Pot Bundt Pan is the Best?
I recommend this 6-cup fluted bundt pan for the Instant Pot–it fits in my 6-quart Instant Pot and it has held up well. It's made out of aluminum, so it promotes even heating.
There are other Instant Pot bundt pans that are made with heavier nonstick metal, but those often take a few more minutes for the cake to bake all the way. If you use a pan like this, simply add a couple of minutes to the cook time.
There are also combination bundt and springform pans that serve more than one purpose!
Best Instant Pot Cake Recipes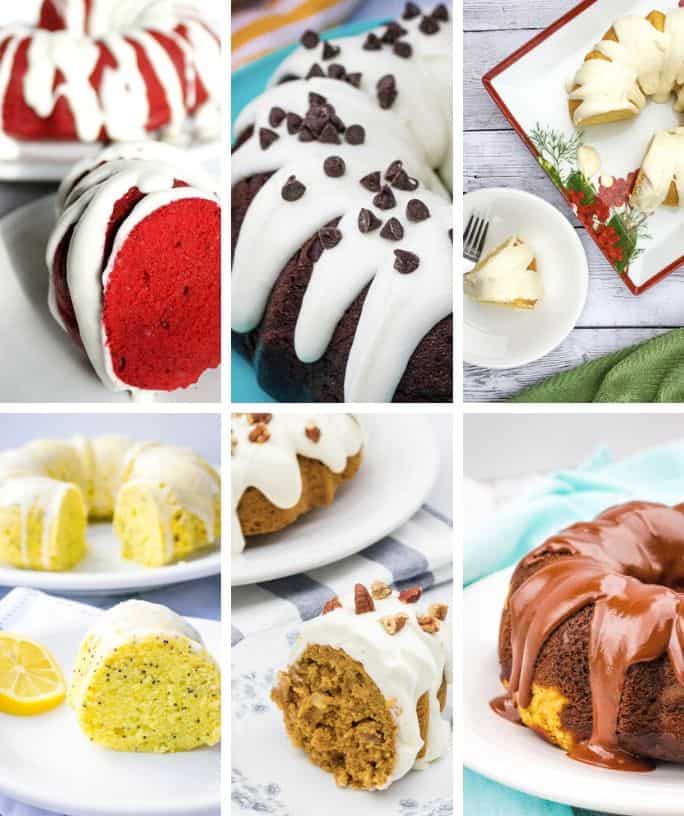 Why Should You Make a Cake in the Instant Pot?
Many people may wonder what the benefits are for making a cake in the Instant Pot. Is it better than baking a cake in the oven?
It's important to note that making a cake in the Instant Pot doesn't necessarily save much time, as is the case with many other Instant Pot recipes.
However, this method can be super helpful for those days when you don't want to heat up your oven for baking. It's also great for times when your oven is already in use, such as when you're hosting a holiday dinner and you are juggling making several items at once.
Not only that, but this method is ideal for travelers who may not have access to an oven! I know many people take their Instant Pot in their RVs when traveling, so this would allow them to enjoy a homemade cake in their RV without using an oven.
I've also found that the moist environment of the Instant Pot really helps to keep the cake moist, so you don't have to worry about it turning out dry and crumbly.
Tips for Baking a Cake in the Instant Pot
I've found that using a cake mix yields the most consistent results. Most of my Instant Pot cake recipes use about half of a box of cake mix, with additional ingredients to "doctor" it up a bit. 🙂
It's a good idea to have an extra silicone ring that you use when making cakes in the pressure cooker. Sometimes silicone rings can harbor odors, and you don't want to transfer odors to your cake.
I like using a sling to lower my cake pan into the Instant Pot. You can make a sling with foil or use a silicone sling.
Once the batter is in the pan, cover the pan tightly with foil. This will help prevent condensation from dripping onto the surface of your cake!
Recommended Equipment:
Easiest and Best Instant Pot Cake Recipes
It's actually really easy to make a cake in the Instant Pot! While the possibilities are practically endless, this list of the best Instant Pot cake recipes will get you started!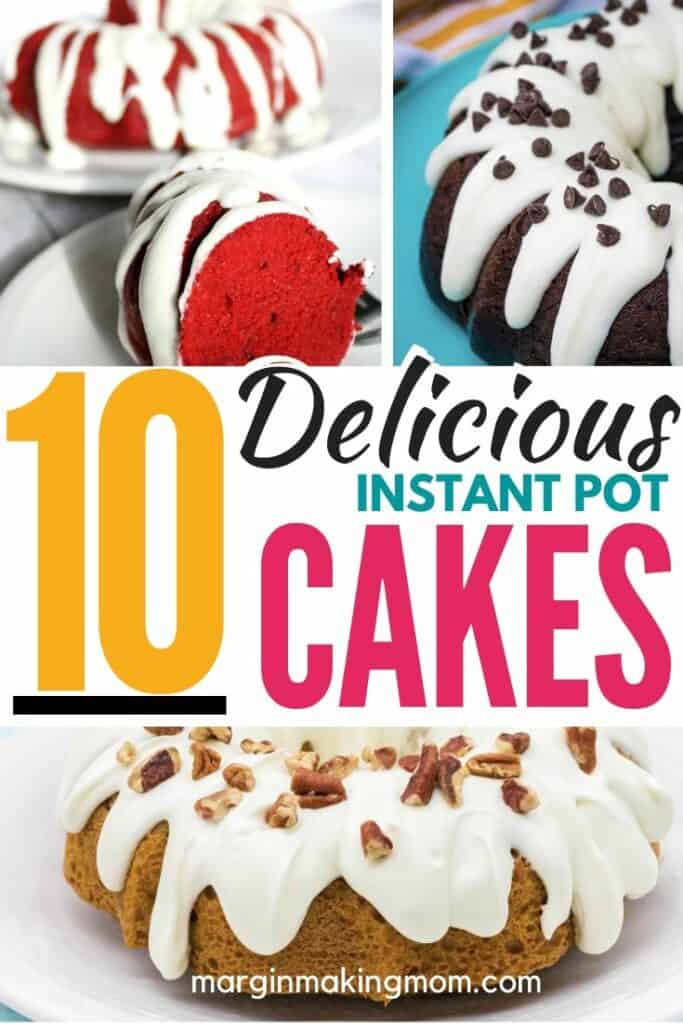 Get the Instant Pot Meal Plan Jumpstart
Join the free community and you'll learn simple ways to easily create tasty food for your family, as well as immediate access to the FREE Instant Pot Meal Plan Jumpstart to help you get a tasty dinner on the table in a flash!
"Thanks for sharing your knowledge and experience in such a friendly and delightful way!!! So far, I'm very impressed with the results...thanks again for your guidance into this new realm of cooking!" -Margaret
Free Resource Library
Enter my
free resource library
for my latest printables and resources! Password is 'IHEARTMARGIN' -- please copy and paste that in at the link above. Thanks for being a subscriber!!