Did you know you can use your Instant Pot to Saute? Perfect for people with limited access to a stove, or for cooking a meal in just one pot!
Once you know how to Saute in the Instant Pot, the possibilities for using this appliance expand exponentially!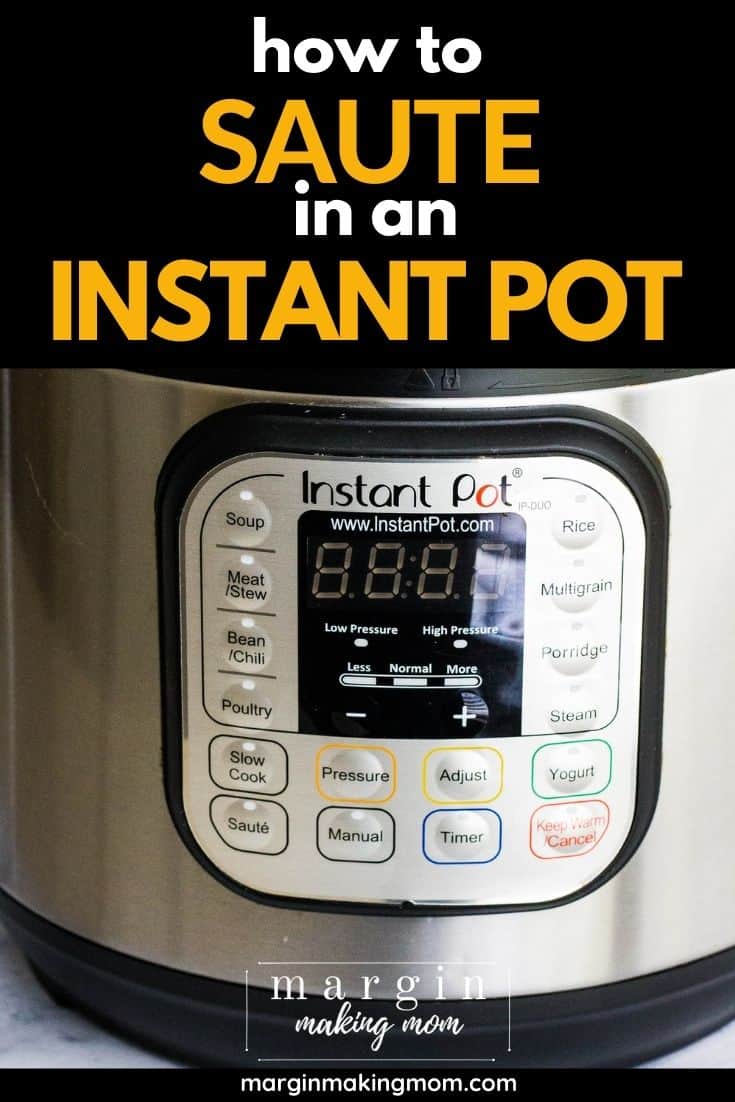 Note: This post may contain affiliate links for your convenience. If you make a purchase, this site may receive a small commission at no additional cost to you. You can read my full disclosure policy here.
The Instant Pot and other electric pressure cookers have taken the cooking world by storm in recent years.
These appliances have made pressure cooking feel more accessible to those of us who were scared of the old stove top models.
While the Instant Pot is most commonly used for cooking foods in a fraction of the time normally required, there are several other possibilities.
For instance, I have baked cakes in the Instant Pot, I use the Instant Pot to proof dough, I've made Instant Pot yogurt, and more.
One underused function of the Instant Pot is its ability to Saute, much like you can in a skillet or saucepan on the stove.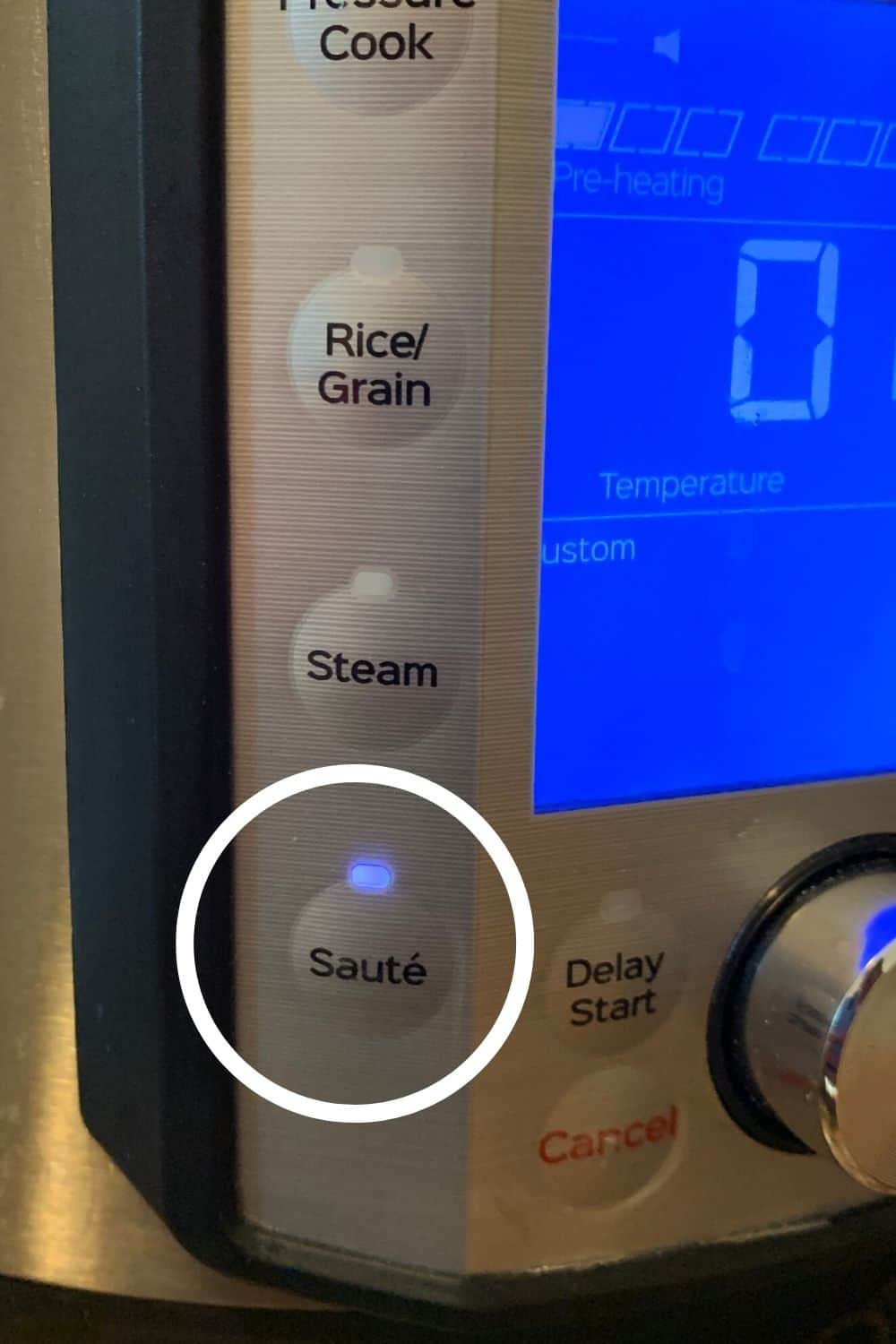 What is the Saute Function For on the Instant Pot?
The Saute button on the Instant Pot heats up the insert pot, but it's designed to be used with the lid open. This means that pressure won't build within the pot, but you can still cook food this way.
Sometimes, you may want to sear meat before pressure cooking, as I do with Instant Pot Swiss Steak.
Or maybe you want to cook some aromatics, such as onions, celery, and carrots, before making a pot of soup in your Instant Pot.
This prevents you from having to brown meat or cook onions on the stove first before you cook it in your Instant Pot (I'm all about having less dishes to clean up!).
More Instant Pot Tutorials and Resources:
Uses for the Saute Function of the Instant Pot
So you might be wondering why you would need to Saute in an Instant Pot, and whether it works as well as using your stove.
It isn't exactly the same as using your stove, partly because you're more limited with the Instant Pot when it comes to heat adjustment, and partly because some Instant Pots can have a "hot spot," where one area seems to get hotter than other areas.
However, it can be super convenient to Saute in your Instant Pot, making the tradeoff well worth it.
Here are some favorite ways to use the Saute function.
Browning or Searing
As we've already discussed, the Saute function can be useful for bringing out the flavor of certain foods prior to pressure cooking, such as browning or searing meat.
For instance, you can brown your ground beef before making Instant Pot cheeseburger macaroni, or you can sear your chuck roast before making pressure cooker beef stew.
I have a whole list of Instant Pot ground beef recipes, and most of them require browning the beef before finishing the recipe.
But of course, if you forget to thaw your meat, you can always cook frozen ground beef in the Instant Pot.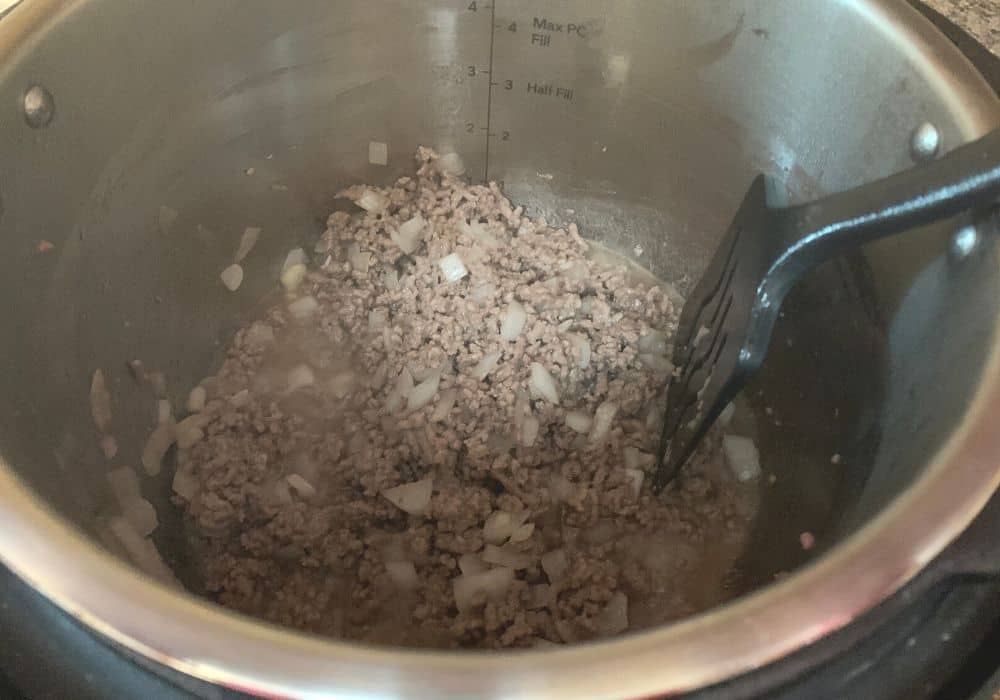 Thickening Sauces
Because of the amount of liquid needed for pressure cooking, and since there is very little evaporation, sauces can tend to be more runny after cooking in the Instant Pot.
For this reason, thickeners may be needed.
Adding thickeners during pressure cooking can cause scorching, so it's recommended to add thickeners after pressure cooking.
But you still need heat to activate the thickeners, so the Saute function works great here.
You can add a cornstarch slurry after pressure cooking, and use the Saute function to simmer the sauce as it thickens.
For instance, I do this with my Instant Pot BBQ country style ribs and my Instant Pot bourbon chicken.
Sauteing Vegetables and Aromatics
You may also just want to saute some foods that would cook too quickly under pressure, like some delicate vegetables.
Or, you can cook aromatics to soften them a little before adding the remaining ingredients and cooking under pressure.
I use this method often when I'm cooking soup, such as with my Instant Pot minestrone.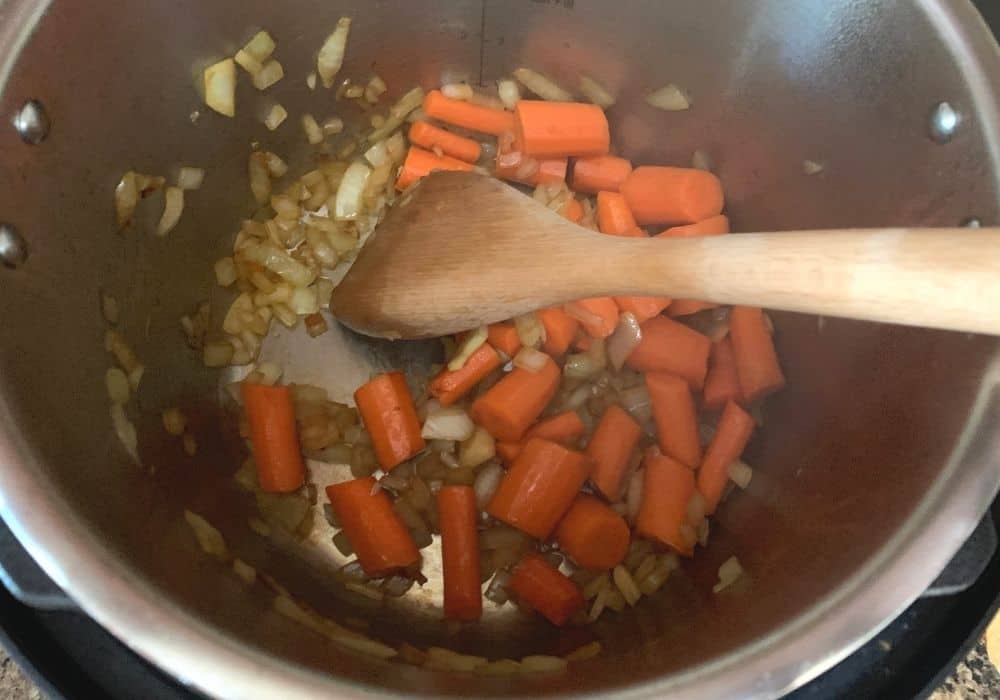 No Stove Available
Having the ability to Saute is also useful if you don't have access to a stove top burner or hot plate.
For instance, many people use an Instant Pot in their RV, which allows them to cook foods with their Instant Pot much like they would cook on the stove.
You could scramble eggs in your Instant Pot, cook bacon or hot dogs, make a stir fry or other "skillet meal," etc. These foods don't need pressure to be cooked, yet they can still be prepared with the Instant Pot.
Multitasking
Maybe you have access to a stove, but you're cooking multiple foods, such as for a holiday dinner. In this case, you can use your Instant Pot.
Or perhaps you simply don't want to have to start a meal on the stove and finish it in the Instant Pot, creating more dirty dishes for yourself.
In that case, you can use the Saute button to start the cooking, then finish it under pressure.
Reheating Food
I have an entire article about how to reheat leftovers in the Instant Pot, but I've found that the Saute button can be a great way to reheat soup in the Instant Pot.
You can simply keep leftover soup in the insert pot, then use the Saute function to simmer it when you're ready to eat it again.
How to Saute in the Instant Pot
It's really easy to sauté food in your Instant Pot prior to pressure cooking. Let's look at the simple process, plus what you'll need.
Recommended Equipment:
An Instant Pot with the Saute function (if your IP doesn't have a Saute button, keep reading for a workaround)
Step 1. First, you'll gather the food you need to Saute.
Depending on whether or not it's a food that will render fat as it cooks, you may want to add some oil or butter to the pot first. This will help prevent sticking.
Step 2. Next you'll press the Saute button.
Depending on the model of Instant Pot you own, you will likely be able to adjust the heat a bit here. Some models have "Less, Normal, and More" modes.
This allows you to choose the heat setting most appropriate for what you're cooking.
For most models, once you press the "Saute" button, you can press the "Adjust" button to toggle between Less, Normal, and More.
If your model doesn't have an "Adjust" button, pressing the "Saute" button more than once should toggle between the different heat levels. You can always refer to your model's instruction manual for additional details if needed.
In general, here are some guidelines for your heat levels:
"Less" is ideal for simmering sauces, as it keeps it from coming to a full rolling boil.
"Normal" is ideal for sauteing vegetables or other more delicate foods that you don't want to burn.
"More" is ideal for browning or searing meats
I typically add the oil to the pot first, then press the Saute button, choose my desired heat setting by pressing the "Adjust" button, then press Start so the oil can heat up.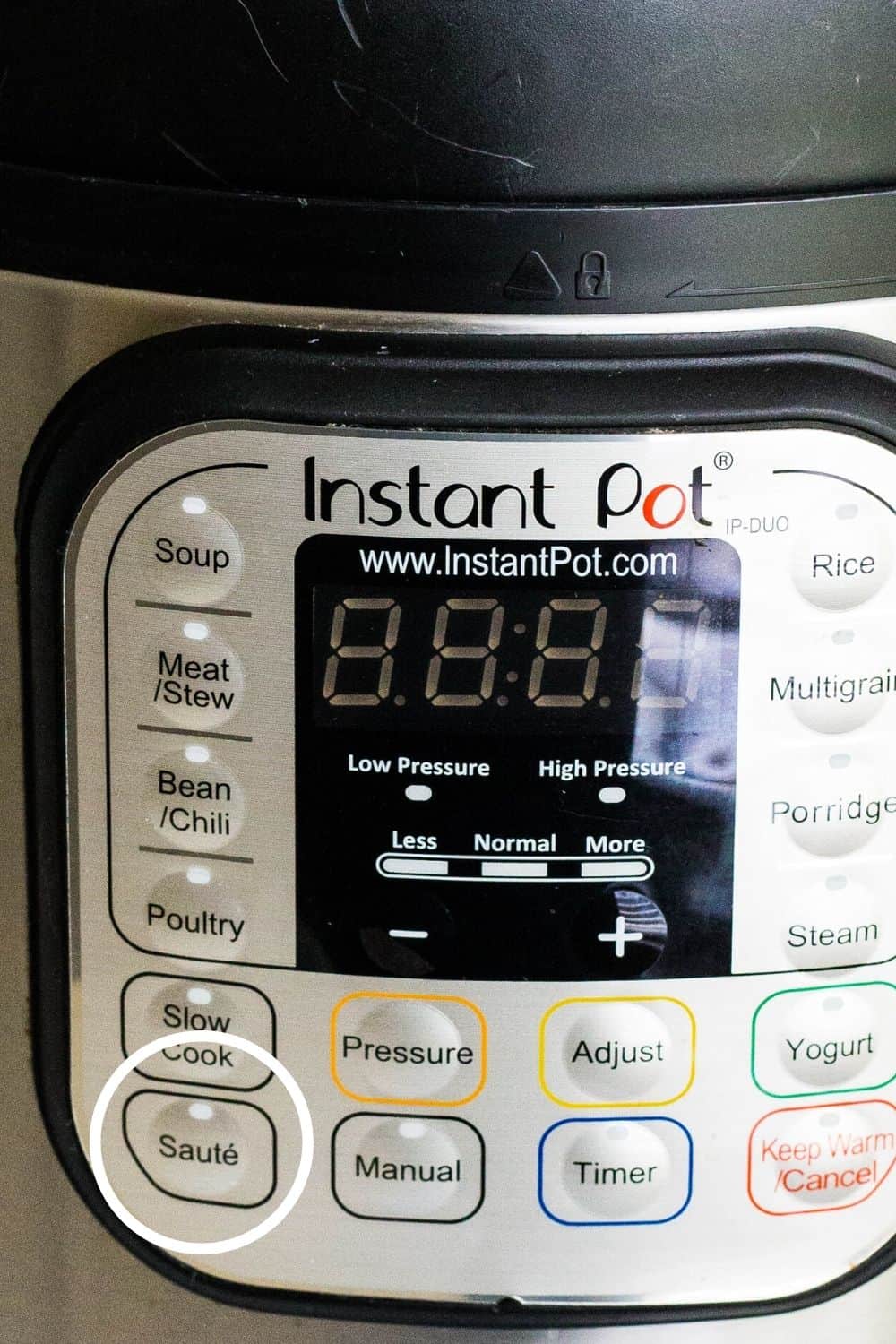 Step 3. Add your food to the hot oil and allow it to cook to the desired doneness, stirring or turning the food as needed.
Once the food is cooked according to the recipe directions, you can press the Cancel button to turn off the Saute function.
At this point, you can add remaining ingredients and program the Instant Pot for pressure cooking, if needed.
Should You Saute with the Instant Pot Lid On?
No, you do not need to use the lid when you're using the Instant Pot Saute function.
Using the lid will keep the heat contained and can cause pressure to build up or food to scorch. Plus, you won't be able to stir as easily with the lid on.
Do You Need to Deglaze the Instant Pot After Using the Saute Button?
If you ended up with browned bits or stuck on bits of food at the bottom of your insert pot, it's important to deglaze the insert pot before you continue with pressure cooking.
This is because having a layer of food stuck to the bottom of the pot causes scorching during pressure cooking and can result in the dreaded BURN error.
To deglaze the pot, you'll simply need to add some liquid while the pot is still hot, and scrape up the browned bits with a spatula or wooden spoon.
Depending you your recipe, you can use a little bit of water, broth, or wine to accomplish this. It doesn't take much liquid—just enough to soften the browned bits so you can scrape them up.
How Do You Saute with Other Electric Pressure Cookers Besides an Instant Pot?
If you have a pressure cooker model that does not have a Saute button, there's a "workaround" you can use with most models.
Simply program the pressure cooker as if you were planning to pressure cook, but leave the lid off.
The pot will heat up, and you'll be able to Saute in the hot pot.
The downside to this is that you can't really regulate the heat, so you'll have to keep a close eye on your food so it doesn't burn.
Using Your Instant Pot to the Fullest
Now that you know how to Saute with your Instant Pot, I think you'll find there is a world of possibilities for putting this appliance to work!
To help you get started, here are some of my favorite Instant Pot recipe collections:
Get the Instant Pot Meal Plan Jumpstart
Join the free community and you'll learn simple ways to easily create tasty food for your family, as well as immediate access to the FREE Instant Pot Meal Plan Jumpstart to help you get a tasty dinner on the table in a flash!
"Thanks for sharing your knowledge and experience in such a friendly and delightful way!!! So far, I'm very impressed with the results...thanks again for your guidance into this new realm of cooking!" -Margaret
Free Resource Library
Enter my
free resource library
for my latest printables and resources! Password is 'IHEARTMARGIN' -- please copy and paste that in at the link above. Thanks for being a subscriber!!