Did you get a new Instant Pot? You have to try these Instant Pot recipes for beginners–they're perfect for the first few recipes you make in your pressure cooker!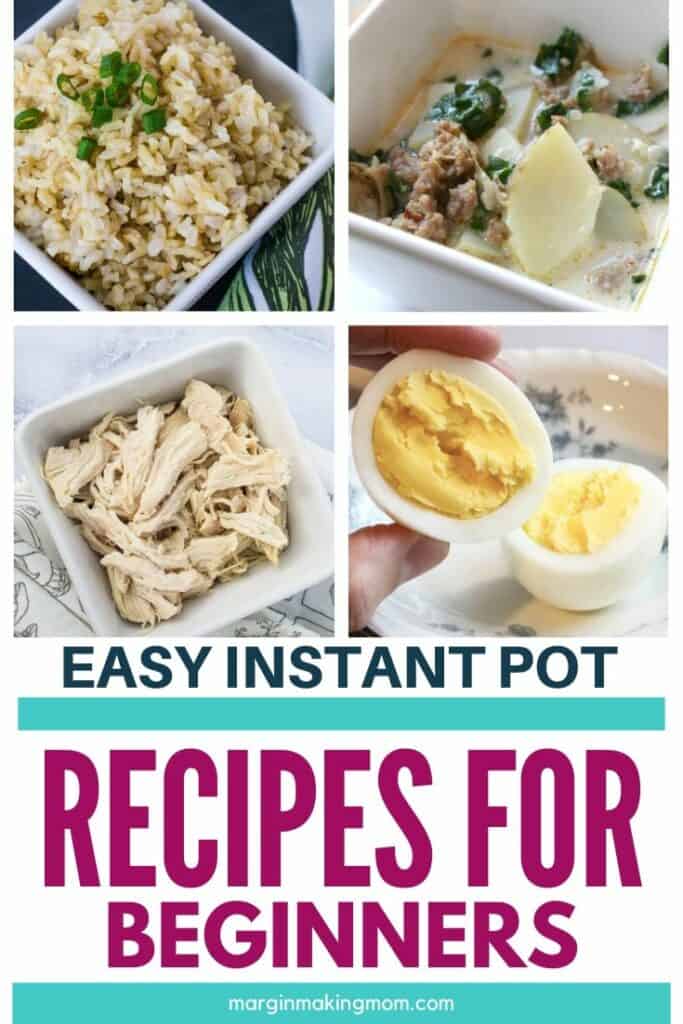 These Instant Pot recipes for beginners are a great way to get your feet wet and experience just how fabulous your new pressure cooker is!
Note: This post may contain affiliate links for your convenience. If you make a purchase, this site may receive a small commission at no additional cost to you. You can read my full disclosure policy here.
Did you just get a new Instant Pot? Lucky you!!
Learning a new appliance can be a little unnerving, especially if it's one that feels a little scary. I don't know about you, but I certainly remember the old stove top pressure cookers, and they always seemed so scary to me!
The newer electric pressure cookers are loaded with safety features, and I've become very comfortable with mine–and that's what I'm going to help you do, too!
Get a Free Instant Pot Beginner's Guide!
First of all, I have a free Instant Pot Beginner's Guide to walk you through the process of setting up and using your Instant Pot with ease–it's part of my Instant Pot Meal Plan Jumpstart, which you can sign up to receive below!
The Best Recipes for Instant Pot Beginners
As a new user of the Instant Pot, I know you don't need a list of 200 recipes to start with. That's just too overwhelming.
Instead, you need reliable and easy pressure cooker recipes that help you get your feet wet, so you can gradually learn new uses for this amazing appliance!
That's why I'm sharing 5 easy Instant Pot recipes for beginners, so it will be simple for you to get started and gain some confidence along the way!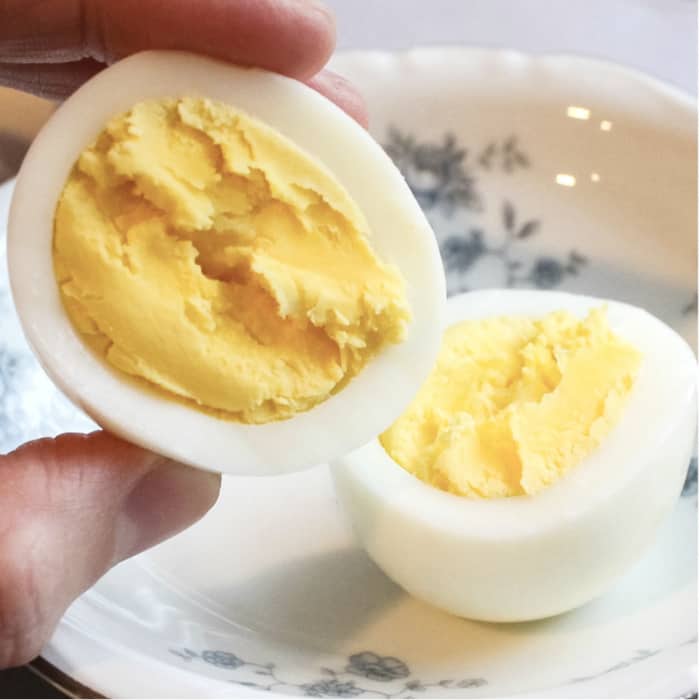 1. Hard Boiled Eggs
Instant Pot hard boiled eggs are a super simple food you can make in your Instant Pot as a beginner!
All you need is water and eggs, and following the instructions will acquaint you with the basic functions of the Instant Pot.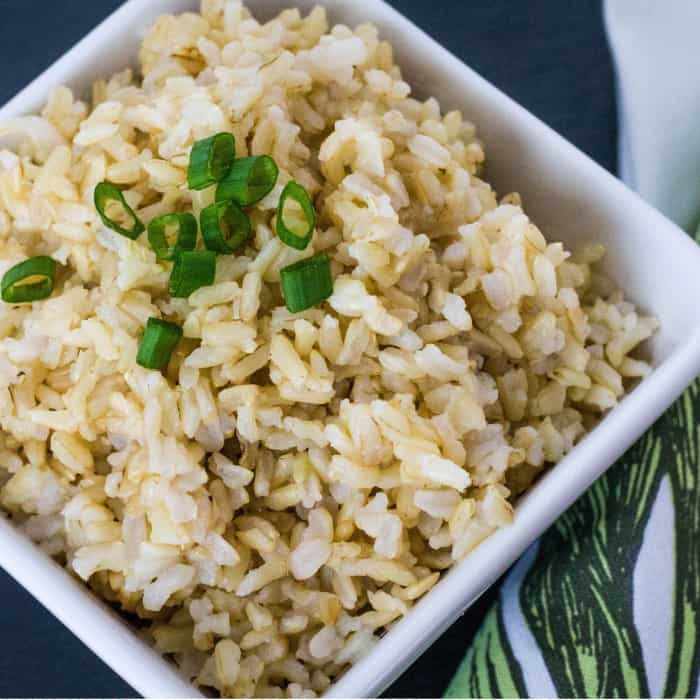 2. Rice
I know it sounds a little silly, but I used to have so much trouble making rice on the stove top. I always messed up the rice somehow (I mean, how hard can it be?).
These days, the only way I cook rice is in the Instant Pot, because it's so easy!
I especially love making Instant Pot brown rice, because brown rice takes so long to cook on the stove top, but is ready in a fraction of the time with the Instant Pot.
Instant Pot rice recipes are very simple, yet are a great time-saver!
More Rice Recipes to Try: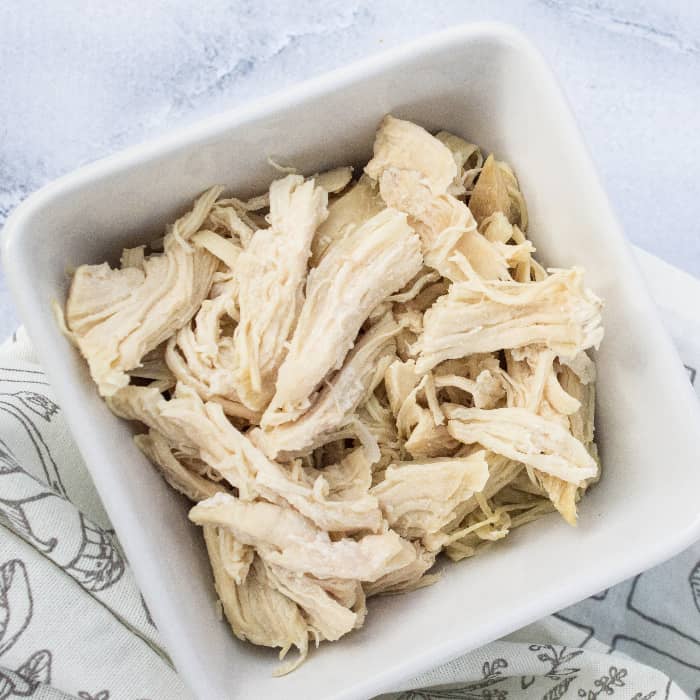 3. Frozen Chicken Breasts
Have you ever forgotten to thaw out meat? Then dinner time rolls around and you suddenly remember, but it's too late to do anything about it?
Well, the Instant Pot is about to rock your world. That's because you can cook frozen chicken breasts in the Instant Pot!
Yes, seriously! Once you cook the chicken breasts, you can shred or chop them and use them for any number of dinner options, which just makes life that much easier on you!
More Chicken Recipes to Try: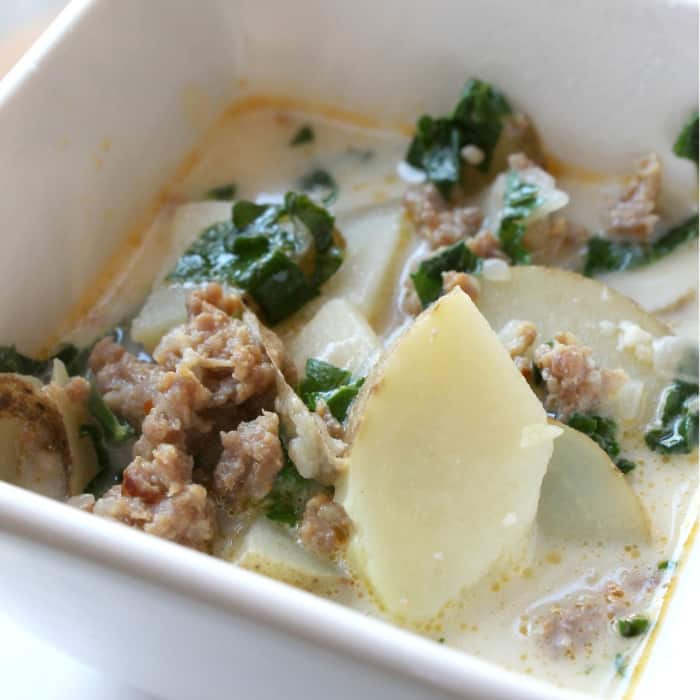 4. Soup
Soup is one of my absolute favorite types of food to make in the Instant Pot!
I love it because when you make soup in the Instant Pot, the ingredients taste like they have simmered together for a long time, even though they've actually only cooked for a short amount of time!
One of my favorites is this Olive Garden copycat Instant Pot Zuppa Toscana. But really, it's hard to choose just one soup recipe to recommend, so I'm listing a few more favorites below!
More Soup Recipes to Try: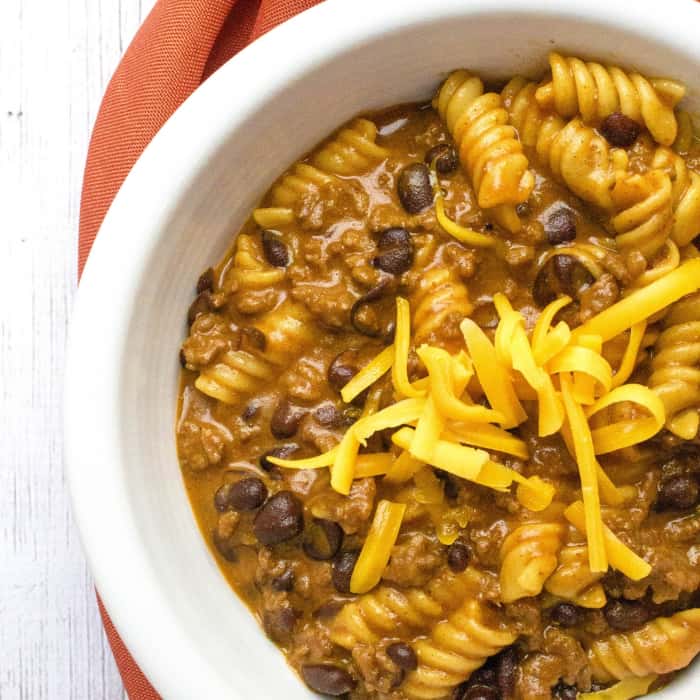 5. Pasta
People are often so surprised when they learn you can cook pasta in the Instant Pot!
Whether you cook plain pasta in the Instant Pot or prepare a one-pot casserole type meal, you can get dinner on the table faster and easier this way!
My family loves when I make this beef enchilada pasta in the Instant Pot for a simple, easy weeknight meal!
More Pasta Recipes to Try:
First Recipes to Make in the Instant Pot
There's no need to feel overwhelmed by your Instant Pot! With these easy Instant Pot recipes for beginners, you'll grow to love your pressure cooker in no time!
For more easy Instant Pot dinner ideas, check out these helpful resources:
Be sure to sign up for the Free Instant Pot Meal Plan Jumpstart to get your Instant Pot beginner's guide!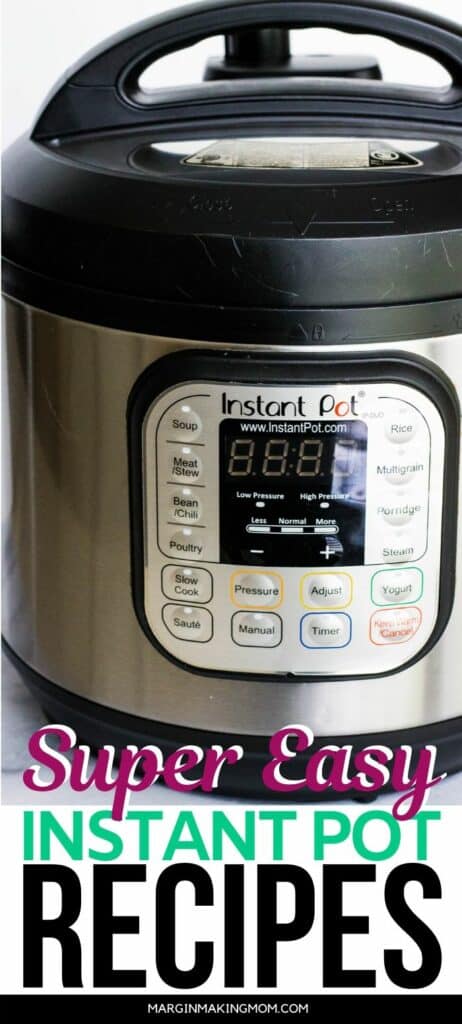 Get the Instant Pot Meal Plan Jumpstart
Join the free community and you'll learn simple ways to easily create tasty food for your family, as well as immediate access to the FREE Instant Pot Meal Plan Jumpstart to help you get a tasty dinner on the table in a flash!
"Thanks for sharing your knowledge and experience in such a friendly and delightful way!!! So far, I'm very impressed with the results...thanks again for your guidance into this new realm of cooking!" -Margaret
Free Resource Library
Enter my
free resource library
for my latest printables and resources! Password is 'IHEARTMARGIN' -- please copy and paste that in at the link above. Thanks for being a subscriber!!