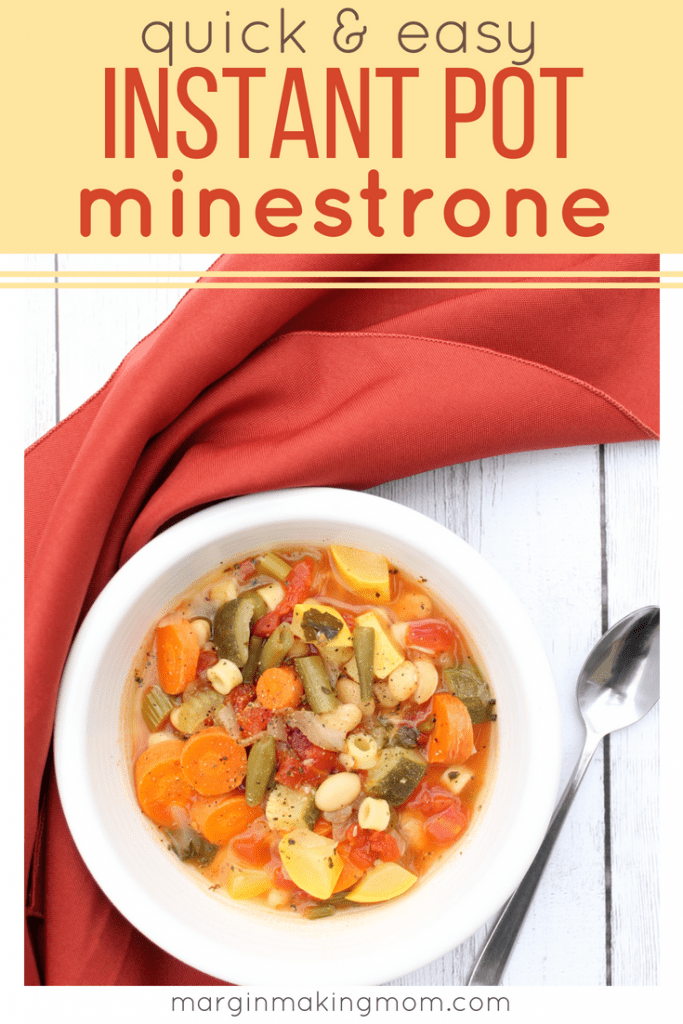 After a busy day, I need to get dinner on the table fast. This quick and easy Instant Pot minestrone is a frugal and tasty recipe that is ready in minutes, thanks to the pressure cooker! You'll love how versatile and easy it is!
Note: This post may contain affiliate links for your convenience. You can read my full disclosure policy here.
After a busy day of dentist appointments for all three kids and various errands to run, we finally have a short break of calm in our day. It's like the eye of the storm, and I know it won't last long, so I set my sights on making dinner.
That is, until my 3-year old calls for my help in the bathroom. Then, my 2-year old starts melting into a full-fledged tantrum, dissolving into a puddle of tears because I committed the cardinal sin of giving him the blue snack cup instead of the yellow one. I realize the 5-year old is eerily quiet right now, so I wander into the next room, where I find my budding artist buried amidst her latest project, with bits of cut paper smeared with sticky glue littering the room.
This is just the norm for us…and I'll bet you can relate.
So when it comes to making dinner, I rely heavily on quick and easy meals. Often, I turn to my Instant Pot to help get dinner on the table fast.
Today, I'm guest posting on Creating My Happiness, where I'm sharing the recipe for one of my favorite soups. Hop over and get the recipe for my quick and easy Instant Pot minestrone!