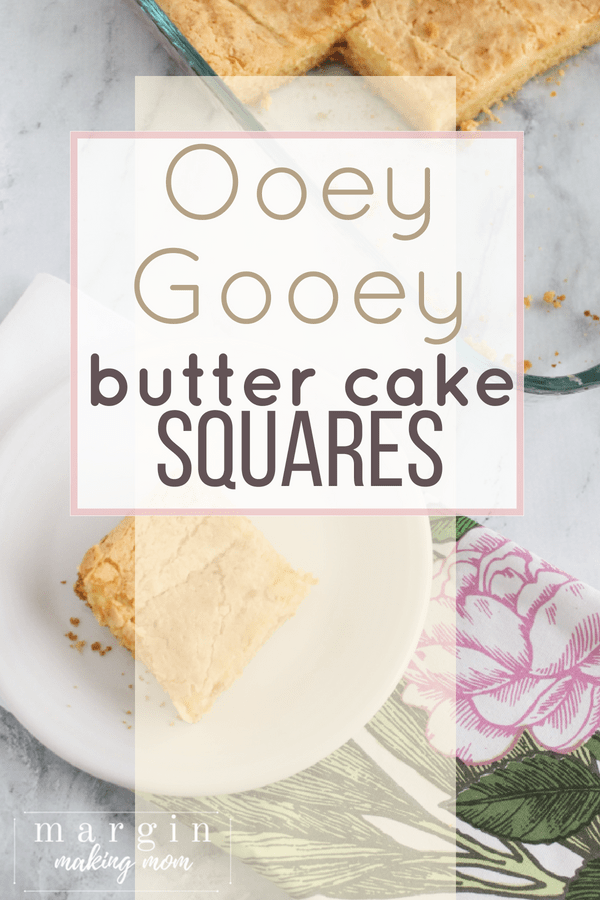 These easy ooey gooey butter cake squares are a classic potluck dessert that your family and friends will love! They're simple to make and can be eaten warm with a fork or served cool like a bar.

Note: This post may contain affiliate links for your convenience. You can read my full disclosure policy here.
The aroma wafted through the Sunday School halls, tantalizing our senses and causing us to watch the clock, waiting for the service to end. I knew there would be countless goodies to be had, because, let's be honest–church ladies can cook.
Growing up as a pastor's kid, I attended my fair share of Sunday potluck dinners after church. Sometimes also called "dinner on the grounds," these events were home to tables full of food to feed a crowd.
Several varieties of macaroni and cheese, southern-style green beans, fried chicken, corn casserole, and more were placed onto the table like pieces of a jigsaw puzzle.
Then, usually off to the side or in a corner, was the dessert table. My absolute favorite.
Now, because I grew up attending these potlucks, I learned a few tricks. The most important one? Get dessert before you sit down to eat your dinner.
Because if you wait to visit the dessert table until after you eat your plate of savory sides and meat, your sweet tooth will be disappointed by what little selection remains.
Ask me how I know. 🙁
Trust me, if you want the good stuff, you gotta get it quick.
Speaking of the good stuff, these ooey gooey butter cake squares are a potluck classic. And if you love these, you'll adore these red velvet ooey gooey butter cake squares and this pistachio ooey gooey butter cake!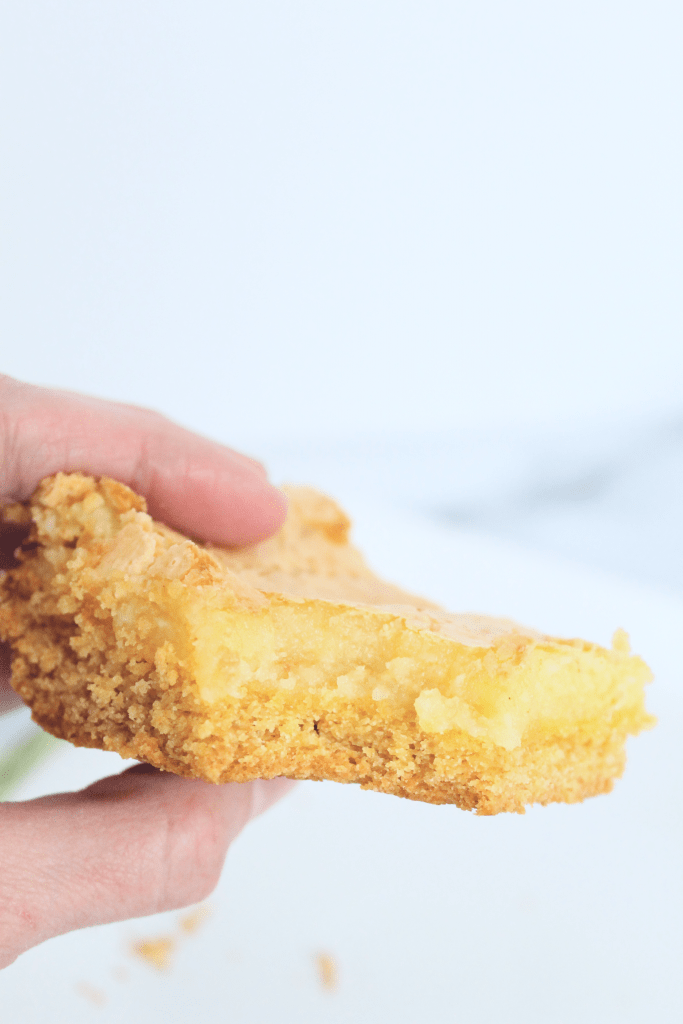 When my husband's grandmother passed away, my mother-in-law graciously passed on to me a box of his grandmother's recipes (the gold mine from which Grandma Wilhelm's pumpkin bread came), as well as a couple of her church cookbooks that were probably about 25 years old at the time.
Over the years, I've made a handful of the recipes from these books, but recently I pulled them out again to thumb through and look for some ideas. Because if the church ladies put it in the cookbook, you know it has to be good.
So when I found the recipe for these ooey gooey butter cake bars, I knew I wanted to make them. I think some southerners call them "Chess Bars," because they're similar to a chess pie. Whatever you want to call them, I can tell you one thing–these bars do not disappoint.
When they're still warm, the top layer is almost pudding-like, earning the "ooey gooey" name. You can eat them like that with a fork (or a spoon if you want to top them with vanilla ice cream!), but I also like to let them cool a bit and just eat them with my hand, more like a brownie-type dessert.
These ooey gooey butter cake bars are perfect for feeding a crowd. If you're hosting a get-together or headed to a potluck, they're easy to make and the guests will thank you!
However you decide to eat them, they're delicious! Just be sure to follow my hard-earned potluck advice and snag a bite before they're gone! 🙂
More Delicious Dessert Recipes:
Recommended Equipment:
Yield: 20 Servings
Ooey Gooey Butter Cake Squares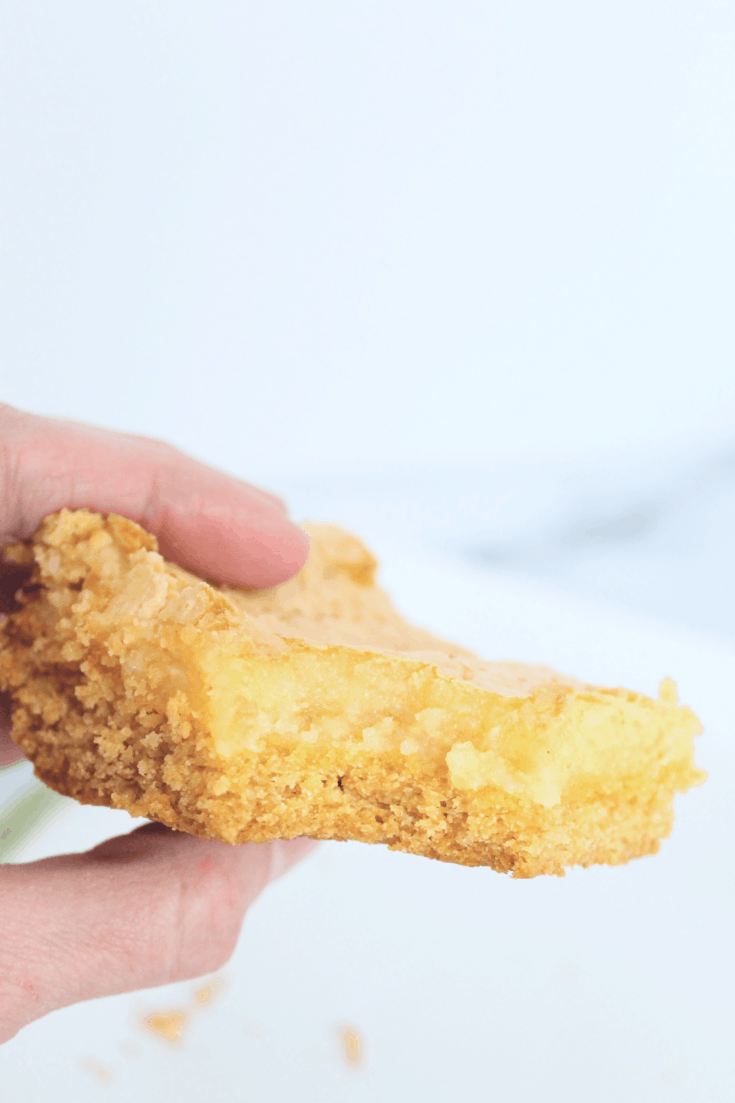 Ooey gooey butter cake squares are one of those addictive, classic desserts that should grace every potluck dessert table!
Ingredients
1 box yellow cake mix
1 stick (1/2 cup) butter
4 eggs
1 lb confectioner's sugar
8-oz package of cream cheese, softened
Instructions
Preheat oven to 350F. Grease a 9x13" baking dish.
Melt butter in a medium saucepan over medium heat, or in a microwave-safe bowl in the microwave.
Add cake mix and 1 egg to the melted butter, stirring to combine well.
Pat cake mixture evenly into the bottom of the prepared baking dish.
In a large mixing bowl or in the bowl of a stand mixer, beat cream cheese, confectioner's sugar, and 3 eggs together until smooth.
Pour cream cheese mixture over the cake mixture.
Bake for 35-40 minutes, until edges are golden and center is still slightly jiggly.
Serve warm or allow to cool for more of a bar-like consistency.
Notes
Lightly adapted from Darlene Cook's recipe in Cooking With More Hustle (Heritage United Methodist Church Cookbook, Mt. Healthy, Ohio, 1984)
Nutrition Information:
Yield:
20
Serving Size:
1
Amount Per Serving:
Calories:

240
Total Fat:

6g
Saturated Fat:

3g
Trans Fat:

0g
Unsaturated Fat:

2g
Cholesterol:

49mg
Sodium:

241mg
Carbohydrates:

45g
Fiber:

0g
Sugar:

34g
Protein:

3g
Nutrition information is automatically calculated and is not guaranteed for accuracy.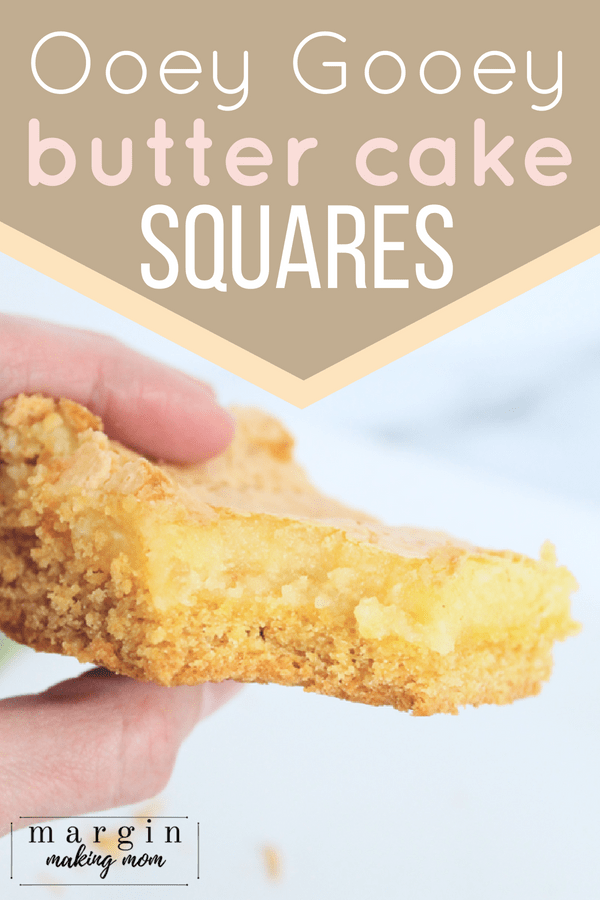 Get the Instant Pot Meal Plan Jumpstart
Join the free community and you'll learn simple ways to easily create tasty food for your family, as well as immediate access to the FREE Instant Pot Meal Plan Jumpstart to help you get a tasty dinner on the table in a flash!
"Thanks for sharing your knowledge and experience in such a friendly and delightful way!!! So far, I'm very impressed with the results...thanks again for your guidance into this new realm of cooking!" -Margaret
Free Resource Library
Enter my
free resource library
for my latest printables and resources! Password is 'IHEARTMARGIN' -- please copy and paste that in at the link above. Thanks for being a subscriber!!