This old fashioned peanut butter cake recipe is made with a doctored up cake mix and topped with a stove top dark chocolate frosting, making it a super easy yet delicious dessert!
Nobody will know you used a cake mix to make this easy old fashioned peanut butter cake–it's moist and decadent and perfectly tasty!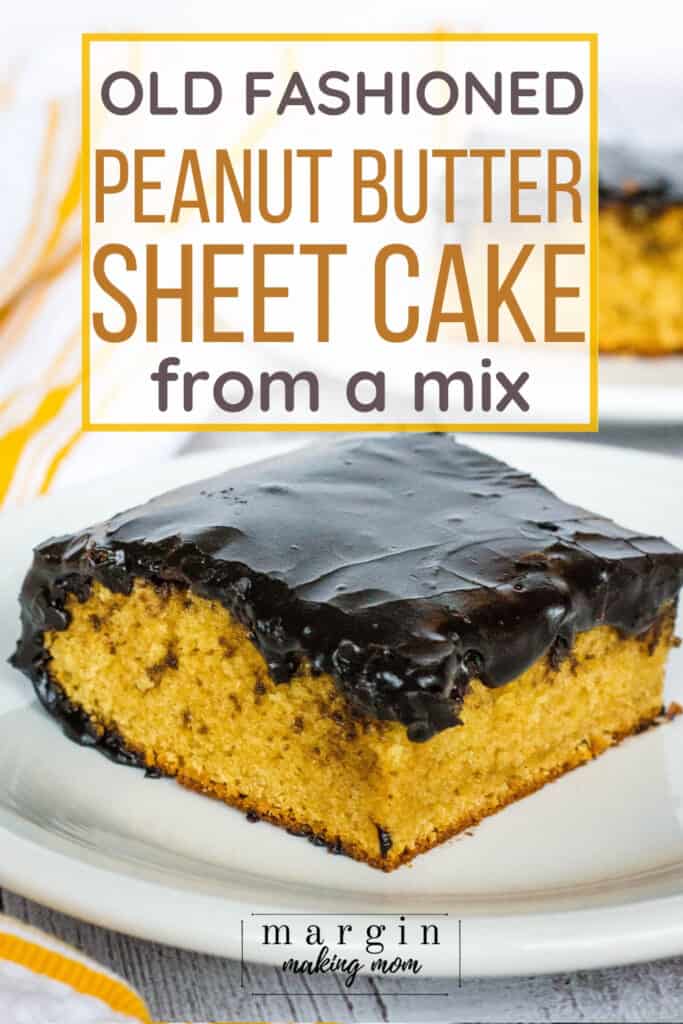 I'm a sucker for just about anything in the peanut butter and chocolate combo realm.
How could you not be? It's like the two flavors were meant to be together.
I love a scoop of peanut butter and chocolate ice cream, or a slice of peanut butter chocolate banana bread, a healthier double chocolate peanut butter muffin, a soft and chewy peanut butter chocolate chip cookie, or even a piece of Instant Pot peanut butter and chocolate bundt cake!
I've found that peanut butter cake is one of those things that can sometimes be a little underwhelming. Oftentimes, I find that they are too dry or too dense, and just not quite right.
This peanut butter cake is definitely not one of those disappointments–it's a simply delicious, moist and soft cake that pairs beautifully with an easy stove top dark chocolate frosting!

Old Fashioned Peanut Butter Cake
Years ago, after my husband's grandmother passed away, my mother-in-law was gracious enough to gift me with some of Grandma Wilhelm's cookbooks from her church, as well as a box of handwritten recipe cards.
It's a treasure trove of goodies, reminiscent of a bygone era, and I love thumbing through the recipes for inspiration.
Recently, I was looking through one of the church cookbooks and found a recipe for Grandma Wilhelm's peanut butter cake. It was simple and involved a doctored up cake mix, which is one of my favorite ways to make a delicious cake without a lot of effort.
I knew it would be worth making, because let's be honest–if someone puts it in the church cookbook, you know it has to be good.
More Old-Fashioned Cake Recipes for a Crowd: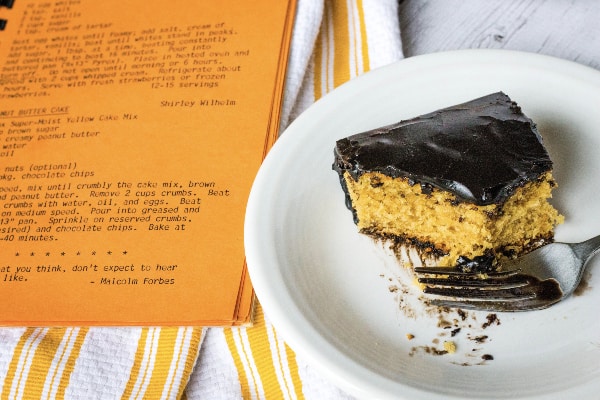 Grandma Wilhelm's version involved a crumb topping and a sprinkling of chocolate chips on top. I decided to use her base recipe, but instead of the crumbs and chocolate chips, I opted for a stovetop dark chocolate frosting on top.
If you're familiar with Texas sheet cake, the frosting is very similar to what you would use for that, except it's a dark chocolate variety.

How to Make Easy Peanut Butter Cake using a Cake Mix
It's surprisingly simple to create this delicious cake!
This peanut butter cake is so easy to make because it starts with a cake mix, then is finished with a simple stove top frosting!
First, use a mixer to combine the peanut butter, brown sugar, and oil until smooth. Add in the eggs, one at a time, until everything is combined well.
Alternate adding the dry cake mix and water, starting and finishing with the dry cake mix.
Pour the batter into a greased 9×13″ baking dish, then bake at 350F for about 35-40 minutes, or until a cake tester inserted in the middle comes out clean.
Prepare the frosting and pour it over the cake while it's still warm. Enjoy the cake while warm or allow it to cool completely first–either way, it's delicious!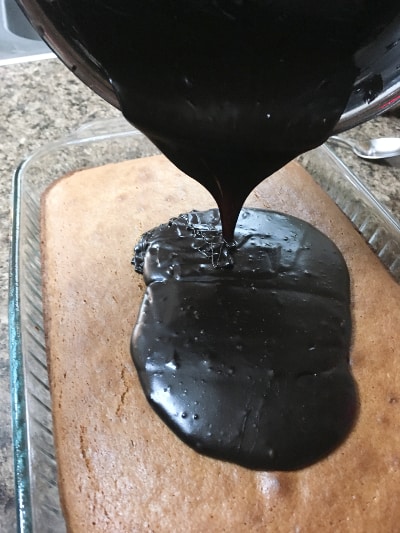 Peanut Butter Sheet Cake with Chocolate Frosting
I tend to call this a sheet cake, even though it's baked in a 9×13″ pan (so it's not truly a sheet cake).
However, you can absolutely make it as a sheet cake if you prefer–simply grease a jelly roll pan well and bake it for about 22-26 minutes.
Then, top it with the dark chocolate frosting while it's still warm!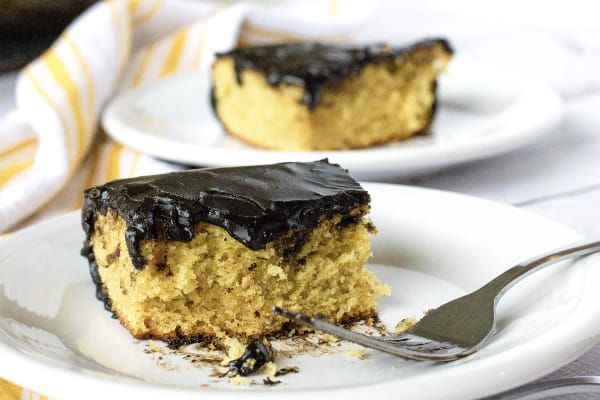 Notes and Adaptations for Making Peanut Butter Sheet Cake:
I have not tried making this cake with natural peanut butter, but I anticipate that it might not turn out as well. If you do try it, be sure to stir the peanut butter really well first to ensure the oil is fully incorporated as much as possible. If you prefer, regular chunky peanut butter will work fine.
I used dark cocoa powder in the frosting, but you can certainly use regular cocoa powder instead.
If you don't have any sour cream on hand for the frosting, just replace it with milk for a total of 6 Tbsp of milk.
Feel free to use a sheet pan instead of a 9×13″ pan. Simply grease a jelly roll pan and bake for 22-26 minutes.
If you prefer, you can top with a peanut butter frosting instead of the dark chocolate frosting.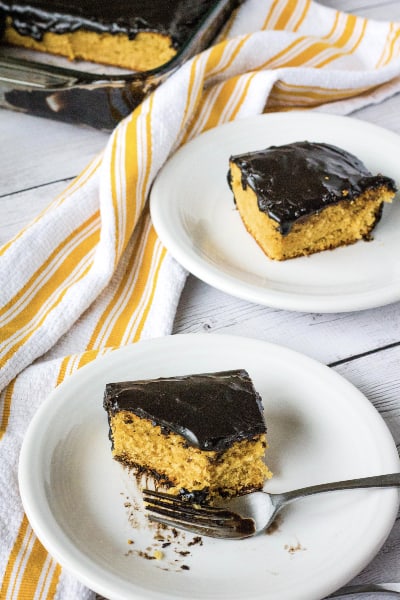 Recommended Equipment: