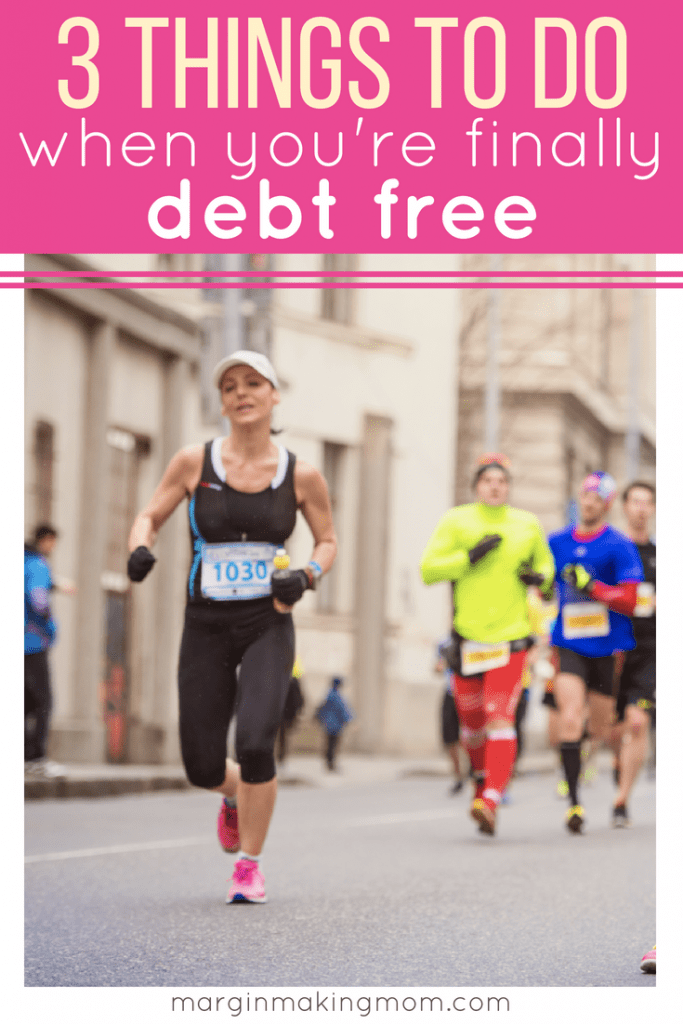 Once you are finished paying off debt, you're probably wondering, "Now what?" After so long of working toward a big goal, it's easy to want to coast for a bit. These three tips will help you have some intentionality when considering what to do after becoming debt free, so you can keep that momentum rolling!
Note: This post may contain affiliate links for your convenience. You can read my full disclosure policy here.
"Now what?"
The thought entered my mind shortly after we achieved a monumental milestone, one that took years of planning and sacrifice to make happen.
After so long of working toward our major goal of paying off over $130,000 of debt, we had crossed the finish line. The marathon that consumed so much of our time, energy, and money was finally over.
And it was really easy to just want a break. A break from the sacrifices, from the planning, from all of the things we did to cut expenses and earn extra income.
I think people who have become debt free are often viewed as being ultra-disciplined, super frugal, and extraordinary. While that may be true in some cases, I'd say most people who are debt free are often just regular people who wanted something really badly.
When you're hyper-focused on a goal for a long time, it can be easy to lose focus and just drift along after you've finally reached your goal.
What I've learned is, the finish line for one race is only the starting line for another.
How to Remain Intentional After Becoming Debt Free
To keep forward momentum going in our financial life, I've learned that it's important to be intentional, even after achieving a big goal like getting out of debt.
The following 3 tips are really beneficial when you're moving from one financial season to another:
1. Take some time to enjoy your success.
Celebrate! Really, when you accomplish a big financial goal, it's a huge win! Why not bask in your success for a little bit?
When my husband and I finished paying off our last debt, we took a trip to New York City together to commemorate the milestone we had reached. It was such a sweet time of reflecting back on the journey and just enjoying the fact that we were finally debt free!
Treating yourself after you reach a big goal is a great way to stay motivated and a way to sort of congratulate yourself on a job well done.
2. Take a step back and look at the big picture.
While it's good to take some time to celebrate and enjoy your success, you don't want to stay in that mode forever. That's why I think it's wise to take a step back and reevaluate other areas of your financial life. What do you want your life to look like in a year? In 5 years? In 20 years?
Once you have a vision, it's easier to figure out how you're going to get there.
After zeroing in on one goal for a while, it's wise to zoom out and get some clarity about what you want so you can continue moving forward.
3. Set a new goal that is important to you.
Without goals, we flounder. We drift and we coast.
Remember that amazing sense of accomplishment you felt when you achieved your big goal? Let's do it again!
Sometimes, it can be daunting to set a new goal. But you may actually find it's easier to do this time. You likely have systems in place that will help you achieve the goal faster. Maybe you've developed habits along the way that will serve you well this time around.
Here's what I'm finding–these new goals are a lot more fun to work toward. You see, paying off debt was important to us, but it wasn't really fun to send money to a student loan company each month. Don't get me wrong, we enjoyed tracking our progress and we have certainly enjoyed the benefits of a debt-free lifestyle.
But when you're setting other goals after becoming debt-free, it's just different. Saving for a family vacation is fun! Investing money towards retirement and watching it grow is exciting! Being able to buy our first house was incredible!
So you may find that, while these new goals will still take planning, work, and probably some sacrifice, they don't feel quite as burdensome as paying off debt.
In order to prevent coasting and not moving forward in your finances after paying off debt, take some time to enjoy your success. Create your vision. And set some new, more fun goals!
Because here's the thing–after what you've accomplished, you can do anything you set your mind to!
What's your new starting line?