Easy pineapple sorbet is the perfect dessert to help you cool down on a hot day!
When the sweltering heat of summer threatens, this simple and refreshing homemade pineapple sorbet is the perfect treat to cool down with. It's light but satisfying, sweet but not cloying. Best of all, it's easy to make and only requires three simple ingredients!
Note: This post may contain affiliate links for your convenience. You can read my full disclosure policy here.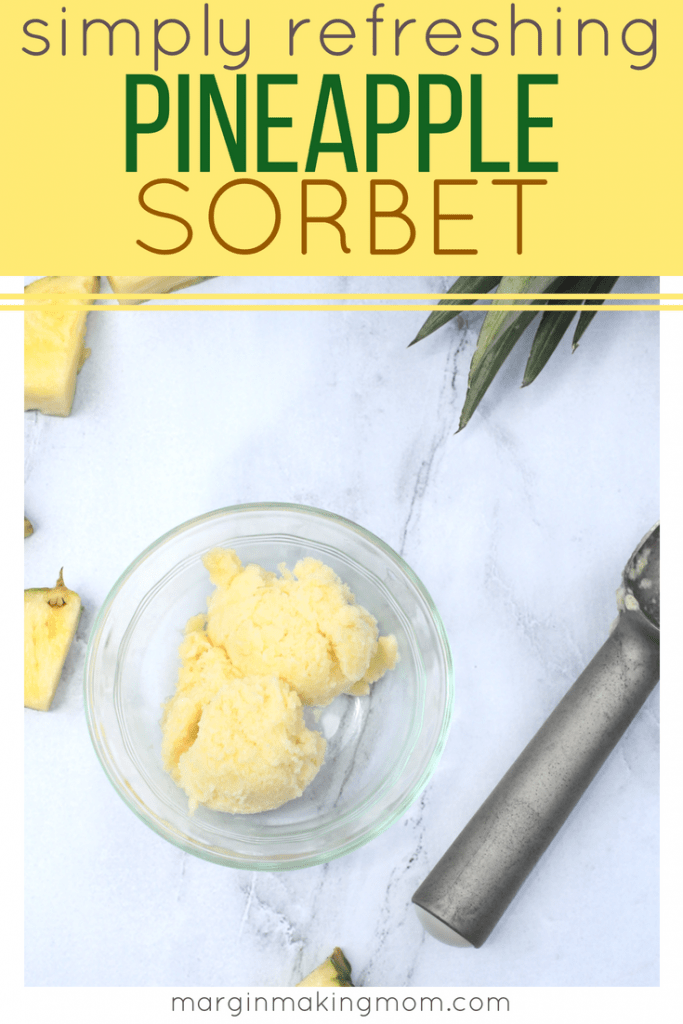 With wet hair pasted to their foreheads in a matted jumble, my three sweaty kiddos gathered around the patio table. Ready for an icy treat to cool them down, their red faces smiled back at me as I brought out one of our summer favorites.
We love cold treats around here during the summer time (but who doesn't?). Strawberry popsicles, ice cream sandwiches, cookies and cream ice cream, chocolate peanut butter ice cream…we'll take any of those any day.
But on this particular day, I had made a batch of one of our beloved summer treats–one that doesn't last long in our family.
Simple and refreshing homemade pineapple sorbet.
The best way I can think to describe this simple pleasure is "delightful." It's light but satisfying, sweet but not cloying. It's basically summer in a bowl.
Not only that, but it's ridiculously simple. As in, 3 ingredients simple.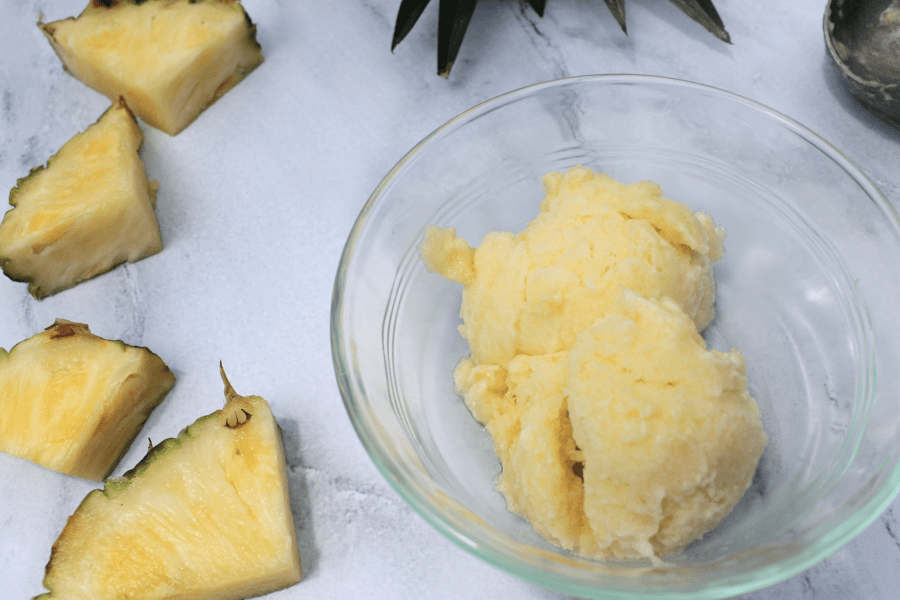 How You Can Easily Make Homemade Pineapple Sorbet
You simply start with a ripe pineapple.
Tip: To check for ripeness, look at the color of the pineapple. In general, the more yellow it is, the more ripe it is. You want a pineapple that's uniformly yellow, if possible, not just yellow at the bottom and green everywhere else. You can also smell the base of the pineapple–it should smell sweet.
Peel and core the pineapple, then roughly chop into chunks. Next, you'll throw those chunks into a food processor or blender along with some sugar and a splash of orange juice (or lemon juice works, too). Puree until the sugar has dissolved and the mixture is smooth.
Add the mixture to your ice cream maker and let it churn and freeze until it's about the consistency of soft serve. You can then transfer it to a freezer-safe container and put it in the freezer for about 6 hours to firm up even more.
There's something about fresh fruit in the summer that just feels right, and when it's in the form of a frozen treat, well, that's even better!
Seriously, my family would eat every last spoonful of this stuff in a day if I let them. In fact, my daughter actually chose to have pineapple sorbet instead of Oreos for her dessert last night. Not even kidding.
I'm not normally a big fan of "one trick pony" appliances, but my ice cream maker is something that I honestly get a lot of use out of. I have the ice cream maker attachment from KitchenAid, which I love because it just fits onto my KitchenAid stand mixer. I bought the attachment with a gift card that I received years ago as a gift for my nursing school graduation, and I've used it multiple times every single summer since then.
Experimenting with different flavors of ice cream is a lot of fun for me. I am a big fan of Jeni's Splendid Ice Creams at Home, which was my first ice cream recipe book I purchased 7 years ago. I later added The Perfect Scoop to my collection, and both of these books have loads of options to keep your ice cream maker churning instead of collecting dust.
But first things first, just make this sorbet. You (and your family!) will be so glad that you did. It's proof that sometimes the simplest ingredients make the best desserts!
When the sweltering heat of summer threatens, reach for a bowl and enjoy a scoop (or three) of this amazing homemade pineapple sorbet!
Recommended Equipment:
Yield: Approx 1 quart of sorbet
Simple and Refreshing Pineapple Sorbet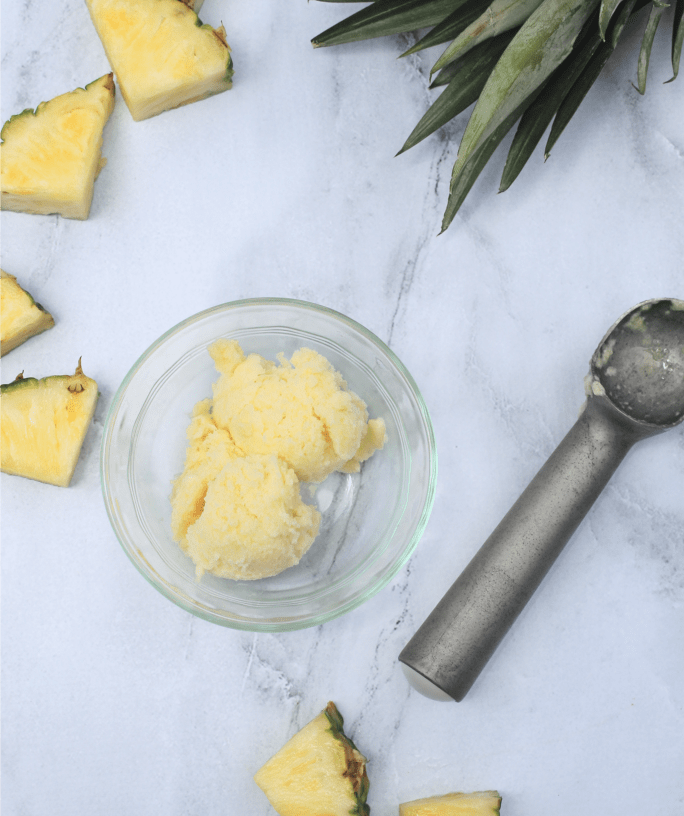 Homemade pineapple sorbet is a cool and refreshing treat, perfect for a hot summer day!
Total Time
6 hours
5 minutes
Ingredients
1 ripe pineapple, peeled, cored, and roughly chopped into chunks (approximately 4 cups of chunks)
1 cup white sugar
2 Tablespoons of orange juice or lemon juice
Instructions
Add pineapple chunks, sugar, and juice to a food processor or blender. Puree until smooth and sugar is dissolved.
Transfer mixture to an ice cream maker and churn according to your model's instructions. Once mixture has reached consistency of soft serve, transfer to a freezer-safe container.
Freeze for about 6 hours prior to serving.
Nutrition Information:
Yield:
8
Serving Size:
1
Amount Per Serving:
Calories:

109
Total Fat:

0g
Saturated Fat:

0g
Trans Fat:

0g
Unsaturated Fat:

0g
Cholesterol:

0mg
Sodium:

1mg
Carbohydrates:

28g
Fiber:

0g
Sugar:

27g
Protein:

0g
Nutrition information is automatically calculated and is not guaranteed for accuracy.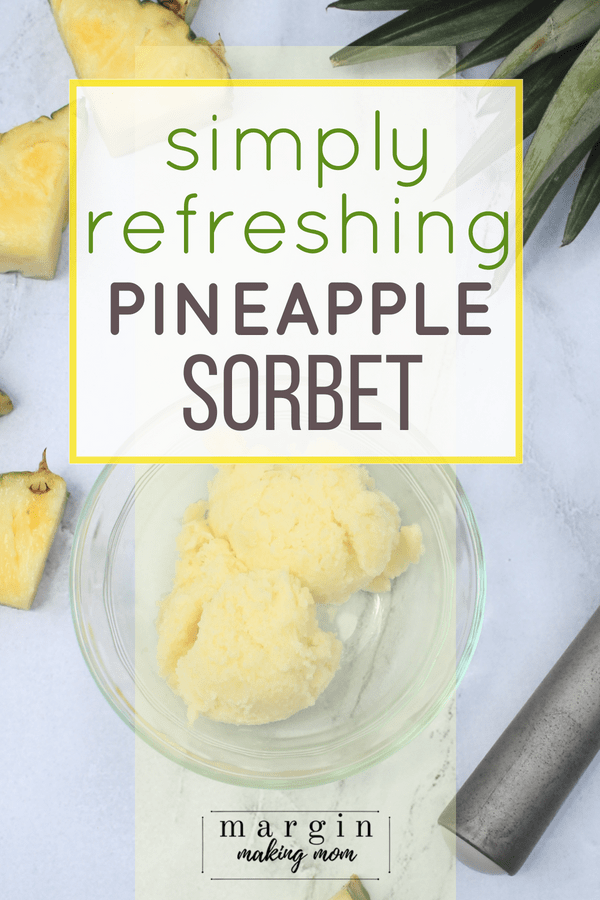 Get the Instant Pot Meal Plan Jumpstart
Join the free community and you'll learn simple ways to easily create tasty food for your family, as well as immediate access to the FREE Instant Pot Meal Plan Jumpstart to help you get a tasty dinner on the table in a flash!
"Thanks for sharing your knowledge and experience in such a friendly and delightful way!!! So far, I'm very impressed with the results...thanks again for your guidance into this new realm of cooking!" -Margaret
Free Resource Library
Enter my
free resource library
for my latest printables and resources! Password is 'IHEARTMARGIN' -- please copy and paste that in at the link above. Thanks for being a subscriber!!