An Instant Pot gift basket is such a fun way to gift the popular appliance to your loved one!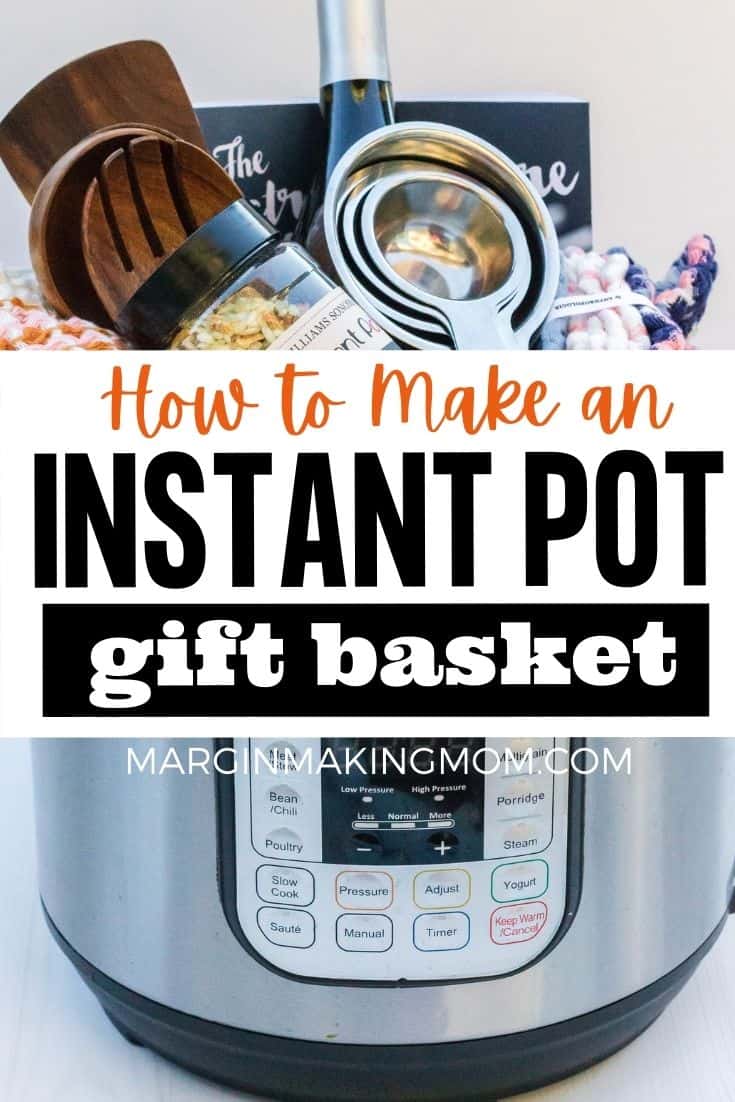 These Instant Pot gift basket ideas are sure to please the recipient–it's a gift they'll always remember!
Note: This post may contain affiliate links for your convenience. If you make a purchase, this site may receive a small commission at no additional cost to you. You can read my full disclosure policy here.
The Instant Pot pressure cooker has taken the world by storm over the last few years, and for good reason.
It's made quick work of getting dinner on the table for busy families everywhere. It's allowed us to make one-pot meals in a flash, given us new options for making yogurt, proofing bread dough, and making desserts.
Because of their popularity, Instant Pots have become wonderful gifts! They often grace the gift table at wedding showers and nestle in under Christmas trees every year.
If you're looking for some creative and out-of-the-box ways to gift an Instant Pot, I have some wonderful ideas for making an Instant Pot gift basket!
Gift baskets are often popular at raffles, make lovely bridal shower, birthday, and holiday gifts, and are also a wonderful way to simply show your appreciation as a thank you gift for someone special.
But don't be overwhelmed–I'm going to show you exactly how to curate the perfect Instant Pot gift basket!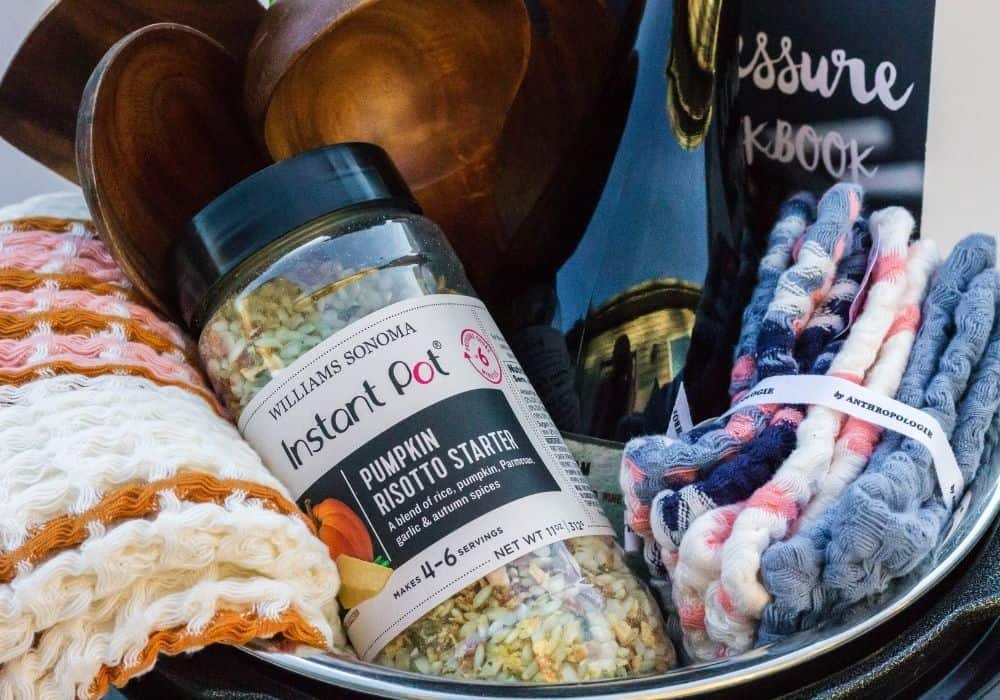 Making an Instant Pot Gift Basket
It's actually really easy to make an Instant Pot gift basket. Essentially, you'll use the Instant Pot itself as the "basket," then fill it with lots of goodies the recipient can put to use!
I like the idea of using a couple of basic items in every Instant Pot gift basket, then you can build on that with themed items, if you'd like!
Basic Items to Include in an Instant Pot Gift Basket
An Instant Pot
Of course, you have to start with an Instant Pot (or other electric pressure cooker)!
This will actually be the container, or vessel, for all the other goodies, so I suggest purchasing either a 6-quart or 8-quart model. These sizes will more easily hold gift items and are also the most versatile for the average family.
If you're buying a 3-quart model, just keep in mind that you won't have as much space for other items.
A Pretty Dish Towel
I think it's a great idea to include a pretty tea towel or kitchen hand towel.
Not only does this add some texture, but it also provides a little bit of cushion for the other items.
I love these pretty hand towels from Anthropologie, but there are some lovely, classic options from Amazon as well–you can choose one that fits the style of the recipient:
A Lovely Utensil
Utensils are something that stand the test of time and get used frequently.
I'm a big fan of pretty wooden spoons and other unique utensils, so I've picked out a few from Amazon that are just so lovely:
A Drink Option
This is an easy way to add some height to the basket, which gives visual interest. A bottle of wine, champagne, or sparkling water make great options here.
You can sign up for a Firstleaf wine subscription as well, and either gift them the subscription, or gift them one of the bottles you receive (you can read my Firstleaf review to learn more–it's a great way to stock up on inexpensive but quality wine).
Easy Themed Instant Pot Gift Baskets
Once you have the basics added to your gift basket, it's time to think about themes!
I'm including a few great options here to take the guesswork out of it for you.
Newlywed-Themed Instant Pot Gift Basket Ideas
If you're giving an Instant Pot to a newlywed couple or taking it to a bridal shower, a fun gift basket is a great way to stand out as a gift they'll remember!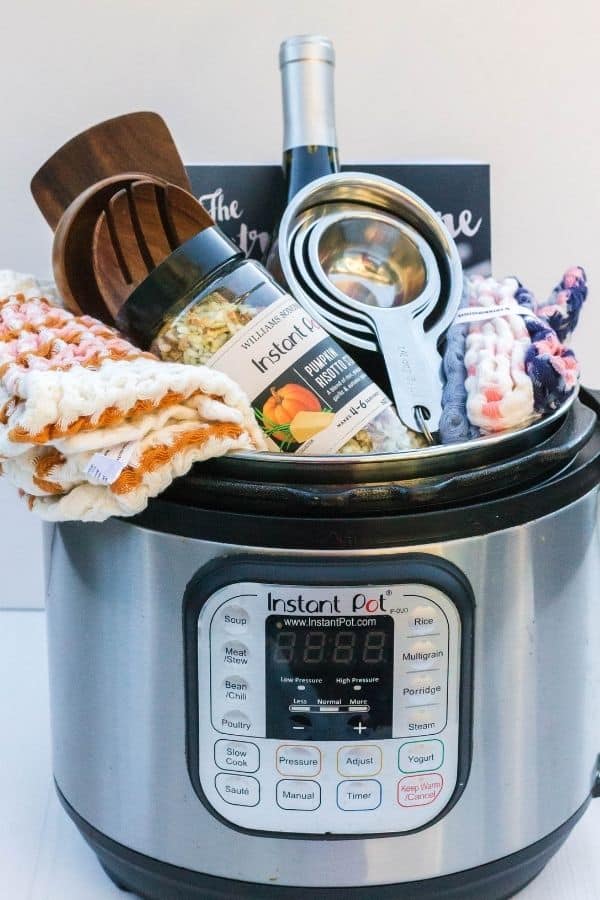 I recommend adding some items to the basket that will help them get their kitchen properly stocked with handy tools–think basic items that anyone would be able to use!
Ideas include kitchen utensils, dish cloths or dish sponges, measuring cups and spoons, dish soap, etc.
I think it's super thoughtful to also include a pressure cooker cookbook and an Instant Pot "meal starter" to round things out. You could even toss in a Target gift card!
Here are some options from Amazon for your newlywed gift basket:
Italian Themed Instant Pot Gift Basket Ideas
Who doesn't love Italian food? It's one of the most well-loved cuisines, so an Italian-themed gift basket is always a good idea!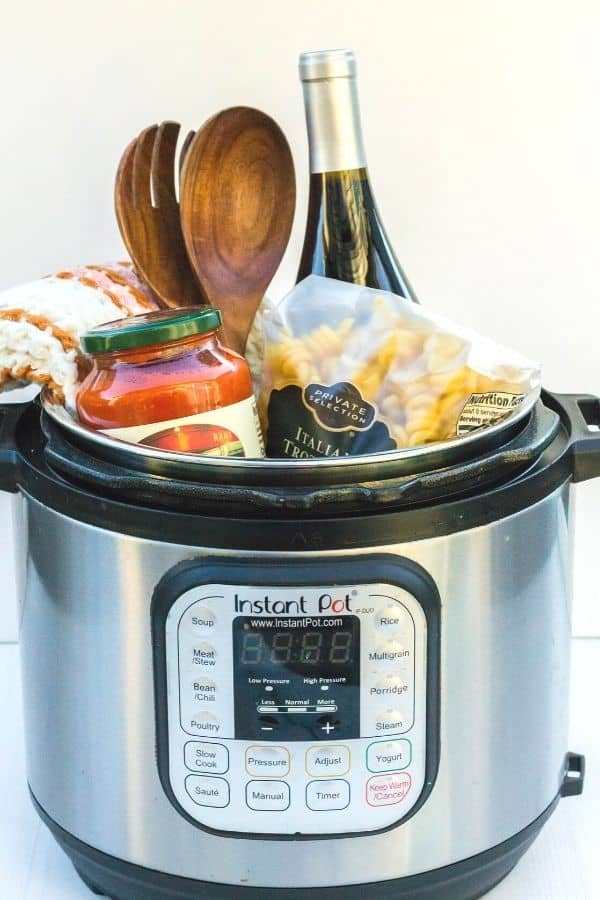 In addition to the basics of a hand towel, wine, and a pretty utensil, I suggest adding some nicer food items that someone might not normally buy for themselves at the grocery store.
Think gourmet pasta, a nice jar of gourmet sauce, or a bottle of good quality olive oil.
You could also add in a cheese grater, a jar of roasted red peppers, or some fancy croutons!
Here are some options from Amazon for your Italian dinner gift basket:
Dessert Themed Instant Pot Gift Basket Ideas
Most people are surprised to learn that you can easily make desserts in the Instant Pot, so the recipient of your gift basket will be so excited when they see this goodie-packed gift!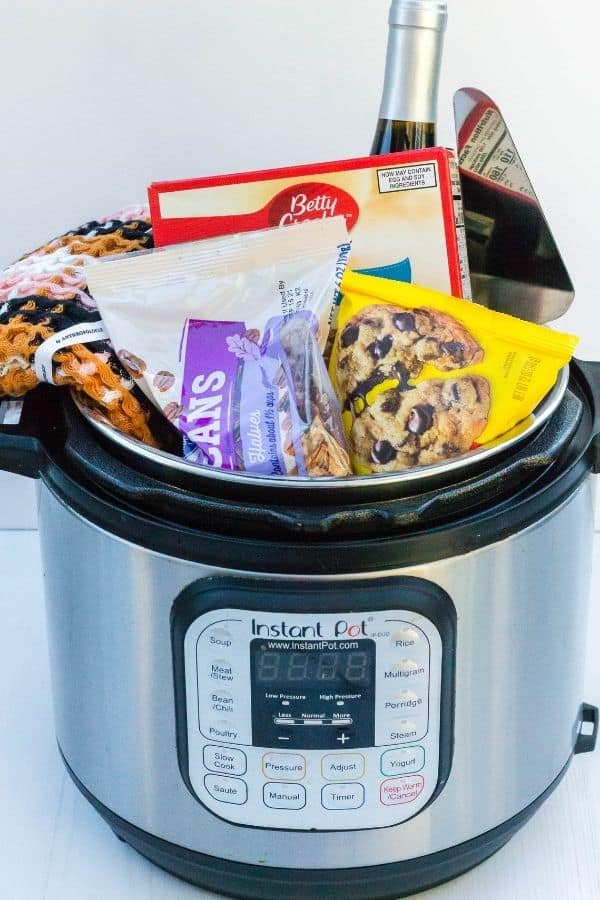 In addition to the basics of a hand towel, wine, and a pretty utensil, I suggest adding a few items that can be used to whip up an easy dessert.
Adding a bundt pan or cheesecake pan that fit in the Instant Pot will be a huge help in making desserts.
Then, you can add some pecans or walnuts, chocolate chips (get gourmet chocolate chips if you're feeling fancy!), a cake mix, a dessert server, and an Instant Pot dessert cookbook!
Here are some options from Amazon for your dessert themed gift basket:
Soup Themed Instant Pot Gift Basket Ideas
The Instant Pot was practically made for soup-making! And making soup or chili is often one of the first things people use their pressure cooker for, so a soup-themed gift basket is pure comfort for the recipient!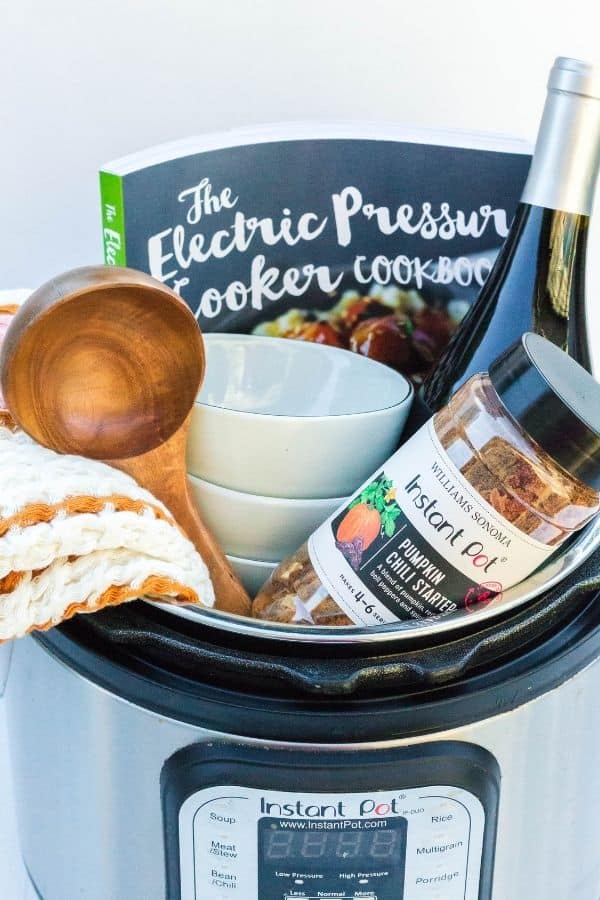 In addition to the basics of a hand towel, wine, and a pretty utensil, I suggest adding a few items that can be used for making a batch of soup.
Adding in a ladle and a set of inexpensive but pretty soup bowls is a great way to make any soup recipe feel a little bit fancier!
You can add a soup starter mix and a carton of broth, too. Adding an Instant Pot soup cookbook is also a nice touch!
Here are some options from Amazon for your dessert themed gift basket:
Finishing Your Memorable Pressure Cooker Gift Basket
With all of those ideas, you'll be able to create a lovely gift basket they'll never forget!
Feel free to jazz it up a little by using tissue paper, a pretty bow, crinkle shreds or cellophane bags to package it up nice and pretty and help keep everything contained!
Most of all, have fun with it! An Instant Pot alone is a fabulous gift, but curating a special array of accessories and food items to go along with it is a great way to really shower someone with love.
Need to give a gift to someone who already has an Instant Pot? Check out my list of the best gifts for an Instant Pot lover!
More Gift Giving Ideas: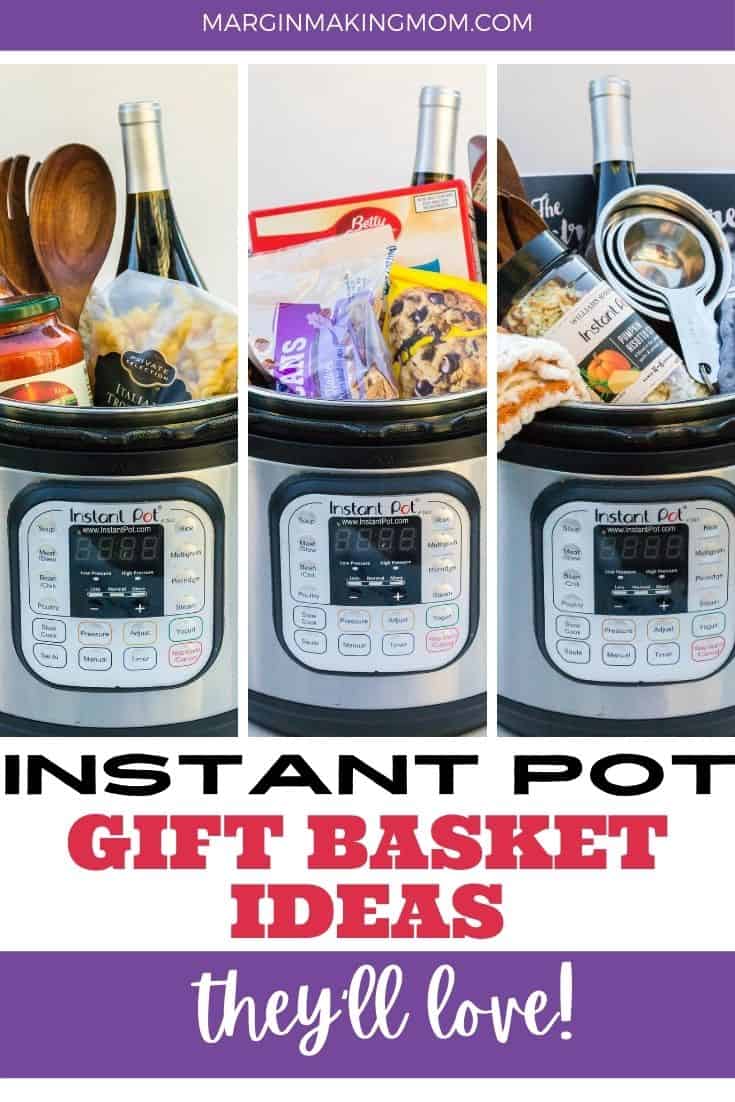 Get the Instant Pot Meal Plan Jumpstart
Join the free community and you'll learn simple ways to easily create tasty food for your family, as well as immediate access to the FREE Instant Pot Meal Plan Jumpstart to help you get a tasty dinner on the table in a flash!
"Thanks for sharing your knowledge and experience in such a friendly and delightful way!!! So far, I'm very impressed with the results...thanks again for your guidance into this new realm of cooking!" -Margaret
Free Resource Library
Enter my
free resource library
for my latest printables and resources! Password is 'IHEARTMARGIN' -- please copy and paste that in at the link above. Thanks for being a subscriber!!