These non-toy gifts for kids are nontraditional and practical, yet things kids will actually be excited to receive!
Check out these alternative non-toy gift ideas for kids–so many super fun, practical gifts that they'll love!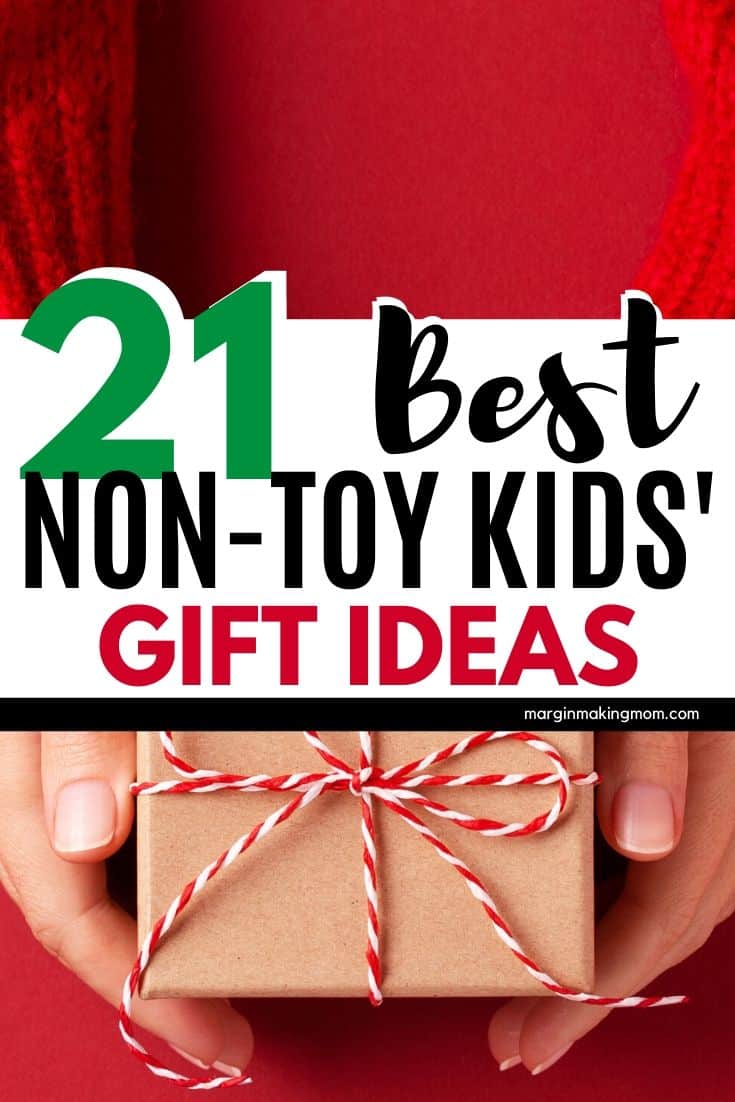 Note: This post contains affiliate links for your convenience. If you make a purchase, we may receive a commission at no additional cost to you. You can read our full disclosure policy here.
You love to give gifts to kids, because it's fun for them and it's fun for you to see their faces light up with excitement! But you hate having so much toy clutter around your house, and nothing is more deflating than having a flashy toy you bought be tossed to the wayside within a couple of days, never to be played with again.
That's one of the reasons why open-ended toys are a great bet for kids, because they can be played with by kids of different ages and in a variety of ways. In our home, we try to own primarily open-ended toys that will get the most mileage.
Related: 13 Favorite Simple Toys for Kids
However, sometimes we don't really need more toys. And sometimes, you may be wondering what to give a kid who doesn't really like toys all that much.
There are other fabulous, nontraditional, non-toy gifts for kids that will be exciting to receive (without making a lot of clutter)!
To keep things simple for you, I have purposely chosen gifts that would be great for girls OR boys!
Favorite Non-Toy Gift Ideas for Kids
1. Movie Tickets – Give kids a Fandango gift card–this is a great way to get out of the house and enjoy a movie later!
2. Attraction Tickets – Consider gifting tickets to a Local Zoo, Museum, or Other Attraction – Many cities are teeming with fun activities that kids would love! I highly recommend checking Groupon for great deals.
3. Craft Supplies – Craft supplies are a fabulous consumable gift that fosters creativity in kids. You'll love seeing their creations! You may also want to gift them a craft caddy (like this one or this one) to keep supplies in.
4. Coloring Posters – These giant coloring posters are fun for an entire family to work on together, or something one child could work on over time. The result is a beautiful poster that can be displayed!
5. Lessons – Consider purchasing lessons for an activity the child would enjoy. Ballet, horseback riding, archery, karate, and more!
6. Online Classes – These days, there are so many fun options for online classes that don't require you to even leave the house! I recommend this online cooking school for kids and this super fun watercolor class for kids!
7. Magazine Subscriptions – My kids have loved having subscriptions to Highlights magazine and the National Geographic magazines for kids. These are a fun "gift that keeps on giving" throughout the year!
8. Their Own Tools – Whether it's a set of kitchen tools, gardening tools, or other useful pieces, kids love having their own practical sets to use!
9. Sewing Supplies – Whether it's a sewing kit for hand-sewing or a beginner's sewing machine, sewing supplies foster both creativity and a handy life skill.
10. Subscription Boxes – Consider gifting a subscription box, which delivers a box of fun, themed goodies! We love Kiwi Crate–they offer different boxes depending on the age of the recipient. You can choose to send a one-time box or send a 3-month, 6-month, or 12-month subscription. Click here to check it out.
I also highly recommend a Bookroo book subscription box for children–they send high-quality books, individually wrapped (beautifully, I might add!), making it a meaningful and lovely gift! You can read my full Bookroo review or check it out here and use promo code BOOKS2LOVE to get 15% off!
If you have a child interested in cooking, definitely check out my list of the best baking and cooking kits for kids as well as my Raddish Kids cooking box review.
Want to give a gift subscription? Get a free printable subscription gift letter here (with three designs to choose from!).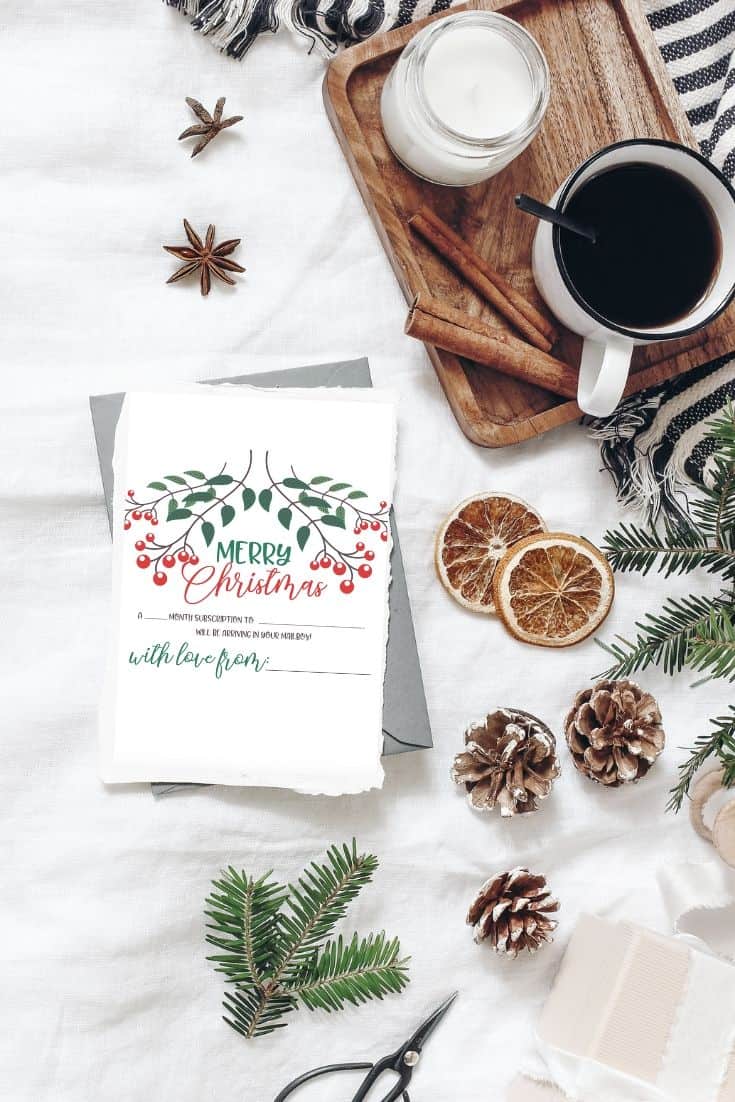 11. Books – While not exactly clutter-free, books are a fabulous non-toy gift idea with endless possibilities! These are some of our favorite Christmas books and some fun books about kindness.
12. Restaurant Gift Cards – Kids love to receive gift cards for their favorite restaurant! You could arrange to take them out for ice cream or lunch at one of their favorite spots.
13. A Special Date – My in-laws gift each grandchild their own "birthday date" each year, where the child gets to have a special outing of their choosing. My kids love having this one-on-one time with their grandparents, and they love getting to choose what to do and where to go for their outing.
14. Science Kits – Thames & Kosmos makes a lot of fun science kits for kids–everything from chemistry to robotics to engineering to optics! I'm a total science nerd at heart (I have a degree in Biology and used to teach high school science, so I think these kits are great!). They're perfect for kids who like to tinker, experiment, and figure out how things work. You can check out the selection here.
15. A Watch – When my daughter was learning to tell time, she couldn't wait to get her very own watch! She loved keeping everyone on time throughout the day. 😉
16. A Planner or Calendar – My daughter was SO excited to get a calendar of her very own that she saved her own money for it! She keeps it on the wall in her room, and she keeps track of events and appointments and marks off each day. Bonus points if the calendar contains photos of things the child is interested in (kittens, unicorns, superheroes, etc.).
17. Their Own Suitcase – I'm not sure why, but when we travel as a family, my kids LOVE to have their own bag to pack. As they get older, they're more capable of handling their own rolling suitcase.
18. A Sleeping Bag – My in-laws bought their grandkids these sleeping bags (they were even monogrammed!). Our kids have loved having their very own sleeping bag–we've taken them on trips, the kids use them for sleepovers at their grandparents' house, and they even "camp out" in their room sometimes. The ones that we have even include a soft pillow sewn into the bag!
19. A Bean Bag Chair – Kids love having a comfy place to snuggle up and read a book! This particular bean bag chair actually holds stuffed animals, which is brilliant!
20. Fun bath accessories – Any parent knows that making the everyday tasks more fun is a win for everyone. Get your little ones excited about bath time with a fun bath towel, some bubble bath, and bath markers!
21. Games – We LOVE games in our house! We love card games such as Old Maid, Uno, and There's a Moose in the House. We also enjoy games that multiple ages can participate in, such as Kerplunk, Jenga, Chutes and Ladders, and Spot It. My littler kids enjoy simple games such as The Sneaky, Snacky Squirrel. My 7-year old also loves playing Money Bags.
22. Perler Beads – My kids love making different creations with Perler beads, also known as fusion beads, hama beads, and melty beads. Be sure to check out these fun Disney Perler bead patterns so they can make some of their favorite characters!
Enjoy These Nontraditional Gifts For Kids (plus Free Printable Gift Letter)!
These alternative gifts for kids are some great ways to foster creativity, strengthen relationships, and develop practical skills in a fun way.
If you're giving a gift subscription, download this free printable gift letter you can use! It includes three different designs to choose from, and you can scale it larger or smaller when printing! 🙂
Merry Christmas!
Need more gift ideas? Check out these lists: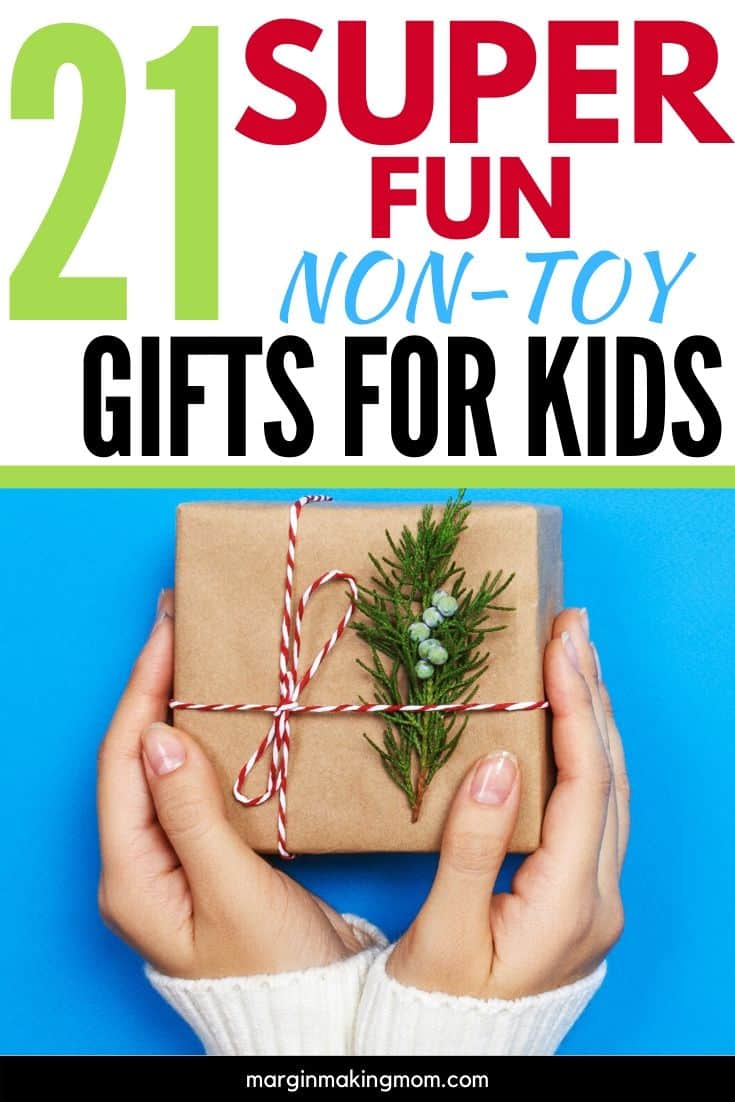 Get the Instant Pot Meal Plan Jumpstart
Join the free community and you'll learn simple ways to easily create tasty food for your family, as well as immediate access to the FREE Instant Pot Meal Plan Jumpstart to help you get a tasty dinner on the table in a flash!
"Thanks for sharing your knowledge and experience in such a friendly and delightful way!!! So far, I'm very impressed with the results...thanks again for your guidance into this new realm of cooking!" -Margaret
Free Resource Library
Enter my
free resource library
for my latest printables and resources! Password is 'IHEARTMARGIN' -- please copy and paste that in at the link above. Thanks for being a subscriber!!