If you have a picky eater in your family, these children's books are a fun and lighthearted way to approach the topic!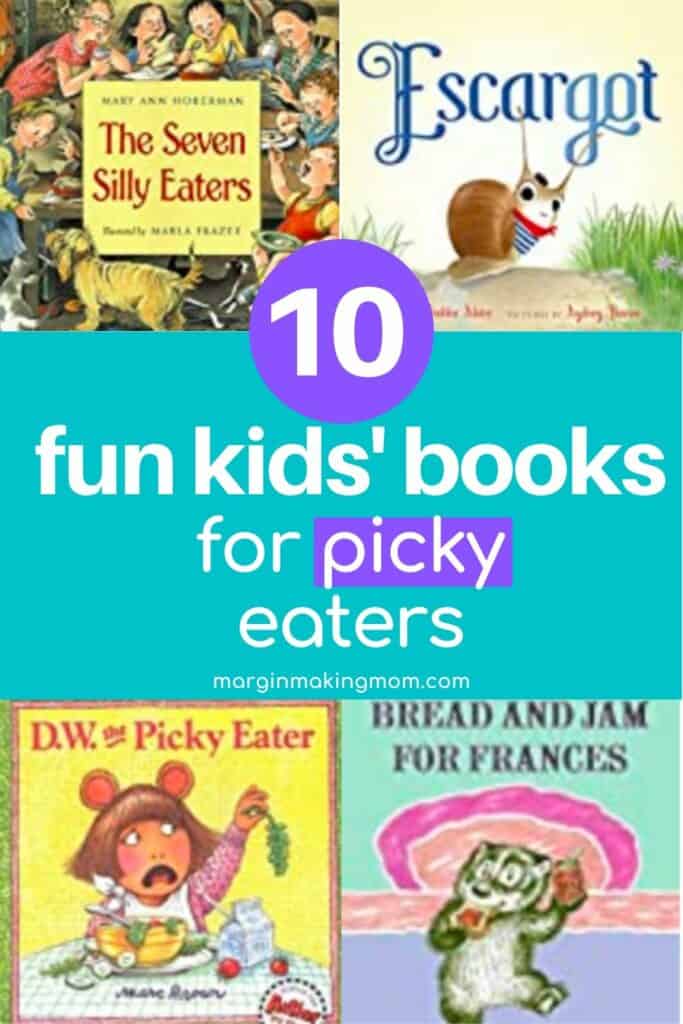 These kids' books for picky eaters bring levity and fun to the table, keeping the discussion low-pressure!
Note: This post may contain affiliate links for your convenience. If you make a purchase, this site may receive a small commission at no additional cost to you. You can read my full disclosure policy here.
If you have a picky eater in your family, you know how frustrating it can be. Trying to discuss the matter with kids can make them dig their heels in even more!
As a mom of three small kids myself, I've learned that books are a fabulous way to teach them things, expose them to new ideas, and take them on a journey in a low-pressure and non-confrontational way.
So when dealing with fussy eaters in our family, I went on the search for kids' books for picky eaters, and found some fabulous ones!
Plus, kids love reading stories, and they can learn so much in this indirect way!
Related Resources for Picky Eaters: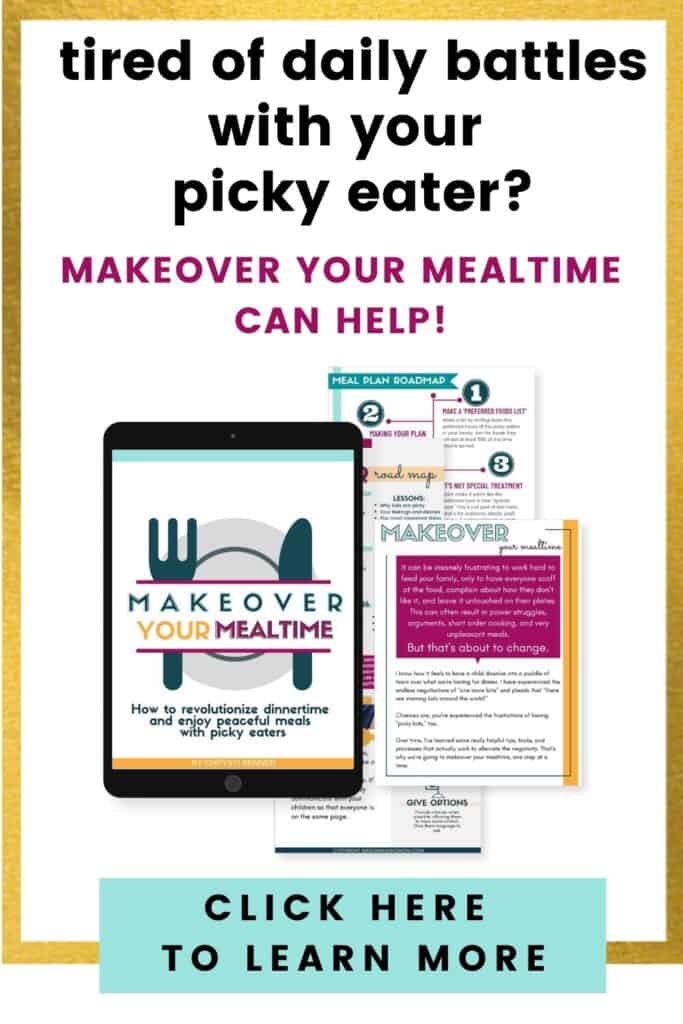 Our Favorite Children's Books About Food for Picky Eaters
These are some of our family's favorite children's books for picky eaters. Each book brings its own perspective and serves as a great springboard for thought and discussion!
A friend of mine gifted us this book shortly after my first child was born, and it has been a favorite for years!
Seven children, each with their own extreme preferences, leaves a mother feeling completely exhausted as she tries to please them. That is, until, they find the solution that satisfies everyone!
Frances wants only one thing to eat: bread and jam. In this story, she goes to great lengths to get her favorite food, until it becomes all she eats. Her mother comes up with a plan that works beautifully for Frances!
This adorable book is one of our absolute favorites–it's a must-have!!
Our kids continue to giggle at the silly antics of Escargot, a French snail who wants NOTHING to do with carrots!
In this fun book, D.W., the little sister of Arthur, is a very picky eater who makes a scene while eating with her family in a restaurant.
She learns that table manners and the social aspects of eating are important, despite food preferences!
Monsters will eat a lot of things, but in this rhyming book, they WON'T eat broccoli!
That is, until they mistake it for something else, and realize it's not so bad after all!
Dragons love all kinds of tacos–but whatever you do, don't give them any hot salsa!
This funny book shows the virtues of enjoying a variety of food, as well as the fact that sometimes, there are just those foods we don't love. This makes it more relatable for kids!
Nobody enjoys more variety than the Very Hungry Caterpillar!
In this fun book for little ones, the caterpillar works its way through several different foods, as it packs energy for its upcoming transformation.
In this funny book, a fussy eater named Lola tells her brother she will never, not ever, eat a tomato (among other things!).
He makes up all sorts of fun stories to entertain Lola, whose imagination allows her to end up eating the foods after all!
Gregory is a goat who has no desire to eat the tin cans and newspaper his parents try to feed him. Instead, he wants the foods he likes.
This book chronicles Gregory's attempts at trying new foods, and shows how he learns to like some new things while still enjoying his old favorites.
What preschooler doesn't love Daniel Tiger? In this book, Daniel learns that it's good to try new foods, but it's also okay if that food doesn't end up being a favorite.
More Fun Books for Kids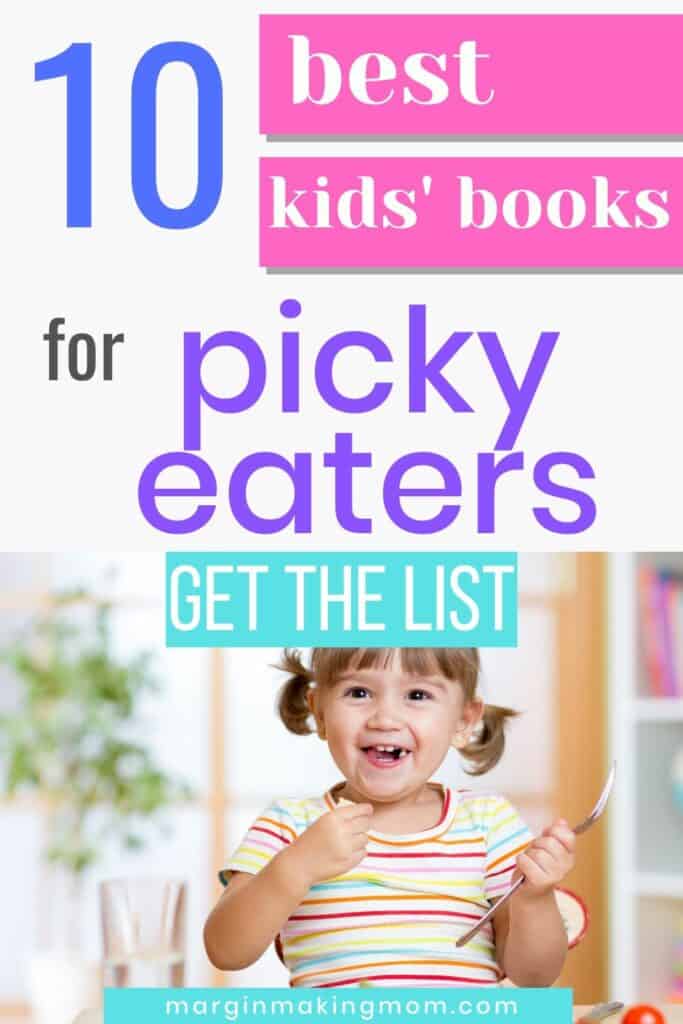 Get the Instant Pot Meal Plan Jumpstart
Join the free community and you'll learn simple ways to easily create tasty food for your family, as well as immediate access to the FREE Instant Pot Meal Plan Jumpstart to help you get a tasty dinner on the table in a flash!
"Thanks for sharing your knowledge and experience in such a friendly and delightful way!!! So far, I'm very impressed with the results...thanks again for your guidance into this new realm of cooking!" -Margaret
Free Resource Library
Enter my
free resource library
for my latest printables and resources! Password is 'IHEARTMARGIN' -- please copy and paste that in at the link above. Thanks for being a subscriber!!