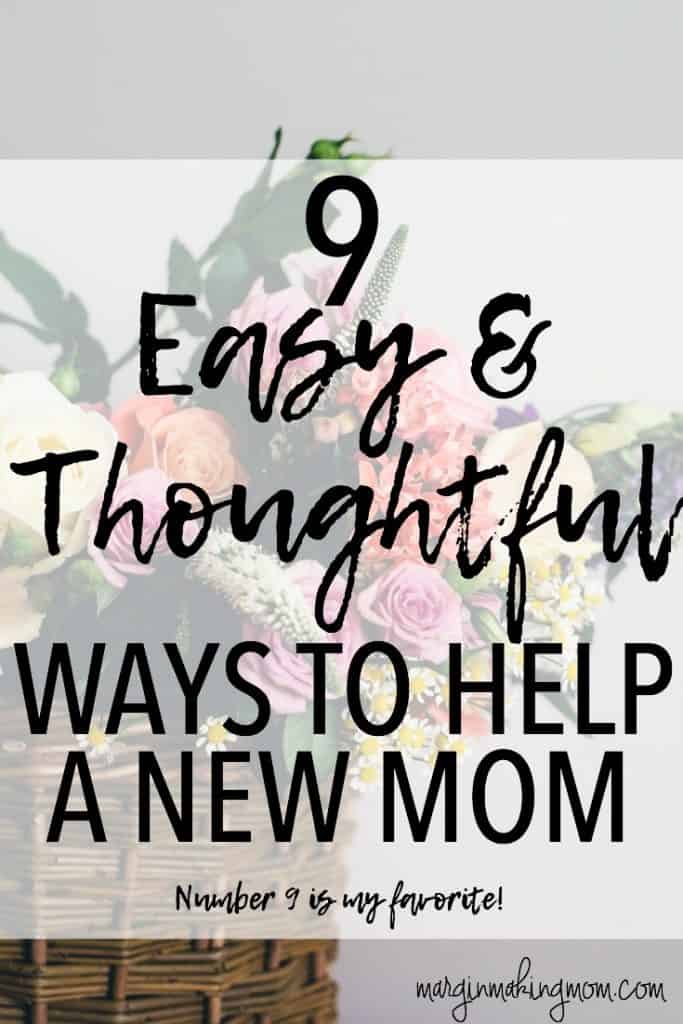 Disclaimer: This post may contain affiliate links for your convenience.  You can read my full disclosure policy here.
Do you ever struggle with ways to help a new mom?  In a span of less than four years, I gave birth to three babies.  During each experience, I was the recipient of so many wonderful, thoughtful gifts and acts of service from friends and family.  Let's be honest–the postpartum period can be grueling.  Not only is a new mom recovering physically from childbirth, but she is adjusting to life with a new little person.  She is likely sleep deprived and focused on her new baby and any other children or family members in her charge.  And she is very likely to not ask for help as often as she should.
As a caring friend or family member, there are many ways that you can help a new mom.  Some of my favorite ideas include:
1. Bring a meal.
This is probably the most obvious and most common way to make life easier for a mom.  New moms (and their families) need to eat, just like everyone else!  Cooking becomes much harder when you are zapped of energy and when you are constantly holding or feeding a newborn.  There are meal sign-up websites available that allow family and friends to sign up for a date and indicate what meal they are bringing, in order to eliminate duplicate meals.  These web sites often allow mothers to indicate dietary needs, preferences, date and time preferences for deliveries, etc.  Some options are takethemameal.com and mealbaby.com.  A few hints, options, or ideas for bringing food:
Bring a meal that is fully cooked but only needs to be reheated.
Bring a meal that is frozen and can be easily reheated/cooked in a crockpot or in the oven.  This is great because the mom can save the meal for a later time, especially if she has received an abundance of food in these early days.
Bring breakfast or lunch.  Dinner is commonly brought for new moms, but they need to eat breakfast and lunch, too!  One friend brought me a loaf of homemade cinnamon raisin bread, and it made for several delightful breakfasts!  Some easy breakfast ideas are a breakfast casserole, quiche, muffins, breads, etc.  Some lunch options include sandwich or salad fixings, soup, taco fixings, etc.  One of the best meals I received was a container of homemade soup and several "ready for the griddle" grilled cheese sandwiches.  This sweet friend had buttered the bread, sliced the cheese, and assembled sandwiches so that all I had to do was put them on a hot griddle.  It was simple comfort food at its finest.
Bring snacks.  The options here are countless, but I guarantee that a new mom will greatly appreciate having easy-to-eat snacks at the ready, especially if she is breastfeeding and hungry all the time!  Muffins, cookies, sliced veggies with dip or hummus, fruit salad, cheese and crackers, trail mix, granola bars, and nuts are great ideas.  If the mother is breastfeeding, bringing some lactation cookies would be thoughtful!
Consider gifting them some meals through a meal delivery service.  Many restaurants deliver through companies such as

DeliveryDudes.com

, Orderup.com (get $5 off your order with

this link

),

Postmates.com

(you can get free delivery with promo code i6ahc), etc.  You could also have several meals delivered at once through a service such as

Freshly

, which delivers healthy, already prepared meals that simply need to be microwaved.  I have used this service in the past and can say that I was so impressed with the quality of the meals!  Every meal I have tried has been delicious.  The best part is that it only takes a couple of minutes to have restaurant-quality, healthy food ready, which could be a lifesaver for a new mom.  You can sign up

here

to have 6 meals delivered for just $10!  There is no obligation to purchase anything after that.  While I do think the full price of the meals is quite pricey, I think the promo deal is a steal and I love that you can simply pause the subscription (or just cancel) until you want to use it again.
2.  Offer to help with housework.
I think housework is one of the easiest areas to fall behind in after having a baby.  It's probably the "least dire" of all of the needs, so it easily gets pushed to the back burner.  After one of my deliveries, I came home from the hospital to find that my mother-in-law had graciously cleaned my bathroom.  I didn't have to ask, and I certainly didn't expect her to do that, but it was so nice to come home to a sparkling clean bathroom.  If you come over to visit the new mom, simply ask, "What can I clean for you while I'm here?" or "Do you have a load of laundry I can take care of for you while I'm here?"  However, I would encourage you to be mindful of your phrasing.  Some mothers might be insulted if you say, "Can I clean your kitchen for you?"  They may receive your good intention as a criticism that their kitchen is not clean enough.  That's why I recommend asking the new mother if there is an area of housework that you can complete for her as a way to bless her.  Another option here would be gifting them with the services of a professional cleaning service.
3.  Bring a "new mom care package."
Many people bring gifts for the baby, which is so sweet and appreciated, but the mom is often overlooked.  The care package might include some moisturizing body butter, a pleasantly scented candle, some cozy socks or slippers, a plush robe or pajamas (button-front or otherwise nursing-friendly if breastfeeding), a new nursing tank, some dark chocolate, a book or magazine, herbal bath packets or lavendar epsom salt, etc.  The idea here is to do something that pampers the new mom and helps her to feel like she can indulge herself a little bit.  Caring for a newborn is a 24/7 endeavor, and often new moms lack the time and energy to take care of themselves.  Something small can provide a lot of luxury for a new mom.
4. Offer to hold or watch the baby while she showers or naps.
Because new moms are often exhausted and absorbed in taking care of their baby, this small gesture could help her to feel like a new woman.  Having someone she trusts take care of the baby while she can enjoy some much-needed moments of self-care is such a precious gift.
5. If you are planning to visit the new mom at her home, call or text her first to see if she needs anything from the store.
Going out with a newborn can be a stressful experience for a new mom.  She may need basic toiletry or household items, or may need one or two things from the grocery store.  If you are able to pick these up and bring them, that will take one less thing off her to-do list and help to keep life simpler for her.
6. Provide a membership to a delivery service.
Gifting a one- or two-month membership to a grocery delivery service, such as Shipt, could be a huge help for a new mom.  Another option would be to gift an Amazon Prime membership to the new mom, since Amazon Prime Now is an at-home delivery service offered in some areas for Prime members.  These services are so very convenient, allowing the mother to place a an order of grocery or household items online or through an app on her smart phone.  She can choose the date and time for the delivery, and her items will be delivered to her home, eliminating the need for her to run errands during this time!
7.  If she has older children, offer to play with them or read books to them.
If there is a park or other fun location nearby, offer to get them out of the house to do something entertaining.  This not only helps the older children to feel special, but it may give the mom a much-needed break from caring for multiple little ones.  Shortly after my second child was born, my brother- and sister-in-law came over and took my oldest on a walk to our neighborhood park.  She loved getting out of the house and she felt so special to be able to go somewhere without me and her little brother.  I was able to rest and focus on the newborn a bit more, so it was a win-win situation!
8. Give the mother a specific IOU, and then follow-through with it.
In many cases, women are well-supported in the first days at home.  However, after the newness wears off, our society sometimes forgets mothers or expects them to bounce back sooner than is realistic.  In these cases, giving someone an IOU allows them to cash-in on your generosity after the initial fanfare has passed.  Explain that you want to help when she needs it the most, and that it would be a joy and privilege to do so.  Some ideas here would be a meal in the future, an evening of babysitting, housework in the future, or any of the other options listed above.  You may want to check in periodically to remind her of the IOU, so she doesn't feel bad about redeeming it or doesn't forget about it.
9. Don't just say, "If you need anything, let me know."
This is a very common phrase used in our society.  I think our intentions are good, as we typically truly mean it.  However, because it is vague and leaves the responsibility on the new mom, many simply will not call you if they need something.  Many don't want to feel like they are a burden, and many feel like they should be able to do everything themselves, since that is the mentality our society glorifies and often expects.  They may not know you genuinely want to help them.  If you aren't sure how to best help the mother, simply ask!  A great way to help a new mom is to ask, "What is one way I can help you today?"  That way, the mother can tell you exactly what she needs without feeling bad about it.
Any act of kindness will be so greatly appreciated by the new mom in your life, no matter how large or small.  The idea is to bless these women in a useful and non-imposing way.  As you can see, these gifts do not need to be expensive or exotic.  Eliminating some element of stress and relieving them of some of their daily responsibilities could be exactly what they need.  You might be surprised just how big of an impact it will have on them during this special but taxing time in their lives!
What are some of your favorite ways to help a new mom?
Save
Save
Save
Save