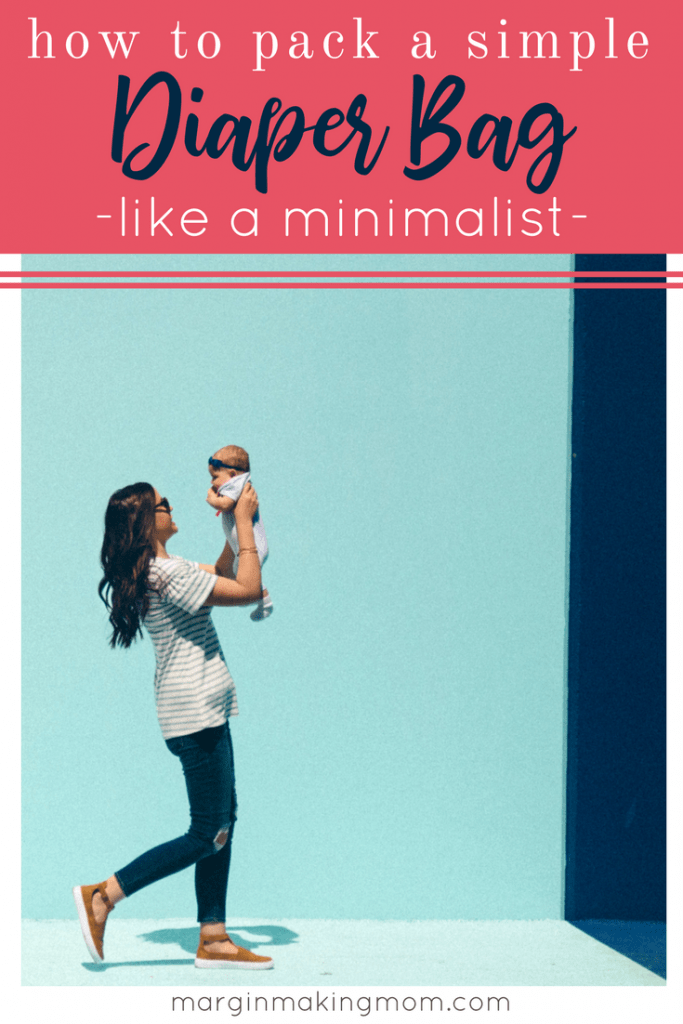 Diaper bags can easily become a black hole of stuff if we aren't careful. These are three of my favorite tips to help you simplify and keep a mostly minimalist diaper bag!
Note: This post may contain affiliate links for your convenience. You can read my full disclosure policy here.
For years, my husband has called me his "for just in case" girl. It's his way of teasing me for always doing things 'just in case.' I'm notorious for planning and overplanning. I don't like to be unprepared. Even as a child, I was a planner and a prepper–it's in my nature. And let's face it, since I had three kids in under four years, I've learned that our life is anything but predictable!
But the downside of being a planner and prepper is that I can easily go overboard if I'm not careful. Especially when you have a tendency to worry like I do, it's easy to want to be prepared for any possible situation. So when I was pregnant with my first child and began planning my diaper bag contents, I knew I would need to be intentional. But as a first time mom, it's hard to know what items are really worth keeping in the diaper bag.
Now that I've had three kids and have been at this motherhood thing for a little bit longer, I've managed to cultivate a pretty minimalist diaper bag. I've especially tried to purposely maintain a simple diaper bag as my family has grown. I simply can't physically tote around every possible thing each child might need.
The following are three of my top suggestions for putting together a fairly minimalist diaper bag.
1. Don't choose a huge diaper bag.
I realize this is a bit of a challenge, because the majority of diaper bags I see on the market are gigantic! They have a million compartments and could practically serve as a suitcase.
Here's the problem, though. Larger bags inevitably tempt us to fill them with more stuff. Simply because there's room, we're more likely to actually fill each of the pockets and compartments with things we don't really need. Even if you don't start out this way, things will find their way into your bag over time.
It's a lot easier to be selective with the contents of your bag if it's smaller. Obviously, a small clutch-like bag is not going to cut it for the essentials, but finding a reasonably sized bag can be a big help.
My diaper bag doubles as my purse when I'm out with the kids. I don't carry a separate purse. So I need a bag that's large enough to accommodate our needs, but not so large that I'm tempted to fill it with more stuff.
There are plenty of diaper bags out there to choose from. For my first diaper bag, I used the Petunia Pickle Bottom Touring Tote bag. It was perfect for one baby–just enough room for the essentials. I used it for a couple of years and loved it.
Once my second child was born, I transitioned to the slightly bigger Petunia Pickle Bottom Sashay Satchel bag, and I've used it for almost three years now. The size and compartments have been just enough for me with first two and now three kids.
These bags are also well-made and durable (and super-cute!). I love the coated canvas which can be easily wiped clean. Yes, they are a little pricey, but they hold up well and have pretty good resale value. I was able to sell my first one for a decent amount of money and apply that toward my second one. Petunia Pickle Bottom also has periodic "outlet sales" where you can buy the bags at pretty steep discounts, which is how I bought my second one.
Regardless of what brand you use, try to find one that's not huge.
2. Pack only the most commonly used/needed items.
This will vary from person to person, and it may take a little bit of time before you figure out exactly what you need most often.
Resist the urge to pack for every possible event or occurrence. I personally try to pack items that are either the most commonly used items or items that can serve more than one purpose. Some of these may not be absolutely necessary (such as toys or books), but they are things that we commonly use, so I include a few.
Here is the list of what I have in my diaper bag at all times. I may include additional items for special day trips and such, and this list may vary slightly depending on the ages of my kids at the time, but these are the things I keep with me on the regular: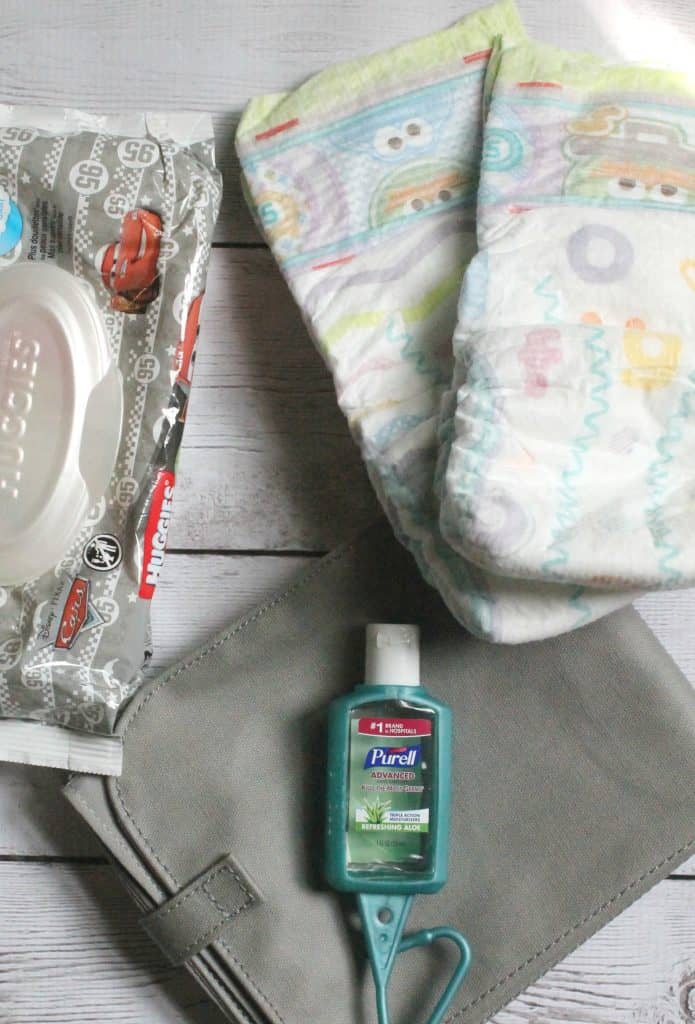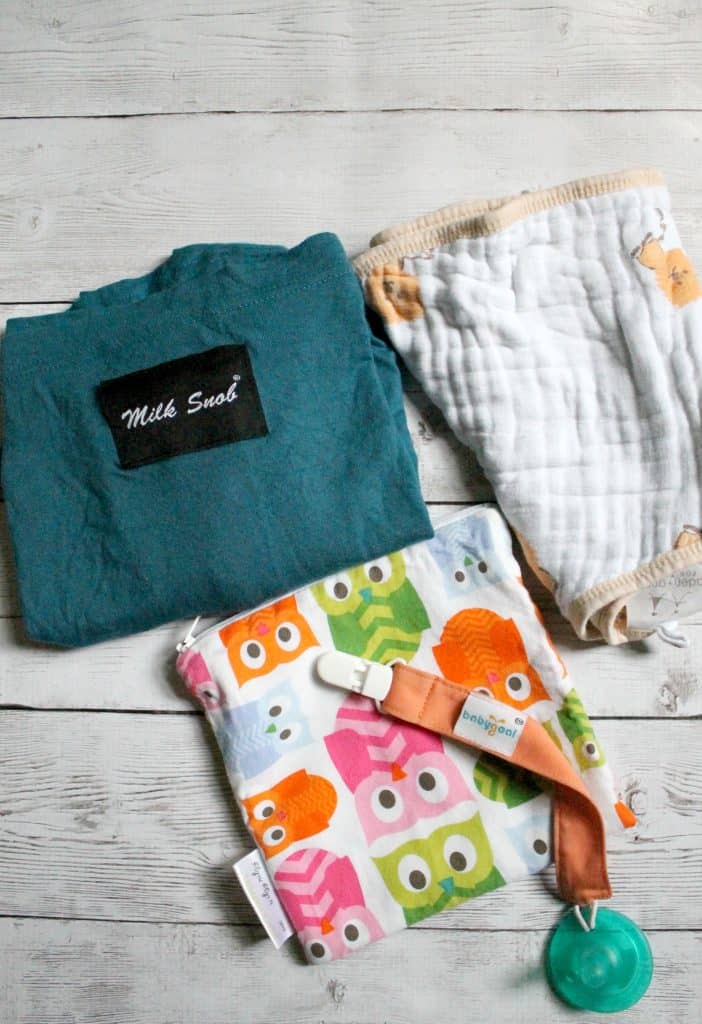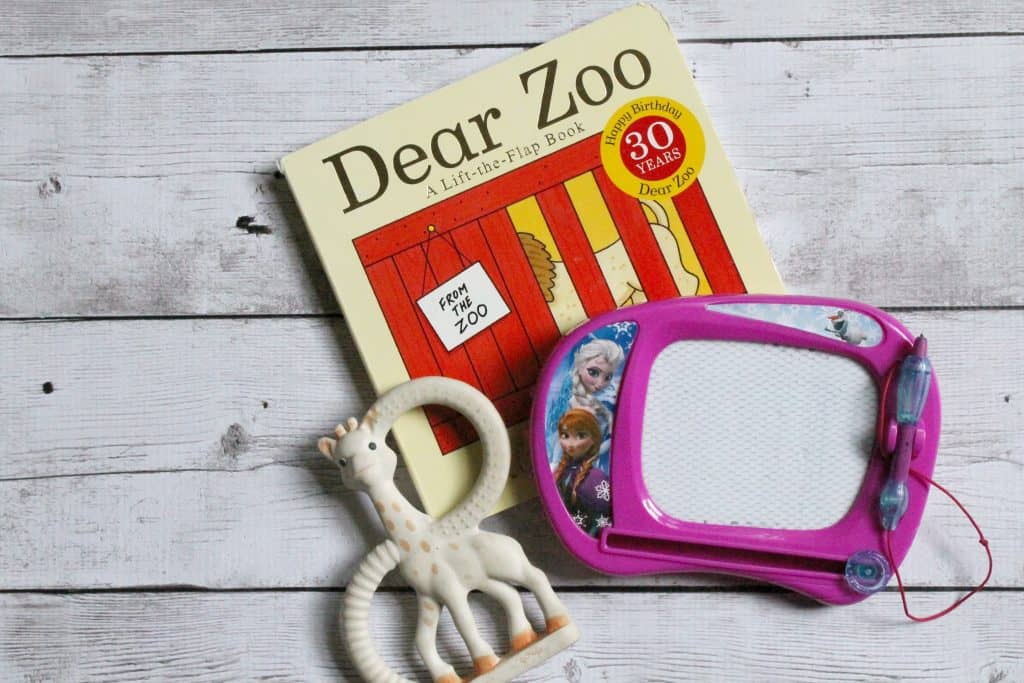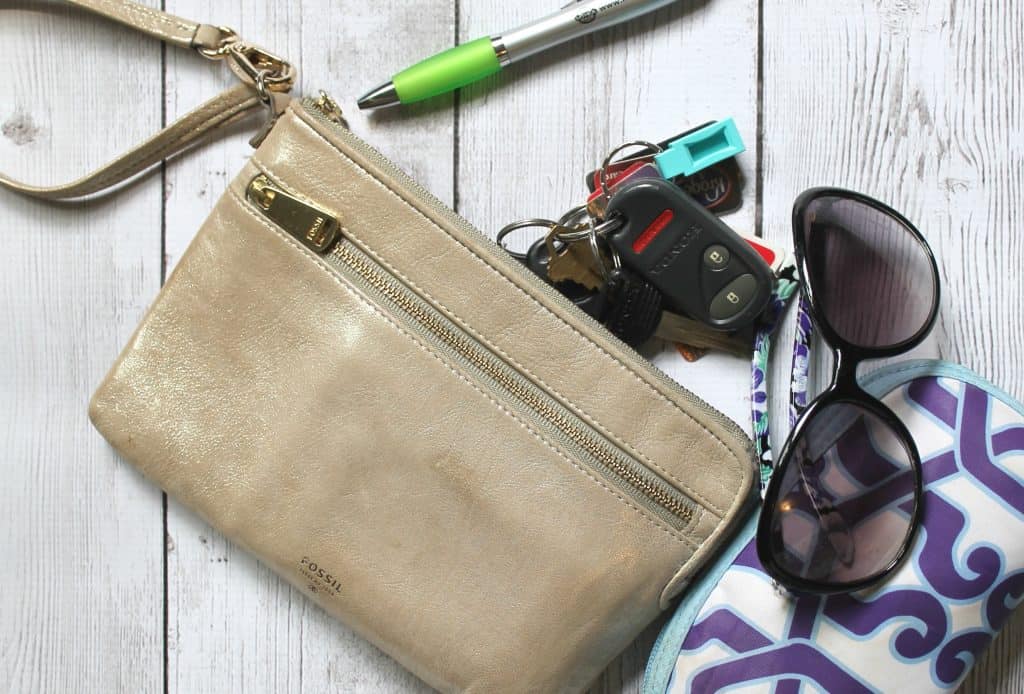 3. Pack a second bag that stays in the car.
I started doing this once I had my second child, but I wish I'd done it sooner! In an effort to decrease the amount of stuff I carried with me regularly, I purchased a small tote bag to keep in the car with things that I might need occasionally, but don't need all the time.
Items I keep in this bag include an extra set of clothes for each child, extra diapers and wipes, a couple of books, a larger Planet Wise wet bag (I have used this when a kid vomited all over his clothes, to hold wet swimsuits when we are leaving the pool, and so forth–it's so handy!), and a simple first aid kit.
If we are ever out and about and I need these items, we can simply go out to the car and get them. Since these are items that we don't use on a regular basis, I really don't need to keep them in my diaper bag at all times. Storing them separately in the car lightens my load but still keeps us prepared.
Remember to Keep it Simple
Simplifying how you pack your diaper bag can not only save your back and shoulders, but also give you confidence that you have what you need and that you can find it when you need it. Think about the essentials that you need on a pretty regular basis, and include those in your bag. Your list will probably be different than mine, and that's fine! My list changes as my children grow and change.
You can also read more here about organizing a diaper bag.
The point is to only keep the most common necessities in your bag and then keep a few extra items tucked away in your car. I think you'll find you can get by with much less than what you're already toting around!
What are some of your must-haves for your diaper bag?
Save
Save