The benefits of minimalism for moms can be life-changing. An intentionally simplified, minimalist mom life can do wonders for your well-being!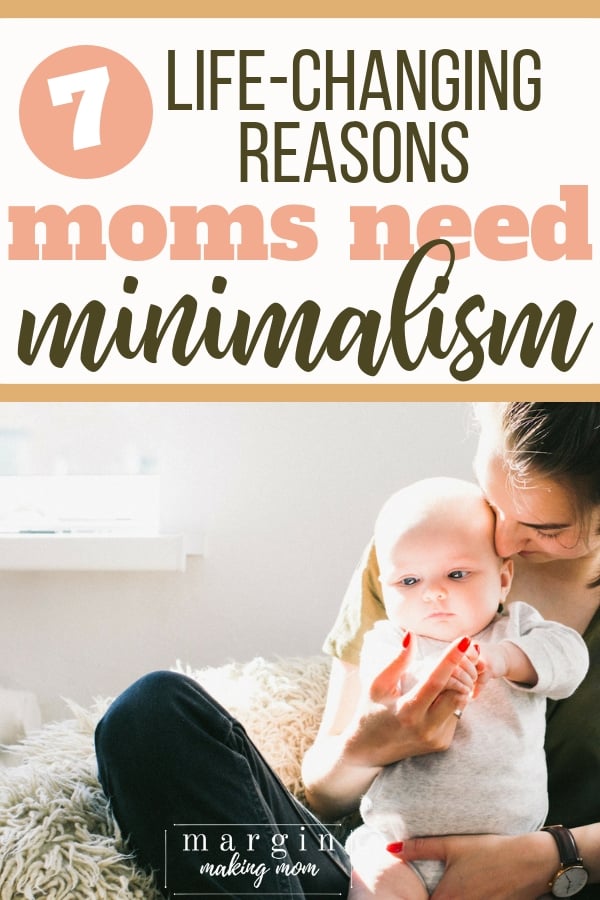 Note: This post may contain affiliate links for your convenience. You can read my full disclosure policy here.
I'm happy to share this guest post from Beth Cubbage, who writes at Parent Lightly about juggling a career, parenthood, and all things working mom. Beth is a wealth of knowledge when it comes to simplifying your load, and I'm excited to have her share her perspective on how minimalism can be so beneficial for our families. Welcome, Beth!
Do you ever find motherhood just a little overwhelming? Kids can be really loud and they all have to talk at once. If there's one thing I've learned since becoming a mom, it's that children are inherently messy and unpredictable.
That's why I think all moms can benefit from minimalism! It's nice to have a calm environment as a background for the chaos that is kids. And who doesn't want a few more minutes to relax instead of cleaning?
Home is a Sanctuary
When you've decluttered your excess stuff, your home will feel more calm and peaceful. Surfaces, previously covered in things, will be clear. You'll be more likely to tidy up because the process will be easier.
Imagine coming home from a child's birthday party or the park. Many of the places kids like most can be really noisy and busy. Wouldn't you enjoy coming home to a tidy house with a welcoming feel instead of a house that feels overwhelming too? When the world is too busy, moms need home to be a sanctuary.
Save Time
Think about the morning rush. How many minutes have you lost looking for your keys, or your child's shoes? What if you knew exactly where everything was because all of your possessions fit neatly in their assigned places? That's what minimalism can do!
When you minimize your home, you'll get rid of the things you don't really need or use. Clearing that clutter will make it so much easier and simpler to find the things you actually do really need (like keys)!
Reduce Anxiety: It's Science
Scientific studies have shown that clutter triggers the release of stress hormone Cortisol in women. You've probably felt this yourself when you enter a room that's full of *stuff*. (Interestingly enough, men don't seem to have the same reaction.)
Decluttering will help you avoid triggering a stress response and, in turn, allow you to feel more calm and connected in your home. Since motherhood can already be pretty anxiety-inducing (keeping those small humans healthy and happy is no easy feat), why not reduce stress where you can?
Related:
More quality time, less puttering
When you've decluttered and simplified your life, there will be less to clean up. If you're like me, you're constantly puttering around the house picking up random things if you feel stressed about how the house looks.
A clutter-free home will allow you to focus on spending quality time with your family rather than constantly low-level fretting about the state of the house. That's definitely a great trade-off!
Related:
Minimalism is not just for stuff
Minimalism isn't just for stuff – it's for schedules, too! Take a look at your schedule to see if there's anything on your calendar that isn't working for you anymore. Maybe you volunteered for a committee whose meetings are getting longer and longer. Perhaps your kids are doing an activity that they've lost interest in.
Try to build some extra time into your schedule to allow for the slowdowns that inevitably happen. If it takes 15 min to drive somewhere, mentally give yourself 30 minutes to get the kids into the car, deal with any fights or meltdowns and still be okay even if you hit some traffic. Trust me, your mental state will be so much better if you just plan for the slowest.
It's good for your kids
Studies have shown that it's good for kids to have limited choices and to be bored sometimes! Do you ever feel completely paralyzed when faced with a really really long restaurant menu? I'll bet you find it much easier and more pleasant to choose your meal when you have just a short list of options.
Kids are the same way! Studies show that kids engage longer with their choice when they have fewer options to choose from. Put another way, a child who has fewer toys in the playroom to choose from will spend more time playing with her choice. That's definitely a mama win.
It's also not a bad thing for kids to be bored now and then. With busy school schedules and extracurricular activities galore, sometimes kids get used to being told what to do every minute. Give them a break for some unstructured play occasionally, and it will benefit their brains.
Click here to learn more about how to simplify the toys in your home.
Less Drama
Something I've noticed – especially with clothes – is that too many choices = drama. I have had more fights about which shoes or coat the kid will wear and it makes me want to scream. IT DOESN'T MATTER, KID!
We've simplified the kids' wardrobes to the extent that most bottoms and tops will go together reasonably well (no one will be blinded by the clashing colors or patterns, anyway). That has saved me countless morning arguments.
You want to wear the blue shirt instead of the yellow shirt? Fine, they both go with the gray pants. Done! Everyone is happy and there's less to fight about.
To be honest, this is an area that we could still improve. The colored plates and cups have triggered many a disagreement, and I've been thinking about getting rid of them all in favor of simple white plates.
Moms Need Minimalism
If you're feeling overwhelmed and frazzled by kids and motherhood, take a look around you.
If your environment looks just as scattered as you feel, it might be time to declutter. You often have a ton of low-hanging fruit that can be donated or discarded, and you'll feel so much lighter.
Your kids will thank you too (in the long run anyway). Just don't let them see you throwing away their art – sneak it out of the house in the dead of night!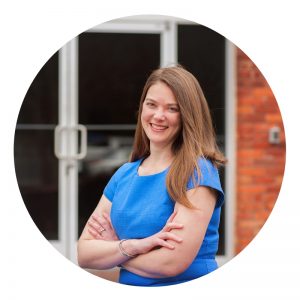 Beth Cubbage writes about career, parenting and all things working mom at Parent Lightly. As a full time consulting manager and mom to two girls, she knows first hand how heavy being a working parent can feel. At Parent Lightly, she helps lighten that load for working moms using her love of data, obsession with process improvement and positive outlook.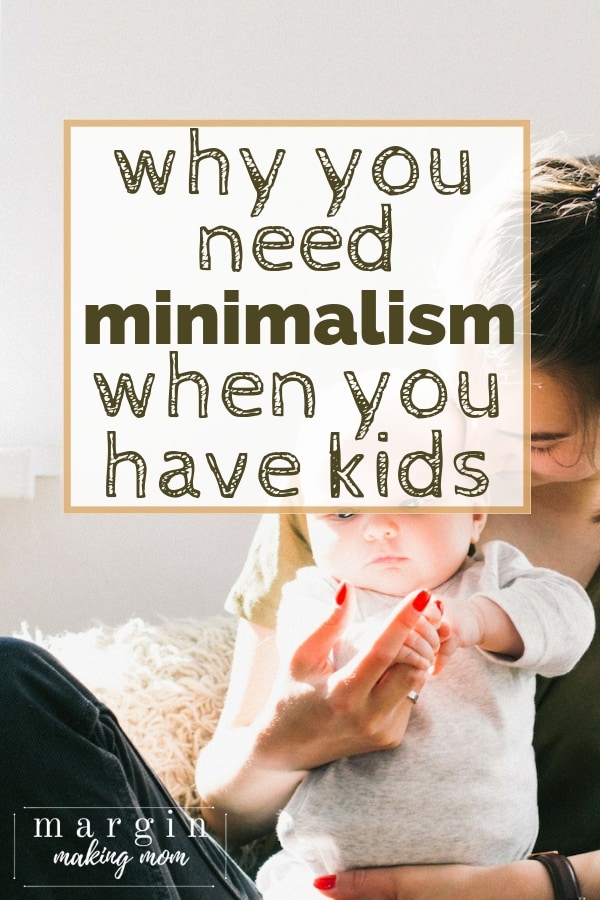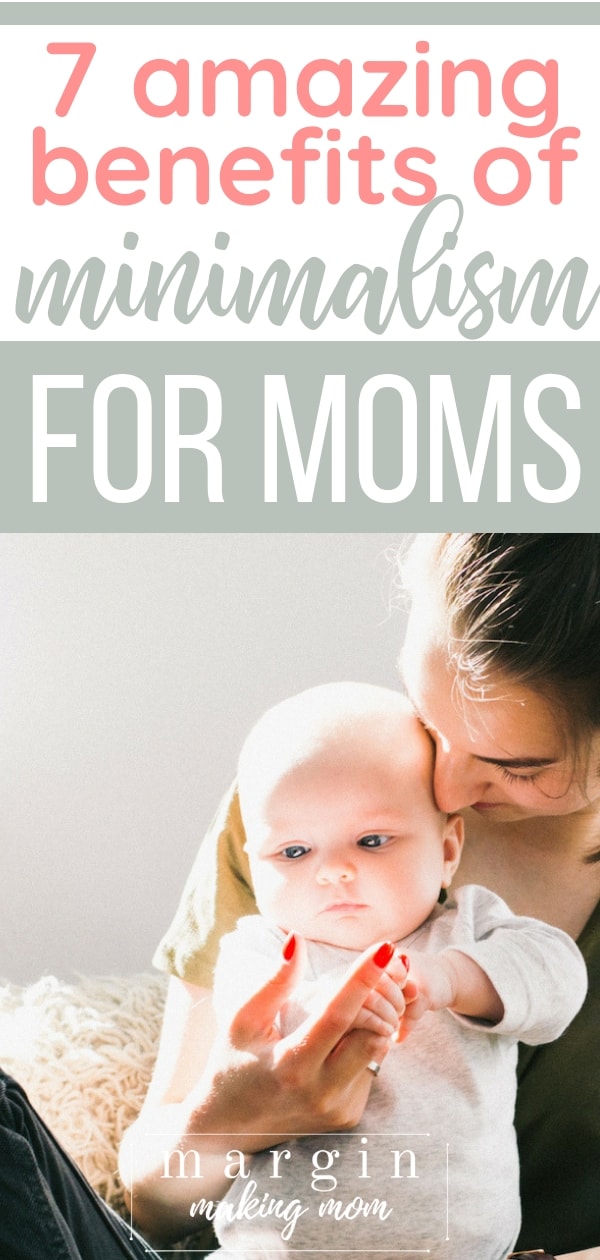 5 Quick and Easy Instant Pot Dinners that will Save You Time and Wow Your Family
Join the free community and you'll learn simple ways to easily create tasty food for your family, as well as instant access to 5 Quick & Easy Instant Pot Recipes (including a shopping list!) to help you get a tasty dinner on the table in a flash!
"Thanks for sharing your knowledge and experience in such a friendly and delightful way!!! So far, I'm very impressed with the results...thanks again for your guidance into this new realm of cooking!" -Margaret
Free Resource Library
Enter my
free resource library
for my latest printables and resources! Password is 'IHEARTMARGIN' -- please copy and paste that in at the link above. Thanks for being a subscriber!!