When school is cancelled, the learning doesn't have to stop! There are plenty of online resources for kids learning at home!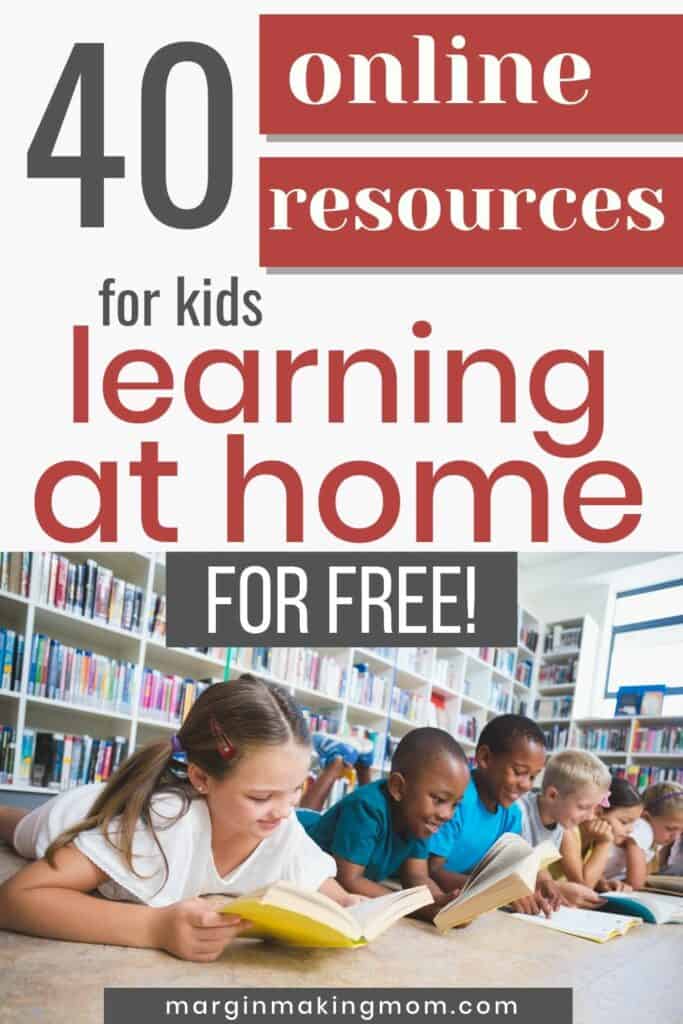 Check out this comprehensive list of educational online resources for kids learning at home!
Note: This post may contain affiliate links for your convenience. If you make a purchase, this site may receive a small commission at no additional cost to you. You can read my full disclosure policy here.
Whether you are a long-time homeschooler or a "suddenly at home" schooler, these ideas for online learning resources are sure to help!
We are so fortunate to live in an age where information is so readily available at our fingertips, and learning through digital environments is such a gift!
As a homeschooling mom of three kids, I wanted to compile a list of resources you can keep handy. Whether you are planning a unit study for your child's interest, or merely trying to survive the day and busy your children while you attempt to work from home, there are so many fascinating options available.
Many of these resources are always free, while others are offering free access during the current situation of school cancellations.
I've organized these online learning resources according to main topics, so you can pick and choose what your child enjoys most.
Related: 50+ Fun Activities Kids Can Do at Home
Science, History, & Art Online Learning Resources
San Diego Zoo – You can tour the San Diego Zoo online! They have a fun website with all kinds of videos and activities–my kids love perusing the various animals!
National Geographic Kids – National Geographic has so much fun information for learning about animals and geography.
Switch Zoo – More fun ways to learn about animals!
PBSKids – If you have youngsters, you know how much they love PBS Kids shows! You can also watch your favorite characters online!
FarmFood 360 – You can take a virtual tour of various farms on this site, including eggs, apples, oats, sheep, cows, and pigs!
Yellowstone National Park – Take a virtual tour of this stunning national park!
The Louvre – Enjoy a virtual field trip to the famous museum in Paris!
Museum of the World – This London museum offers so much interesting information on this interactive website, from all around the world at different points in history.
Great Wall of China – Take a virtual tour of this incredible piece of history.
Mystery Science – Loads of open-and-go science lessons here.
Adventure Academy – This learning program is for slightly older kids ages 8-13 and includes science, reading, math, and more. Get the first month free when you sign up here!
InnerBody – Explore interactive models of 11 systems of the human body.
The Smithsonian – This site has tons of fun stuff for kids, from the Smithsonian Learning Lab to the National Zoo.
Smithsonian Museum Ocean Exhibit – This is an educational website that explores ocean life.
Weather Wiz Kids – All about weather, taught by a meteorologist!
Climate Kids – This is a NASA website that covers various topics, such as weather, climate, plants, and animals.
National Aquarium – Enjoy live videos from some of the exhibits!
The Metropolitan Museum of Art – #Metkids is a great way to let kids explore art.
Steve Spangler Science – Plenty of science experiments here, including videos and instructions for experimenting at home.
Animal Planet – Check out your favorite Animal Planet shows online!
National Gallery of Art for Kids – Explore fun art projects for kids.
Art with Jenny K – Check out this list of various art projects kids can do at home.
Playful Learning – You can sign up for a free month for access to fun, beautiful, multi-level unit studies. These are great for preschool and early elementary ages. Learn about dinosaurs, gardening, weather, rainforests, and more!
Math and Reading Resources Online
Reading IQ – Our kids really love this app–it has over 7,000 books for varying ages and reading levels. There is even an option for the app to "read" the stories to your child, which is great for younger kiddos.
ABC Mouse – This is a fun early learning academy for kids ages 2-8. Sign up for a free trial here!
Fun Brain – This site has plenty of math and reading games for various levels.
Bedtime Math – This site has lots of fun interactive math activities that can be done at home.
Seussville – Enjoy fun word games involving Dr. Seuss characters.
Curriculum Associates – Free printable reading and math activity packs for grades K-8.
Adventure Academy – This learning program is for slightly older kids ages 8-13 and includes science, reading, math, and more. Get the first month free when you sign up here!
SumDog – This is a math and spelling program for children in kindergarten through 8th grade.
STMath – This math program uses a spatial-temporal approach to learning, and is available for free through June 30, 2020 due to school closures.
ABCya – This site has a lot of interactive math and reading games, available by grade level.
Khan Academy – This online academy offers science, math, and arts education.
Splash Learn – This online math program for K-5 grades includes interactive games.
Dreambox – This is an adaptive K-8 math program offering free access for 90 days, if you sign up before April 30, 2020.
Indoor Activities, Crafts, Music, Printables, and More
123 Homeschool 4 Me – Loads of free printable worksheets here for various ages and stages!
All Kids Network – Various crafts, mazes, games, and more.
Highlights Kids – If you're familiar with Highlights magazines you'll know there are plenty of fun activities, games, crafts, and recipes on this site.
Super Simple – Free worksheets, flashcards, coloring pages, and more.
Virtual Musical Instruments – An interactive site that lets kids play instruments online.
Happy Teacher Mama – Loads of free printable activities for kids preschool through third grade.
Share These Helpful Online Learning Resources for Kids!
I hope you've found this list helpful. If so, feel free to share it with other parents who may benefit from these resources!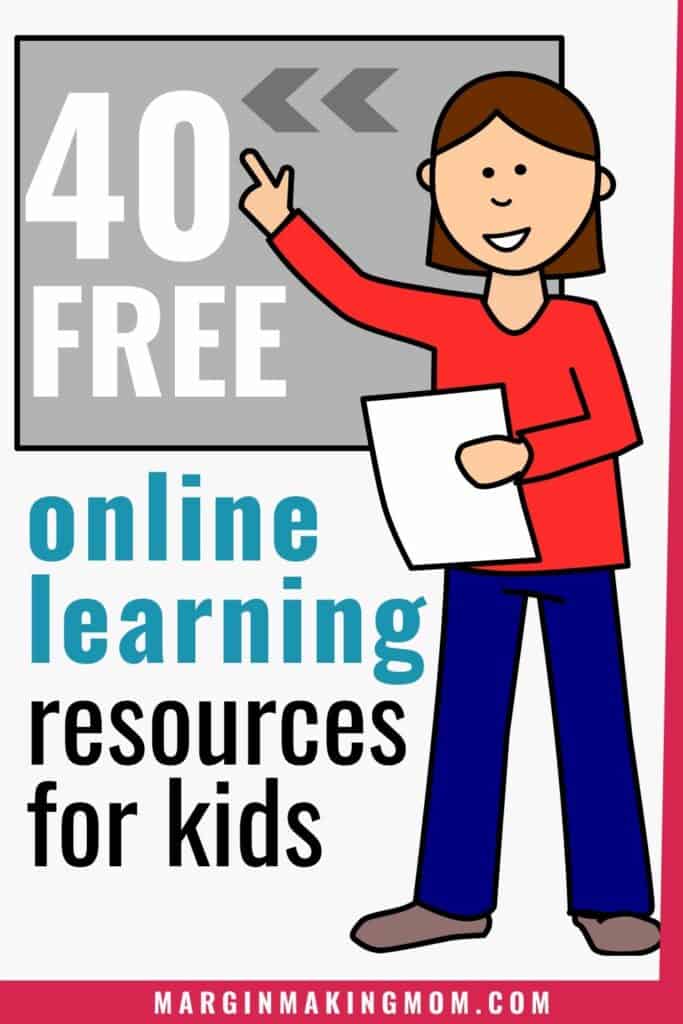 Get the Instant Pot Meal Plan Jumpstart
Join the free community and you'll learn simple ways to easily create tasty food for your family, as well as immediate access to the FREE Instant Pot Meal Plan Jumpstart to help you get a tasty dinner on the table in a flash!
"Thanks for sharing your knowledge and experience in such a friendly and delightful way!!! So far, I'm very impressed with the results...thanks again for your guidance into this new realm of cooking!" -Margaret
Free Resource Library
Enter my
free resource library
for my latest printables and resources! Password is 'IHEARTMARGIN' -- please copy and paste that in at the link above. Thanks for being a subscriber!!