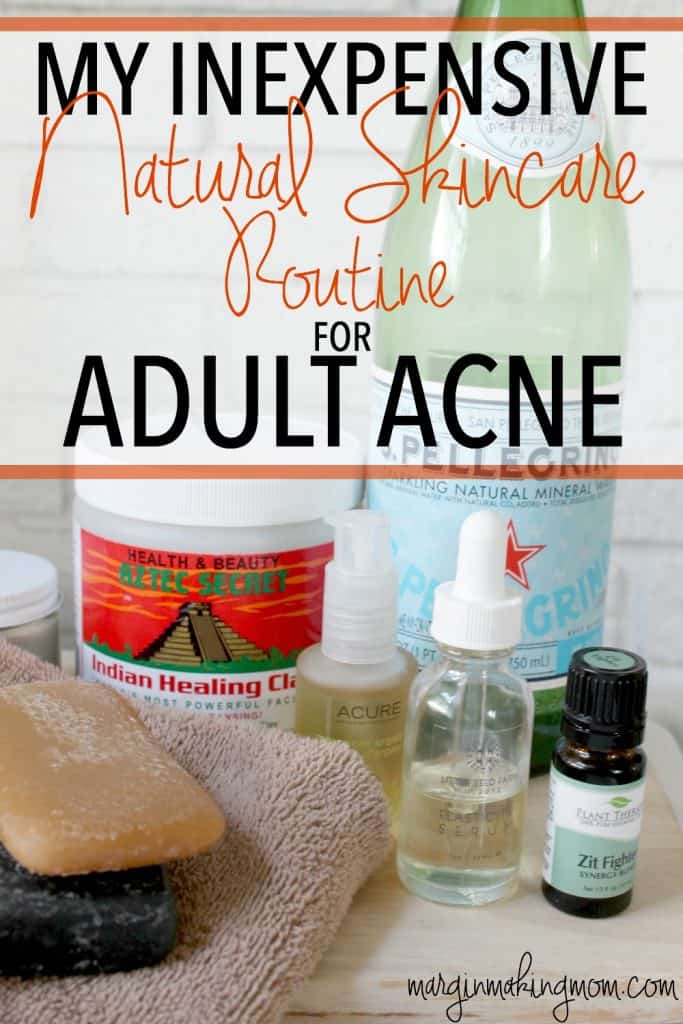 This inexpensive natural skincare routine for adult acne is a great way to prevent and reduce blemishes! It also costs way less than other methods!
Disclaimer: This post may contain affiliate links.  You can read my full disclosure policy here.
Ah, adult acne. What fun it is! You know, when I was a teenager, I very rarely had a pimple. I was fortunate to have clear skin that tanned easily. However, as I got older, that changed. Starting in my early to mid-twenties, I started getting more acne, primarily on my chin. It still wasn't considered "severe," but it was enough to annoy me! It seemed to be primarily hormonal in nature, and although I didn't typically have a lot of blemishes at any one time, the ones that I did have were deep, cystic type acne. These were painful and difficult to conceal. As soon as one would go away, another one would crop up!
I visited a couple of dermatologists, who prescribed both oral and topical medications, and while I experienced a decrease in blemishes, I also experienced side effects of the medications. And I was still breaking out! I have sensitive skin, and many of the topical medications caused my face to be irritated, dry, red, and much more likely to sunburn. Even many over the counter products, especially those which contain salicylic acid or benzoyl peroxide, would irritate my skin. Not to mention the fact that I was interested in starting a family and many acne medications are not safe to use while pregnant. And let's not forget that many of the products, whether prescription or over-the-counter, are expensive! It was not in my budget to spend a lot of money on products every month, especially when they weren't really working.
So, a couple of years ago, I started to change my skincare routine, and the results have been amazing! I now rarely get a blemish, and when I do have one, it is much less severe and goes away much more quickly. I haven't needed prescription acne medication for years. While I can't guarantee this will work for everyone, my inexpensive natural skincare routine for adult acne has made a huge difference for me, and you may want to incorporate one or more of these into your own skincare routine!
And that's it! A simple, inexpensive natural skincare routine for adult acne. Wash less, moisturize with oils, use an essential oil blend, and do a mask once a week! I'm so glad I made the change, and I'm so glad I found some options that are affordable and natural, yet work really well for me. Now I will admit that it requires a little bit of investment on the front end, but considering that these products last me for months (or years!), the routine is really super inexpensive.  You could always implement the routine in stages–I'd recommend starting with the goats' milk soap and an oil for moisturizing.
Have you found a skincare routine that works well for you? Let me know in the comment section!
Disclaimer: This information should not be construed as medical advice, nor is it intended to serve as a diagnosis or treatment of any condition.  You should always consult your health care provider if you have questions about your condition.
Save
Save
Save
Save
Save
Save
Save
Get the Instant Pot Meal Plan Jumpstart
Join the free community and you'll learn simple ways to easily create tasty food for your family, as well as immediate access to the FREE Instant Pot Meal Plan Jumpstart to help you get a tasty dinner on the table in a flash!
"Thanks for sharing your knowledge and experience in such a friendly and delightful way!!! So far, I'm very impressed with the results...thanks again for your guidance into this new realm of cooking!" -Margaret
Free Resource Library
Enter my
free resource library
for my latest printables and resources! Password is 'IHEARTMARGIN' -- please copy and paste that in at the link above. Thanks for being a subscriber!!