Whether you're trying to pay off debt, saving up for a big purchase, or if you just want some extra pocket money, these simple ways to make money are fabulous options!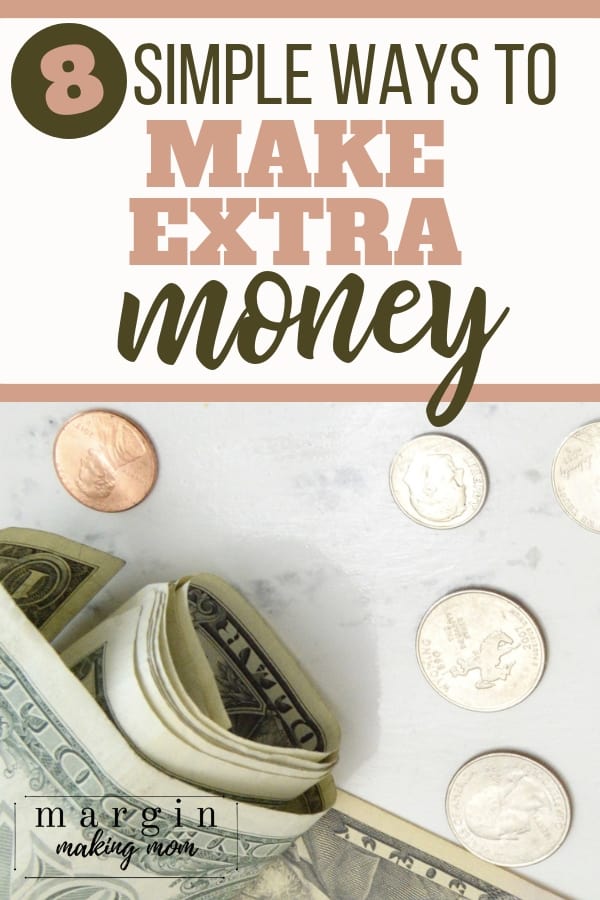 Note: This post may contain affiliate links for your convenience. You can read my full disclosure policy here.
We were drowning in debt–and not just a little bit of credit card debt. We had six figures of debt, mostly student loans.
We were extremely motivated, and there were several helpful things we did to pay off our debt as quickly as possible.
There were seasons where we each worked 2-3 jobs to earn extra money. But once we had kids, that became more difficult.
Perhaps you can relate?
Maybe you're on the rampage against your debts, like we were.
Maybe you want some extra money to fund family vacations, Christmas gifts, dance lessons, and soccer equipment.
You might have a dream of leaving your full-time job someday after you've replaced your income with your side hustle.
Or maybe you just want to earn a little bit of extra pocket money.
Either way, the good news is, there are SO MANY options for make extra money on the side (or even as your full-time gig!).
Related articles:
Simple Ways to Make Extra Money
I'm sharing some great options today, each with varied earning potential. Many of them have very few (if any) requirements for getting started!
Buy Inexpensive Items and Resell Them
Are you great at scouting deals? Then this might be a great option for you!
If you're a pro when it comes to shopping clearance racks, there is enormous earning potential by reselling your discounted finds on Amazon!
Jessica from The Selling Family has earned a full-time income for years by purchasing items at retail stores and reselling them on Amazon.
She began earning a full-time income within one year of starting her venture, and it's possible to earn a couple hundred bucks per month within the first month or two of starting!
She offers a free 7-day email course where she gives you a lot of information to help you decide if this is a good fit for you. You can sign up for the free course here.
Beyond reselling new items, there are avenues for reselling gently used or like-new items, too!
For instance, my sister earns is a great bargain-shopper. She earns extra money by purchasing inexpensive name-brand clothes, shoes, and handbags at yard sales and thrift stores, then reselling these great-condition items on Poshmark. (You can get a $5 credit when you sign up for a free Poshmark account here and use invite code CDBENNER).
You can easily make at least an extra $100-200 a month simply by buying things you know others will want and reselling them for a profit! Many people even make a full-time income with this strategy.
House Sit or Pet Sit
My cousin operates a side hustle of housesitting and petsitting services. She basically gets paid to stay in other people's homes or take care of their animals, which is something she loves!
This is something that doesn't require any training (unless you don't know how to care for a particular type of animal), and it's a simple way to start earning extra money fast.
Think about times when others will be going out of town–around the holidays, summer vacation, etc. You can begin by offering services to friends, coworkers, and family, and invite them to spread the word about your availability to their friends and family.
Teach What You Know
This comes back to asking, what are you good at? What do you know a lot about? (And don't tell me "nothing," because everybody is good at something!)
Many local community colleges and universities employ tutors in various subjects. There are also many test prep companies and learning academies that employ teachers and tutors, such as Kaplan and Sylvan Learning.
Local community centers also often employ teachers for various community education classes.
Another fabulous option is to teach for VIPkid, which is an organization that allows you to teach English (from home!) to children in China. Hours are flexible and, on average, VIPkid teachers earn $19/hour without leaving their home. You can click here to find out if VIPkid could be right for you!
Give Your Opinions
If you have some spare time on your hands, Survey Junkie can be a really easy way to earn a little extra cash. You won't get rich taking surveys, but they are a great way to earn extra spending money.
It's free to join, and spending just a few minutes a day can earn you cash or gift cards. Surveys are also easy to complete while watching TV or waiting in the pickup line at your child's school.
There are several survey sites out there, and some are easier to figure out than others. I've tried a handful over the years, and I find Survey Junkie to have a very user-friendly site that is easy to navigate. They have great reviews from participants and I have personally found their site easy to use. You can click here to sign up!
Mystery Shop
When I was in college, I worked in a retail store and we often received reports from secret shoppers who had visited our store. It was always fascinating to me, and now I see what a great option it is for people who want to earn some extra money!
I'll admit, many mystery shopping gigs are not legit. And nobody has time to waste on a scam. Bestmark is a great option for taking advantage of mystery shopping opportunities!
Bestmark runs mystery shops in the US and Canada, and they pay you in exchange for you doing an in-person or over the phone shop.
The phone calls are about 5 minutes and pay between $3-15, which is easy money and can add up! In my experience, these opportunities seem to be fewer and farther between, at least in my area.
The in-person shops often pay more and sometimes even include free product or services in addition to the cash! I've seen opportunities for restaurants, auto dealerships, stores, spa services, and more!
Sign up for a free Bestmark account here to see what kind of shop opportunities are available in your area!
Use Your Car
I've known many people who have driven for companies such as Uber and Lyft, even for just a short period of time while they were in between jobs or looking to bring in extra money.
While there are certain requirements in terms of driving record (obviously!), condition of vehicle, and so on, it can be a flexible way to earn extra money. These companies are not located in each and every city yet, but are expanding to more and more locations.
List Your Home on VRBO
If you're going out of town, you can list your home as a temporary rental on VRBO! Someone else may want to stay there while you're gone, which would earn you money while you're away! You can learn more here.
Put Your Hobbies to Work
This might seem really obvious, but it's always surprising to me how many people never consider this.
What are you good at? What do you enjoy?
Do you love baking tasty goodies? If so, consider selling some of your wares.
My good friend Gianna at By Gianna Bakery whips up and sells some of the BEST treats. She started by selling to friends and acquaintances, then began doing a little bit of advertising on social media, which grew into word-of-mouth advertising.
She now has a thriving baking business that she works on the side, in addition to her day job as a public school teacher.
Maybe you don't particularly enjoy baking, but you're really good at organizing. You can offer your organization services!
Are you really crafty? Think about the various things you could create to sell. Everything from bows to scarves to bags to t-shirts to jewelry to candles to soap and more!
Provide a Service
Can you mow lawns? Rake leaves? Babysit children?
There are many options of services that people need occasionally, and if you have a little bit of time to spare, you could earn some money filling that need!
If you're looking to earn even more money, or if you have a little bit of time to put in some work before earning (i.e. if you don't need the money right away), I recommend checking out the following options:
Proofread Transcripts for Court Reporters
Proofread Anywhere: Transcript Proofreading- Theory and Practice is a comprehensive course that teaches you how to proofread. The team at Proofread Anywhere knows that it can feel risky to learn something new, especially if it's unfamiliar to you. So they've created the course so that you work through it in small chunks, which helps keep your costs low and decreases overwhelm.
The Proofread Anywhere team also offers a free online course to give you more information so that you can decide if this is a good fit for you or not before you sign up for the full class. You can click here to learn more!
Work as a Transcriptionist
When I was a kid, my mom worked as a medical transcriptionist for a little while, though that was back in the days when you had to go into the medical office to do the work.
These days, transcription jobs are mostly work-from-home gigs. A friend of mine did transcription work from home when her children were small as a way to earn money without having to pay for child care.
The median annual income for a general transcriptionist is about $45,000, which is pretty great money for a job that doesn't require a special degree and allows you to work from home!
In fact, that's more than I made when I first started working as a nurse, after many years of school (and many years of student loans!).
Legal transcriptionists can make even more money–around $60,000/year!
Transcribe Anywhere is a course that can be completed in about 2-4 months, and it teaches you everything you need to know to become a successful transcriptionist. The Transcribe Anywhere team also offers a free online mini-course that allows you to explore the field of transcription without any risk. You can click here to sign up for the free online course!
Start a Blog
Here's the thing about blogging–it takes time to get it set up and to learn how to do it. It takes even more time before you start making money from it. So it's not at all a get-rich-quick option (because, let's be honest–nothing is!).
But once you get some momentum, the earning potential is crazy!
Back when I first started blogging, the very first course I took was SO helpful in getting me off on the right foot. Blogging to Win was super thorough and easy to follow–perfect for beginners.
The cost was very reasonable for the amount of material it covered, which is why I recommend it as a great starting point for people who are just beginning their blogging journey and don't have a lot of money to invest in tons of expensive courses.
Enrollment for Blogging to Win only opens a few times a year, but you can go here to learn more and get on the wait list.
Something For Everyone
As you can see, there are several different ways to earn extra money without adding another traditional job to your responsibilities.
But for some of us, earning some extra money may not solve the root of the financial issues we are facing. For me, no amount of money would have fixed my problem, because my habits were the problem. I could have doubled my income, but I would have just increased my spending to match.
I needed to get a good handle on my finances and learn how to budget effectively. Having a solid plan for my money is what made all of the difference in reaching our goals. Then, the extra money had a purpose.
This is where a budget is SO important.
If you need to get a better handle on your money, I highly recommend checking out how to create a budget in 6 easy steps.
Then, once you have a plan for your money, you'll be able to put the extra money you've earned toward your priorities!