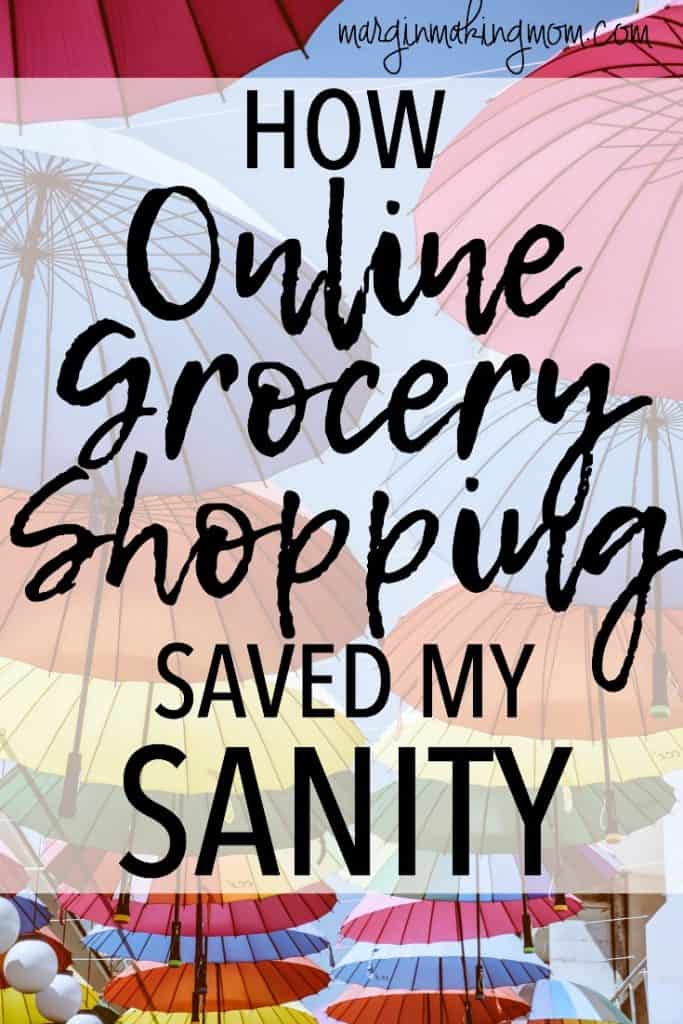 Does grocery shopping with kids in tow make you lose your mind? Save your sanity and use online grocery shopping! It is a life saver!
Disclaimer: This post may contain affiliate links for your convenience. You can read my full disclosure policy here.
The Problem with Grocery Shopping
My typical trip to the grocery store starts by spending at least 20-30 minutes (on a good day) getting everyone diapered, toileted, dressed, and out the door.
Then, I spend another 5-10 minutes getting all three kids in their car seats before driving to the grocery store.
Once there, I try to find a parking spot near a cart return corral (you know, always using my noggin). I find a shopping cart that will seat two kiddos and bring it to the van. Get all three kids out of their car seats, putting the youngest in the Ergo carrier and the two oldest in the shopping cart.
I head into the store, list in hand, and try to push the enormous two-seater shopping cart through the busy aisles while small hands try to knock everything off the shelves.
Desperate, I decide to distract children by giving them a snack while I shop.
Then, we pause everything because a child needs to use the bathroom. I unload the kids from the cart, make a trek into the bathroom to take care of business, then come back out and put kids back into the cart to finish shopping.
Finally, I find everything on my list and head to the checkout.
Now we are stuck in a line where candy bars, packs of gum, and everything else under the sun is right there within their reach. THERE IS NOWHERE ELSE TO GO! It's like they purposely devise this purgatory for moms of littles to dwell in when we just want to get the heck out of this place.
By this point, the baby is totally over this trip and is crying. I'm doing the signature mom bounce-sway move to try to calm him, while simultaneously picking up cans of Altoids and Bubble Tape off the floor.
Next up is the task of navigating the parking lot with a semi-truck of a shopping cart, loading up all of the groceries into my van, getting all three kids strapped back into their car seats, and returning the cart to the corral.
We then make the short drive back home, I unload all of the kids and make about four trips from the van to the house trying to carry in all of the kids and the groceries.
Whew! Just thinking about it makes me break out into a sweat.
Does this sound familiar? Take heart, my friends, there is hope.
The Solution: Online Grocery Shopping
I have recently discovered a little slice of heaven called online grocery shopping. It is as magnificent as it sounds.
There are many different companies/stores/services that provide this option, so I'll do a quick rundown of the ones I have tried and tell you which ones I think are the most worthwhile! These services are not available in all areas, so definitely check your location to see which options are available to you.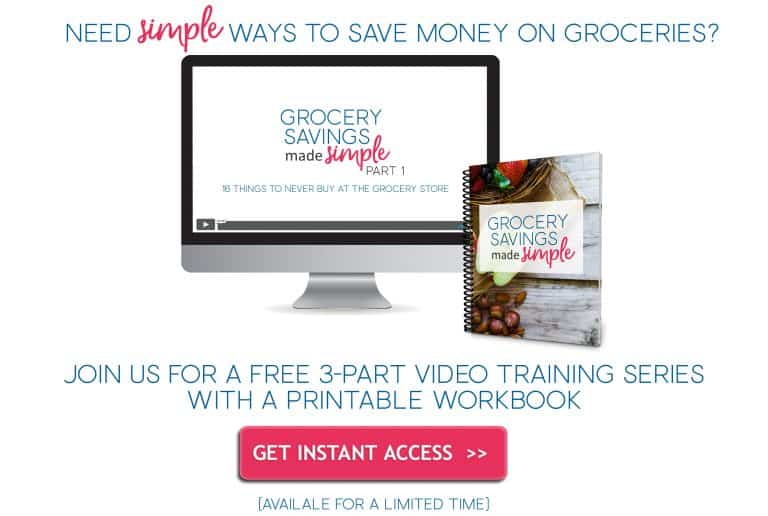 Shipt
The first time I caught wind of online grocery shopping was when Shipt was beginning service in my city. What? You mean someone will bring my groceries to my house? Does it get any more convenient than that? The short answer is, no, it doesn't!
Having someone deliver the groceries I've ordered, at the time I specified, is absolutely the most convenient option among online grocery shopping services. You simply enter your grocery order online or into the Shipt app and choose when to have the items delivered, and voila! It's like magic.
I used Shipt for a while, and my shoppers were always very kind and did a great job picking out produce and meat. But quite honestly, it wrecked my grocery budget.
This may vary from city to city, but where I live, Shipt shoppers only purchase groceries from Publix. Now, don't get me wrong, I love Publix. But it is no secret that they can be more expensive than other grocery stores. Plus, Shipt was charging prices that were often more expensive than what Publix would charge if I just went into the store and bought it myself. Also, you can't use coupons.
While the prices of the items definitely contributed to the additional expense, so did the fees. Shipt charges a monthly fee to even have access to the service, which is actually pretty reasonable, in my opinion. If your order is less than $35, you pay a delivery fee as well. The fee is waived for orders above this threshold. But all of these expenses added up and it was definitely not a money saver for me.
With that said, it was certainly an extremely convenient service. If you want to try grocery shopping online and have more wiggle room in your budget, then Shipt is definitely a good option. You can sign up here to try it free for two weeks and get $10 off your first order. If you need a more budget-friendly option, read on!
The verdict: Super convenient, easy to use, great selection, but also the priciest option.
Kroger ClickList
I was thrilled when I heard that Kroger ClickList was coming to my area. The basic premise of ClickList is that you enter your order online, choose a time window to pick up the items, then drive to the Kroger store. After parking in a designated area, someone brings your items out to your car and loads them up for you.
A couple of great things about ClickList are that you can take advantage of Kroger's lower prices and sale items, plus you can use electronic or paper coupons. Not to mention the fact that you don't even have to get out of the car!
Baby fell asleep in the car seat? No big deal! Cold or rainy outside? No problem! Everyone stays tucked into the vehicle while your groceries are brought out.
They also have a pretty good substitution policy, so if you order an item that is not available, they will provide a suitable substitution (typically a larger size of the same item or different brand). If they substitute an item, they will only charge you for whichever costs less. Win!
They do tell you about any substitutions when they bring your order out to the car, so you can refuse the items if they don't meet your expectations.
There is a $4.95 fee associated with each ClickList order. Sometimes they run a promotion where your fee gets waived for the first few times you use the service. Occasionally they may have an e-coupon you can load to your Kroger Plus Card that gives you some free items if you use ClickList, which can offset the cost of the fee.
Really, I think $4.95 is a very small price to pay for saving someone's sanity. Worth it!!
The other downside for me personally is that Kroger does not offer ClickList services at all of their locations in a given area. So in my city, some Kroger stores participate and some do not. Unfortunately, the several stores closest to me are not currently participating, so I have to drive about 20 minutes to a different Kroger in order to take advantage of the ClickList service. Not a deal breaker, but definitely not as convenient as if they offered this at all area Kroger stores.
Overall, ClickList is a wonderful service in terms of convenience, yet one that will not break the bank. If you would like to try grocery shopping online, check to see if Kroger stores offer the ClickList service in your area!
The verdict: Convenient, easy to use, great selection, budget-friendly.
Walmart Grocery Pickup
Now, I have to admit, this one gets my "Best All Around" award.
Truthfully, prior to using this service, I had not shopped at a Walmart store for YEARS. There were other grocery stores closer to my home, and I hated waiting in crazy long lines at Walmart because they only had two registers open. So I simply shopped elsewhere.
Then I caught wind of their Online Grocery Pickup service and was intrigued.
Very similarly to ClickList, you simply place an order for your items online or on the Walmart Grocery App and choose a window of time in which to pick up your items. When you arrive, you park in a designated area and an associate brings your groceries out to your car and loads them up.
In my experience, the associates have all been very friendly and helpful. Their substitution protocol seems a little less defined than Kroger's, but they generally choose something fairly comparable. Like Kroger, they only charge you for the cheaper of the two items. They tell you at pickup if they had to make any substitutions, and you can decide if you want to keep the substituted item or not.
The Walmart Grocery App and web site will save your favorite items and those which you frequently purchase, so reordering items every week is a breeze.
The interface is easy to use and you can start your order online and then add to it throughout the week, as you think of things you need to purchase. I often use it instead of a dedicated shopping list.
Unlike ClickList, there is no fee for this service in my area! Walmart is known for their low prices, and while they don't accept coupons, I often find that their prices are lower than other grocery stores in my area, including Kroger and Aldi for many items.
You may be familiar with Walmart's Savings Catcher program, where you can enter information from your receipt into their website and they will check other area stores to see if prices for items you purchased are lower elsewhere. If so, they will "refund" you the difference. You can accumulate these refunds and have them added to a gift card, which you can then use for future purchases. Online grocery orders qualify for the Savings Catcher program, just like in-store purchases. It's so easy!
There have been a couple of times when I've arrived home to unload my groceries and have noticed that a produce item was not satisfactory. In those instances, I've called their customer service department and they have been very apologetic and have issued me a refund. I have been very pleased with the quality of their customer service.
If you would like to try grocery shopping online, click here to get $10 off your first online order of at least $50 with Walmart Grocery!
The Verdict: Convenient, easy to use, great selection, most cost-effective option.
Amazon Prime Now
One of the things I decided to purchase after having my third baby was an Amazon Prime membership.
I mean, free two day shipping (and sometimes free same-day shipping!), free unlimited streaming of videos and TV shows, Prime Music, and so many other services were a great draw for me, but what really sealed the deal was when Amazon Prime Now came to my area.
This service is only available to Amazon Prime members and allows you to purchase basic items and have them delivered to your home within a couple of hours. Yes, really!
Now, you can't get everything that is normally available on Amazon through the Amazon Prime Now program. But they do have basic food items (including perishable goods), household items, baby items, medications, books, and so on! I find it to be extremely convenient. There is a minimum order requirement of $20, and they do suggest that you tip your delivery associate. So while this may not be the cheapest way to routinely purchase items, it is certainly a sanity saver from time to time.
They have a weekly ad and also routinely offer promotions where certain items are free with an associated promo code. Again, this is likely not a service you will want to use on a regular basis simply due to the selection limitations and the pricing, but it is a life saver on those days when you need a few things but don't want to (or can't) leave the house.
You can sign up for a 30-day trial of Amazon Prime to see if you like the many services offered to Prime members, including Amazon Prime Now. Once you sign up for Amazon Prime, you will be able to log into the Amazon Prime Now web site or use the Amazon Prime Now app to place an order.
The Verdict: Convenient, easy to use, somewhat limited selection, fairly budget-friendly.
Plenty of Options!
As you can see, there is an option for everyone (provided these services are offered in your area!).
I have found that shopping online for groceries can be a great way to save money, since you aren't prone to impulse buys that might tempt you in the store.
It also forces me to really plan ahead for my week, since we only do one pick-up each week. That means I'm buying what I need, but not a lot of extra things.
Beyond any cost savings is the fact that it is all so easy! Grocery shopping is no longer an exhausting chore of an outing.
Someday, maybe I'll be able to leisurely stroll through a grocery store by myself again, but for now, online grocery shopping is my jam.
Have you had harrowing trips to the grocery store before? Have you used any online grocery ordering service? What did you think? I'd love to hear from you in the comments below!
Learn more about how to simplify your shopping with online ordering, delivery, and pickup options with Shopping Made Simple!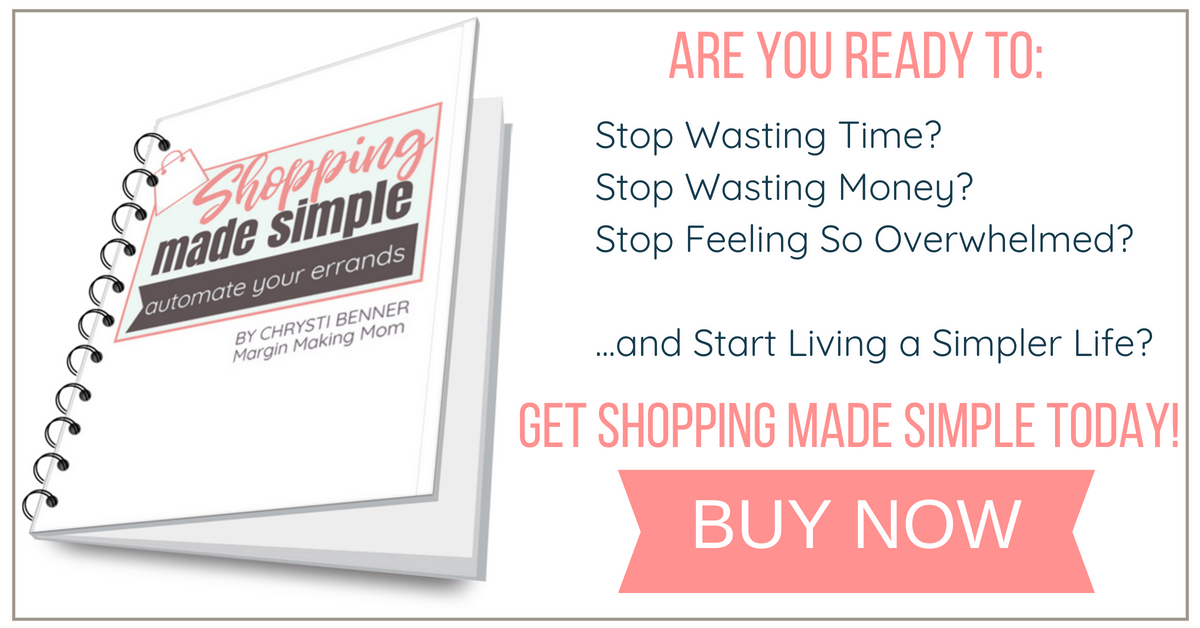 Save
Save
Save
Save
Save
Save
Save
Save
Save
Get the Instant Pot Meal Plan Jumpstart
Join the free community and you'll learn simple ways to easily create tasty food for your family, as well as immediate access to the FREE Instant Pot Meal Plan Jumpstart to help you get a tasty dinner on the table in a flash!
"Thanks for sharing your knowledge and experience in such a friendly and delightful way!!! So far, I'm very impressed with the results...thanks again for your guidance into this new realm of cooking!" -Margaret
Free Resource Library
Enter my
free resource library
for my latest printables and resources! Password is 'IHEARTMARGIN' -- please copy and paste that in at the link above. Thanks for being a subscriber!!