These fun, affordable, and family friendly activities in St. Louis are ones that our family loved–you'll find something for everyone when planning your trip!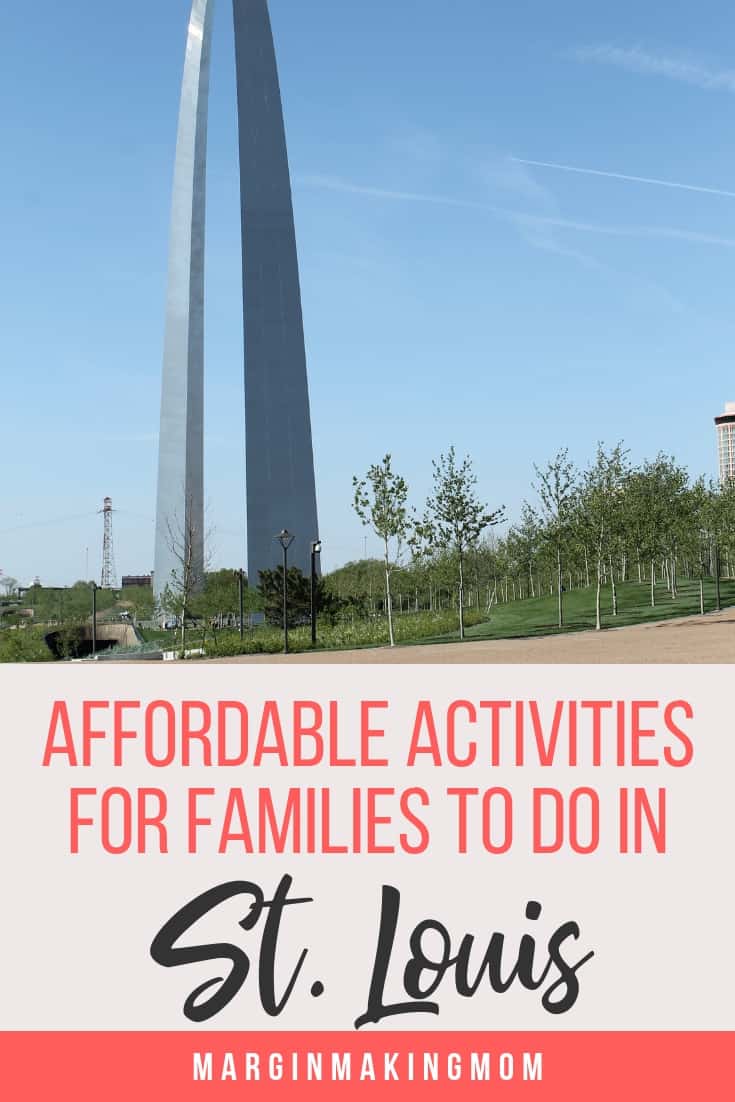 Note: This post may contain affiliate links for your convenience.  You can read my full disclosure policy here.
Recently, my family took a long weekend trip to St. Louis, Missouri.  We spent three days and three nights in the city, which was just enough time for us to get a taste of what the city has to offer for families with small children.
My mom went with us, too, which was a lot of fun. St. Louis is only a few hours' drive from our home in Nashville, so it was an easy trip to make with our kids.
Things to Do in St. Louis
We loved our time there and really enjoyed the attractions that we visited. One of the reasons we chose to visit St. Louis is because they offer many free or low cost activities for families.  As a family of five, pricey tickets to attractions can add up fast, so we love to find frugal ways to travel together.
At the time of our visit, our kids were 5, 3, and 2 years old, but we felt like there were plenty of things to do for families with young children. Because our kids are still young, I'm a big fan of planning downtime in our days as well, so we felt like there was a pretty good balance of the two.
Where We Stayed in St. Louis
We chose to utilize an AirBNB rental in St. Louis.  I've found that, often times, an AirBNB rental is less expensive than a hotel room.  And there are many benefits to this kind of option.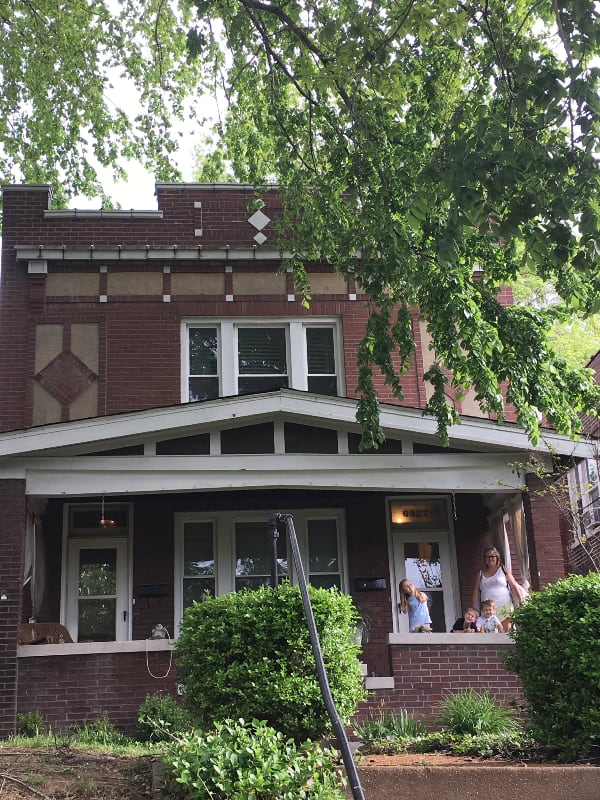 For instance, we rented this charming historic upstairs apartment, which had two bedrooms, one bathroom, a kitchen, dining room, and living room with a pull-out sofa.  This provided ample room for us to sleep at night, but also plenty of space to stretch out during the day.
Since we like to take a little afternoon break from our adventures, it's nice to have space where the kids can take naps in the bedrooms, yet the adults can watch TV in the living room.
Not only that, but having a kitchen can be a great way to save money!
We were able to easily eat breakfast at the apartment each morning, prepare our lunches to take with us for the day, and we put dinner in the slow cooker one morning so it was ready for us that night.  Preparing several of our own meals was a major savings!
Obviously, you don't get daily housekeeping service in an AirBNB, but that doesn't bother us.
If you're planning a trip somewhere soon, check out what AirBNB has to offer.  If you're a new AirBNB customer, you can get a $40 travel credit when you sign up for a free account here.
Family Friendly Activities in St. Louis
The first attraction we visited was the St. Louis Zoo.  Amazingly, the city offers free admission so their impressive zoo.
We have annual passes to our zoo here in Nashville, so we go fairly often.  But the St. Louis Zoo is more expansive than ours, so there were several different animals to see that our zoo doesn't have.
The kids loved seeing a variety of animals, insects, and more–they still talk about this zoo, even months later!  This is definitely a must-see during your trip to St. Louis.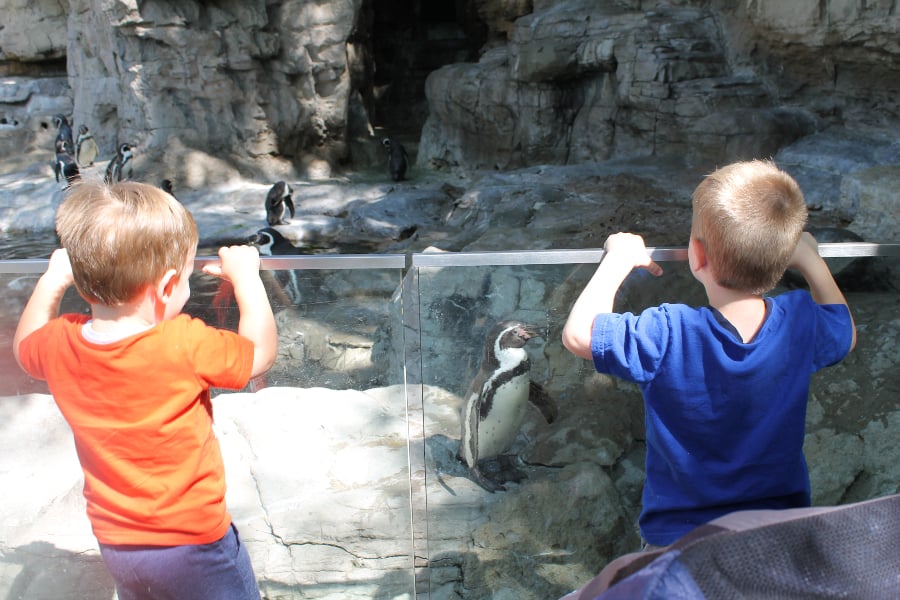 While admission is free, you can pay for some additional shows and activities within the zoo.
There is a Children's Zoo within the zoo, which costs an additional $4 per person, but it is free for the first hour after the zoo opens.  We opted to check it out during the first hour, and that's what I recommend doing.  While it is definitely a fun area, with some playground activities and some animals, I would not have wanted to pay $20 for my family to check it out.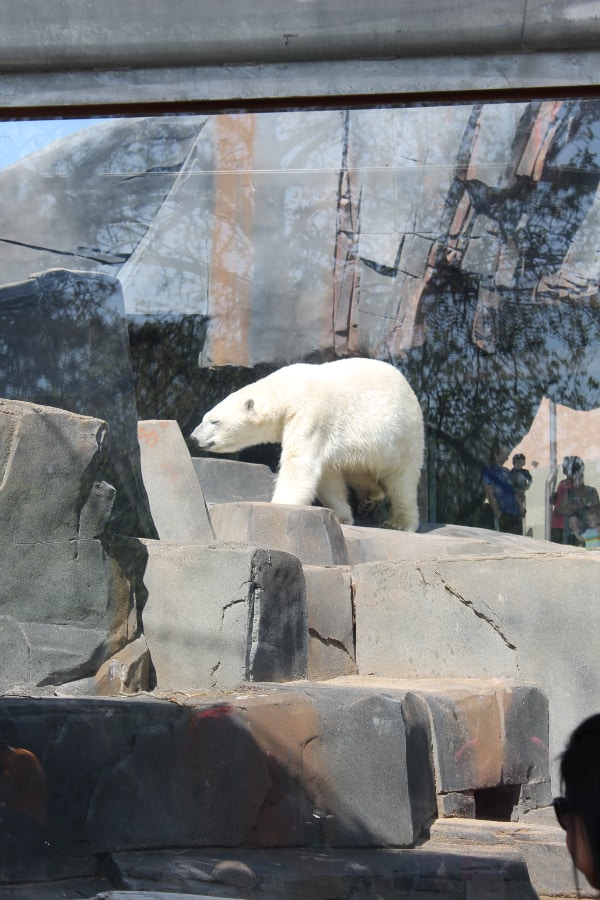 Other activities that are available at an additional charge include carousel rides, train rides, the sea lion show, safari tours, and more.  If there is an activity your family really wants to do, by all means, feel free to do it if your budget allows!  Especially since admission is free.  But know that there are plenty of amazing free things to see and do within the zoo as well.
A well-known symbol of the city, the Gateway Arch was quite a sight to behold.  It was much larger in person than I expected it to be, and it's a really interesting monument to tour.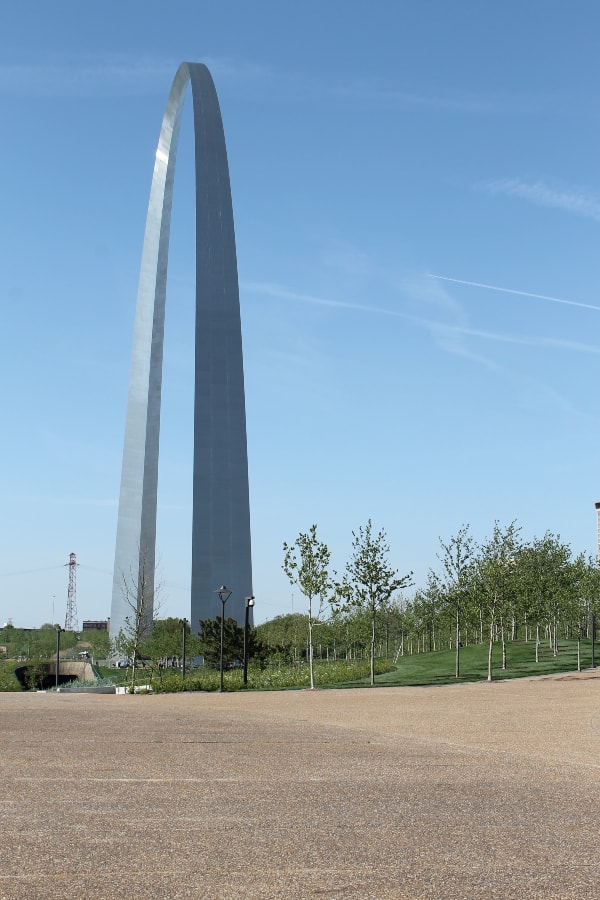 While the museum at the monument is free, you do have to purchase tram tour tickets if you want to go up to the top of the arch.
We opted to do the tram ride to the top, but honestly, it was not the best experience for our family.
When you buy a ticket for the tram, you are assigned a specific time.  However, that's just the time that you get in line.  Then it takes quite a while to get through the line.
It wouldn't have been such a big deal if we didn't have small kids with us, but it was a long time to wait in line with young ones.
Then, once you are ready to get on the tram, you wait on an extremely narrow staircase, where people both enter and exit the trams, so it's extremely crowded in a very small space.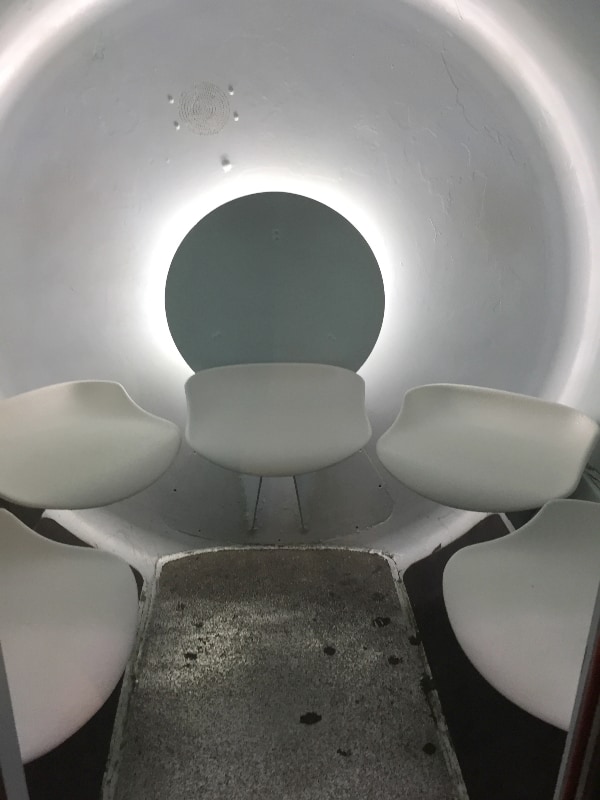 Speaking of small spaces, the tram cars are the tiniest things I have ever seen.  We managed to fit six of us into one car by putting the smallest child on a lap, but if you are even the least bit claustrophobic, I would not recommend taking the tram.
That said, when we reached the top, there were some pretty views of the city, but I found it to be a little underwhelming overall, especially given the inconvenience of getting to the top with the kids.
Maybe I would have felt differently if it were just me and my husband, but it was way too much work corralling everyone for the little payoff at the top (then you do all that work again when you wait in line to come down and ride the same tiny tram back to the bottom!).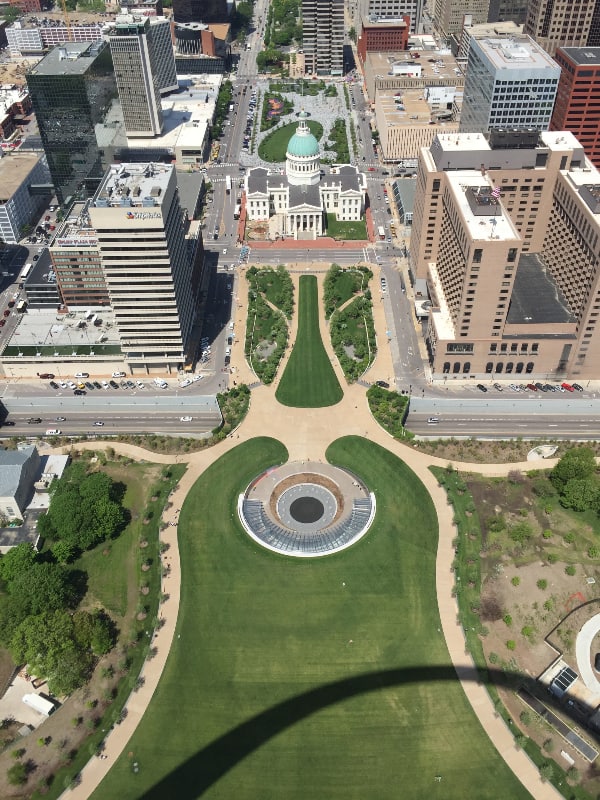 I did find it very interesting to learn about the science behind the tram cars, and the physics related to how they designed them to effectively reach the top.
So overall, my take is–definitely go see the Gateway Arch, because it's really cool.  But if you have small kids with you, consider skipping the tram ride to the top.
This was an accidental find for us, but ended up being a place the kids loved!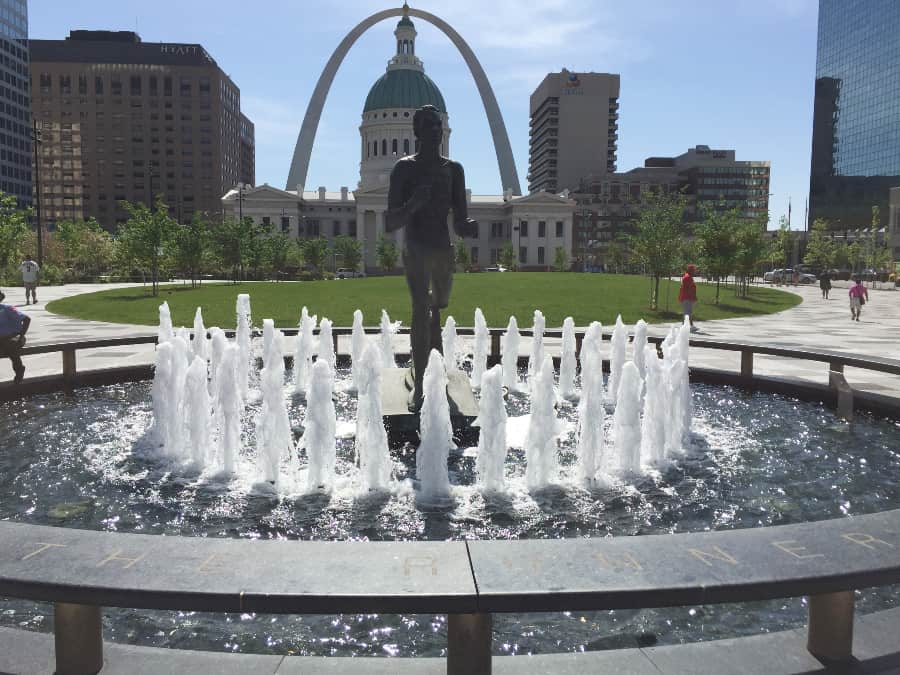 While we were waiting for our assigned time to board the tram at the Gateway Arch, we took a walk through the surrounding area and discovered this little gem of a park nestled within the city.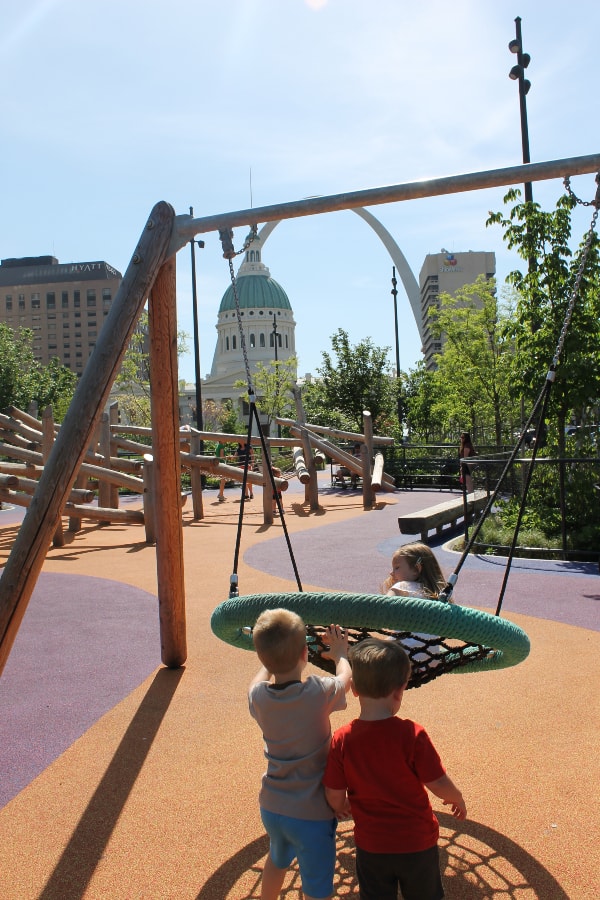 It was newly renovated and had some really fun playground equipment, a fountain, and some lovely views of the Gateway Arch and the city.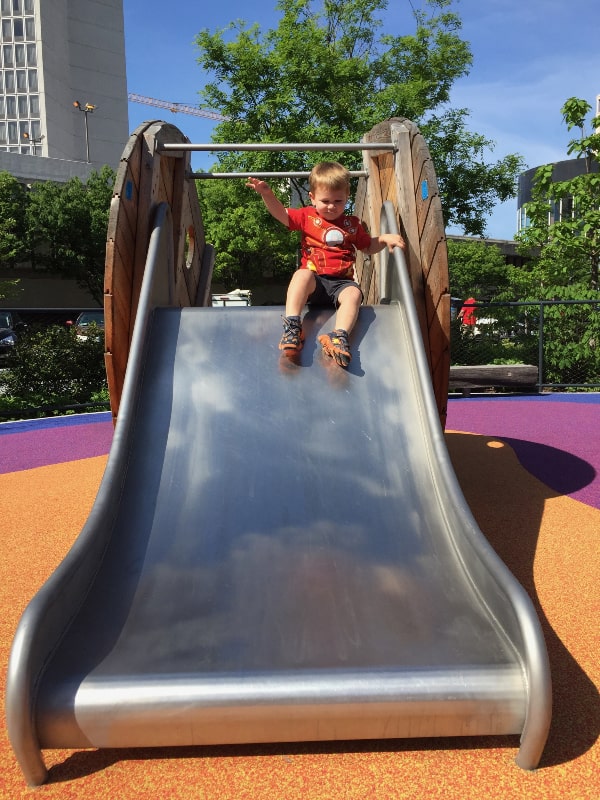 It truly was beautiful, and we could have spent much more time here if we didn't have to be back to the Arch for our tram tour.
This wasn't as much of an attraction as just a district in the city.  We parked in this area when we were going to the Gateway Arch, and walked along the river, enjoying the scenery.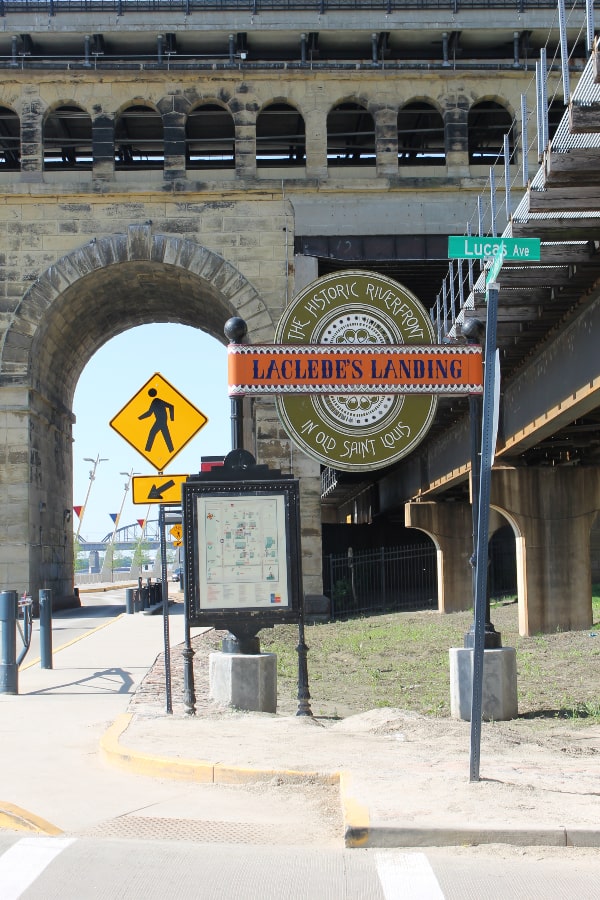 It's also known as an entertainment district in the city, with several restaurants, shops, and attractions.  It's a fun area to peruse, especially if you're planning on going to the Gateway Arch nearby.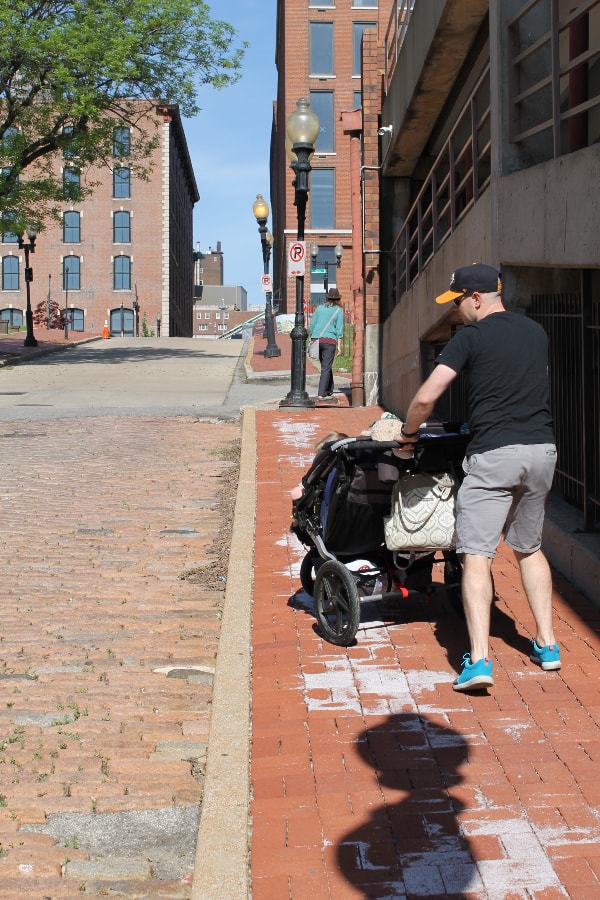 Shout-out to my husband for pushing our jogging stroller around and over all of the cobblestone streets, too!
The City Museum in St. Louis was one of the most unique attractions I've ever been to, and our family loved it!
Housed in and around an old factory building, the museum is basically a mixture of funhouse, playground, and architectural marvel, all made out of unique objects that have been repurposed.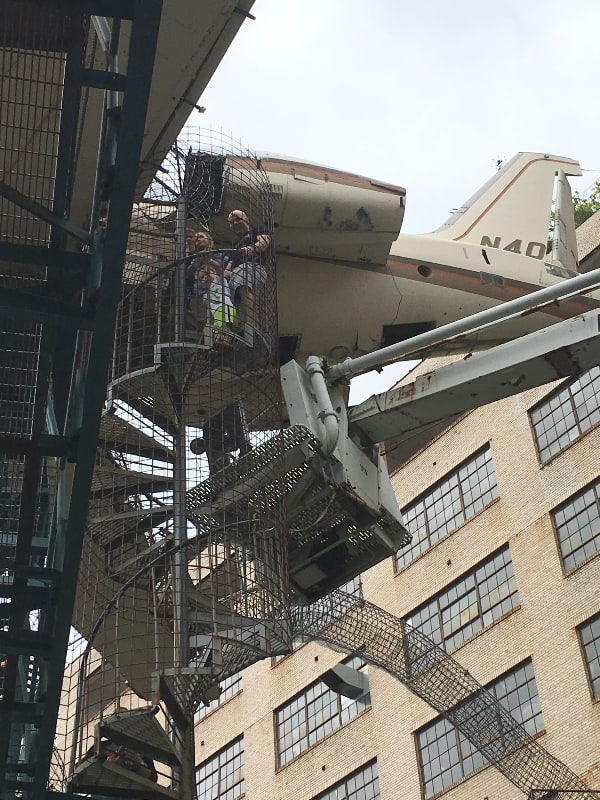 We explored caves, climbed through tunnels and up perilously twisty stairs, and found more things to do than we could imagine.  Truly, we could have spent an entire day here.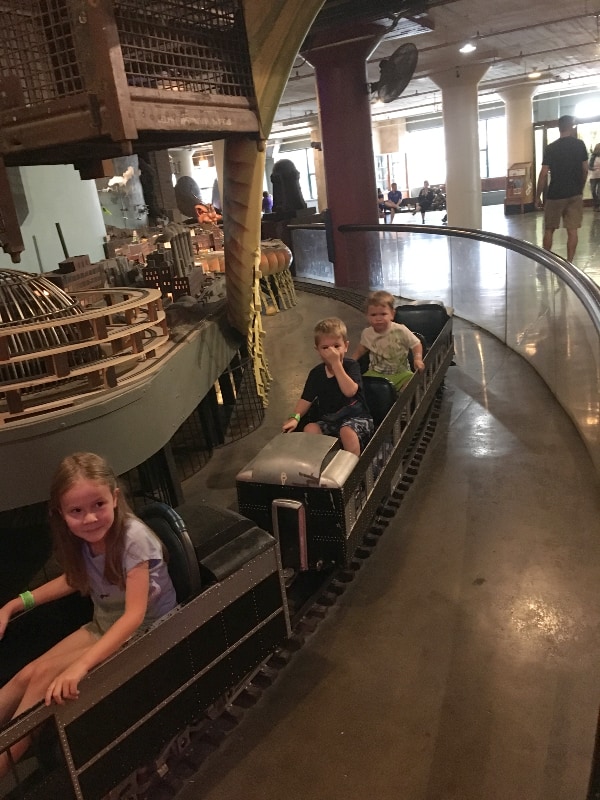 One word to the wise: it's pretty easy to get lost in here.  Kids are given wristbands to wear, and parents are encouraged to write their cell phone number on the band so they can be reunited if lost.  While there were plenty of older kids running around by themselves or with friends, because our kids are small, we accompanied them whenever possible.  This meant we were right in the mix, climbing and crawling together!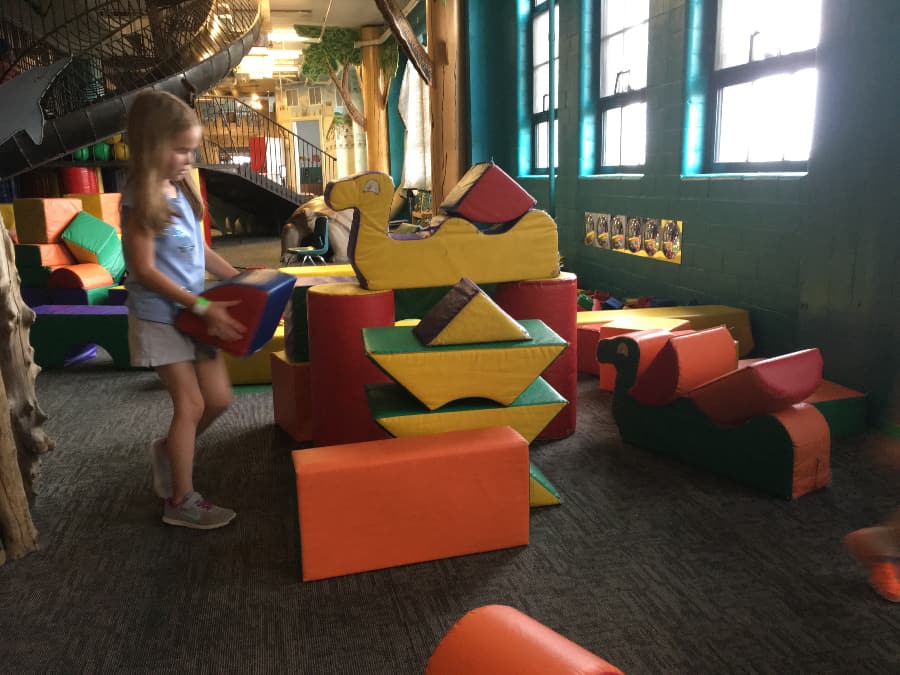 I loved the creativity and ingenuity behind this museum, and it was SO FUN.  Definitely a must-do for a trip to St. Louis!  It's not a free attraction, but it is absolutely worth the ticket price.
Other St. Louis Attractions To Consider
The following are attractions that we did not personally get to experience, but that were on our list of possibilities.  If we'd had more time for our stay, we would have loved to do more of these!
St. Louis Science Center (Free admission!)
Grant's Farm (Free admission!)
The Magic House St. Louis Children's Museum
Missouri Botanical Garden (Free admission for children 12 and under!)
Purina Farms (Free admission to the Visitor Center)
Restaurants To Visit in St. Louis
This was a fun restaurant and bottling company in one, where you can see root beer being bottled at certain times.  The food was delicious, and the root beer floats were out of control!! (The picture is a little grainy since I didn't have much light, but you can see how massive these things were!).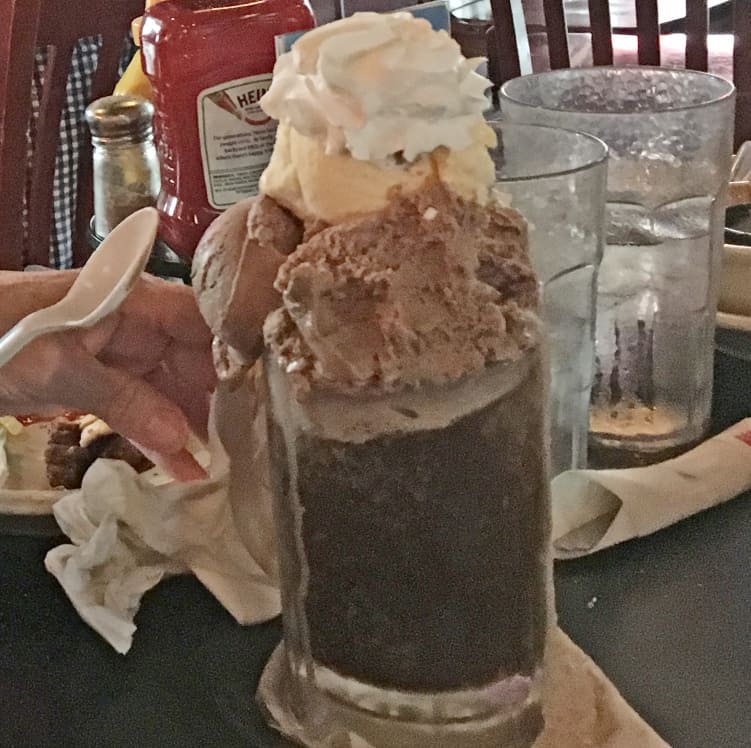 It was also in a fun area of town where we were able to walk up and down the street and take in the eclectic scenery.
One night after dinner, we went to Ted Drewe's Frozen Custard for a cold, sweet treat.  It did not disappoint!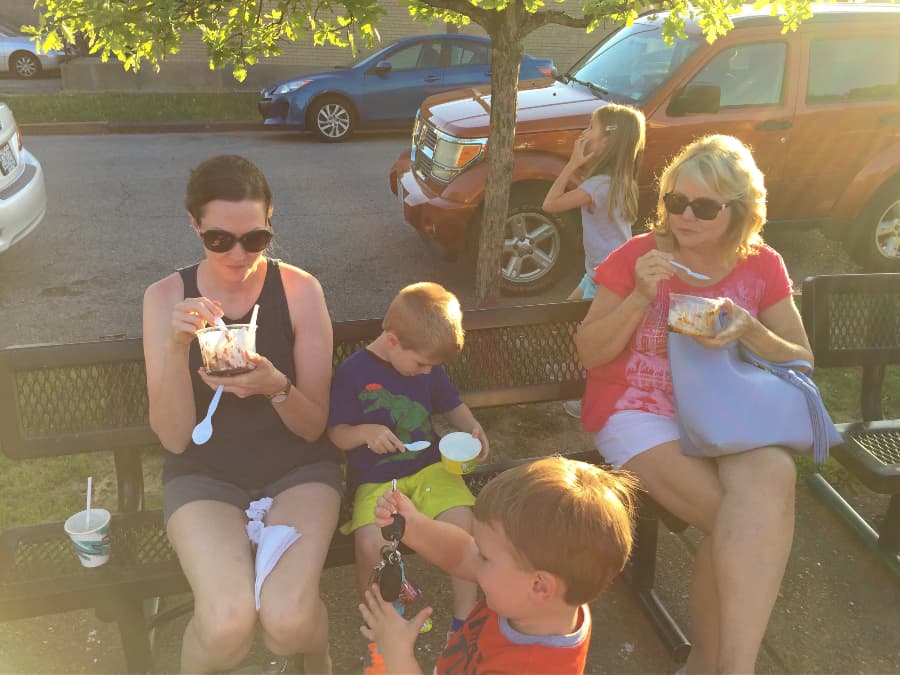 Frozen custard is so creamy, and there are some really delicious pairings offered.  I had "The Christy" (of course!), and it was so good!
One morning, my husband was up early, so he went out and picked up some Strange Donuts to bring back to our rental apartment for breakfast.
Strange Donuts offers some classic flavors, but they specialize in, well, "strange" or creative flavors.  He got mostly classic flavors or some of the other creations that weren't so "out there," because it's better to play it safe than to come home with an odd donut that nobody will eat.
They were quite tasty!
Plenty of Family Friendly Options in St. Louis
So there you have it!
As you can see, there are plenty of options for fun, affordable, family-friendly activities in St. Louis!  We really only scratched the surface during our stay, but that means there will be more for us to do the next time we visit!
The kids are already asking about when we'll be going back, so I know they really enjoyed themselves. 🙂
When you're planning your next family getaway, consider taking a trip to St. Louis!
Looking for more fun travel ideas?  Check out our favorite activities for families in Chattanooga!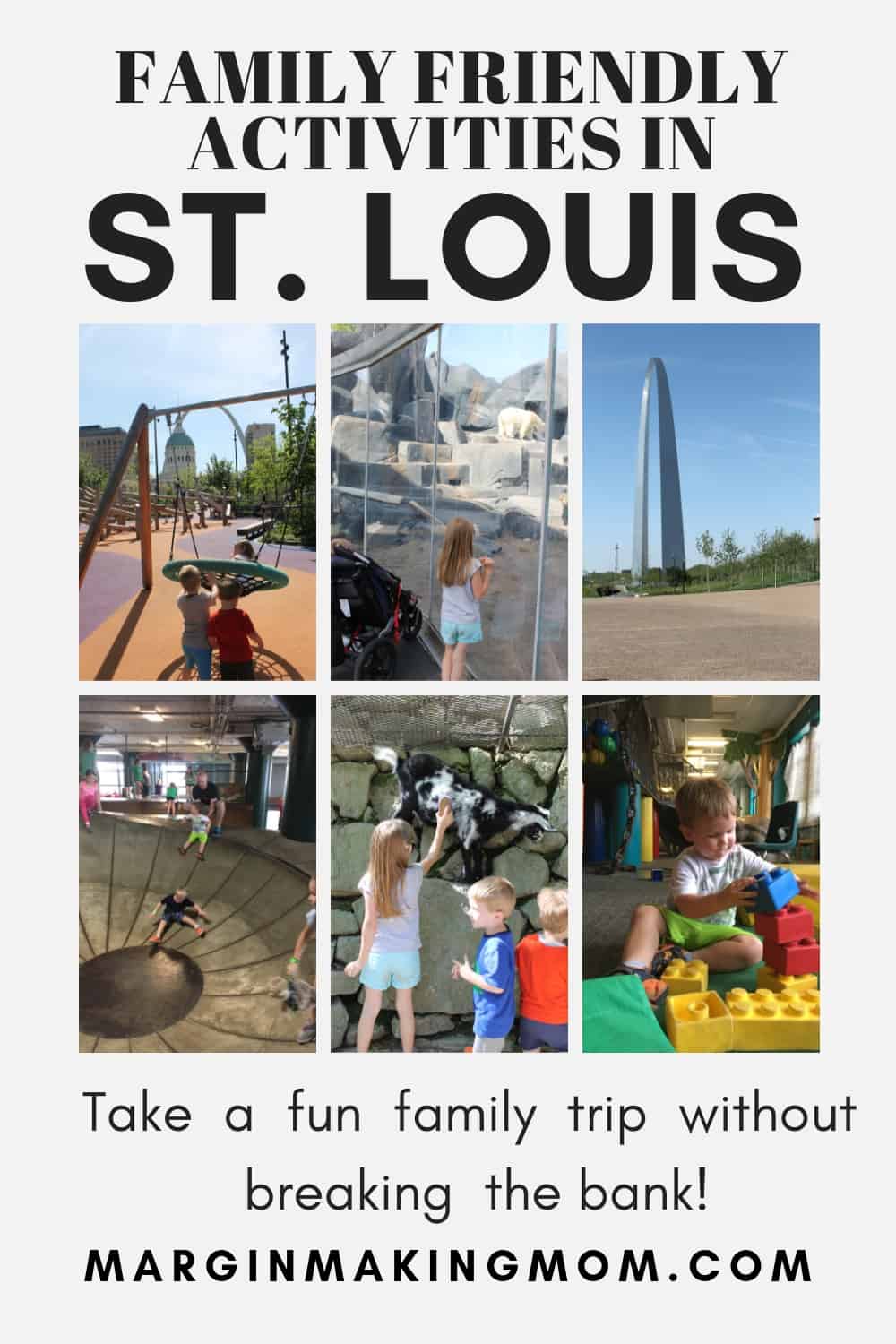 New to Pressure Cooking?
Join the free community and you'll learn simple ways to easily create tasty food for your family. Plus, you'll get instant access to a FREE printable Beginner's Guide to Getting Started with Your Pressure Cooker!
Free Resource Library
Enter my
free resource library
for my latest printables and resources! Password is 'IHEARTMARGIN' -- please copy and paste that in at the link above. Thanks for being a subscriber!!