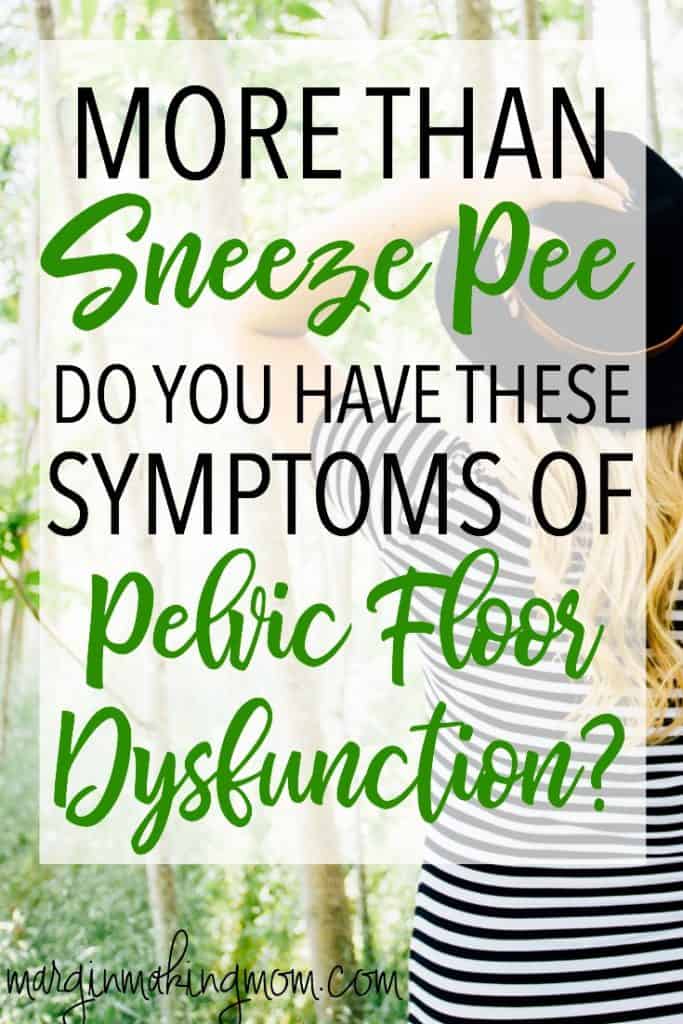 Pelvic floor dysfunction is the most common condition in women after pregnancy.  Learn more about the symptoms and what to do about this condition!
Maybe you've been there.  You laugh at something hilarious and feel a leak of urine.  Or maybe it is a poorly-timed sneeze that leaves you damp.  Maybe you want to run or jump or otherwise be active, but fear jostling urine out of your bladder.  Maybe you have difficulty passing stool, or maybe you can't hold your gas in when you want to.  What do these all have in common?  Pelvic floor dysfunction.
Wait a minute–you mean nobody told you this could be an issue after bringing a bundle of joy into the world?  Yep. Same here.  It's like a secret that everyone knows about except you…until you experience it yourself.  That's why we are going to talk about pelvic floor dysfunction today.
Disclaimer: This post is intended to be informational only and should not be viewed as medical advice.  It is not intended to diagnose or treat any condition.  Consult your medical provider for questions related to your specific condition.
What is Pelvic Floor Dysfunction?
The pelvic floor is a set of muscles that acts as sort of a sling to support other organs and tissues in your body, such as your bladder, uterus, and rectum.  These muscles stretch from the tailbone to the pubic bone and from one sit bone to the other sit bone of your pelvis.
These muscles help to hold up your internal organs, control your bowels and bladder, and maintain healthy sexual function.  When those muscles are stretched or damaged, they don't hold everything in place as well as they should, resulting in pelvic floor dysfunction.
Some women have what's known as a cystocele, where the tissue between the bladder and the vagina is weak, causing the bladder to bulge into the vagina.  Some women have something called a rectocele, where the tissue between the rectum and the vagina becomes thin and weak, causing the front wall of the rectum to bulge into the back wall of the vagina.  Others experience a uterine prolapse, where the uterus sort of sags down into the vagina due to weakened muscles and ligaments of the pelvic floor.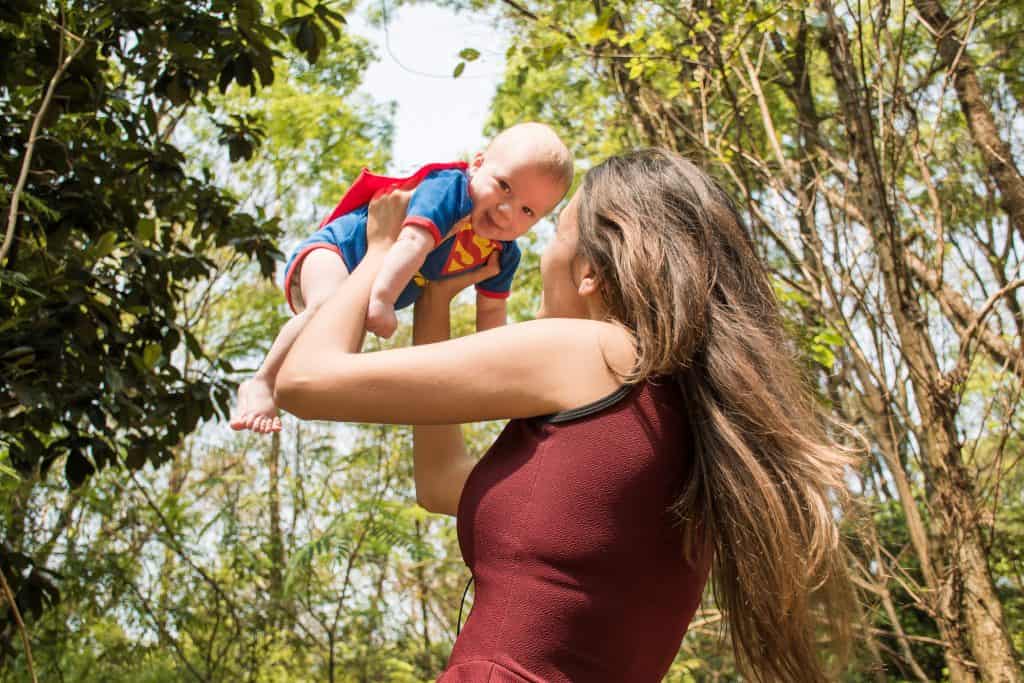 What Causes Pelvic Floor Dysfunction?
Pelvic floor dysfunctions are actually the most common diseases in women after pregnancy.  Just being pregnant is a risk factor for developing pelvic floor dysfunction, because carrying a baby can cause muscles to stretch as the pelvis changes.  Then pushing that baby out can possibly cause muscle damage and nerve damage.
Tearing during a delivery or having an episiotomy increases the risk as well.  If you have a large baby or have to push for a long time during delivery, your risk of developing pelvic floor dysfunction increases.  Smokers and older women are at higher risk, too.
Often, women may not even know they have these conditions, but they may notice symptoms of the conditions.
What Are the Symptoms of Pelvic Floor Dysfunction?
There are a ton of symptoms that are associated with these disorders, and they vary depending on the severity of the prolapse or bulge.  These symptoms can include:
Feeling pressure or heaviness in the pelvic area or abdomen
A bulge that you can see or feel in your vaginal area
The need to push on your vagina or around your rectum to have a bowel movement or to fully empty your bowels
Feeling like you can't fully empty your bladder
Needing to change position to fully empty your bladder (such as leaning forward)
Needing to push up on a bulge in the vagina in order to start or finish urinating
Feeling like you have to strain to have a bowel movement
Feeling like you can't hold your stool in
Not being able to control passing gas
Feeling the need to urinate frequently
Having urine leakage related to coughing, sneezing, or laughing
Have pain or discomfort in the lower abdomen or genital area
Having pain or discomfort during intercourse

What can be done about Pelvic Floor Issues?
Unfortunately, many women find these issues embarassing, so they don't seek help.  They simply learn to live with the symptoms, wear pads, avoid activities they used to enjoy, and adjust their lifestyle.  Some women just accept these as conditions they will always have.  Others assume the only treatment option is surgery.  But it doesn't have to be like this.
Pelvic floor physical therapy has great potential to help women rehabilitate their pelvic floor muscles.  Many European countries commonly utilize several weeks of pelvic floor physical therapy to help women recover during the postpartum period. Unfortunately, this treatment is not routine in America.
Pelvic floor physical therapy can help you relax and strengthen the muscles of your pelvic floor, which can help to relieve discomfort and give you more control over your bodily functions.
The physical therapist can assess your pelvic floor muscles to see if they are weak, uncoordinated, or if they spasm, then design a treatment plan based on their findings.  Treatments may include:
Exercise therapy.   This involves stretching and strengthening the muscles using exercises (think: Kegels).
Manual therapy.  This technique uses massage techniques to relax trigger points and desensitize painful scars.
Biofeedback therapy.  This uses sensors to give you information, or feedback, about your body.  Biofeedback can help you learn how to relax and control your muscles.
Electrical therapy. This utilizes an electrical current to stimulate very weak muscles.
How to find a Pelvic Floor Physical Therapist
You can always ask your OB/GYN or midwife for a recommendation.  You can also go here to locate a physical therapist near you.
Many insurance companies provide benefits for physical therapy. You should definitely check with your insurance and they may be able to help you locate an in-network provider.  This will help make the most of your benefits and decrease your out-of-pocket cost.
If you are experiencing what could be symptoms of pelvic floor dysfunction, don't feel like you have to suffer in silence.  By seeking the help of a medical professional, you can rehabilitate the pelvic floor muscles.  Find one near you today!
Save
Save
Save
Save
Save
Save
Save
Save
Get the Instant Pot Meal Plan Jumpstart
Join the free community and you'll learn simple ways to easily create tasty food for your family, as well as immediate access to the FREE Instant Pot Meal Plan Jumpstart to help you get a tasty dinner on the table in a flash!
"Thanks for sharing your knowledge and experience in such a friendly and delightful way!!! So far, I'm very impressed with the results...thanks again for your guidance into this new realm of cooking!" -Margaret
Free Resource Library
Enter my
free resource library
for my latest printables and resources! Password is 'IHEARTMARGIN' -- please copy and paste that in at the link above. Thanks for being a subscriber!!