These are the books I read in 2018 and my thoughts on them. If you're looking for a good book recommendation, check out these options!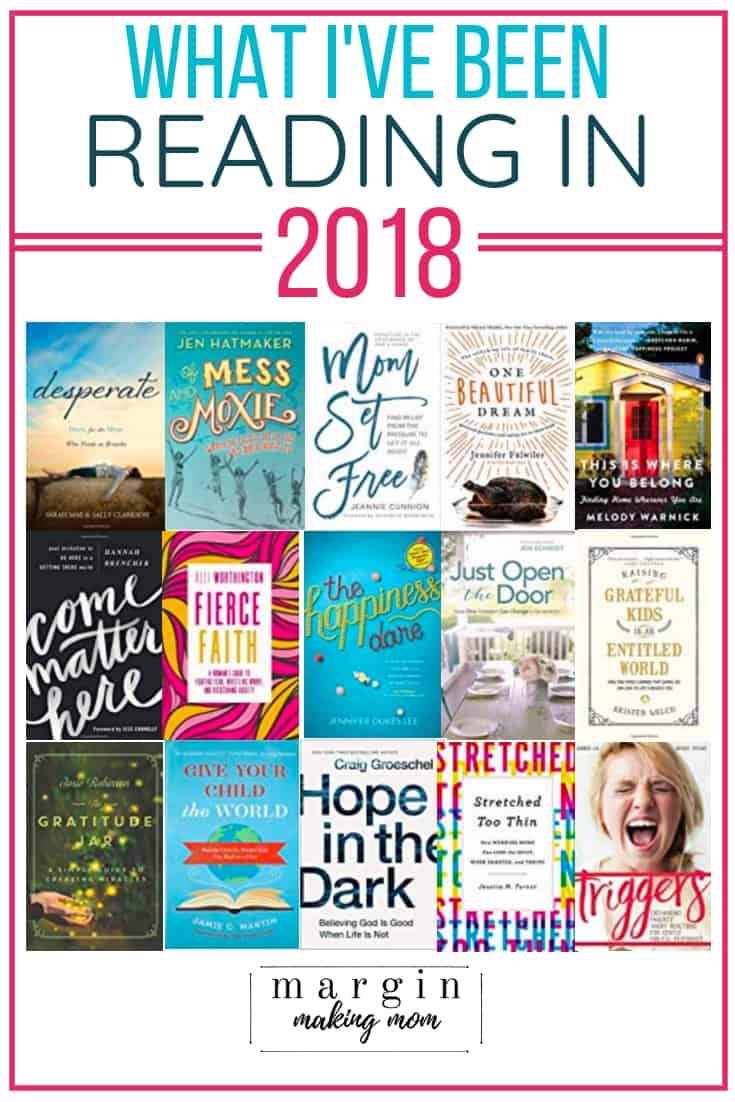 Note: This post contains affiliate links for your convenience. You can read my full disclosure policy here.
As a kid, reading was one of my favorite hobbies. I relished trips to the library and got SO excited for the periodic Scholastic book fairs at my school. I would have read all day if I could have.
Reading is still one of my favorite hobbies, but my time for reading has become a little more sparse these days. I can't usually just curl up with a good book and read for hours at a time like I used to.
But since I do really enjoy it, I try to carve out time in my day to read, even if it's only 5-10 minutes. As moms, we often neglect ourselves, so I think finding small ways to enjoy our hobbies is important!
I almost always read non-fiction books (well, aside from all of the fiction books I read with my kids). I love learning, and I am also a productivity junkie. In many ways, reading non-fiction books feels somewhat like continuing education for me–I am usually learning something, which helps me feel productive.
Every year I make a goal to read more fiction, but it just never happens because there are so many non-fiction books I want to read! I would still like to start reading fiction books occasionally, just for the sake of enjoying a good story.
I love the quote by Charlie "Tremendous" Jones, "You will be the same person in five years as you are today except for the people you meet and the books you read." Even if I don't agree with everything an author writes, I still find value in their perspective.
How I Find Time to Read:
I often hear it said that we find time for the the things that matter to us. While I do think there is a lot of truth in that, I also realize that we simply can't make as much time as we like for everything that matters to us. There are all of the "have to do" things in life, too.
So I fit most of my reading into the margins of my day.
For instance, part of my daily routine includes waking up early, before my kids are awake. I use this time to do my devotions, work on this blog, and read. I may only read for 10-15 minutes, but it's a way to fit in even just a few minutes of something I enjoy.
Audiobooks are a tool I use occasionally as well. They aren't my favorite way to consume a book, but I do use them from time to time. I can listen to a few pages of a book while I'm in the shower, or finish a chapter while I'm exercising or driving.
It's also helpful for me to have a book with me at all times. I don't usually bring a physical book with me everywhere I go, but I do usually have a book or two loaded on my Kindle App on my phone, so I can read for a few minutes here and there when time allows.
Reading is also a way for me to wind down at night. I try to avoid using my phone before I go to bed, because I can find myself mindlessly scrolling through Facebook or Instagram, and it's not necessarily relaxing. So instead of scrolling, I'll pick up the book I keep on my nightstand and read a few pages each night before I go to sleep.
If you'd like to incorporate more reading into your day, check out these tips for finding time to read.
How I Save Money on Books:
In order to save money on books, I try to make use of our public library as much as possible. In our city, we have a pretty robust library system, with access to printed books, ebooks, and audiobooks. This makes it so easy to read books for free!
If your library doesn't have a book you're looking for, request it! They are often very willing to order books that patrons request.
For books that I buy, I most often order through Amazon. They often have deals on specific ebooks (the Kindle versions), where they will be drastically reduced in price for a short amount of time. Many times, the ebook will be much less expensive than the physical copy of the book, so I will often spend $3-5 on an ebook as opposed to $10-20 on a physical copy. I don't own a Kindle, but I use the Kindle app on my phone to read these.
I also love to take advantage of seasonal coupon codes for Amazon that allow me to save more on books.
Books I Read in 2018
For 2018, I had a goal to read 24 books over the course of the year. Last year, I had the same goal, but didn't meet it (you can see what books I read in 2017). This year, I exceeded it. Honestly, it's not really about the number of books. But I do find that having setting a goal for myself keeps me on track with making sure I am finding time for something I enjoy.
I don't share this to brag about how many books I read, as there are plenty of other people whose book lists are far more impressive than mine. Instead, I want to encourage you to find time to do the things you love, even if it's just small snippets of time here and there.
If you need any suggestions for books to read, the following are the books I read during the year and my thoughts on them.
This book was a breath of fresh air for me. Written by Sarah Mae and Sally Clarkson, it offers a unique perspective on the often difficult and overwhelming parts of motherhood. Sarah Mae writes as a mom who is in the trenches with you, and Sally Clarkson offers her wisdom from the perspective of someone who has "been there, done that" and is now on the other side looking back.
I found this book immensely encouraging and practical, and would recommend it to any mom.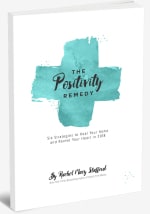 Last year, I read Rachel Macy Stafford's book, "Only Love Today" and really enjoyed it. The Positivity Remedy was similar to that one. It's a short (free!) ebook filled with small-step approaches to improve the parent-child relationship and lead to a happier home.
You can sign up here to receive a free copy.
I have loved every book of Jen Hatmaker's that I've read, and Of Mess and Moxie was no exception. It's a compilation of essays, many of which will make you laugh, some of which will make you cry. Jen helps us all feel a little more normal while also encouraging us to live in grace. I highly recommend this one!
I come from a long line of hot tempers, yet I always thought the gene skipped me. That is, until I had kids. As my kids grew, I found myself getting increasingly frustrated and even angry at times, which left me wondering how these precious little people, whom I love from the depths of my soul, could bring about such strong feelings.
This book helped me to realize what things trigger my anger, think about the root of the issue, and figure out a better way to handle these triggers when they arise. I found this book to be very insightful and practical when it comes to figuring out how to deal with common situations.
This book pertains to business finances, but I think the principles can be related to personal finance as well. I had heard great things about this book, and I was not disappointed. It is extremely practical and provides step-by-step guidance for setting up your business's finances well.
In traditional accounting, revenue minus expenses equals profit. In the Profit First model, revenue minus profit equals what you have left to use for expenses.
Honestly, the method discussed in the book is very similar to the way we already handle both our personal and business finances (in terms of budgeting, saving, allowing expenses to be less than income, etc.), so it was a great reinforcement. I also took away some very useful nuggets of information to put into practice.
I read this book near the end of our first year homeschooling, and it was the perfect read for me at that time. Durenda Wilson has homeschooled her eight children for over 20 years, so she has a lot of insight into the ups and downs of homeschooling.
I love Durenda's grace-filled, encouraging approach to homeschool. I highly recommend the book to anyone who is considering homeschooling or who feels overwhelmed by homeschooling.
This book by Annie F. Downs was a 100 day devotional book that I read, in which each entry focused on some aspect of being courageous in everyday life. Annie is funny and relatable and makes you feel like you already know her, so I enjoyed each of the short and easy-to-digest entries.
I read Erin Odom's previous book, "More Than Just Making It," last year and it was one of my favorite books of the year. I loved it so much that I decided to go ahead and read this one, too.
You Can Stay Home with Your Kids is a lovely gift-style book that includes over 100 suggestions for saving or making money so you can be home with your kids. Even if you don't want to leave your career to be home with your kids, I think the tips and tricks in the book can be really helpful for families who are looking to increase their financial margin.
This book is written by the same authors who wrote "Triggers," which I discussed above. While I am typically a little skeptical of many parenting books (because I don't believe one specific technique works for all children, or all parents, for that matter), I found this book to be a helpful resource.
Many parents want to address issues, but aren't sure exactly what to say to get to the heart of the issue in a positive way. Parenting Scripts helps you craft intentional words to speak into your child's life in a very practical way.
Mom Set Free was one of my favorite books that I read all year. Ever since I can remember, I have been a perfectionist. I've lived by the mottos, "If it's worth doing, it's worth doing well" and "If you don't have time to do it right, when will you have time to do it over?"
While there is some benefit to being a perfectionist, it can also be exhausting and anxiety-inducing. For the most part, I think my perfectionism served me well for much of my life–I did exceptionally well in school, sought excellence in my nursing career (I mean, would you rather have a laid-back nurse or perfectionist nurse in charge of keeping you alive?), and so on.
However, having kids has taught me that there is no such thing as a perfect mom. I can't do it all, I can't do it all perfectly, and I certainly will never be perfect. But that's hard to swallow when it feels like there's so much at stake. I only get one chance to raise these kids, right?
This book spoke straight to my core in regard to releasing myself from the pressure to get it all right, as the title implies. It is a very grace-centered approach to parenting and was a breath of fresh air. I highly recommend it!
I love Alli Worthington, and I listen to her podcast each week. I read her book "Breaking Busy" a few years ago, so I was excited when she released Fierce Faith.
I've written before about my tendency toward anxiety, so I really appreciated Alli's practical approach to overcoming fear and anxiety. This book is written more as a guidebook from someone who has struggled with these issues, and I thought it was a great read.
As women, I think we are often led to believe that we can either be a good mom OR we can pursue our passions.
Many of us can probably relate to feeling like we have to choose between the two. Or perhaps we've tried to do both, but have been left feeling like frazzled failures who are doing everything halfway.
I found One Beautiful Dream so encouraging. Jennifer Fulweiler raised six kids while also pursuing her passions, and her story is both hilarious and relatable. There were so many times I thought, "she totally gets it!" and "oh my goodness, it's not just me!" Her reimagining of what "having it all" looks like is inspiring.
Okay, so in full disclosure, I actually only read about 2/3 of this book, and although it's a long story, I'll try to explain why I didn't finish it (and it's not because I didn't like it).
As a kid, my family moved a lot, sometimes staying in one place for less than two years. As a sensitive introvert, each move was pretty hard on me. Leaving family and friends behind to start over in a new town took its toll. I know some personalities thrive on that kind of variety, but I did not.
So I longed for the day when I could put down roots of my own and stay put.
For the first ten years of our marriage, my husband and I rented a historic home in a lovely neighborhood that I adored. The home was old and lacked many modern amenities, but it had a ton of charm and character, as older homes often do. And, most importantly, I spent ten years of my life in one home, which was the longest I'd ever lived in one home (or even one city, for that matter). It was, in every sense of the word, home for me.
Last year, we finally purchased a house, on the other side of town from where we'd been living. And, to my surprise, the move was really difficult for me emotionally.
I heard about This is Where You Belong, in which Melody Warnick discusses a lot of the research surrounding the psychology of "place attachment," or "the deep sense of connection that binds some of us to our cities and increases our physical and emotional well-being."
The book explores why one person can love their city and someone else in the same city can hate it, what factors tend to increase one's contentment with where they live and so forth, and how that can change over time. It asks the question, "How does where I live turn into where I want to stay?"
In short, my science-nerd heart found it absolutely fascinating. It brought scientific validation to a lot of my long-held feelings, which was really interesting (I'm not crazy after all, haha!).
But, I eventually decided to stop reading it. Ultimately, I felt like I was using the book to justify many of my feelings instead of setting out to process them and move forward using some of the suggestions included in the book.
I highly recommend the book, though, and will likely go back and finish it someday when I'm ready.
Hannah Brencher was a guest on a podcast episode I was listening to, and although she is a TED Talk speaker and founder of The World Needs More Love Letters, I had somehow never heard of her before. But after listening to her story on that podcast episode, I knew I wanted to read her book, "Come Matter Here."
In the book, Hannah chronicles her experience with deep depression and anxiety, and encourages others to focus on being firmly planted where they are now, as opposed to constantly chasing after the next big thing.
I found it to be really interesting and encouraging.
I love the practical tips Emily Ley includes in this book as she shares her own journey of simplifying her life while encouraging other women to do the same.
The book is full of ways we can simplify our lives by organizing and prioritizing, declutter our minds, space, and lives, and most importantly, hold ourselves to a standard of grace instead of perfection.
Another encouraging homeschool read, I loved Sarah Mackenzie's wisdom as she discusses the idea of homeschooling from a state of rest, rather than one of anxiety or fear.
Especially as a beginning homeschool family, as we seek to find our own rhythms and discover what works best for our family, I found Sarah's words in Teaching from Rest inspiring.
I loved learning pieces of Jo Saxon's story as the child of Nigerian immigrants in the UK, and how her identity was shaped by her experiences.
In The Dream of You, she weaves in pieces of Bible stories throughout her narrative as well, encouraging others to shut out the voices of the world and instead focus on their God-given identities.
This wasn't one of my favorite books of the year, but it had a really valuable message.
This book is worth its weight in gold! Jamie C. Martin gives so many insightful tips for teaching our children about the world through books, and she includes multiple lists of recommended age-appropriate books, organized by region.
Over the summer, my kids and I focused on one region each week, checking out many of the recommended books from our local library and reading them together each week.
The recommended books were a great way to introduce areas they've never been to before, discuss the ways of life common in these areas, and think about similarities and differences between our own lives and the lives of others around the world.
My kids LOVED so many of the books, and I know I'll revisit the book lists again and again over the years.
I'd heard great things about Building a Storybrand for quite some time, so I finally got around to reading it this year. It's a great book for business owners and provides countless actionable branding-related tips. I found it to be really useful and it has helped me improve many aspects of Margin Making Mom.
Hope in the Dark was written by my Pastor, Craig Groeschel, and it tackles many of the hard questions we face in life. In the book, we're invited to wrestle with those hard questions brought about by painful circumstances or events that inevitably happen in life.
I highly recommend this book to anyone who is struggling with painful events or who questions whether or not God really cares about us.
The Happiness Dare ranked pretty high on my list of favorite books this year. Jennifer Dukes Lee discusses 5 different happiness styles and explains how to best operate within your own style, as well as common obstacles to happiness, ways to increase happiness, and how to find your sweet spot.
I think many of us, particularly if we were raised in church or have spent time in Christian circles, find ourselves feeling "shallow" if we desire happiness, because we should just be joyful in all circumstances. But Jennifer explores a lot of the biblical language around happiness and joy, which I found super interesting.
This book really challenged me to think about my own preconceived notions surrounding happiness, as well as to examine my own happiness style and maximize my ability to operate within that style. It's a great read!
Just Open the Door was a book that really challenged my view of hospitality. It left me feeling more encouraged and confident to invite others into our imperfect mess, just as they are.
In the book, Jen Schmidt discusses her own experience with extending offers of hospitality and how those invitations have had ripple effects much larger than she ever imagined.
It's so easy to come up with excuses for not inviting others into our homes and lives, but Jen also gives practical tips on actually making hospitality a reality.
Jessica Turner from The Mom Creative is one of those women who seems to do it all–she works a demanding job outside of the home, runs The Mom Creative, is a mom to three children, and the list goes on.
In Stretched Too Thin, Jessica gives some of her best tips for how to be more efficient in our work and home life and how to stop feeling "mom guilt" for not being able to do all the things. Each chapter focuses on a different facet of life (friendships, home management, marriage, goals, self-care, and so on).
While many of the suggestions weren't necessarily new to me, overall, I found the book encouraging and took away some practical tips that I hadn't already considered.
The concept behind The Gratitude Jar is nothing particularly earth-shattering, but I love the way Josie Robinson shared her own journey with gratitude throughout the book.
Josie describes her transformation from a miserable alcoholic to living in the light of gratitude and thanksgiving, and it is an inspiring story to say the least.
I am a big believer that gratitude can change our hearts and minds, and I use this gratitude journal every night before I go to bed. But after reading The Gratitude Jar, I decided to make the practice of gratitude one that our whole family could be a part of.
Every night before bed, all five of us would gather to write down one thing we were thankful for. We would share it with the whole family, then put our piece of paper into a glass jar. Honestly, I wasn't sure how it would go over with our small children, but they LOVED it. Every night, they were so excited to do our gratitude jar activity, and we did it every night for the month of November.
This book is a really quick and easy read, and I think you'll find it inspiring.
Beautiful Now is a devotional book that I really enjoyed this year. Each short daily reading reminds us of how God sees us and delights in us. Sometimes we can be so hard on ourselves, but it's important to be reminded that God see us as whole and beautiful, his prized creations.
As parents, we desire what's best for our kids. So often, I see feelings of entitlement creeping up in the lives of my own kids and those around us. Lately, I've been pondering ways to decrease entitlement and increase gratitude. That's one reason why we implemented our own Gratitude Jar activity.
However, I've also realized that there are times in my own life when I feel entitled. So dealing with my own issues of entitlement is imperative if I hope to raise grateful children.
I love Kristen Welch's approach to helping her children become more grateful and less entitled, and while this book is not a prescriptive plan, it lays out many suggestions that can help grow gratitude in the lives of our children. I highly recommend it.
There You Have it!
Those are the 26 books I read in 2018, and hopefully you'll find some good ones to add to your list for 2019. Here's to making more time for the things you love!
New to Pressure Cooking?
Join the free community and you'll learn simple ways to easily create tasty food for your family. Plus, you'll get instant access to a FREE printable Beginner's Guide to Getting Started with Your Pressure Cooker!
Free Resource Library
Enter my
free resource library
for my latest printables and resources! Password is 'IHEARTMARGIN' -- please copy and paste that in at the link above. Thanks for being a subscriber!!