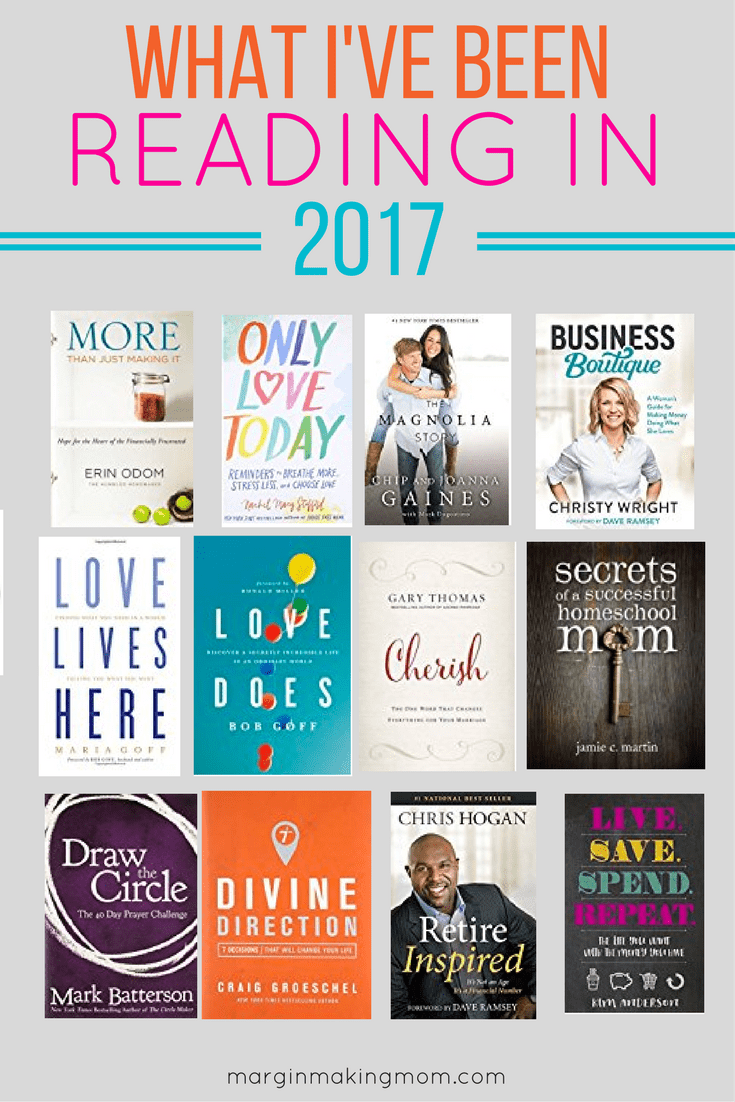 These are the books I read in 2017 and my thoughts on them, plus what I'm hoping to read in 2018!
Note: This post may contain affiliate links for your convenience. You can read my full disclosure policy here.
I have always loved reading. It's been a hobby of mine since elementary school, when I would curl up with the latest Babysitter Club book and devour it in one sitting.
Since having kids and other various grown-up responsibilities, my time for reading has become a little harder to come by. But since I do really enjoy it, I try to carve out time in my day to read, even if it's only 5-10 minutes. As moms, we often neglect ourselves, so I think finding small ways to enjoy our hobbies is important!
I tend to read mostly non-fiction books, with the occasional fiction book sprinkled in.
I love the quote by Charlie "Tremendous" Jones, "You will be the same person in five years as you are today except for the people you meet and the books you read." Not only is reading something I enjoy, but I find that I learn so much from the books I read. Even if I don't agree with everything an author writes, I still find value in their perspective.
In order to save money on books, I try to make use of our public library as much as possible. In our city, we have access to free printed books, ebooks, and audiobooks. I occasionally listen to audiobooks, but most of the time, I read a print book or ebook. If your library doesn't have a book you're looking for, request it! They are often very willing to order books that patrons request.
For 2017, I had a goal to read 24 books over the course of the year. I didn't achieve that goal, but I got pretty close with 18 books. If you need any suggestions for books to read, the following are the books I read during the year and my thoughts on them. You can also see the books I read in 2018 for more ideas!
Books I Read in 2017
I decided to read this book after the author, Bob Goff, was a guest speaker at our church. And I absolutely loved it! It was one of my favorite books of the year.
The book is full of stories that involve putting love in action, and some of the stories are so outlandish that it made me think, "Is this his real life?" To say it was inspiring is an understatement. It made me think about ways I can better show love to others and how I can live life to the fullest. I highly recommend this one!
Earlier in the year, when I was trying to decide whether to homeschool my oldest for Kindergarten, I began a process of researching different homeschool philosophies and methods.
Although I have been a teacher in the past (high school and college), I have never taught elementary school. Honestly, I wondered if I had what it takes, if I'd be ruining my child's formative years of education, blah blah blah. This book (along with conversations with experienced homeschool moms and a lot of prayer) was influential in my decision to take the plunge. It helped me realize that teaching my own child doesn't have to be hard. I found the book to be very inspiring.
This book was authored by my pastor, Craig Groeschel. He taught a sermon series along the lines of this book, so I decided to read it.
The book outlines 7 small choices that we can make over time that drastically change the direction of our lives. It's peppered with stories that make it an easy read, and I think it's always good to think about how the decisions we are making now can impact our life for the long haul.
Ok, who doesn't love Chip and Joanna Gaines? I loved reading their stories, and I found a lot of similarities between Joanna's personality and myself. I enjoyed learning about their humble beginnings and how they have grown a booming business over the years. Definitely a fun read!
I actually first read this book a few years ago, when I only had one small child. At that time, I found it really encouraging. Now that I have three kiddos, I thought I'd revisit the book.
Honestly, I didn't enjoy it as much this time around. Maybe it's just the phase of life I was in, but instead of encouraging my heart like it did the first time, the book left me feeling like I need to do more or be different or try harder. I realize that is totally my perspective, since it was encouraging to me in an earlier season, but for some reason, it didn't resonate with me the same way this time around.
I really enjoyed this book as a daily reminder to pray bold prayers. I pray everyday, but sometimes I am guilty of not praying bold prayers. Each day of the challenge includes a story, scripture, and prayer prompt, which was really inspirational.
Several people from my church were talking about this book, so I decided to check it out. Overall, I think it has a lot of good strategies that could be considered when it comes to parenting small children.
I've come to a place in my short parenting journey where I've realized that there is no such thing as a one-size-fits-all strategy. But I did like that so much of this strategy focused on relationship with your children, and I always think that's a great starting point.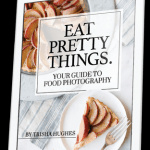 I have been slowly working on improving the quality of my food photography for this little blog of mine. While I still have a way to go in this area, I really enjoyed this book as a way to get started making some improvements!
I love Ruth Soukup from Living Well Spending Less, and this was an easy read full of ways to save money. Each of the 31 days has a different challenge to help you spend less.
I love listening to Christy Wright's Business Boutique podcast, so when her book came out, I wanted to read it. A lot of the book's content was very similar to what I'd heard on her podcast, but I definitely recommend this book to anyone who is starting or growing a business. It's full of stories and tips for making wise decisions based on your needs and desires.
As a recovering perfectionist, this book was a great read for me. The book focuses on finding a balance between taking care of your home and also taking care of your heart. It's full of practical ways to get your house clean without compromising your happiness.
This was another favorite for me this year. It's comprised of several short entries that are based around the four seasons. Each entry offers hope and encouragement to live for what matters. I love the focus on relationships and putting love at the top of our to-do list.
I've been budgeting for several years now, and I've seen first-hand how it transformed our finances and enabled us to meet some pretty big goals. In this book, Kim Anderson gives a simple plan that helps you use your money to reach your goals. She helps you create a budget and use the money you have rather than the money you wish you had. I love her focus on making small, intentional changes that add up over time.
The first book on my list, Love Does, was written by Bob Goff. This book was written by his wife, Maria Goff. I love not only reading stories about Bob and Maria's whimsical life, but also about the lessons they've learned along the way.
Maria talks about how she found what she needed, and how that enables her to live a life rich in legacy. It caused me to really examine my own life and the legacy I want to leave.
I've been following Erin Odom's blog for many years, so I was really excited to read this book. It exceeded my expectations and, quite frankly, I loved it. I had a hard time putting the book down.
Not only is her writing style beautiful, but Erin's stories are so vivid. She is very transparent about her family's financial struggles, as well as her beliefs about public assistance. I found that it challenged my own beliefs and it was also eye-opening to the world of the working poor. I found the book very encouraging and I highly recommend it.
Many couples simply go through the motions of being married, but this book really challenged me to think about ways that I can better show my husband that I cherish him. Gary Thomas discusses several ways we can cherish our spouse, and it opened some great conversation with my husband about what makes us feel cherished.
I think it is SO important to continually invest in our marriage and to grow closer together, and this book was a helpful part of that ongoing process.
I wasn't entirely sure what to expect from this book, but it came highly recommended. In it, Sally Clarkson shares her views on how important our role as a mother is. She touches on society's expectations for moms and how unhelpful those expectations are. I can't say that I agreed fully with everything she says about mothers staying home with their children versus working, because I think that's a very individualized choice. But, I did find the book to be overall very encouraging and empowering. It's easy to feel like many aspects of motherhood are mundane, but Sally shows how far-reaching our impact on our children can be.
When my husband and I did our debt-free scream at Dave Ramsey's studio, he gifted us this book. The author, Chris Hogan, is a Ramsey Personality and retirement specialist. The book opened my eyes to the harsh reality of the average American's retirement savings. It also changed my way of thinking when it comes to saving for retirement. Instead of thinking of retirement as an age, Chris recommends thinking about it in terms of a number, or a dollar amount that you need to have saved. He also includes a lot of wisdom regarding investment strategy. I highly recommend it!
My Tentative Reading List for 2018
The following are some of the books that are on my list to read in 2018. I'm sure I'll add different titles as the year goes on, and I probably won't get around to reading all of these. But it's a start!
Of Mess and Moxie: Wrangling Delight Out of This Wild and Glorious Life
Desperate: Hope for the Mom Who Needs to Breathe
100 Days to Brave: Devotions for Unlocking Your Most Courageous Self
The Homeschooling Housewife: Juggling it ALL, One Priority at a Time
Raising Grateful Kids in an Entitled World: How One Family Learned that Saying No Can Lead to Life's Biggest Yes
The Abundant Mama's Guide to Savoring Slow: Simplify, Embrace the Chaos and Discover an Abundance of Time at Home
Goliath Must Fall: Winning the Battle Against Your Giants
Capital Gaines: Smart Things I Learned Doing Stupid Stuff
Love is a Verb: Stories of What Happens When Love Comes Alive
10 Gifts of Wisdom: What Every Child Must Know Before They Leave Home
The Gifts of Imperfection: Let Go of Who You Think You're Supposed to Be and Embrace Who You Are
Daring Greatly: How the Courage to be Vulnerable Transforms the Way We Live, Love, Parent, and Lead
The Broken Way: A Daring Path into the Abundant Life
The Gratitude Jar: A Simple Guide to Creating Miracles
The Year of Living Danishly: Uncovering the Secrets of the World's Happiest Country
Soulful Simplicity: How Living with Less Can Lead to So Much More
Slow Down: Embracing the Everyday Moments of Motherhood
What about you? What are you reading? Do you have any recommendations for me? I'd love to hear from you in the comments below!
Get the Instant Pot Meal Plan Jumpstart
Join the free community and you'll learn simple ways to easily create tasty food for your family, as well as immediate access to the FREE Instant Pot Meal Plan Jumpstart to help you get a tasty dinner on the table in a flash!
"Thanks for sharing your knowledge and experience in such a friendly and delightful way!!! So far, I'm very impressed with the results...thanks again for your guidance into this new realm of cooking!" -Margaret
Free Resource Library
Enter my
free resource library
for my latest printables and resources! Password is 'IHEARTMARGIN' -- please copy and paste that in at the link above. Thanks for being a subscriber!!