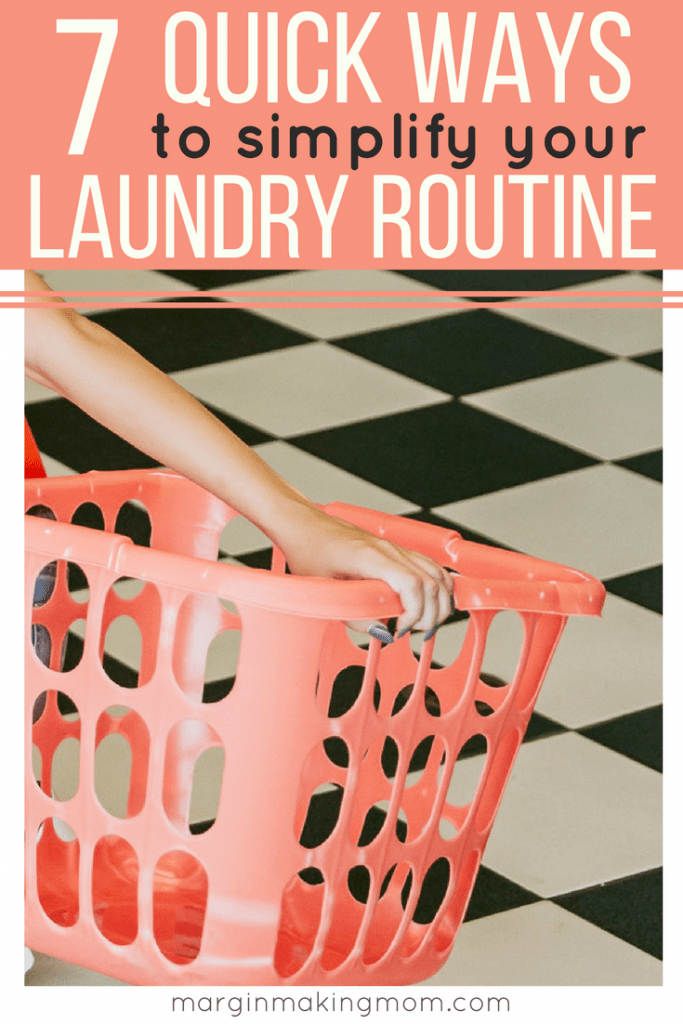 As a mom to three small kids, I've learned that laundry can quickly get out of hand if left unchecked. But laundry doesn't have to be overwhelming. These 7 tips will help you streamline the never-ending process of doing laundry so that you can simplify your laundry routine, too!
Mountains of clean clothes and towels were piled onto the couch and loveseat, overtaking the sitting areas. Still more mounds of dirty towels and clothes were heaped in the laundry room, and the tasks at hand seemed to never end.
When I was old enough to be frustrated if my clothes weren't clean, I quickly learned how to do laundry. My mom worked full-time, so as a teenager, the duty of folding and putting away the laundry very often fell to me, probably because I was the one most bothered by the ever-growing piles.
I would spend hours every week washing and folding the majority of the laundry for our family. I was the middle child of three, so there was a lot of laundry for our family of five. Not only that, but we all used a new towel every time we took a shower, so as soon as I got one load folded and put away, there was another load waiting.
I viewed it as a way to be helpful to my mom, but I remember thinking that laundry was a never-ending chore, and one that I didn't particularly enjoy spending hours on.
Flash forward to my life now, where we, too, are a family of five. Staying on top of the laundry was no big deal when it was just me and my husband, but after adding three kids to the mix, things began to get a little more challenging.
Over the years, I've found a handful of ways to avoid the never-ending piles and heaps of clothes and towels, because when laundry piles up, it kind of drives me crazy.
Ways to Simplify Your Laundry
While everyone's laundry routine may be a little different, there are many ways to streamline and simplify your laundry. We are nowhere near perfect in our family, but I've gotten to the point where laundry is no longer a never-ending, overwhelming drudgery. So I'm sharing 7 of my favorite ways to simplify laundry in hopes that you'll find some inspiration for simplifying your laundry routine in your house!
1. Use or wear items more than once.
I'll never forget when I went off to college and realized that not everybody used a new towel with every shower. It was so enlightening and saved me a lot of time and quarters spent at the dorm coin laundry. Turns out, if you hang a towel up properly after a shower, it doesn't get musty as it dries.
In our home, clothes often are worn more than once unless they are visibly soiled or stinky, which does happen fairly often with three small kids. Also, this "use more than once" strategy doesn't fly for socks or underwear. But if you don't wash something after every wear, you can decrease your laundry pretty significantly!
You can even steam dishcloths in your Instant Pot between washes to get rid of the stink!
2. Pare down wardrobes and linens.
This seems a little counterintuitive, I know. Most people reason that having more clothes means less frequent laundry. But what it really equals is mountains of laundry, because it's easy to keep putting off actually doing the laundry when you still have clothes to wear. This is especially important when there are multiple people in your family. I generally try to keep it to around 5-6 outfits for each kid.
The same is true for bath towels. There's no need to have several towels for each family member if you're using them more than once. I've found a good rule of thumb is about 2-3 towels per person, which will leave you some wiggle room.
3. Don't separate colors.
Gasp! I haven't separated colors in like 15 years, and it honestly hasn't made a big difference. However, for brand new items that are red, orange, black, dark blue, or denim, I do generally wash those separately for the first wash. After that, it all gets thrown in together.
You can also purchase color catcher sheets to put in the wash if you're concerned about colors bleeding. I haven't personally used these, but I know some people like them.
4. Combine loads.
I know some people wash each child's clothes in a separate load, creating multiple loads of laundry. Personally, that feels like a lot of work to me. I combine my clothes with all three of my kids' clothes and wash them together. My husband washes his own laundry separately. I personally don't find it difficult to sort and fold laundry when it's all combined, but if that's a trouble spot for you, consider purchasing mesh laundry bags to keep items separated within the same load.
5. Enlist help.
This might seem crazy, but husbands can help! I mentioned that my husband does his own laundry, and he always has, ever since we got married. It takes one thing off my plate and doesn't take him long to do it. Consider asking your husband to start a load of laundry or to help fold the laundry.
Not only that, but kids can help! Even small children are able to help out to some extent. For instance, my 3 and 5 year olds can help match socks and fold washcloths. They can also help put laundry away. Having a little bit of help can make the task feel much less overwhelming.
6. Simplify products.
Some laundry rooms look like the laundry aisle from a big box store. Here's the thing–nobody needs ALL of that stuff. Simplifying your routine down to just the basics can make things a lot easier. Detergent, stain treatment, and maybe fabric softener or dryer sheets are about as much as most people would need (some people regularly use bleach, but since I combine loads, I don't typically use it). I also love using wool dryer balls to help speed up the process of drying my clothes and to soften clothes naturally.
We've also simplified collection points for dirty laundry. My husband and I each have a laundry basket/hamper where we put our own dirty clothes. There is one hamper upstairs for the kids to put their dirty laundry in.
Downstairs, I keep a wet bag hanging in the laundry room for dirty dischloths, dish towels, and the miscellaneous dirty laundry that appears (such as socks that kids took off). When I do a load of laundry, I toss the wet bag and its contents into the wash as well.
7. Be consistent.
The same routine doesn't work for every family. We have different needs and are in different seasons. But having a consistent routine is key to staying on top of the mounds of laundry. Some people like to do a small load of laundry every day. Some people set aside one day each week for laundry, where they do multiple loads in that day.
Put a sticky note reminder on a mirror, or set a reminder in your phone if necessary. I think you'll find that tending the laundry regularly will help you feel more on top of it. I know that's helped me a lot!
In my house, I routinely do two loads of laundry each week, usually Monday and Thursday or Tuesday and Friday. I find that this is short enough that we still have some clean clothes, but not so long that the load becomes overwhelming. In the morning, I put a load in the washer. Everything gets transferred to the dryer by lunchtime, then I fold and put everything away in the afternoon.
I typically add towels to one of the loads of laundry each week. Sheets usually get washed every couple of weeks.
Again, the key is consistency! What works for my family may not work for your family. But if you can develop a consistent routine, you'll be a lot less likely to stay in perpetual laundry overwhelm!
What are some of your favorite ways to simplify your laundry? I'd love to hear your laundry hacks in the comments section below!
Get the Instant Pot Meal Plan Jumpstart
Join the free community and you'll learn simple ways to easily create tasty food for your family, as well as immediate access to the FREE Instant Pot Meal Plan Jumpstart to help you get a tasty dinner on the table in a flash!
"Thanks for sharing your knowledge and experience in such a friendly and delightful way!!! So far, I'm very impressed with the results...thanks again for your guidance into this new realm of cooking!" -Margaret
Free Resource Library
Enter my
free resource library
for my latest printables and resources! Password is 'IHEARTMARGIN' -- please copy and paste that in at the link above. Thanks for being a subscriber!!