Learn how to get rid of dishrag odors and keep them smelling fresh with your Instant Pot!
Did you know you can steam washcloths in the Instant Pot, getting rid of the sour stink in between washes? Find out how!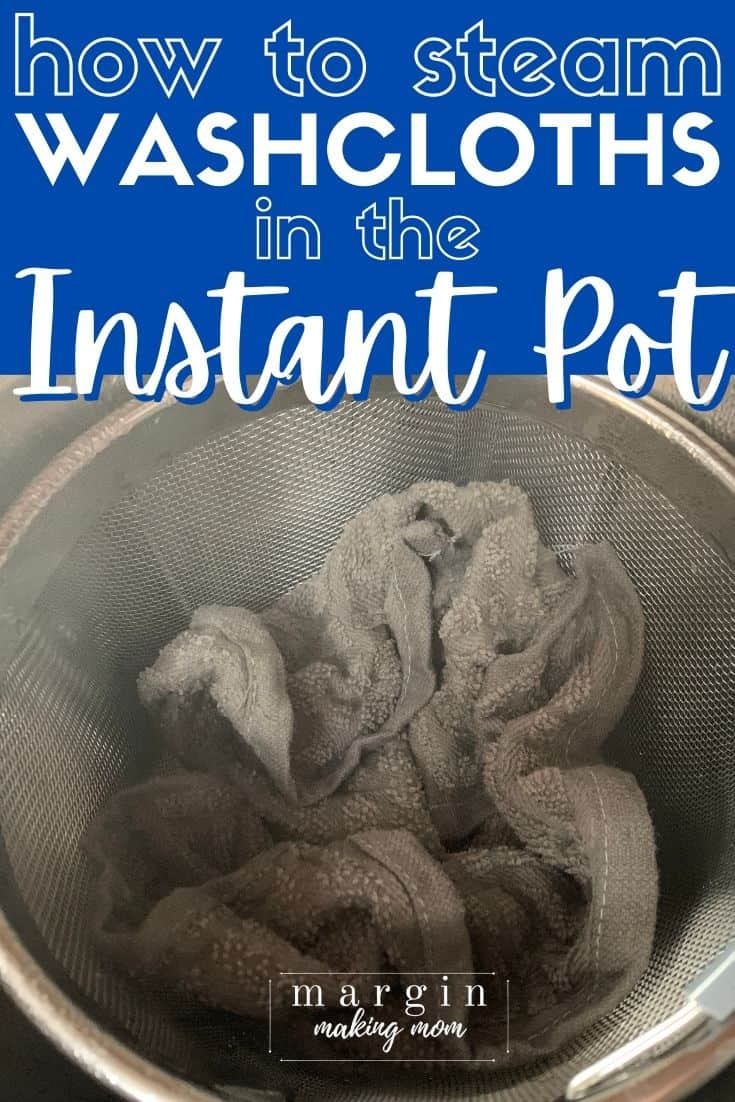 Note: This post may contain affiliate links for your convenience. If you make a purchase, this site may receive a small commission at no additional cost to you. You can read my full disclosure policy here.
The Instant Pot has taken the world by storm in recent years with everything it can do, transforming home kitchens and the lives of busy families everywhere.
Whether you're using the handy appliance for quick and easy Instant Pot weeknight dinners, proofing dough in your Instant Pot, reheating leftovers in the Instant Pot, or cooking low and slow with the Instant Pot sous vide function, it's no wonder this workhorse is so popular.
But you may be surprised to learn that you can steam washcloths in the Instant Pot, transforming your smelly dishrags in mere moments!
Now, I'm just going to say from the get-go that steaming your washcloths is not a substitute for proper washing and cleaning. But it can be a great way to decrease the smell in between washes!
Why Do Dishcloths Smell Sour?
The unpleasant truth is that dish towels and dishrags smell bad because they often contain moisture, particles of food, and bacteria.
By nature of their purpose, dishcloths and towels are meant to be absorbent. They are typically used to wipe up spills, dry our hands, and clean up messes in the kitchen.
They often don't have the opportunity to fully dry, so they retain moisture.
Not only that, but particles of food can easily be trapped in the fibers of a cloth.
This combines into the perfect breeding ground for bacteria to thrive and odors to form.
How to Keep Dishcloths from Smelling
Smelly dishcloths have been the bane of many kitchens over the years, and there are a few popular methods of getting the stink out.
These methods include:
boiling washcloths
soaking the stinky cloths in a solution of water and vinegar
washing them often (in hot water), using bleach as a disinfectant when possible
microwaving a wet washcloth or sponge
Today, we're going to look at another option–how to steam dish cloths in the Instant Pot.
Does Steaming a Dishcloth Kill Germs?
To start, we need to acknowledge the basic principles of killing bacteria, which involve both time and temperature.
In order to be killed, the bacteria must to be exposed to a high enough temperature for a long enough time.
This is true regardless of the method used.
For instance, when I was working on my undergraduate degree in Biology, I worked as a lab assistant in the Microbiology lab, frequently using an autoclave to sterilize items.
An autoclave works by reaching a pressure of 15 psi and a temperature of about 250F. The items must stay in that environment for a specific amount of time, usually about 30 minutes to an hour, in order to be sterilized.
So while we don't have autoclaves in our kitchens, we can still utilize the basic principles of time and temperature.
We've all probably heard about people putting their wet kitchen sponges or dishcloths in a common household appliance–the microwave–to kill germs, so let's look at some comparisons here.
Microwave heat is said to be close to around 212F, which is also the boiling point of water at sea level.
You'll notice this temperature is less than an autoclave, yet we all know boiling water is often recommended for killing bacteria. So what's the difference?
While it can kill or inactivate many microorganisms, boiling is not actually considered sterilization, but is more accurately considered pasteurization.
This is because sterilization kills all organisms present, whereas boiling kills most of the organisms that are most pathogenic to humans (however, some bacterial spores can survive boiling). Cooking food is another form of pasteurization.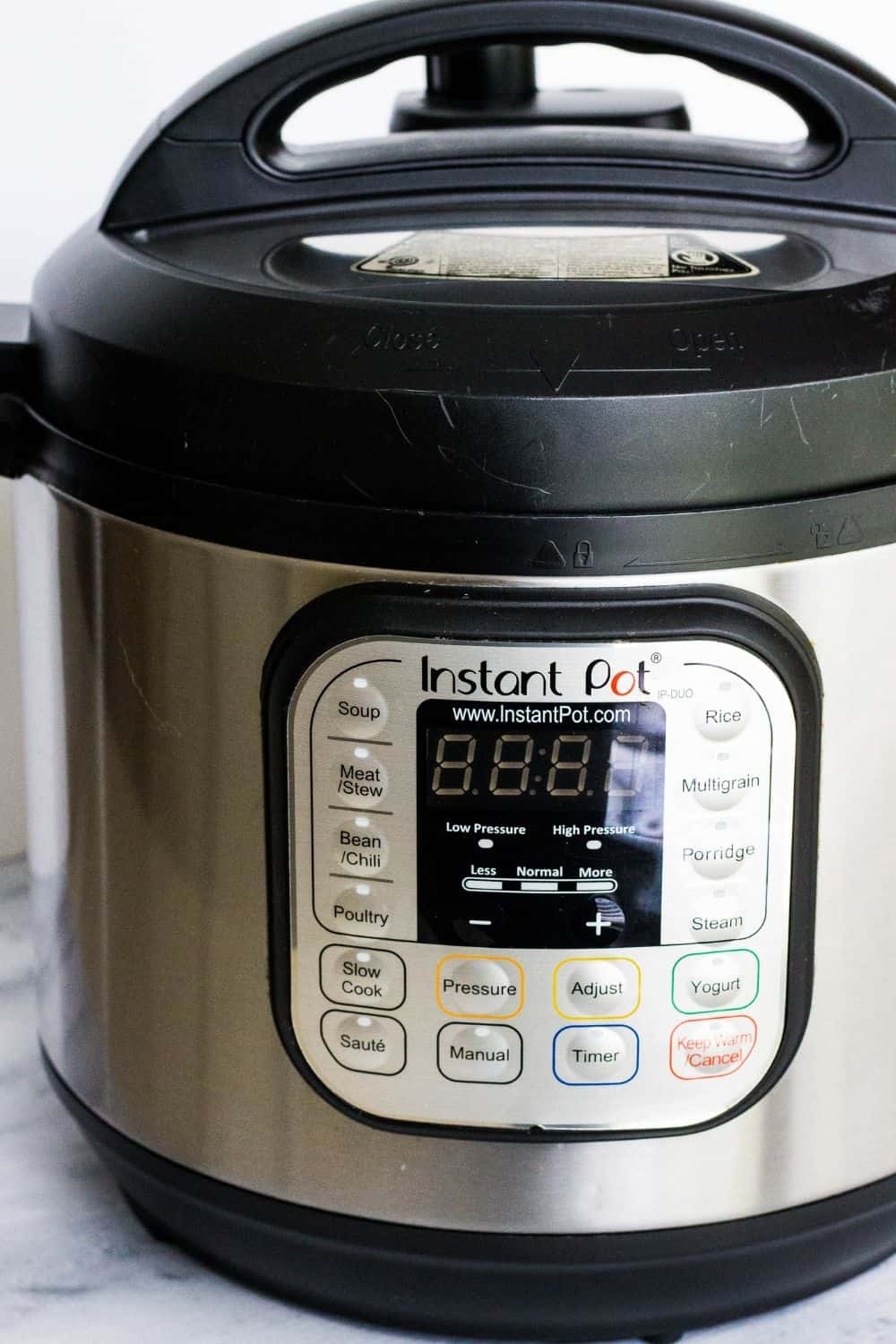 Can You Steam a Dishcloth in the Instant Pot to Kill Germs?
According to the Instant Pot Manual, when steaming in the Instant Pot, the temperature at high pressure should reach between 239-244F, and the temperature at low pressure should reach 229-233F.
This is a higher temperature than boiling, but it is still lower than an autoclave.
So while this temperature is high enough to kill many germs, it may be possible that some bacterial spores could still survive.
We also have to consider that each crevice of the cloth may or may not reach or maintain the specified temperature for the same duration, particularly if they are stacked on top of each other or clumped together.
However, there has been some interesting research that tested various pressure cookers to see if they could kill bacteria in the same way a laboratory autoclave could.
The findings showed that most pressure cookers killed most organisms, and the Instant Pot brand was the only one able to sterilize against the geobacillus spore (a particularly heat-resistant microorganism).
Obviously, I have not tested my kitchen washcloths for the presence of bacteria after steaming, so I can't tell you for sure what does or doesn't survive. This is by no means a guarantee that no pathogens will remain.
However, this method has been sufficient to get the stink out of my washcloths!
As a reminder, this is not a substitute for washing your washcloths—remember there is food, grease, grime, etc. on your washcloths that can only be removed with a good washing routine.
How to Steam Dishcloths in the Instant Pot
First of all, you have to make sure your wash cloths are made of fibers that can withstand heat.
I use 100% cotton dishcloths, so that is what I've tested. I do not recommend using microfiber or other materials that can be destroyed under high heat.
I also recommend using a dedicated silicone ring for this process, so your regular ring doesn't retain the stinky odors.
Recommended Equipment:
Once you're ready, the process of steaming washcloths in your Instant Pot is quite simple.
First, you'll add a cup of water to the insert pot of the Instant Pot.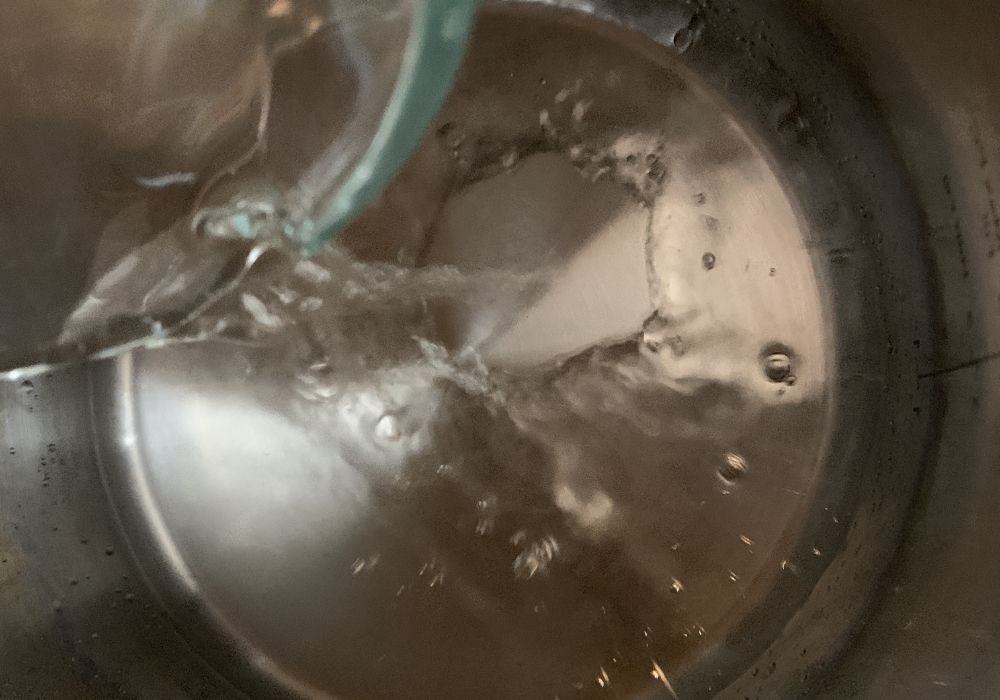 Then, you'll want to make sure your washcloths are completely wet, but wrung out (they don't need to be dripping, but they do need to be saturated).
Place the wet washcloths in a steamer basket and lower the basket into the insert pot of your Instant Pot (see my list of the best Instant Pot steamer baskets if you don't have one yet).
I generally don't add more than two or three dish cloths at a time, because I want each one to have as much surface area exposed to the steam as possible.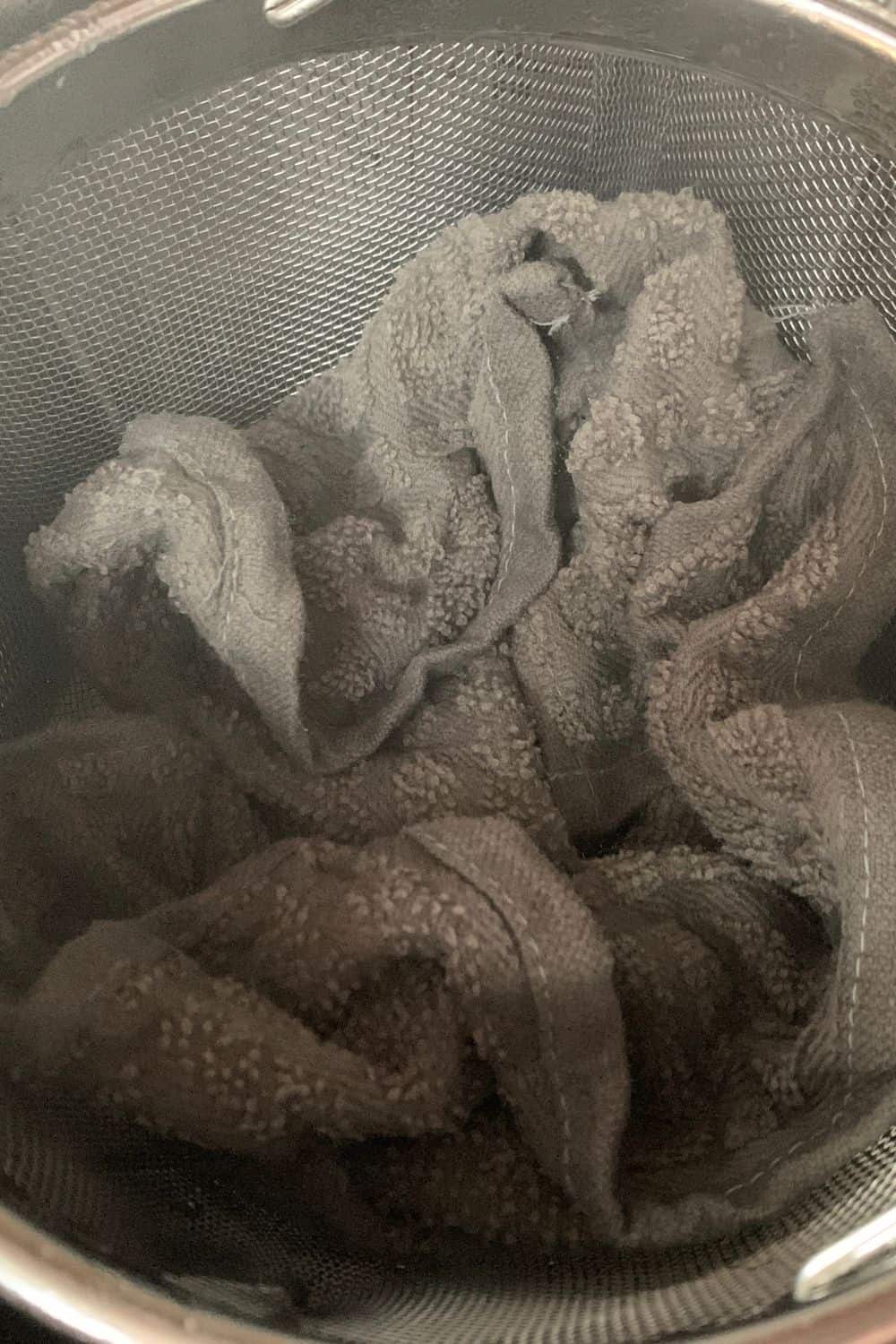 Close the lid and set the vent to the sealed position.
Select a steam time of 5 minutes at high pressure. Once the steam time is complete, you can perform a quick release of pressure, or just let the pressure release naturally.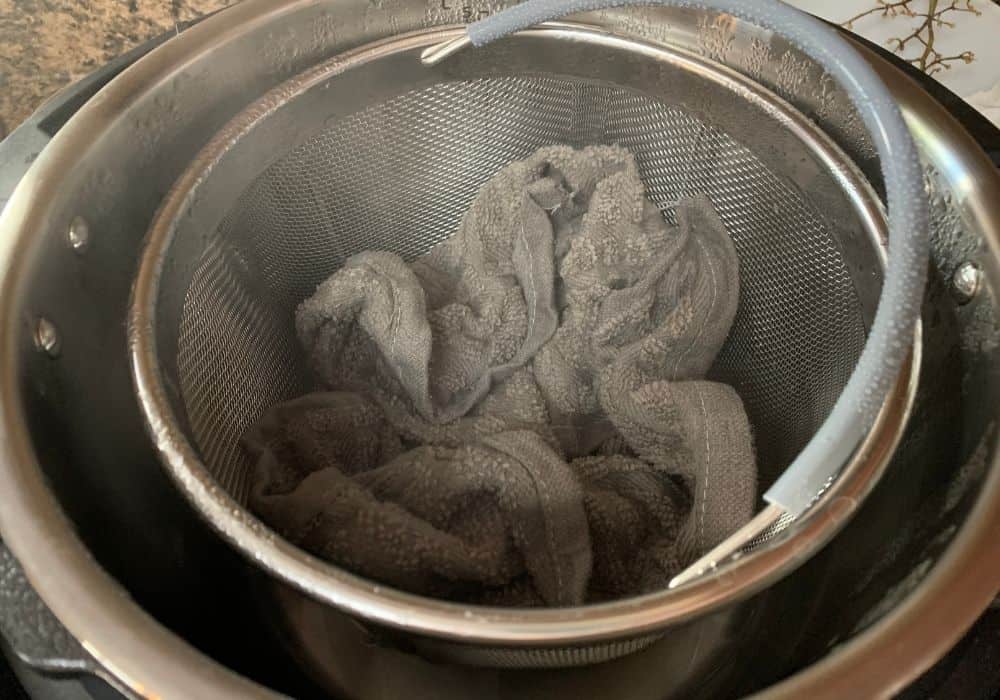 Use a pair of tongs to remove the hot cloths and hang dry.
There you have it–hope this helps to keep your dish cloths less smelly!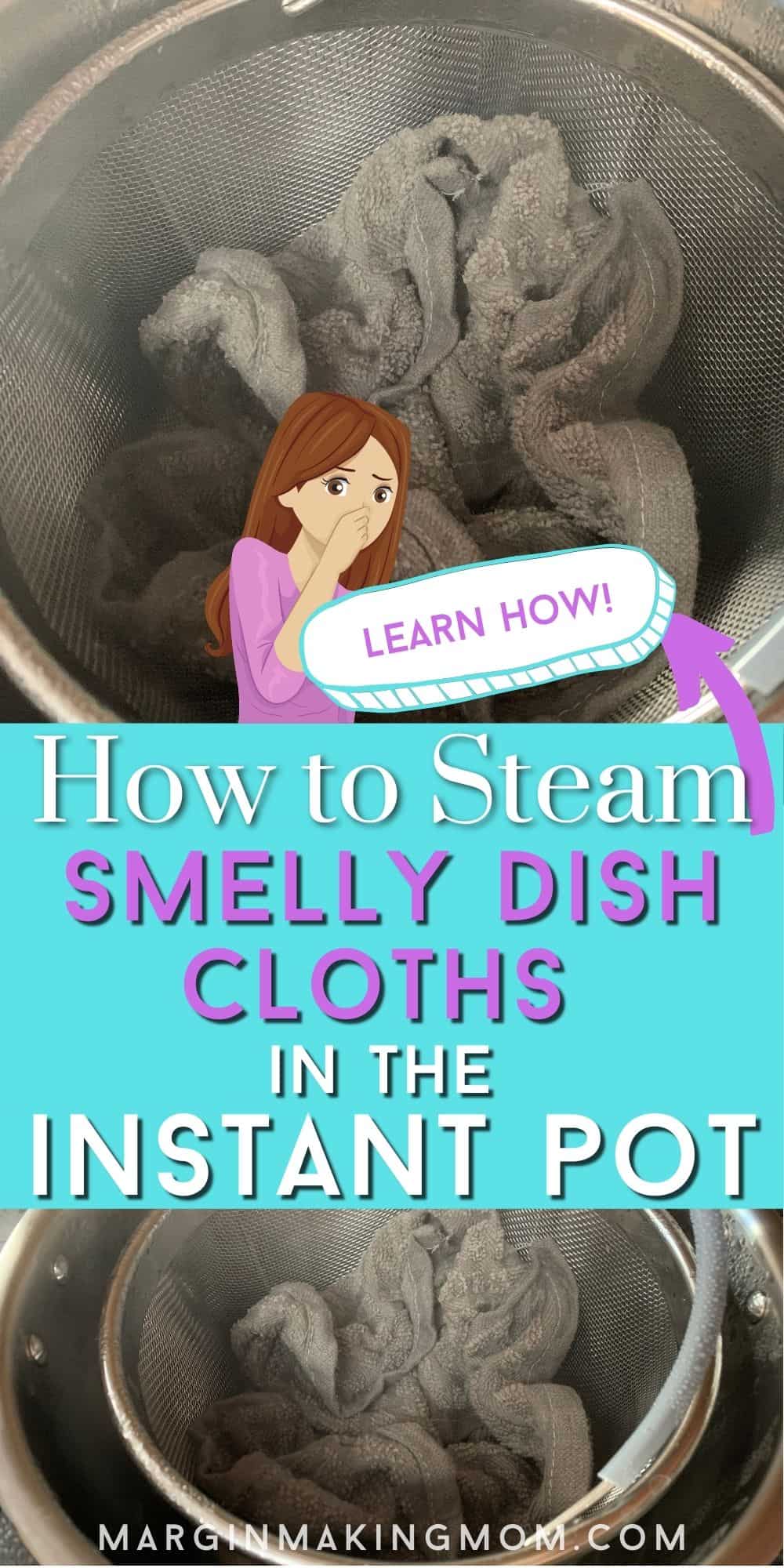 Get the Instant Pot Meal Plan Jumpstart
Join the free community and you'll learn simple ways to easily create tasty food for your family, as well as immediate access to the FREE Instant Pot Meal Plan Jumpstart to help you get a tasty dinner on the table in a flash!
"Thanks for sharing your knowledge and experience in such a friendly and delightful way!!! So far, I'm very impressed with the results...thanks again for your guidance into this new realm of cooking!" -Margaret
Free Resource Library
Enter my
free resource library
for my latest printables and resources! Password is 'IHEARTMARGIN' -- please copy and paste that in at the link above. Thanks for being a subscriber!!