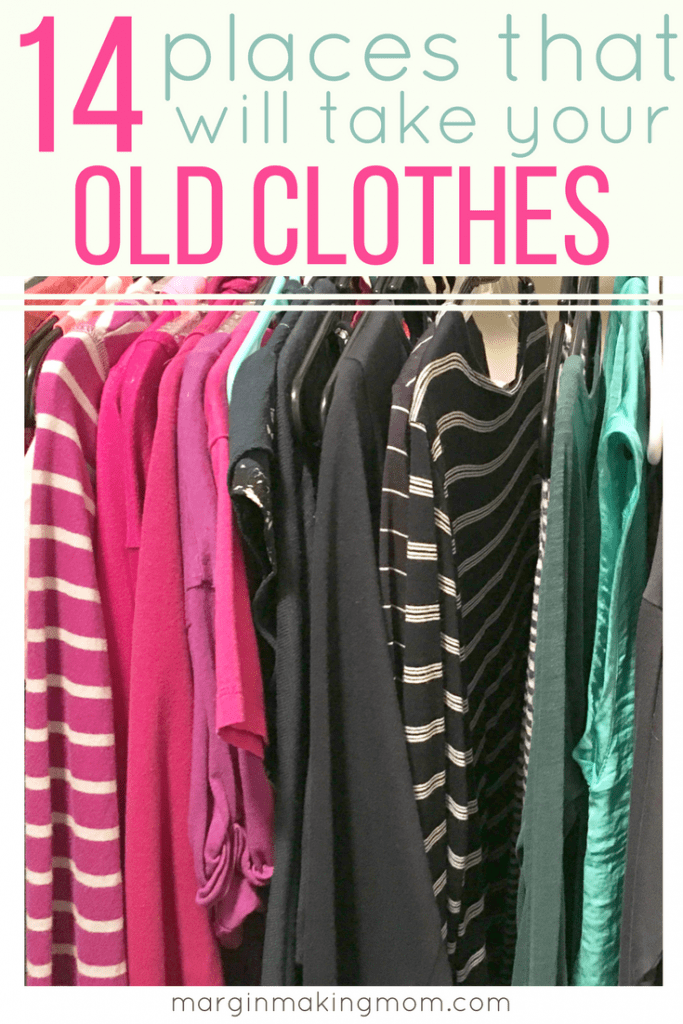 Once you've decided to finally declutter that closet, it's important to have a plan for what to do with those clothes (you know, so they don't sit in your house for another 6 months). This list of 14 places that will take the clothes you are decluttering gives you several options!
Note: This post may contain affiliate links for your convenience.  You can read my full disclosure policy here.
"What should I do with all of this stuff?"
That's the age-old question that most people ask at some point or another during their decluttering journey.
And it's a valid question, because most of us have a lot of things we could get rid of that still have a lot of life in them.
This is particularly true when it comes to clothes.  I know I've been guilty of buying something on sale and then never wearing it.  Or maybe there are items that just don't fit well (I'm looking at you, pre-baby clothes), but that someone else would love to have.
So what can you do with all of those extra clothes?
I dug around and did some research to compile a list of 14 places that will take the clothes you are decluttering.  Some of these options are a way for you to earn a little bit of cash for your old clothes, and some are a great way to donate or recycle your old clothes.  The goal is to get the clothes out of your house as easily as possible and hopefully let these clothes be a blessing to others in some way!
First of all, let me point out that if clothes are stained or tattered, other people probably won't want them.  So these suggestions are primarily for the clothes that could still be useful to someone else, though there are a handful of options that recycle clothing that is stained or torn.
14 Places That Will Take the Clothes You Are Decluttering
I've written before about how buying secondhand clothes from ThredUp helps me to update my wardrobe without spending a lot of money. These clothes are in great condition, some even new with tags, and it saves me a ton of money!  But on the flip side of that coin, they are also a great place to send your gently-used clothes that are still in style. You simply request a Cleanout Bag, which they will mail to you. Put your clothes into the bag and mail the bag back (you can arrange for the U.S.P.S to pick up the bag at your home–you don't even need to leave the house!). They will pay you for the clothes they keep, and they'll donate or recycle the clothes they don't keep.
Plato's Closet is a used clothing store that purchases gently used clothing that is still in style and in season. So while they may not accept all of your items, you might get some cash for a few things.  You can click here to learn more or find a location near you.
Schoola is a website that has some similarities to ThredUp, in that they sell used clothing online.  You can request a shipping bag and send your unwanted children's or women's clothes to them. However, one big difference is that Schoola then resells the clothes and 40% of the proceeds are donated to a school of your choice.  While you won't earn any money from these clothes, a school will (and we all know schools could use some extra funds!).
Another common place to donate used clothes is Goodwill.  You can box or bag up your extra clothes and drop them off at your local Goodwill. By giving to Goodwill, you help others find gainful employment.
There are various clothing donation boxes across the country where you can donate your unwanted clothes. These clothes will then be sold to provide cash for the American Red Cross, or anything not suitable for sale will be donated to third world countries or recycled.  Check with your local chapter to get more information.
In many states, Vietnam Veterans of America will pick up your unwanted clothes from your home. You can package the clothes and leave them outside for pickup. Click here to learn more or to schedule a pickup.
In some states, you can donate clothes to Amvets, and those clothes then are sold in their thrift stores. You can find information about specific locations here.
You can select to drop off used clothing or opt for a pick-up. You can find out more information about the Salvation Army's clothing donation options here.
If you have business clothes that you are getting rid of, Dress for Success is a great option. They are an organization that empowers and provides support for women around the world who are in the workforce, which includes providing appropriate business attire.
10. Career Gear (business clothes for men)
Career Gear is the Dress for Success for men. They provide mentoring, life skills, and professional clothing to men in poverty in order to help them become strong contributors in their community. If you have men's suits or other business attire, Career Gear will put them to good use.
When you donate clothing, the proceeds from the sales go to fund Big Brothers Big Sisters. You can also schedule a pickup!  Find your local agency to get more details.
12. Planet Aid (Recycle or Resale)
Planet Aid works to ensure that clothes don't go into a landfill. Clothes that are still in good condition are used to fund development projects all over the world. Clothes that have holes, stains, or tears are recycled. You don't even have to separate the items–just put everything into a bag and drop it off at a PlanetAid bin near you.
Becca's Closet helps to provide dresses for prom or other special occasions to girls who cannot afford them.  If you have prom dresses or bridesmaid dresses just collecting dust in your closet, Becca's Closet could be a great way to help someone else feel beautiful.
Clothing can be donated to be sold in Society of St. Vincent de Paul thrift stores.  Check their web site to find a location near you.
Additional Options for What To Do with Clothes You're Decluttering
Oftentimes, local churches, community centers, and shelters will collect used clothing that they can bless others with. Schools sometimes have clothing drives for needy families as well. Check with local organizations to see what options are in your area.
I am also a big fan of consignment sales for children's (and sometimes women's) clothing.  Check out my tips for selling items at consignment sales, as this is a great way to declutter clothes and also earn some money.
Once you've made the decision to clean out your closet and dresser drawers, figuring out what to do with those clothes shouldn't be an obstacle with this list!  It's important to have a plan of what to do with the clothes you're decluttering.  Whether you want to earn a little extra cash or help someone in need, you're sure to find an option near you that works!
What is your favorite option for getting rid of extra clothes?  Did I miss any places?  Let me know in the comments below! 🙂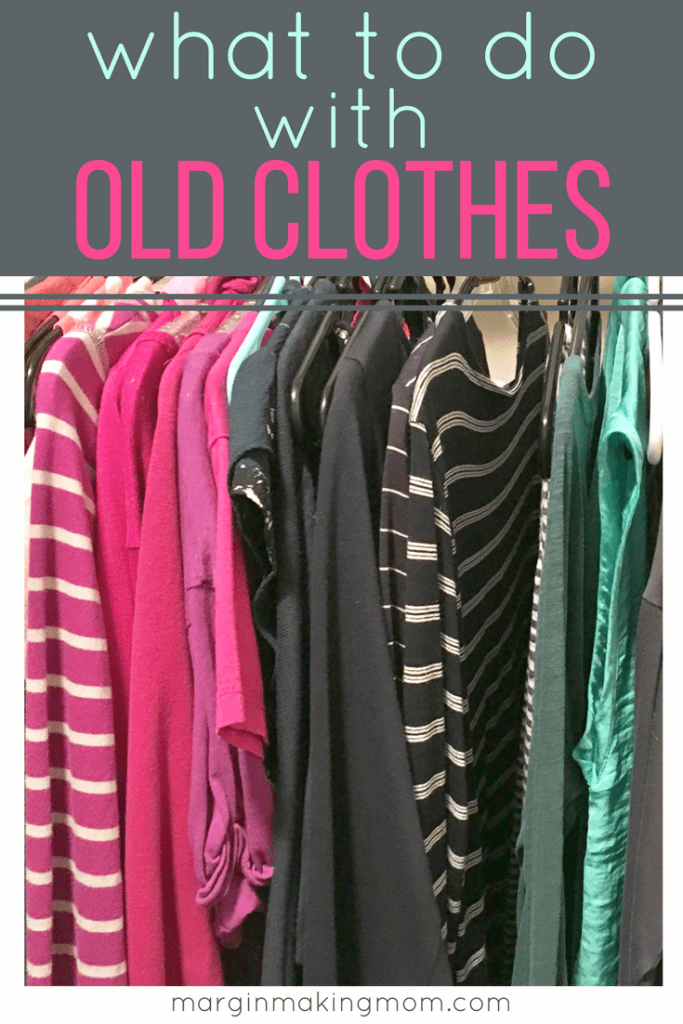 Get Access to my FREE Library of Printables!
Subscribe (free!) and I'll send you the password to my top-secret library filled with printables to help you create more margin in your life!

Free Resource Library
Enter my
free resource library
for my latest printables and resources! Password is 'IHEARTMARGIN' -- please copy and paste that in at the link above. Thanks for being a subscriber!!