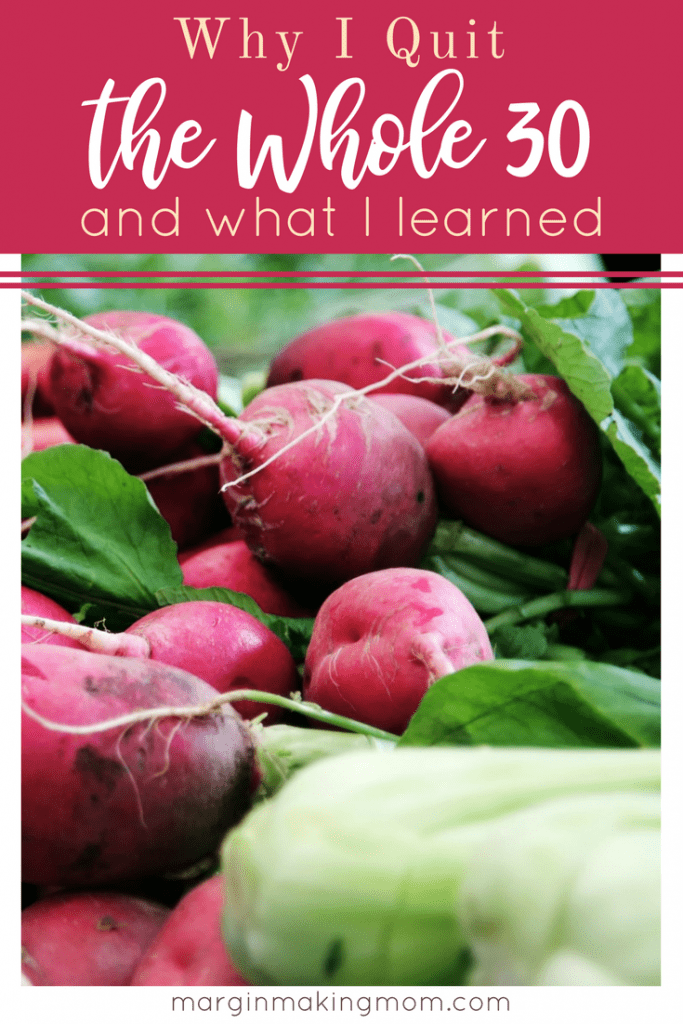 After giving it a go, I decided to quit the Whole30. And I don't feel even the tiniest bit of guilt. Today I'm sharing why I quit and what I learned!
Note: This post may contain affiliate links for your convenience. You can read my full disclosure policy here.
Earlier this year, I noticed that I pretty much always felt tired. Really, exhausted might be the better word.
Granted, my 18-month old just started sleeping through the night. My two older kids didn't start sleeping through the night consistently until they were around a year old, so I sort of expected the youngest to take a while, too.
Considering I had three kids in 3.5 years, that means I've pretty much been awake for the better part of the last five years. Haha!
Not only that, but I take care of these three precious but rambunctious kiddos nearly everyday while also running a household. And I love it. So, I guess I have good reason to be tired a lot. Motherhood can just be tiring. Can I get an amen?
While I generally eat a pretty healthy and well-rounded diet and exercise fairly regularly, I still couldn't help but wonder if my exhaustion might have anything to do with processed sugars in my diet.
So, after a bit of research, I decided to give the Whole30 a try to see if it made any difference in my energy levels.
You can learn more about the Whole30 here, but I'll give a very simple summary by saying that it's sort of a strict form of a paleo diet where you consume no grains, legumes, processed sugars, dairy, or alcohol for 30 days. No cheese, yogurt or bread? No oatmeal in the morning? No rice or beans? No sweet treats?
This was not going to be easy.
I gave myself a good pep talk and started the endeavor. I had read that many people experience a host of unpleasant side effects in the first week as they "detox" from all of these foods.
More or less, I was prepared to be miserable the first week.
But you know what? I wasn't miserable at all! In fact, I loved almost all of the food that I ate. I felt very satisfied after each meal. I wasn't constantly hungry. I wasn't craving noncompliant foods.
However, I didn't finish. I quit the Whole30.

I ended up being fully compliant for a week and partially compliant for the second week. And I am totally okay with that. In fact, I'm really proud of sticking with it for the full week.
So you may be wondering, why did I quit?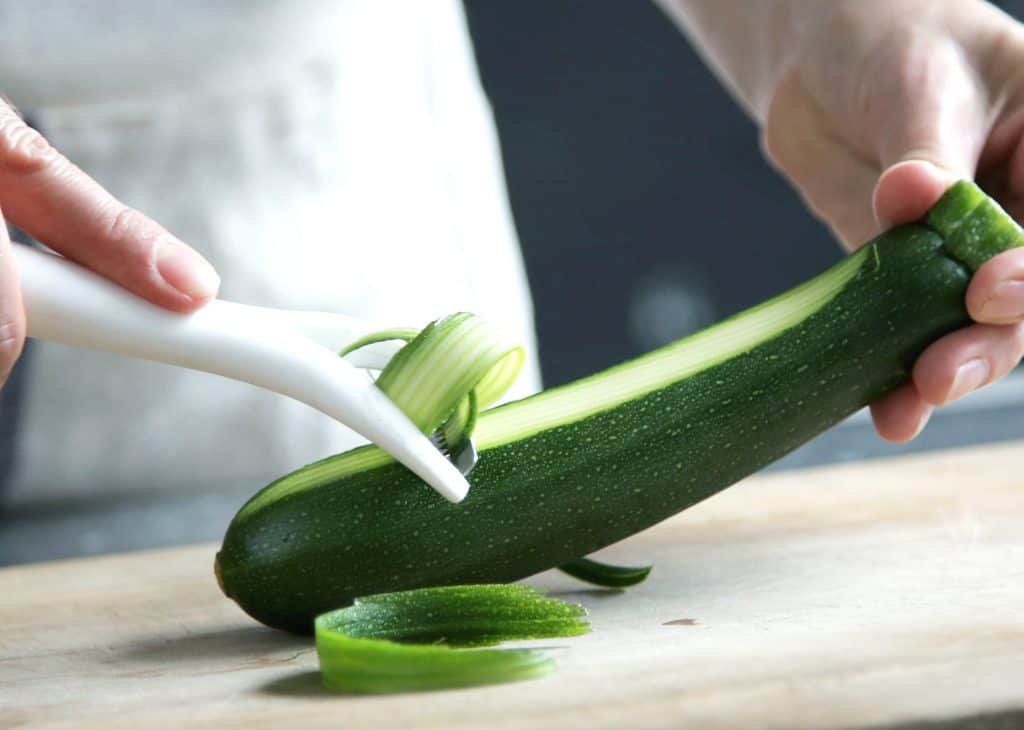 First of all, it was a lot of work.
Planning our meals for one week took me hours.
Hours, people. Now, I am already a seasoned meal planner. This is something I do every single week, without fail.
I've written about how to create a meal plan and even provided samples of a month's worth of our meal plans here, here, and here.
I love meal planning, as it saves us money and ends the age-old "What's for Dinner?" problem. And over the years, I've used different meal planning methods and I've become pretty good at it.
But Whole30 meal planning was a different animal. A lot of our regular meals were non-compliant. So I either had to find new meals by scouring the internet, or I had to make adjustments to our regular meals to make them compliant.
Not only did I have to plan and shop for these meals, but I also had to actually make everything with my own two hands.
There is virtually no place for convenience foods in the Whole30. I did allow myself to eat compliant varieties of Larabars whenever I needed a grab-and-go snack, but other than that, I actually made everything.
I didn't anticipate that being a big deal. I mean, I already make the majority of our meals at home. We don't eat out a whole lot, period.
But it was a big deal.
People are not joking when they tell you that food prep is the key to the Whole30.
Instead of a quick bowl of cereal or Instant Pot oatmeal in the morning, I was making eggs, sweet potato hash, frittatas, and the like. Every. Single. Morning. While these meals were delicious, it was still work.
I had to make my own Whole30 compliant mayonnaise just so I could make some egg salad.
Truth bomb #1: Homemade mayonnaise is NOT as delicious as everyone claims it is. Mine was actually pretty gross. It wasn't so bad once it was mixed with the hard-boiled eggs, but it is not something I would ever just use as a condiment.
Then I decided to make the famous Dump Ranch that everyone claims is a life saver for the Whole30. I already make my own ranch dressing on a regular basis, so this seemed like a no-brainer.
Truth bomb #2: My Dump Ranch was disgusting.
I used my Instant Pot a few times in order to simplify food prep, and had I continued for the full 30 days, I would have sought out more pressure cooker recipes for sure.
In addition to making ALL THE THINGS, I also had to wash all of the dishes from making said things.
We live in a 1940s home, so we don't have a dishwasher. We wash all of our dishes by hand. When you're making 3 meals a day from scratch for 5 people, that's a lot of dishes. No thank you.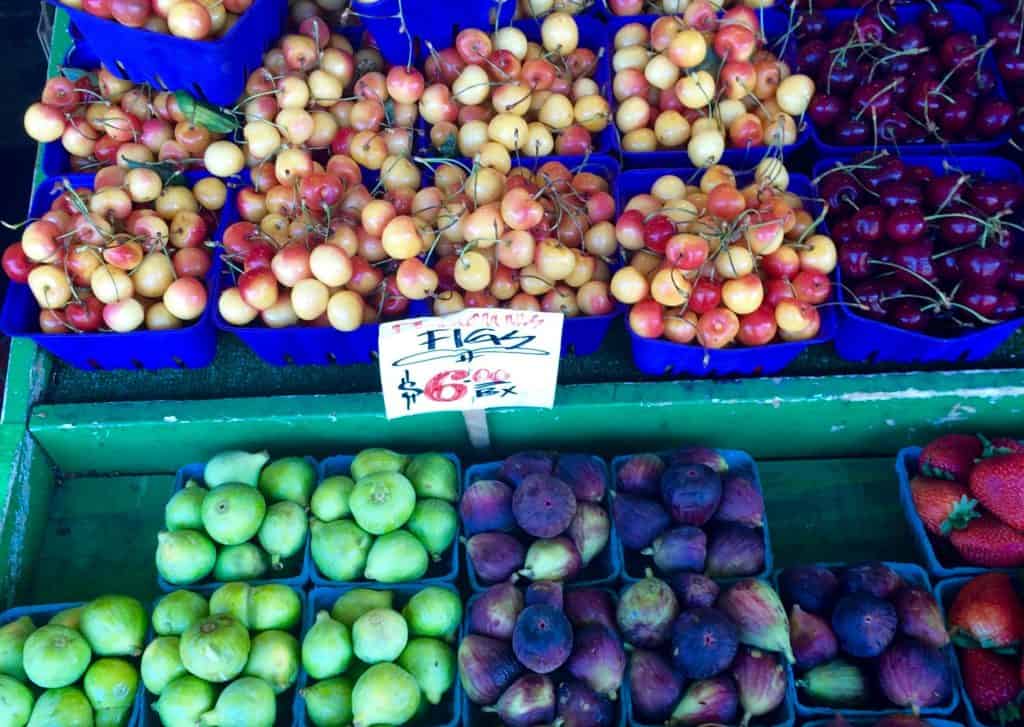 The second reason I quit the Whole30 is that it can be really expensive.
I know there are people who will swear up and down that Whole30 eating doesn't have to be expensive. And they are absolutely right. But the trouble is, I shop at one grocery store each week (I usually place an order online and then pick it up–game changer!!). I tote three small kids around and do not have the time or desire to go to multiple stores to buy special ingredients or produce wherever it is on sale.
I know that you can sometimes save money by signing up for a CSA or going to the Farmer's Market. Had I continued, I might have pursued those options further.
But when I found myself paying $5 for a tiny bottle of compliant ranch dressing (because the Dump Ranch was so awful) and I didn't want to keep eating plain raw veggies everyday, I realized this was not going to be sustainable. Yes, I can happily make a vinaigrette from scratch to pour over a salad. But I need a good dipping dressing for my veggies, and my attempt at homemade was atrocious.
Many of our regular inexpensive staples were off limits. We weren't able to use beans or rice (or any grains!). Eggs and potatoes, while relatively inexpensive (you can forget about buying compliant bacon. That stuff is $$$), still cost more than a bowl of oatmeal for breakfast.
Also, we ate WAY more meat on the Whole30 than we ordinarily would. More meat almost always = More money. I know you can buy meat in bulk to save money, but I have limited freezer space and knew that this was going to be a short-term deal, so buying half a cow wasn't really an option for me.
I budgeted an extra $25/week for groceries during the Whole30 experience, but it was still REALLY hard to stay within our budget. Not only was it time-consuming to find quick and easy meals, but trying to find frugal, budget-friendly meals took even more time.
I'm not trying to make excuses.
I know people make it work all the time (major kudos to them!). But all in all, I felt more tired and more overwhelmed from all of the effort required of me. I told my husband that if I had an unlimited budget, a personal chef, and a dishwasher, I would totally finish the full 30 days. 🙂 But that is not our current reality.
After completing the meal plan for the second week, I was spent. It was just too much work for my current season of life. And I simply told myself, "I don't have to do this."
I wasn't trying to lose weight or detect food intolerances or decrease inflammation in my body or any of those things. If doing the Whole30 was wearing me out, then it was defeating my initial purpose for doing it in the first place.
I am not a quitter by nature. But in this case, I absolutely extended some grace to myself and gave permission to quit the Whole30. And afterward? I felt enormous relief.
Even though I didn't finish, I did learn some things along the way.
I learned that I don't have to have sweet treats as much as I thought I did. In fact, I could go without them for several days in a row!
I learned that homemade mayo is not my thing. Yet. Maybe I'll give it another try someday. 🙂
I learned that there are a lot of healthier choices that I can work on gradually incorporating into our routines.
I learned that I need some flexibility in my life during this season, both from a time management standpoint and a financial standpoint. Committing to a nonessential rigid eating plan right now wasn't working. If we had to do it for food allergies or something like that, I would figure out a way to make it work. But doing it just to do it was causing more exhaustion.
Most importantly, I learned that it is TOTALLY FINE to change my plans if they aren't working for me or my family. While I am a huge proponent of setting goals and working hard, it is so beneficial to extend grace to ourselves when needed. There's no point in beating ourselves up over something that isn't working.
Because really, that's exhausting. Ain't nobody got time for that.
So my encouragement to you is: give yourself grace. Whatever area you may be struggling in or feeling overwhelmed by, cut yourself some slack.
Whether it's parenting, weight loss, paying off debt, cleaning, cooking, laundry, or just plain feeling like you're not good enough, give yourself grace. Because you know what, mama? None of us can do it all. And I assure you, that is totally okay.
Get the Instant Pot Meal Plan Jumpstart
Join the free community and you'll learn simple ways to easily create tasty food for your family, as well as immediate access to the FREE Instant Pot Meal Plan Jumpstart to help you get a tasty dinner on the table in a flash!
"Thanks for sharing your knowledge and experience in such a friendly and delightful way!!! So far, I'm very impressed with the results...thanks again for your guidance into this new realm of cooking!" -Margaret
Free Resource Library
Enter my
free resource library
for my latest printables and resources! Password is 'IHEARTMARGIN' -- please copy and paste that in at the link above. Thanks for being a subscriber!!