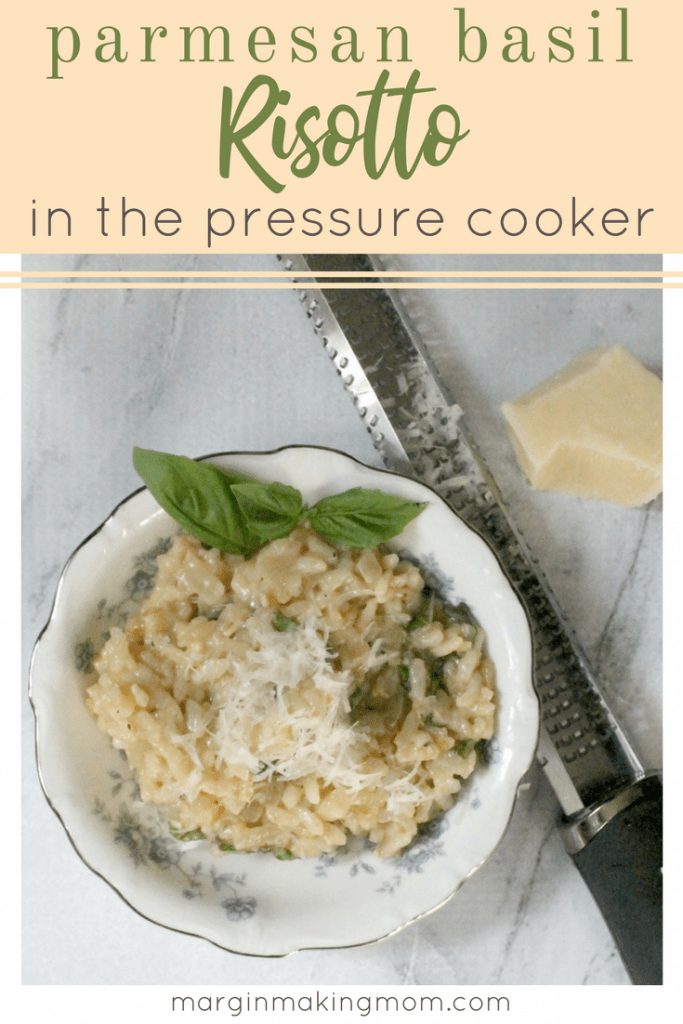 Making risotto in the Instant Pot pressure cooker saves a lot of time compared to the traditional method of preparation! It's creamy, easy, and delicious!
Note: This post may contain affiliate links for your convenience.  You can read my full disclosure policy here.
Sometimes I think I must have been Italian in another life.  I mean, really, what is not to love about Italian cuisine? Now, I've never actually been to Italy (yet!), and I realize that much of what we consider to be Italian food is a bit Americanized, but still–bread, cheese, pasta, sauce–it's just all so good!
I've loved risotto for a while now.  I first began making it myself several years ago, and I love that it is a pretty versatile food.  You can add whatever veggies or herbs you have on hand, you can use it as a side or main dish, you can experiment with different aromatics and wines.
Traditionally, making risotto requires a bit of close attention.  You babysit the pot of rice as it cooks, stirring it nearly constantly and adding more liquid along the way until it reaches the perfect consistency.  I used to really enjoy the slow process of getting the rice just right.
But now?  Have I mentioned that I have three small children?  Let's get real–standing over a hot pot of rice stirring it constantly is not exactly a possibility in my life right now.  I can only imagine the havoc that would go down while I gingerly ladled steaming broth into the risotto.  Yeah…not happening.
Once again, Instant Pot for the win.  With the pressure cooker, making risotto no longer has to be the laborious process it once was.  I was a little worried that making risotto in the Instant Pot would yield a less than stellar result, but I was wrong.  The risotto is just as creamy and the process is so much easier.
The first risotto I made with my Instant Pot was Pressure Cooker Risotto Bolognese by Barbara at Pressure Cooking Today.  It was a dreamy one-pot meal that was full of flavor.  But more recently, I wanted a simple risotto to enjoy as a side dish, so I made this parmesan basil risotto in the Instant Pot.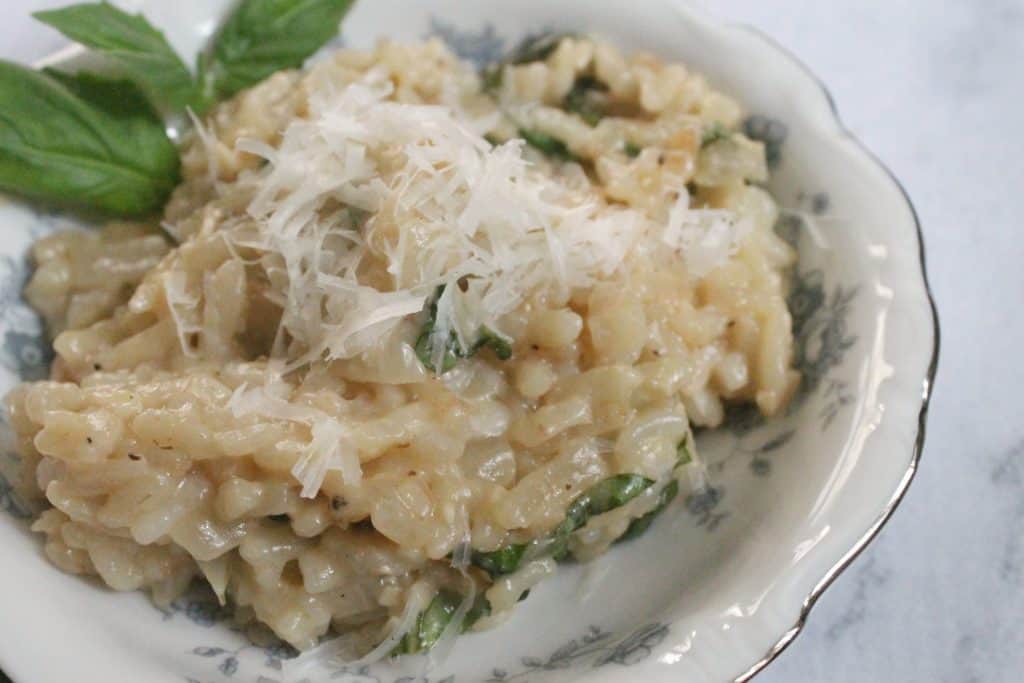 I'm a huge fan of using a handful of simple ingredients to create something delicious, and this is the perfect opportunity to do just that.
It's really simple.  You begin the process with the Saute function of the Instant Pot, cooking the onions in a bit of oil and butter.  The garlic and arborio rice is added and cooked for just a bit before adding a splash of white wine.  Once the white wine is mostly evaporated and cooked down, the broth is added and the rice is cooked under pressure.
After the rice is cooked, the cheese, basil, and a pat of butter are stirred in.  Sprinkle a bit of salt and pepper and you're good to go!  The fresh basil is a perfect compliment to the creamy parmesan.  You can serve this as a side dish–I served it with sausage and peppers, but I think it would be perfect alongside some grilled chicken or fish.  Or add in some veggies or protein to bulk it up into a main dish.
If you've been hesitant to make risotto before, or if you just need a more hands-off approach, give this method a try.  It's favoloso!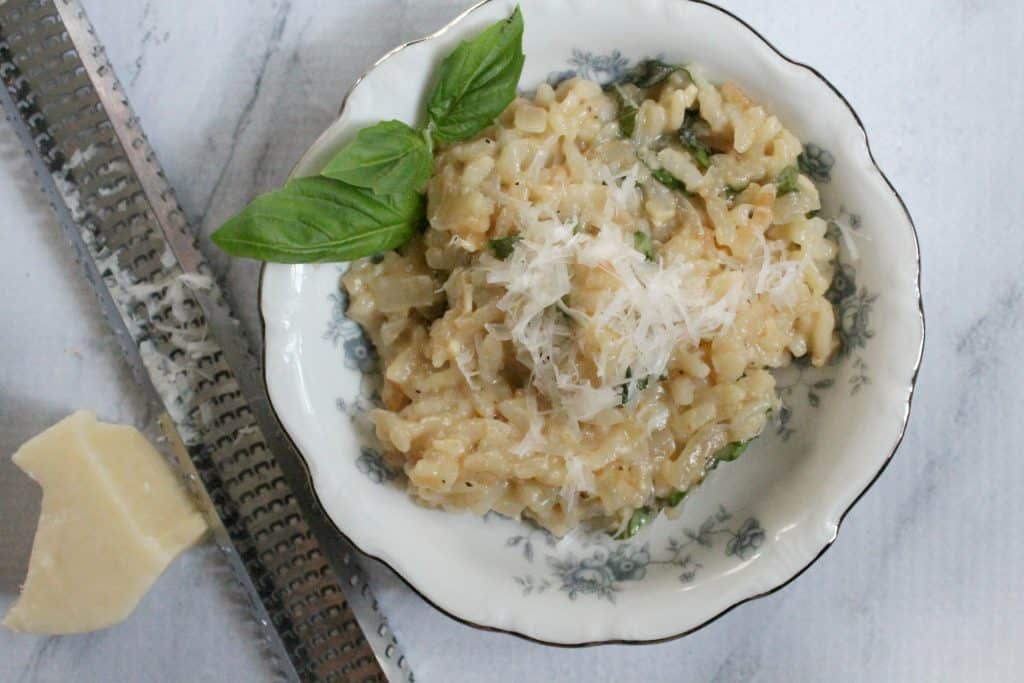 Recommended Equipment:
Parmesan Basil Risotto in the Instant Pot
Ingredients
1 Tbs olive oil
2 Tbs unsalted butter, divided
1 small onion, diced
3/4 cup Arborio rice
1 tsp minced garlic
1/4 cup white wine
1 3/4 cup chicken broth
2 Tbs fresh basil, chiffonade
1/4 cup freshly grated Parmesan cheese
salt and pepper to taste
Instructions
Using the Saute function of your Instant Pot, heat olive oil and 1 Tbs butter together in the insert pot until butter is melted.
Add the onion and saute for a few minutes until it begins to turn translucent.
Add rice and stir for a 2-3 minutes or until the rice begins to turn opaque. Then add garlic, stirring for one minute more.
Add in white wine, stirring to combine. Allow contents to continue simmering as the wine cooks down and evaporates, about 2-3 minutes.
Pour chicken broth into the pot. Turn off the Saute function.
Place the lid on the pot and set the vent to sealed. Using the manual function, select high pressure and a 5 minute cook time. When the cook time is complete, use a quick pressure release.
Remove the lid and add remaining 1 Tbs of butter, Parmesan and basil, stirring well to combine.
Add salt and pepper to taste and serve.
https://marginmakingmom.com/parmesan-basil-risotto-instant-pot/
Copyright MarginMakingMom.com
Save
Save

Save
Save
New to Pressure Cooking?
Subscribe to the Margin Making Mom newsletter and get instant access to a FREE printable Beginner's Guide to Getting Started with Your Pressure Cooker, which includes a printable Conversion Cheat Sheet to help you convert your favorite slow cooker meals to pressure cooker meals!
We take your privacy seriously and won't send you spam. See our privacy policy here.

Free Resource Library
Enter my
free resource library
for my latest printables and resources! Password is 'IHEARTMARGIN' -- please copy and paste that in at the link above. Thanks for being a subscriber!!