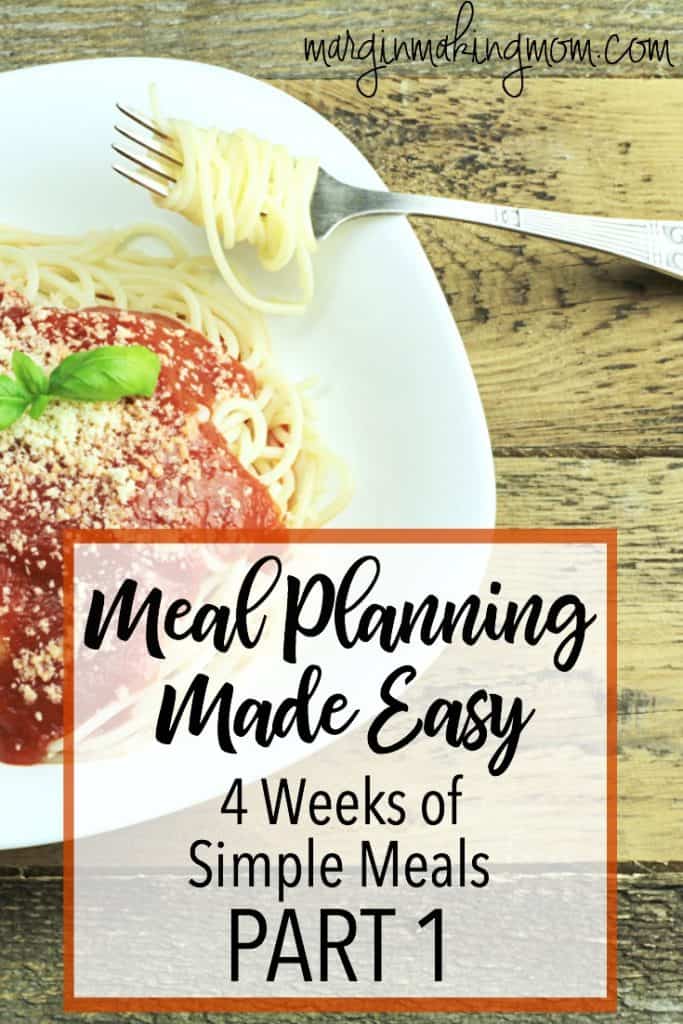 Having inspiration can make meal planning much easier! These 4 weekly meal plans from our family are full of dinner ideas for you!
It's one of my kids' favorite questions to ask. And honestly, it's one that I used to frequently ask myself at 5pm from the middle of the grocery store.
You know the one.
If you're anything like me, it's the question that can leave you wide-eyed, thinking, "You mean these people want to eat tonight?"
The question that manages to perplex you sometimes. The one that causes you to make unplanned trips to the grocery store, extra stops at the fast food drive-through, and last-minute calls to your favorite local takeout joint.
It's the question that wrecks your best attempts at a budget and causes you too much stress.
I know, because I've been there too many times.
One thing I've learned over the years is that I don't have to live like this! And you don't either. The solution is really so simple.
I've written here about how to create a weekly meal plan. There's more than one way to meal plan, and it's helpful to know which meal planning method is best for YOU. Regardless of how you do it, having a meal plan each week can reduce stress, cut down on waste in your grocery budget, and eliminate the overwhelming question, "What's for dinner?"
Having a plan means you already know what's for dinner before the day even starts.
And having inspiration makes meal planning way more fun, so I thought I'd share 4 weeks of an actual meal plan from my own home.
Here are a few things to keep in mind about these 4 weekly meal plans:
I've found that it's easier to stick to my meal plan if the meals are simple and easy to prepare, relatively inexpensive, and if my family enjoys them. So you won't find elaborate, time-intensive meals here. There's nothing wrong with those, but they don't fit our lifestyle right now.
I only make a meal plan for our dinner meals. We typically eat the same few things for breakfast, and our lunches are simple (sandwiches, fruit, yogurt, cheese, etc.).
We are a family of 5, and our kids are currently ages 4.5, 2.5, and 14 months. Many of the meals I make end up feeding us twice for dinner. Obviously, if you have a family with three teenagers, you may need to adjust quantities to have enough leftovers.

Week One
Monday: Zuppa Toscana with crusty bread
Tuesday: Leftovers
Wednesday: Tacos with Mexican rice and black beans
Thursday: Leftovers
Friday: Meal out as a family
Saturday: Browned butter chicken tetrazzini with salad
Sunday: Leftovers

Week 2
Monday: White chicken chili with grilled cheese sandwiches
Tuesday: Leftovers
Wednesday: Homemade pizza
Thursday: Spaghetti with salad
Friday: Leftovers
Saturday: Instant Pot whole rotisserie chicken with au gratin potatoes and mixed veggies
Sunday: Leftovers

Week 3
Monday: Chicken and rice casserole with veggies
Tuesday: Leftovers
Wednesday: Corn chowder
Thursday: Leftovers
Friday: Homemade Sloppy Joes with french fries
Saturday: Leftovers
Sunday: Breakfast for dinner (eggs with these pancakes)

Week 4
Monday: Pressure Cooker Chicken and Dumplings with pressure cooker green beans
Tuesday: Leftovers
Wednesday: Pressure Cooker Chili Mac with herb biscuits
Thursday: Leftovers
Friday: Pesto ravioli with salad
Saturday: Vegetable barley soup with crusty bread
Sunday: Leftovers
Just remember, meal planning doesn't have to be complicated! In fact, it shouldn't be. By including easy, tried and true recipes in your plan, you're setting yourself up for success.
Having an answer to the question, "What's for dinner" allows you to save time, money, and sanity! I hope these 4 weekly meal plans give you a little bit of inspiration and show you how simple meal planning can be.
You can get my FREE weekly meal plan printable here!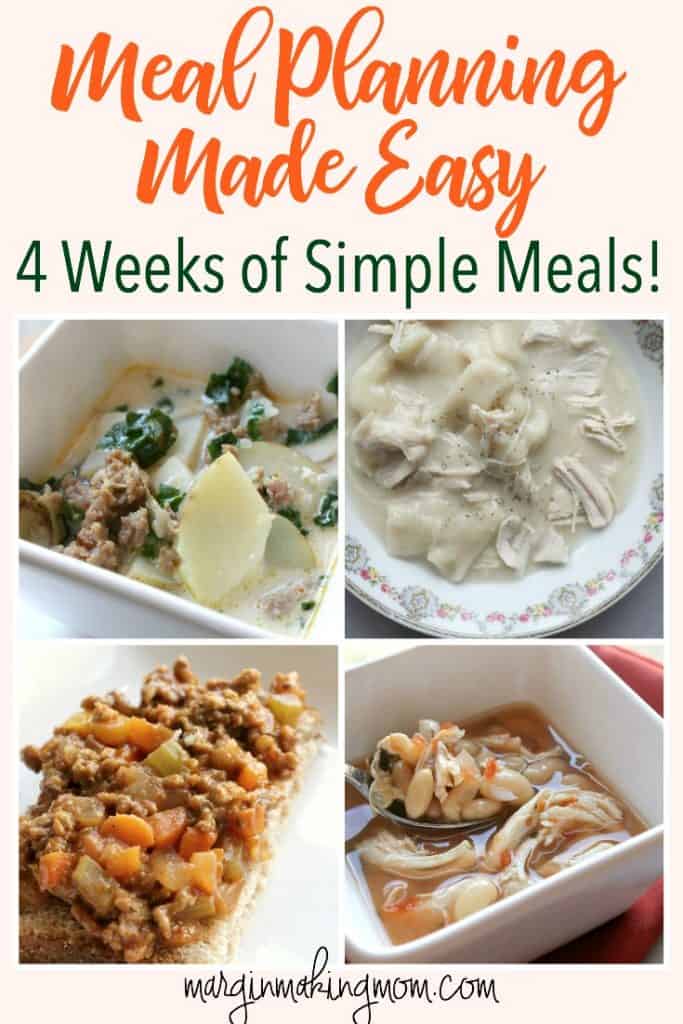 Save
Save
Save
Save
Save
Save
Save