Wondering what to pack in your hospital bag for after the birth? You don't need as much as you probably think. As a mom and nurse, I'm sharing a checklist of things that you won't want to forget!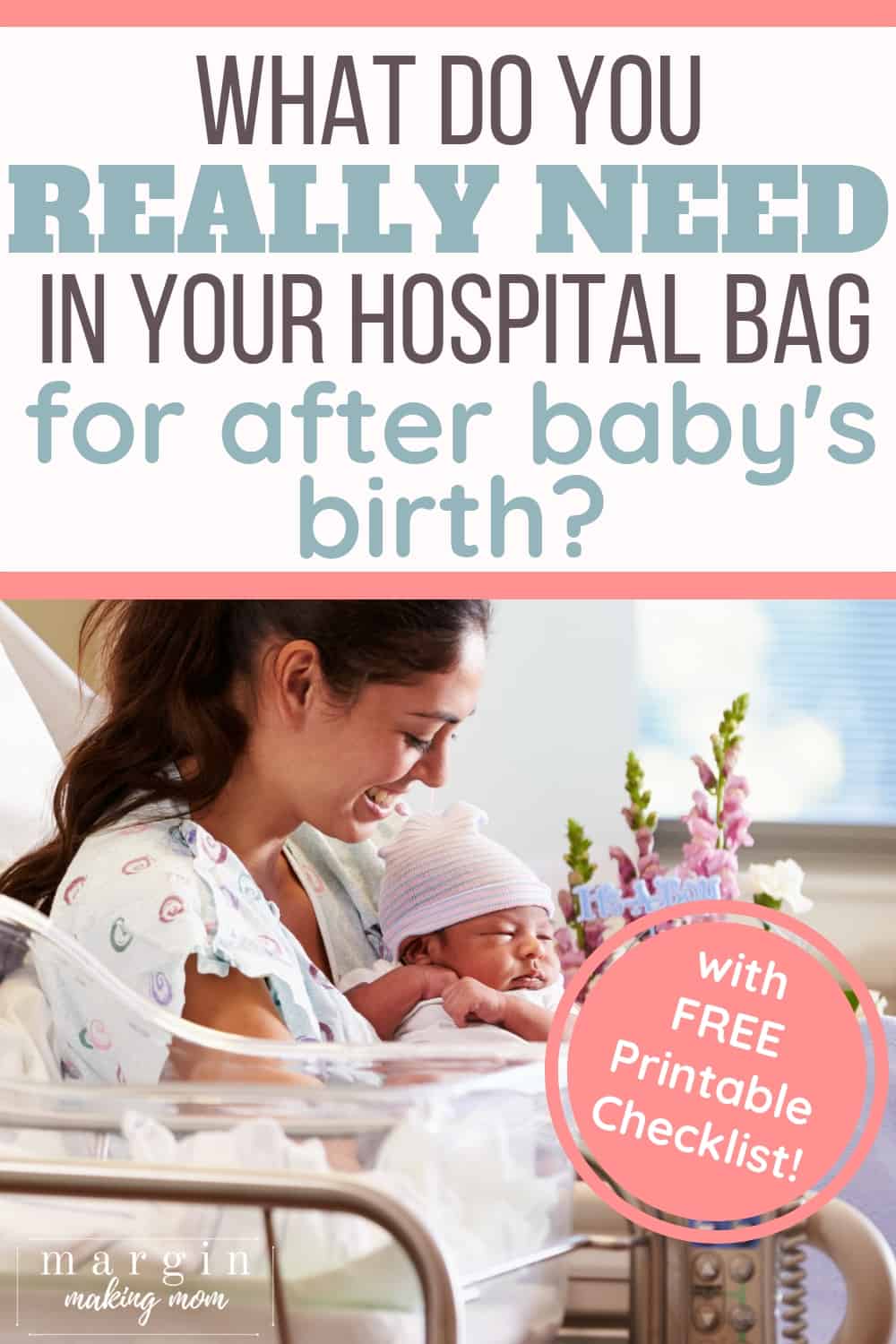 postpartum bag can be helpful–get my checklist of what to pack! #maternity #postpartum" width="1000″ height="1500″>
Note: This post may contain affiliate links for your convenience. If you make a purchase, this site may receive a small commission at no additional cost to you. You can read my full disclosure policy here.
As you're working your way through your third trimester checklist and all of the to-dos before baby arrives, you'll inevitably get to the point of packing your hospital bags.
Many new moms pack so much that it looks like they are moving into the hospital.
As a nurse, I think it's important to only pack the essentials. You don't want to carry around a bunch of baggage you don't even need.
But even better, I think it's helpful to pack a hospital bag for labor and pack another hospital bag for after the birth (plus a hospital bag for dad!).
That's because some stuff you won't need during labor and some stuff you won't need after the baby is born. In many hospitals, you deliver the baby in one room and then transfer to another hospital room for the rest of your stay after the baby is born.
Trust me, you don't want to have to keep up with a ton of things.
So I'm giving you the skinny on what is most important to pack in your hospital bag for after the birth of your baby (and what you probably don't need!).
What Should I Pack for After the Birth?
At the end of this list, you can get my free printable hospital bag checklist to help make sure you don't forget anything!
Comfortable Clothes, Gown, and/or Robe
You can certainly wear the hospital gowns after your baby is born, but most women prefer their own clothes. Maybe not right away, but at some point during your stay, you'll probably want to change into some comfy clothes.
This could be a nicer, more comfortable gown, a soft robe, or your favorite maternity yoga pants and a nursing tank, etc. I liked wearing my yoga pants with my nursing tank and a robe.
Stretchy Underwear
Most hospitals have mesh panties that are stretchy and work well for holding your giant pad in place. Some women prefer to wear disposable absorbent underwear, such as Depends, or their own larger comfortable panties to accommodate the pad.
Personally, I stuck with the mesh panties, and it's nice to have an extra pair or two (they're washable!) for the first several days.
Socks or Slippers
If you packed these in your labor bag and they didn't get messy, you can keep using them after delivery. However, you may want to have a second hand on pair in case the first pair doesn't fare so well.
Phone Charger
You will likely have already packed this in your hospital bag for labor, but if not, make sure you have a phone charger in this bag.
It's convenient to have one with a longer cord, because sometimes the outlets are back behind the head of the bed and the standard cord barely reaches.
Nursing Bra or Nursing Tank
If you're planning to breastfeed, having a soft nursing bra or nursing tank is helpful. This will help provide some support but allow easy access for baby.
Nursing Cover
Having a nursing cover (this one is hands-down my favorite) can be helpful if you are planning to have a lot of visitors, as it will allow you to cover up easily while breastfeeding baby.
This is certainly optional and you may feel comfortable breastfeeding in front of visitors, or you may simply request visitors leave while you feed the baby (this could be a nice break for you, anyways).
Your Own Pillow
This is totally optional, as I never brought my own pillow to the hospital. But some people can't sleep unless they have their own favorite pillow. If that's you, bring yours along.
If you can be separated from your pillow for a few days, leave it at home.
Toiletries and Eyeglasses
These are probably already packed in your hospital bag for labor, but if not, make sure you have them here. Hospital toiletries leave a lot to be desired, so having your own favorites with you will be something you appreciate.
Packing your toiletries in a hanging toiletry bag like this is ideal, since many hospital rooms are lacking bathroom counter space.
Also, don't forget to pack your eyeglasses, even if you normally wear contact lenses.
Makeup
I don't think it's necessary at all to bring a whole lot of makeup to the hospital. Nobody expects you to be "done up" while you're in the hospital after having a baby.
BUT, I think most of us feel a little more like ourselves with a dab of concealer, a brush of blush, and a sweep of mascara. So bring whatever you think might help you feel a little more "normal."
Going Home Outfit
Just as baby needs something to wear home, so do you!
I recommend packing some maternity clothes. As much as we all wish we could fit back into our normal clothes right after having a baby, it ain't happening. Choose something that was comfortable when you were about 5 or 6 months pregnant.
I wore my favorite maternity jeans and a comfortable maternity shirt.
What Should I Pack in my Hospital Bag for a C-Section?
All of the items from above apply, even if you're having a c-section. The only additional item I think you may want to have is an abdominal binder.
An abdominal binder is sort of like a stretchy and more comfortable girdle-like wrap that helps to provide some support to your tummy. Sort of like an ACE wrap for your belly. You won't need it while you're lying in bed, but it can be useful for when you're up and moving around.
Some hospitals provide these, so I would recommend that you talk to your provider about whether or not they recommend that you use one and whether or not the hospital will have them on hand.
If you need to purchase one for yourself, be sure to pay attention to the sizing information.
Things You Probably Don't Need in the Hospital
A lot of women pack things they end up not using while in the hospital. Although you will possibly need these once you get home, here are a few things you probably won't need during your first few days after birth while you're in the hospital.
Nursing Pads
Most women aren't leaking yet while they're in the hospital. You can leave these at home.
Pads
The hospital will have plenty of pads for your bleeding. My advice is to use theirs while you're in the hospital and save yours for when you're at home. These are the ones we use in the hospital for the first few days.
Once your flow decreases some after the first few days, you can probably switch to something thinner but still absorbent. I liked these thinner and comfortable pads.
Breastfeeding Pillow
You can always use hospital pillows to prop up you and baby while breastfeeding. I brought my Boppy pillow when I had my first baby, but I left it at home with the second and third.
You may want to practice with yours while you have access to lactation support in the hospital, but if not, you can leave it at home. Totally up to you!
More Helpful Resources for Getting Ready for Baby:
Get Your Printable Hospital Bag Checklist
That's it! Now you know what I think are the most important things to bring with you in your postpartum bag for after baby is born.
To make things easy on you, I've created a printable hospital bag checklist as well as a printable third trimester checklist. You can click here to download yours!
Note: This information should not be considered medical advice or an alternative to advice from your medical professional or health care provider. As always, if you have questions related to your specific situation, I recommend seeking the expertise of your provider.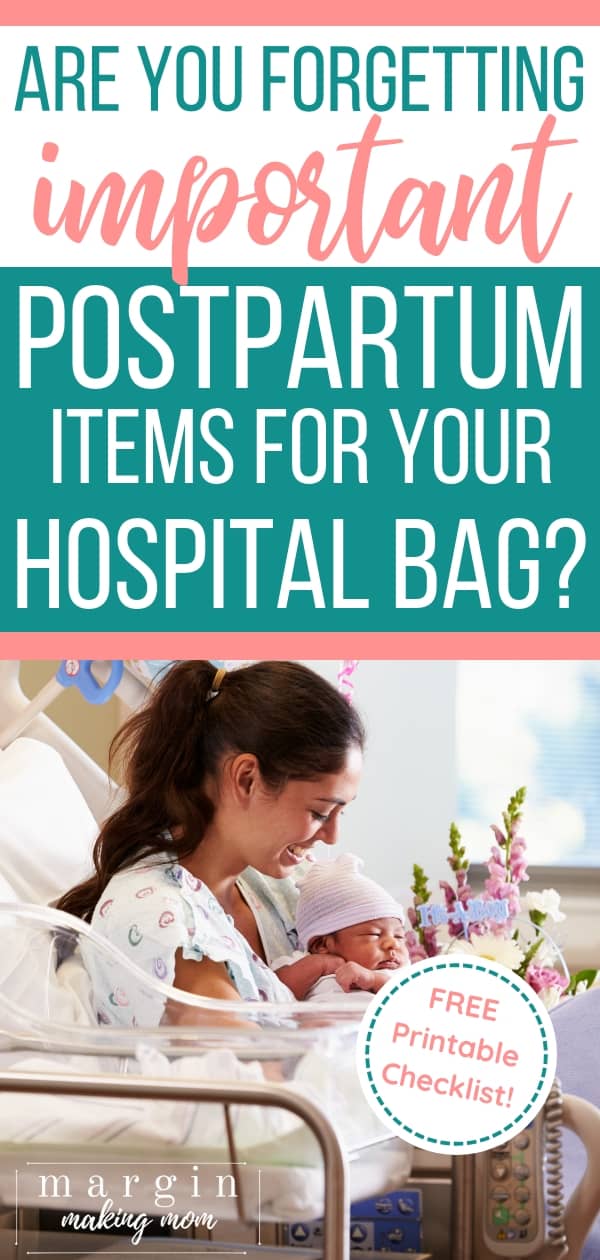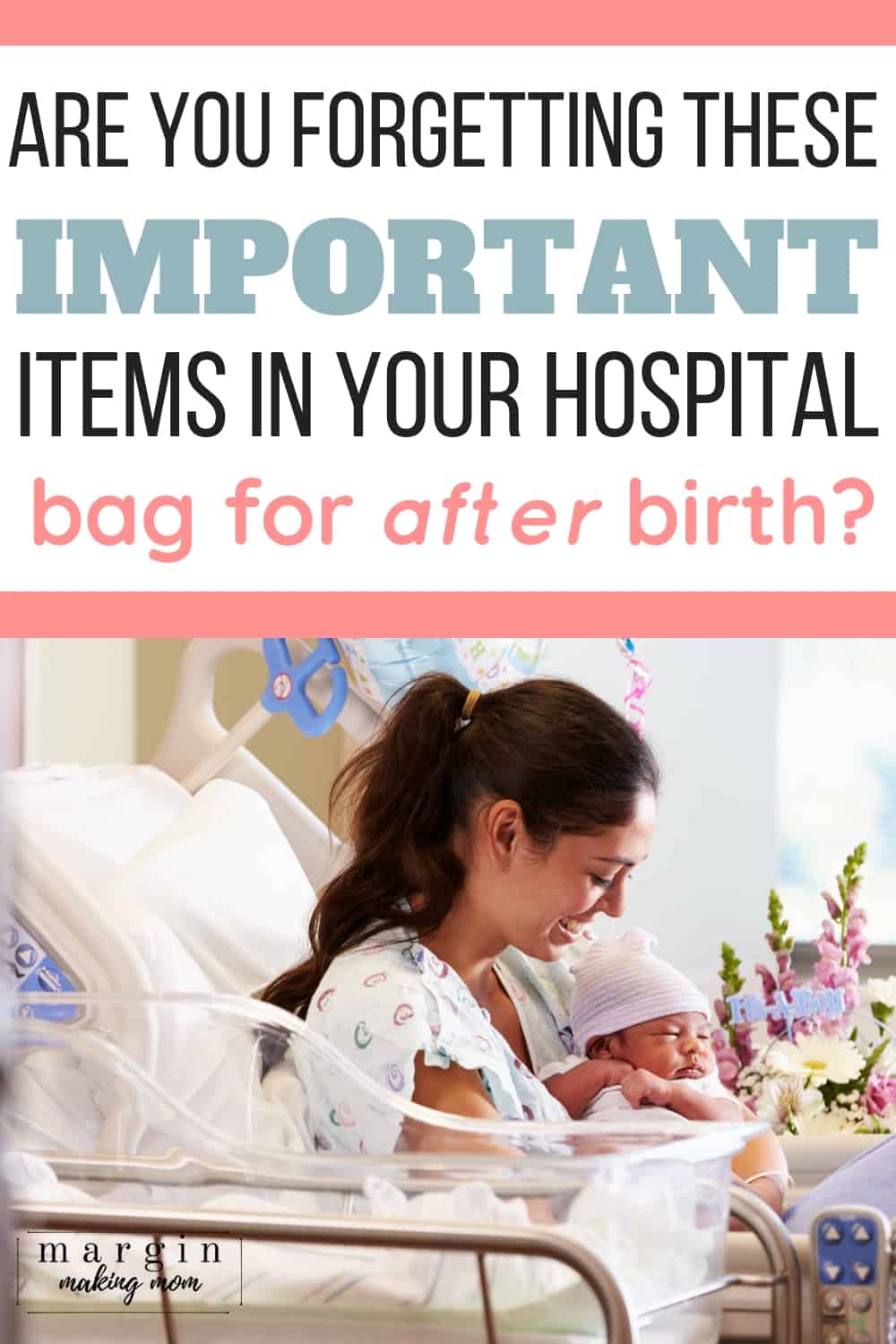 Get the Instant Pot Meal Plan Jumpstart
Join the free community and you'll learn simple ways to easily create tasty food for your family, as well as immediate access to the FREE Instant Pot Meal Plan Jumpstart to help you get a tasty dinner on the table in a flash!
"Thanks for sharing your knowledge and experience in such a friendly and delightful way!!! So far, I'm very impressed with the results...thanks again for your guidance into this new realm of cooking!" -Margaret
Free Resource Library
Enter my
free resource library
for my latest printables and resources! Password is 'IHEARTMARGIN' -- please copy and paste that in at the link above. Thanks for being a subscriber!!