Wondering what to pack in your hospital bag for dad? Dads don't need very much, but it's helpful to have a few important items handy. As a mom and nurse, I'm sharing a checklist of things that you won't want to forget!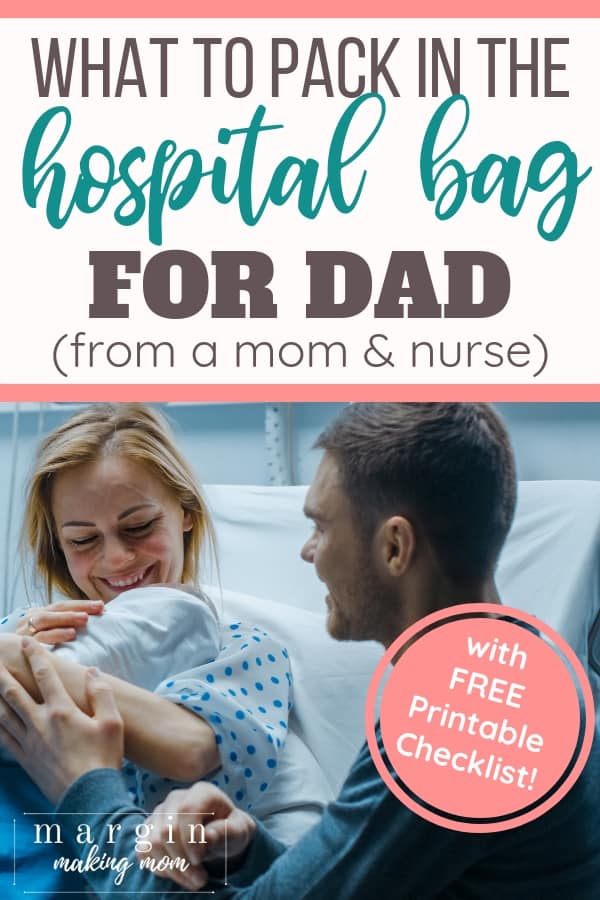 Note: This post may contain affiliate links for your convenience. If you make a purchase, this site may receive a small commission at no additional cost to you. You can read my full disclosure policy here.
Packing hospital bags is an important item on your third trimester checklist. Most moms think about packing their own bags, but it's important to remember to pack a hospital bag for dad, too.
While you're doing the hard work of getting your baby out, it's easy to forget about dad. And for good reason–his main job at the hospital is to help support YOU.
But even though you are the star of the show during labor and delivery, it's important to not forget about dad! In order for him to be at his best, there are a few essentials that could be helpful to him during this time.
While you should have your own hospital bag for labor and a hospital bag for after the birth, I also recommend dad have his own small bag or, even better (if there's room), just toss these few things into your bag.
What to Pack in a Hospital Bag for Dad
Dads don't need a whole lot. But these few things could definitely come in handy!
From my own personal experience of having three babies as well as my experience as an OB nurse, these are the things I think are the most useful for dad to have in a hospital bag.
Snacks and Water
Dads get hungry during a long labor!
I know I certainly wasn't thinking about food when I was breathing through contractions and doing my best to incorporate my relaxation techniques, but I guarantee my husband's stomach was growling.
I'm so glad we thought to pack a few snacks for him. Having something easy to pack and easy to eat, like these or like this, is super handy.
Also, pack a refillable water bottle for him (we have and love this one). It will be much easier for him to feel his best and support you best if he's had a snack and is staying hydrated.
While most hospitals have vending machines, I didn't want him wandering off during my labor. So having snacks and water handy was ideal.
A Sweatshirt or Jacket
Oftentimes, hospital rooms can feel cold. Many hospital rooms have thermostats in them, so you can adjust the temperature a bit, but it is adjusted to mom's preference.
It's a good idea for dad to have a sweatshirt or zip-up hoodie that he can easily put on to stay warm while supporting mom.
Something to Do
I am going to preface this by saying that dad should plan on NOT doing anything at all during labor and delivery other than supporting you. I personally find it irritating to see dads completely engrossed in their phone or a TV show while their wife is working so hard to have a baby.
This is not a vacation for dad while mom does all the work.
I know each relationship has its own dynamics, but often I think dads just don't know WHAT to do to be supportive, so they escape into their devices.
But I think dad's first job is to support mom (unless you just want him to leave you alone, which I've seen is sometimes the case 😉).
However, if there are periods during labor when you are able to sleep, dad may want to have something handy to pass the time.
Toiletries
If you live pretty close to the hospital, dad may want to go home after the baby is born and things settle down to shower and check on things at home.
But, sometimes dads want to stay at the hospital with mom, in which case they probably will want their own toiletries. It can be helpful to bring a hanging toiletry bag, since there isn't much counter space in many hospital bathrooms.
Depending on how many toiletries dad needs, he might just be able to put his stuff in your bag.
A Phone Charger or External Battery
I mentioned this as one of the items to include in your hospital bag for labor, but dad may need his own charger or external battery as well.
Wallet/Cash
After you have the baby, you'll probably be really hungry. Depending on the time of day, the hospital meal service or cafeteria may not be available. Or, you may want something specific that isn't available at the hospital.
In that case, it would be really nice for dad to be able to order delivery or run out and get you some food–so make sure he has his wallet handy!
Swimsuit
Some women spend time in a bathtub, labor tub, or shower. In that case, it would be helpful for dad to have a swimsuit so he can stay present with mom and support her without getting his clothes all wet.
Checklist for Packing Smart for the Hospital
I've created a printable Hospital Packing List as well as a Third Trimester Checklist to help make sure you aren't forgetting anything important.
You can click here to download yours!
Note: This information should not be considered medical advice or an alternative to advice from your medical professional or health care provider. As always, if you have questions related to your specific situation, I recommend seeking the expertise of your provider.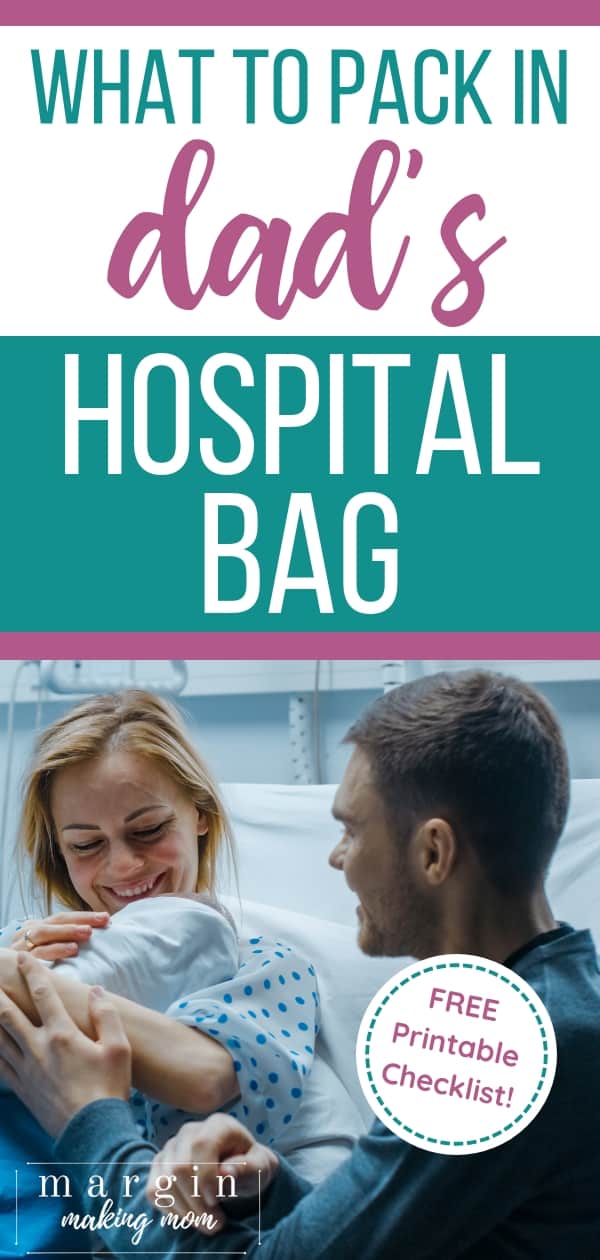 Get the Instant Pot Meal Plan Jumpstart
Join the free community and you'll learn simple ways to easily create tasty food for your family, as well as immediate access to the FREE Instant Pot Meal Plan Jumpstart to help you get a tasty dinner on the table in a flash!
"Thanks for sharing your knowledge and experience in such a friendly and delightful way!!! So far, I'm very impressed with the results...thanks again for your guidance into this new realm of cooking!" -Margaret
Free Resource Library
Enter my
free resource library
for my latest printables and resources! Password is 'IHEARTMARGIN' -- please copy and paste that in at the link above. Thanks for being a subscriber!!