Wondering how to heat up soup in the Instant Pot? It's easier than you think!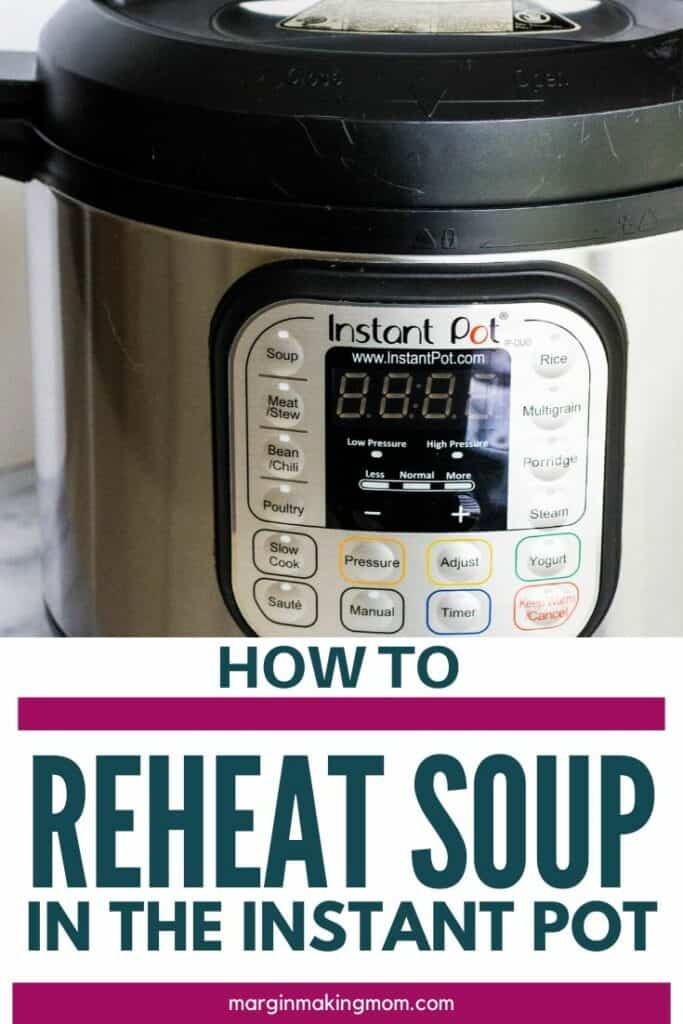 Read on to find out the tips and tricks for reheating soup in the Instant Pot!
Note: This post may contain affiliate links for your convenience. If you make a purchase, this site may receive a small commission at no additional cost to you. You can read my full disclosure policy here.
The Instant Pot pressure cooker has loads of amazing functions, and it's a super versatile appliance. It can cook food from frozen, it can produce tender meat from even the toughest cuts, and it can make yogurt and proof dough.
But did you know that you can also reheat leftovers in the Instant Pot?
I make a lot of soups in my Instant Pot (here's my list of the best Instant Pot soup recipes that are easy to make!).
We always have leftovers, so I've learned how to reheat soup in the Instant Pot. It's so easy!
In fact, many people, including myself, prefer to use the Instant Pot instead of a microwave or stove top, because it's fast, mostly hands-free (no stirring and babysitting a pot on the stove!) and preserves much of the original consistency of the food.
Once you give it a try, I think you'll be hooked on this easy method of reheating soup with your Instant Pot!
You can also keep food warm in the Instant Pot, which is ideal if you're cooking something earlier in the day but won't be eating it until later.
Related Articles: Find out how to reheat rice in the Instant Pot, reheat tamales in the Instant Pot, and how to reheat pulled pork in the Instant Pot!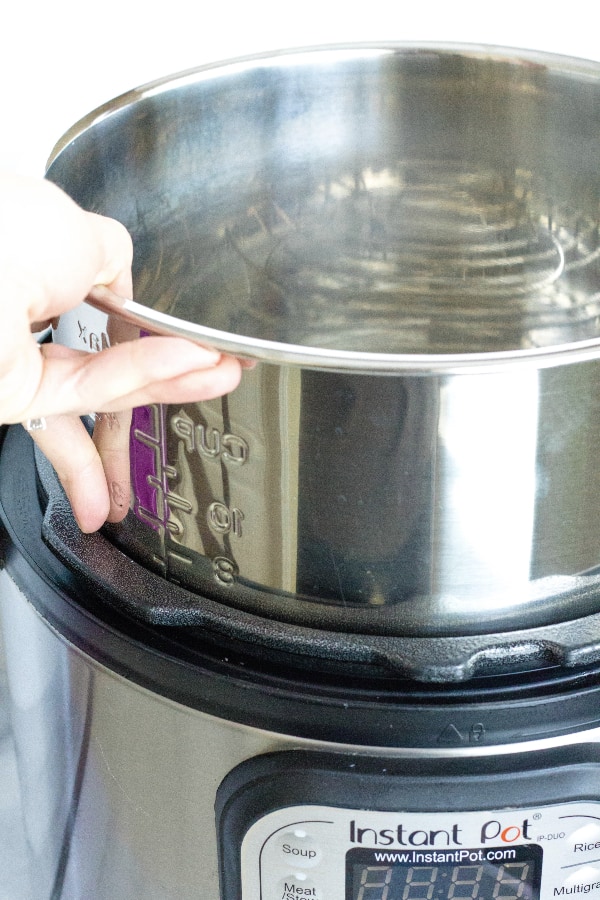 How to Reheat Soup in the Instant Pot
There are a few tips and tricks when it comes to heating up soup in the Instant Pot, but overall it's really easy!
The most basic method for reheating soup in the Instant Pot begins by simply leaving the leftover soup in the insert pot. You can store it in the refrigerator with a silicone lid or some plastic wrap until you're ready to reheat it.
Remove the silicone lid and pop the insert pot back into the Instant Pot.
If you want to reheat the soup slowly, simply put the Instant Pot's lid on and press the "Keep Warm" button. This will gradually warm the soup.
If you want to reheat the soup more quickly, press the Manual/Pressure Cook button and set the cook time to 0 minutes.
This will allow the soup to rapidly come to a boil, then the Instant Pot will switch to Keep Warm without actually pressure cooking the soup (since everything is already cooked, there's no need to actually pressure cook the soup again).
How to Reheat Thickened Soups in the Instant Pot
Some soups and stews thicken during refrigeration. This may be due to starches (such as pasta or rice) in the soup absorbing more water over time, or due to the addition of thickeners (such as flour or cornstarch) to the soup during the initial preparation.
Soups that contain cream or cheese can thicken during refrigeration as well.
If you're reheating a thickened or creamy soup, you may need to stir in a bit of water, broth, or milk (depending on the kind of soup) prior to reheating.
If you have the time, I generally recommend warming these thicker, creamy soups more slowly, using the Keep Warm function. That's because these types of soup are more likely to scorch if you use a high heat method.
If you do need to heat these kinds of soups more quickly, I would suggest either:
Adding plenty of liquid so it isn't too thick. It needs to be thin enough to come to a boil without burning on the bottom.
Using the Saute function (decrease the heat to "less" to avoid scorching at the bottom of the insert pot) to simmer the soup, stirring often.
How to Reheat Soup Containing Pasta, Potatoes, or Vegetables
If you're reheating a soup that contains pasta, potatoes, or vegetables, you'll want to reheat it just until it's heated through, to avoid overcooking those delicate ingredients.
Use the Keep Warm or 0 minute pressure cook time, depending on how fast you want to reheat the soup. If you don't mind the ingredients softening more, feel free to let it warm longer.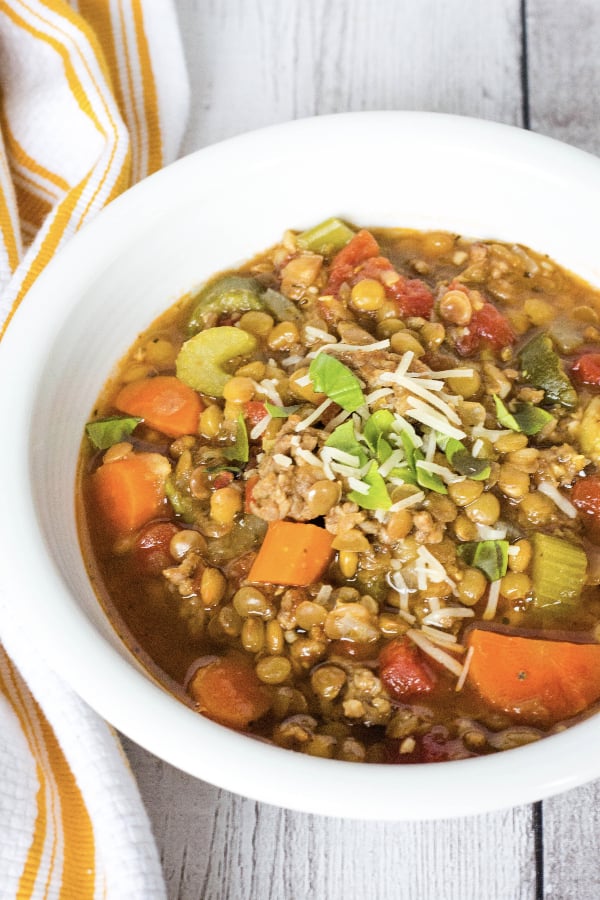 How to Reheat Soup in Smaller Containers
If you aren't storing your leftover soup in the insert pot itself, or if you only want to heat up a smaller portion, you can use the pot-in-pot method of reheating the soup in the Instant Pot!
While this method is not faster than using a microwave, many people choose this method if they don't have a microwave or prefer not to use one.
The pot-in-pot method involves reheating the soup in a smaller, heat-proof container. You add water to the insert pot of the Instant Pot and put the trivet in its place, then you put the smaller container onto the trivet.
I like to use the Steam function to reheat food with the pot-in-pot method. The amount of time needed depends on the amount of soup, how cold it is, what type of ingredients are in it, etc.
So while it's not an exact science, I generally aim for 3-5 minutes of steam time. You can adjust that up or down as needed.
I have a list of the best pot-in-pot accessories for the Instant Pot to make this process easier, and you may already have some of these in your kitchen!
How to Reheat Chili in the Instant Pot
The process for reheating chili is the same as reheating soup! If the chili is really thick and likely to not boil, you'll want to add a bit of liquid so it isn't so viscous, or use the Saute function and stir often.
Otherwise, you can reheat it slowly using the Keep Warm function, or you can use the pot-in-pot method to reheat a small amount of chili.
Reheating Soup in the Instant Pot
Using the Instant Pot to reheat soup is a great alternative to the traditional stove top or microwave methods of reheating soup!
If you need to save a little time or free yourself up to tackle another task on your to-do list, I highly recommend giving this method a try the next time you need to reheat soup!
Enjoy! 🙂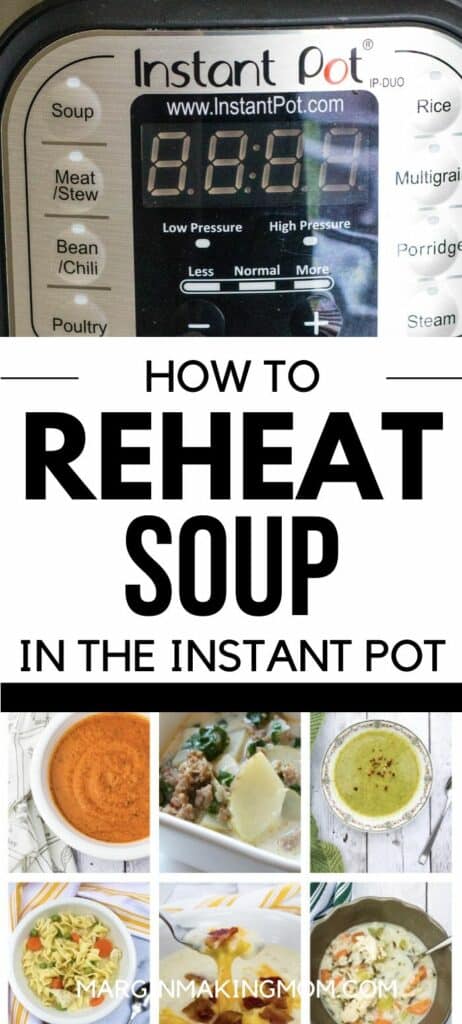 Get the Instant Pot Meal Plan Jumpstart
Join the free community and you'll learn simple ways to easily create tasty food for your family, as well as immediate access to the FREE Instant Pot Meal Plan Jumpstart to help you get a tasty dinner on the table in a flash!
"Thanks for sharing your knowledge and experience in such a friendly and delightful way!!! So far, I'm very impressed with the results...thanks again for your guidance into this new realm of cooking!" -Margaret
Free Resource Library
Enter my
free resource library
for my latest printables and resources! Password is 'IHEARTMARGIN' -- please copy and paste that in at the link above. Thanks for being a subscriber!!