Classic chicken pot pie made in the Instant Pot is a hearty comfort food made easy!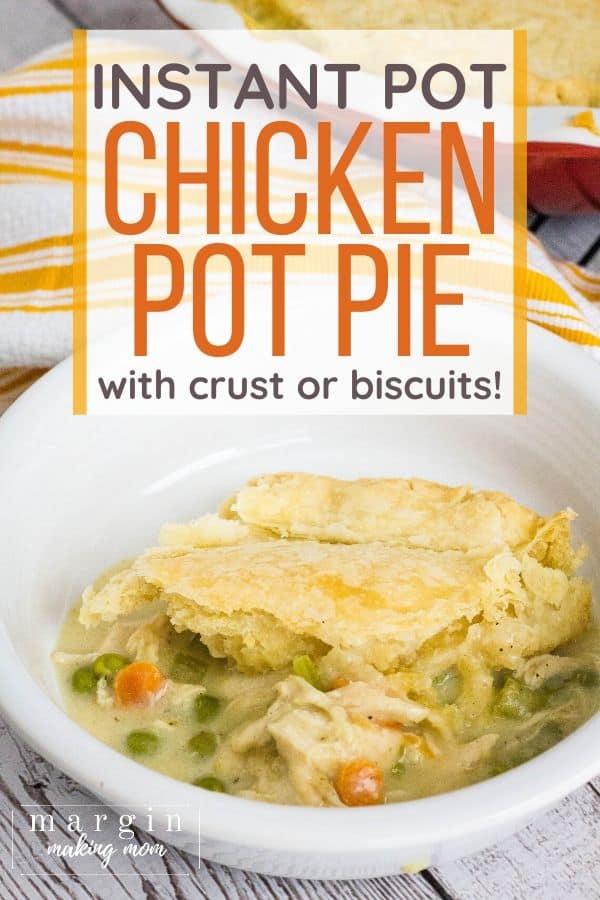 Instant Pot chicken pot pie can be paired with biscuits, pie crust, or puff pastry, or served as a crustless casserole for a delicious, soul-warming meal.
Note: This post may contain affiliate links for your convenience. If you make a purchase, this site may receive a small commission at no additional cost to you. You can read my full disclosure policy here.
Growing up, the only chicken pot pie I knew of was the kind you bought from the freezer section at the grocery store.
I wasn't super fond of them–they were okay, but nothing particularly special. And I always found it difficult to get the middle warmed through without burning the crust.
Later in life, I discovered the absolute wonder of homemade chicken pot pie. Creamy, savory filling full of tender chicken and veggies, paired with a flaky crust? Oh my.
For the past decade, I've made chicken pot pie the hard way. I would cook the chicken in one pot, then saute veggies and create the filling in another pot.
More recently, I decided to try speeding things up a bit by making the filling in the Instant Pot. Given my love for Instant Pot chicken and dumplings and creamy Instant Pot chicken and rice, I figured this recipe would be a win, too!
Not only did this one-pot approach cut down on dirty dishes, but it also made the process a bit faster and cut down on the hands-on time required for making chicken pot pie.
In fact, it's one of my favorite Instant Pot chicken dinner recipes!
There are a few different options with this recipe, depending on your preference.
Instant Pot Chicken Pot Pie Casserole with Biscuits or Puff Pastry
You can make the filling and serve it as a chicken pot pie casserole, if you'd like! This method is a little bit faster than baking a traditional chicken pot pie in a pie plate.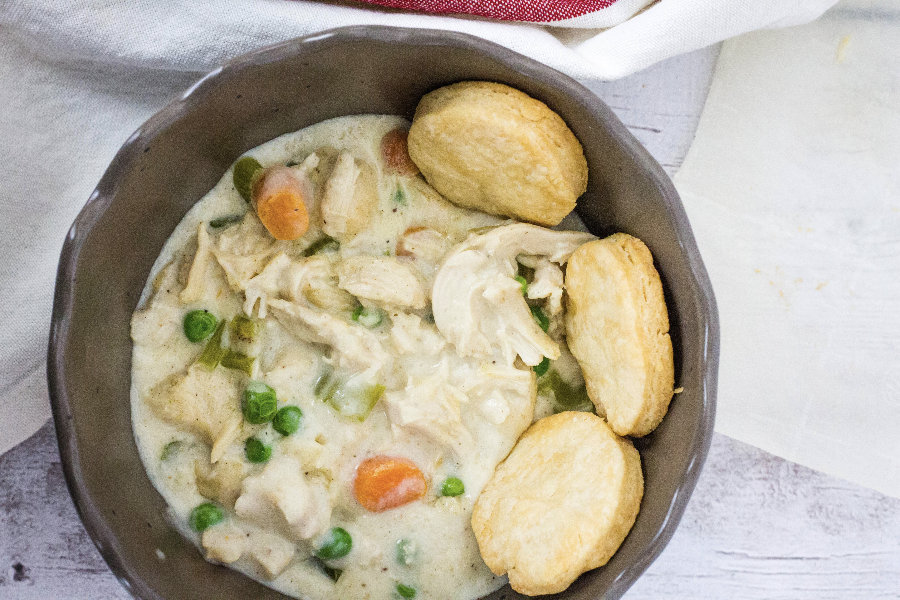 Essentially, you'll prepare the filling as directed, then serve it with your carbohydrate of choice. 🙂
The result is a creamy filling that you can serve with biscuits, or you can cut puff pastry into pieces and bake them. I've also cut pie crust into circles, then baked them and served them with the filling.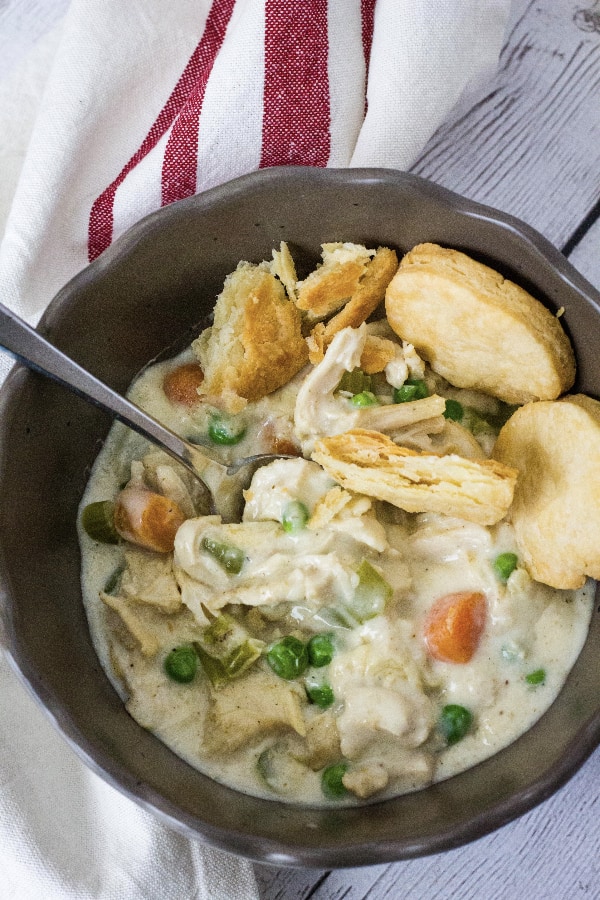 Instant Pot Chicken Pot Pie with Pie Crust
If you prefer the traditional chicken pot pie that is actually a pie, this is the route you'll take.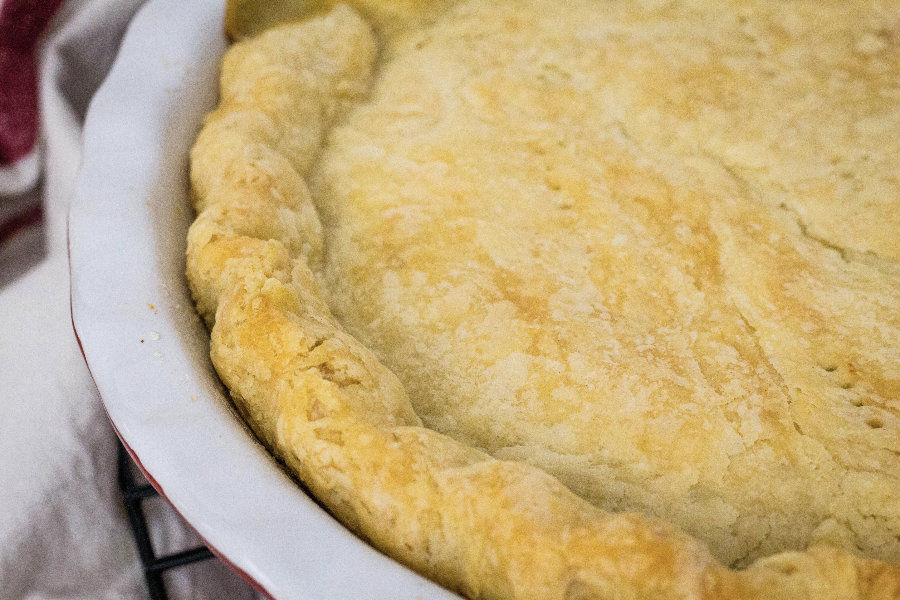 You'll prepare the filling as directed, then pour it into a deep dish pie plate.
Top with a prepared unbaked pie crust, then prick the crust a few times before baking it.
Allow it to cool a bit after baking before serving.
How to Make Chicken Pot Pie in the Instant Pot
To prepare the filling in the Instant Pot, you'll start by adding some raw chicken tenders, chicken broth, diced celery ribs, onions, carrots, ground thyme, salt, and pepper to the insert pot.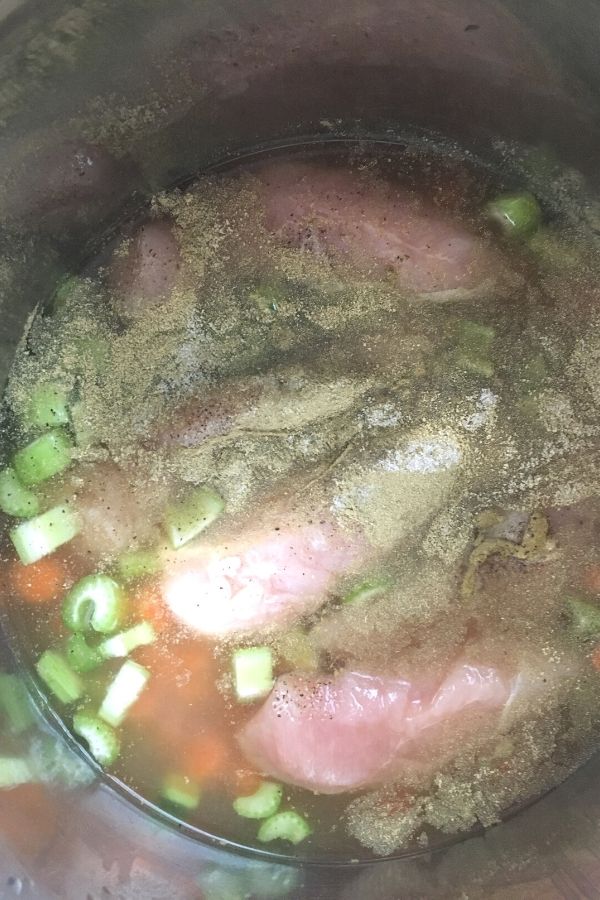 You'll select a cook time of 4 minutes at high pressure, followed by a natural release of pressure.
While that is cooking, you can bake the biscuits or puff pastry, or cut and bake the rounds of pie crust, or simply prepare the whole pie crust if you're planning to make an actual pot pie.
Once the pressure releases, remove the chicken to a cutting board. Prepare a slurry of flour and heavy cream, then add that to the hot broth in the Instant Pot, stirring to combine.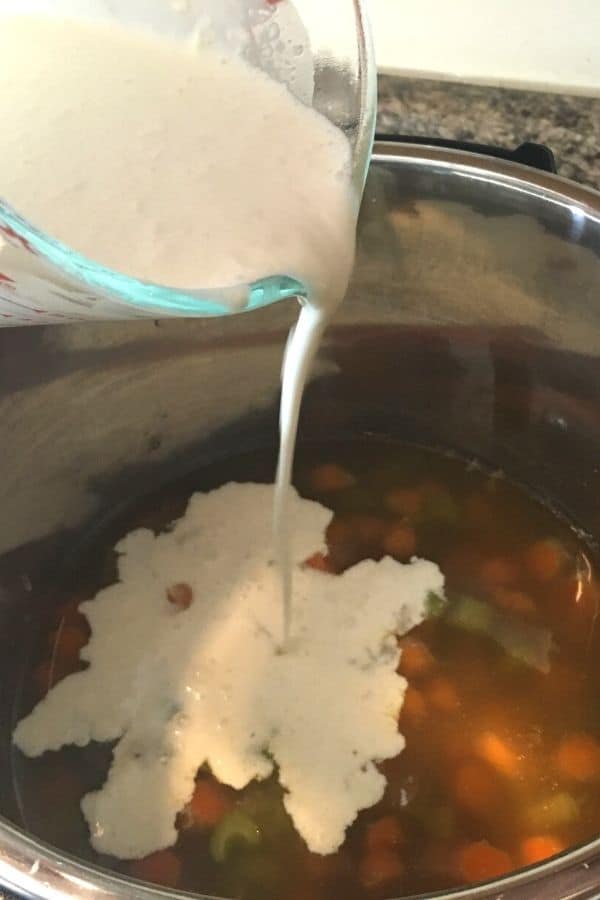 Allow the mixture to thicken for a few minutes while you shred or chop the chicken.
Once the mixture has thickened a bit, add in some frozen peas, stirring to heat through. Then add the chicken and stir.
The filling is now ready to either be poured into a deep dish pie plate and topped with a crust and baked, or it can be ladled into individual bowls and served with biscuits or puff pastry.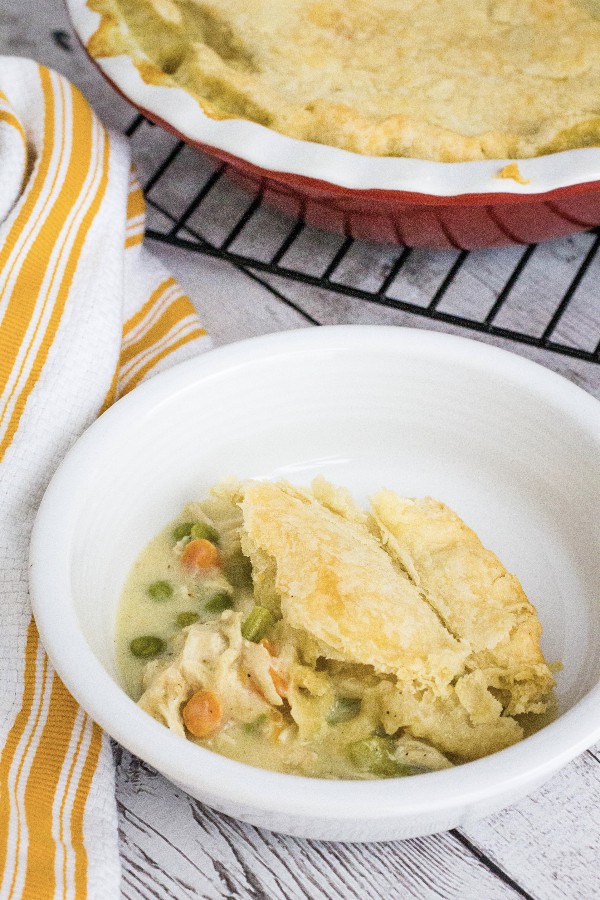 Notes and Adaptations:
If you don't have chicken tenders, simply cut boneless chicken breasts into tenders (or cut each breast into three pieces of fairly equal size).
You can add more or different veggies if you prefer, such as cut green beans, diced potatoes, etc. These can be added to the broth prior to cooking.
The filling continues to thicken as it cools.
Recommended Equipment: