This perfectly moist pumpkin chocolate chip bread is such a classic pumpkin spice treat!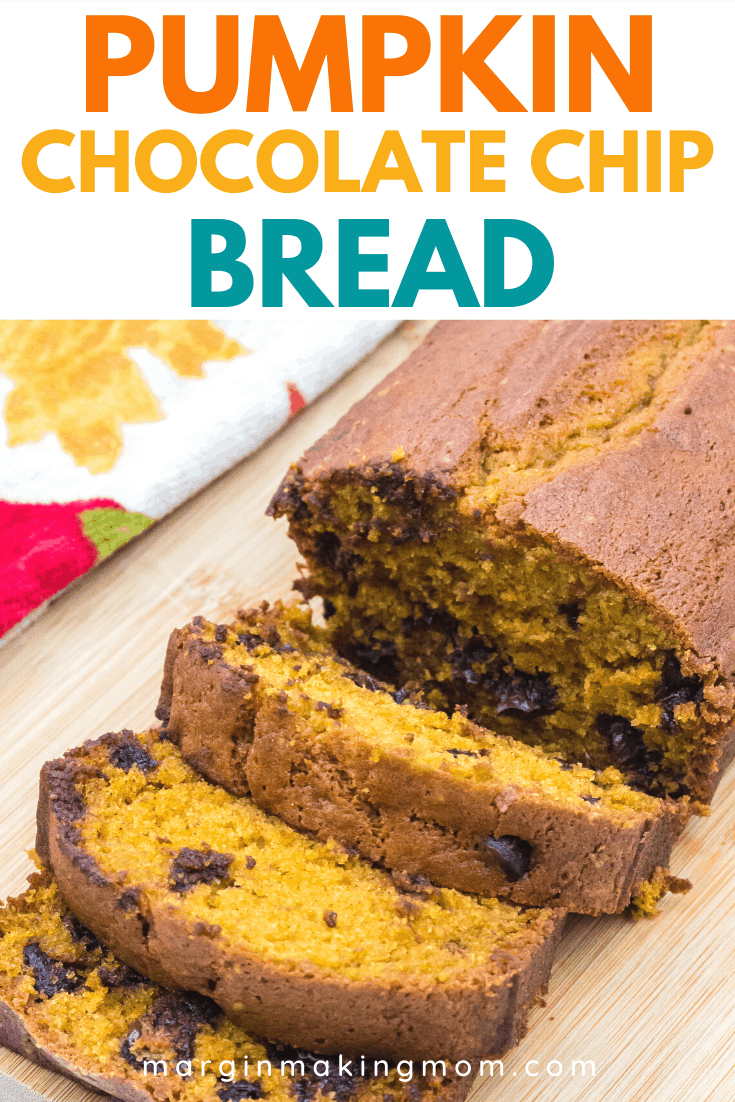 You're going to love this delicious and super easy pumpkin chocolate chip bread–it's a great way to celebrate the flavors of fall!
Note: This post may contain affiliate links for your convenience. If you make a purchase, this site may receive a small commission at no additional cost to you. You can read my full disclosure policy here.
I like to think of myself as a "keeper of the seasons" in our home. We love finding easy but fun ways to celebrate the uniqueness of each time of year.
One of our favorite fall traditions is making Grandma's pumpkin bread–it's a tender loaf of pumpkin spice goodness that disappears fast around here.
I've even made a couple of muffin variations of that classic bread, which resulted in delicious batches of pumpkin banana muffins and some pumpkin cream cheese muffins.
Sometimes, we even combine pumpkin with chocolate chips, making double chocolate pumpkin bread, soft and chewy pumpkin chocolate chip cookies or tender pumpkin chocolate chip muffins.
What I'm trying to say here is: Grandma's base recipe is legit. But sometimes it's fun to dress it up a bit!
Which is why I'm sharing our pumpkin chocolate chip bread!
More Pumpkin Recipes You'll Love: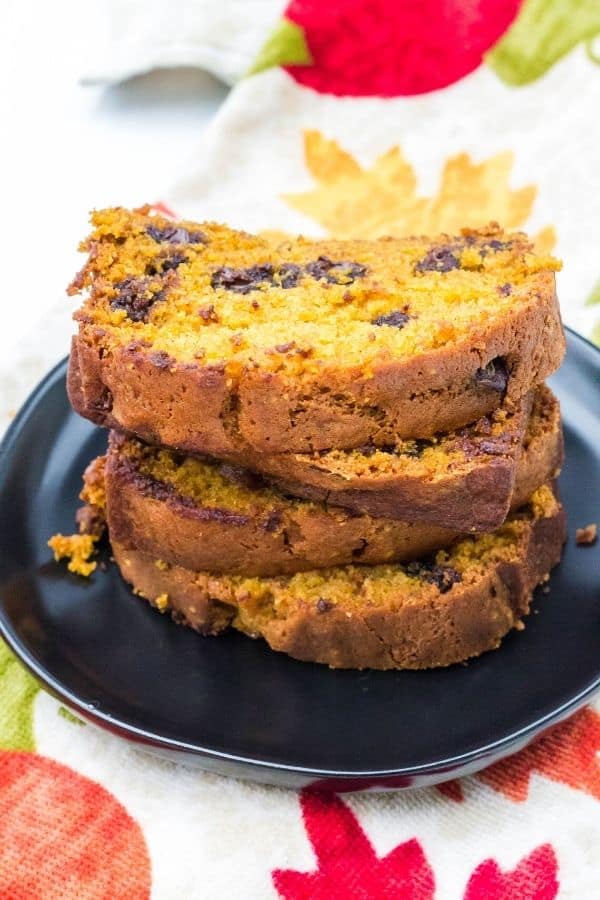 Why You'll Love this Pumpkin Bread with Chocolate Chips
This heavenly pumpkin bread is very much a classic pumpkin bread, but it is such a treat, especially with those melty chocolate chips dotting the bread!
Plus, it's super versatile! Warm up a slice for breakfast or enjoy it as an afternoon snack.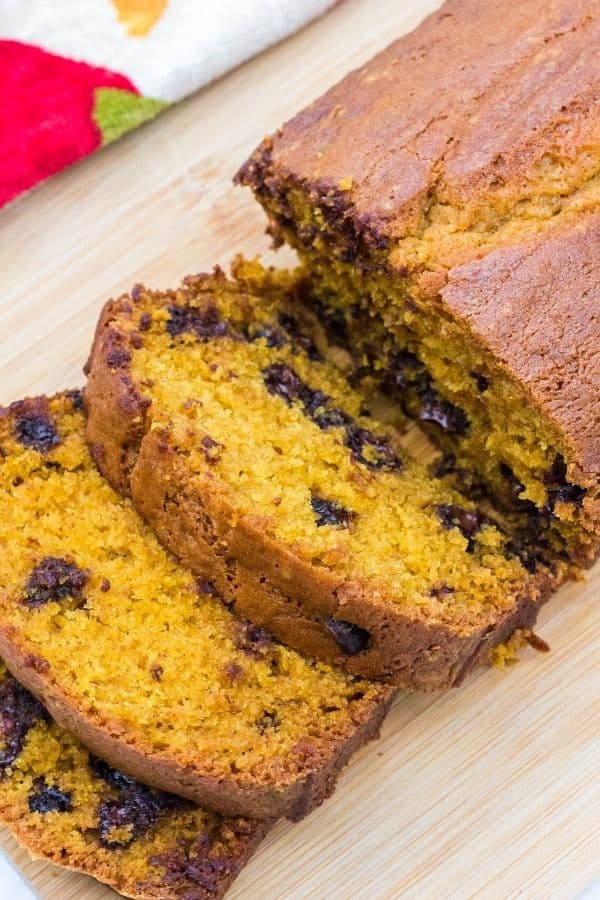 You can also serve it as a delightful dessert, especially topped with some mascarpone whipped cream or Cool Whip.
As a bonus, since this recipe makes two loaves, and it makes a fabulous homemade gift.
I'm sure this easy pumpkin chocolate chip bread will become a beloved tradition in your family, too!
How to Make Homemade Pumpkin Chocolate Chip Bread from Scratch
It's really easy to make this simple but tasty pumpkin chocolate chip bread!
Ingredients You'll Need:
Sugar
Shortening
Eggs
Water
All-purpose flour
Salt
Cinnamon
Nutmeg
Baking soda
Pumpkin puree
Chocolate Chips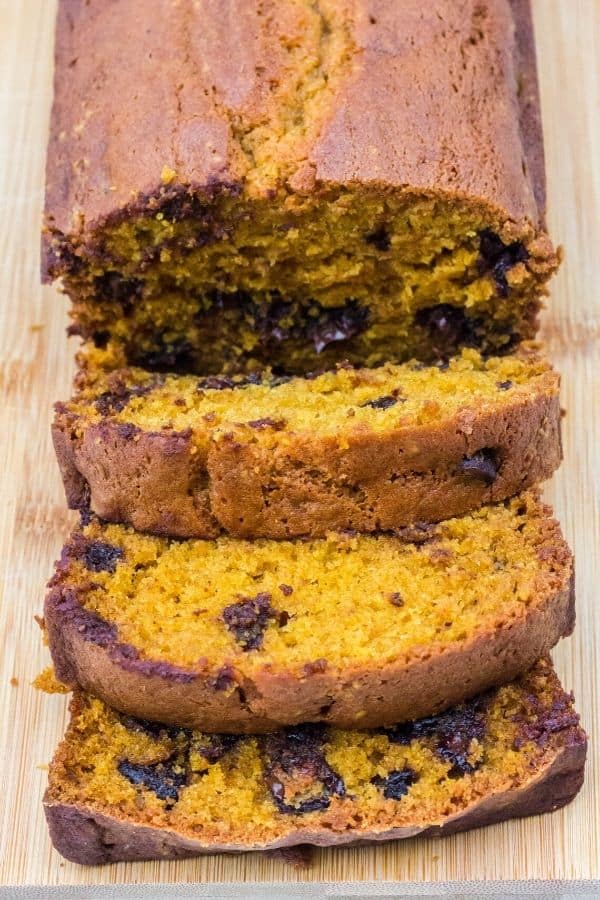 How to Make It:
(Full printable recipe is available below)
Mix wet ingredients. First, you'll cream together the butter and shortening. Then, add in the eggs and mix well, followed by the water, mixing well to combine.
Combine dry ingredients. Next, in a separate bowl, you'll whisk together the flour, salt, cinnamon, nutmeg, and baking soda.
Make the batter. Alternate adding the flour mixture and the pumpkin puree to the wet ingredients, in separate additions, mixing just until combined and batter is smooth.
Last, stir in the chocolate chips (I like to toss the chocolate chips with a tablespoon or two of flour before adding them to the batter, because that helps them not to sink to the bottom as easily).
Bake. Pour the batter into greased pans and bake! It's as simple as that!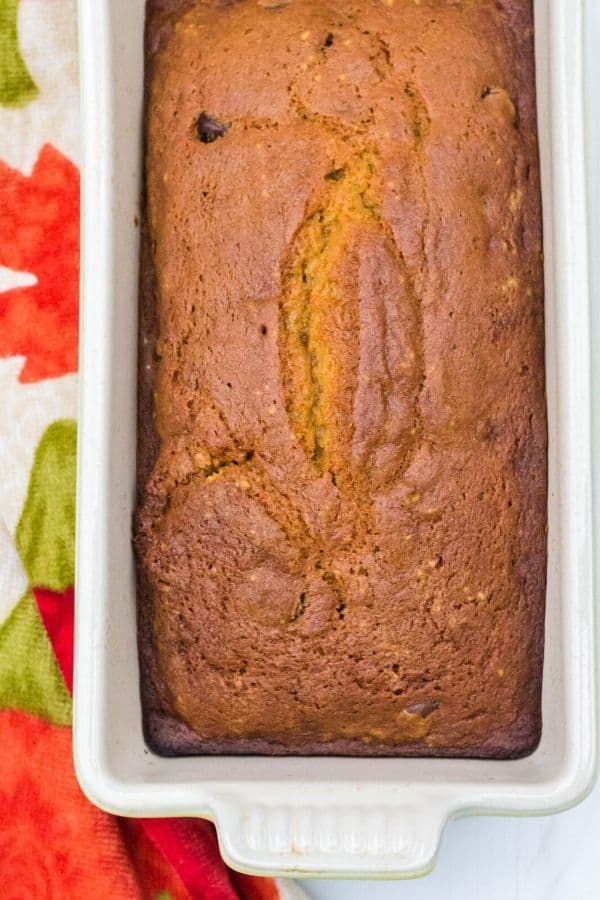 How to Freeze Pumpkin Chocolate Chip Bread:
This bread freezes great–cool completely and wrap well before freezing.
That's the beauty of making a recipe that yields two loaves–you can eat one now and freeze one for later!
Recommended Equipment: